A year after raising the bar for the program by reaching the Class 8A semifinals, York is back in the same position this fall.
The Dukes (11-1) are looking for some revenge in Saturday's 12:30 p.m. road game against defending state champion Loyola Academy in Wilmette. The Ramblers ended York's dream season with a 30-3 rout in the semifinals last year.
York senior defensive lineman Jack Trautmann, who set the tone in last weekend's win over Edwardsville, said the Dukes are excited for the rematch.
"They obviously have a very talented offense at Loyola, but I think if we play our game and come out of the gate with confidence, we will be able to find success," Trautmann said. "We've been waiting for this game for a year now, and we know we didn't play the best we could last year, so everyone is extremely motivated to get to the state title game."
York defeated Edwardsville 36-29 last week, led by 10 receptions for 204 yards and two touchdowns by senior wide receiver Luke Mailander, an Illinois State recruit.
Mailander said the seniors, in particular, are ready for the rematch.
"We're super excited about getting another shot at them," Mailander said. "Obviously, they have been a powerhouse for many years, but that makes it more fun. It isn't every day you get a chance to go out there and play a team of that caliber. It feels amazing to be back in the semifinals. Last year, the standard was set super high and early in the offseason, as a team, we all came together and said we have to get back to where we were and possibly even further. We take a lot of pride in our program right now since we have accomplished that."
York coach Mike Fitzgerald said his team must play flawless football against the Ramblers.
"Our guys are extremely competitive kids and want to play the best, so they are excited for the game," he said. "The loss last year obviously stung and was a huge motivator in the offseason to work that much harder, so getting back to the semifinals with another opportunity to play them and accomplish the goal of winning a state title is what we have worked for all year.
"(Loyola) is a complete team that have outstanding players and are extremely well-coached. They don't make many mistakes and play well in all three phases. We will need to have a great week of preparation and come gametime we will need to execute at a high level. Situational football like third downs, red zone, short yardage will also be a critical element of the game and executing in those moments."
Fitzgerald said Trautmann, who remains uncommitted, and Mailander have been steady players all season.
"Jack has had a great year for us and has been excellent in the run game and has created a lot of pressure on quarterbacks," Fitzgerald said. "Even when he doesn't have the off-the-charts stats, he's doing the dirty work in the interior and helping keep our linebackers clean, so they can get to the football. Having Jack on one side and Joe Reiff on the other puts opposing teams in a bind as you can usually help your double one defensive lineman but it's very hard to double team two of them.
"Luke has had a record-breaking season this year and has come up big in key situations. He can change the game at any moment. He can take the top off the coverage but is also great in the intermediate passing game. He runs great routes and has excellent ball skills. He commands a lot of attention, which can open up other receivers and also helps the run game as he can take a guy out of the box."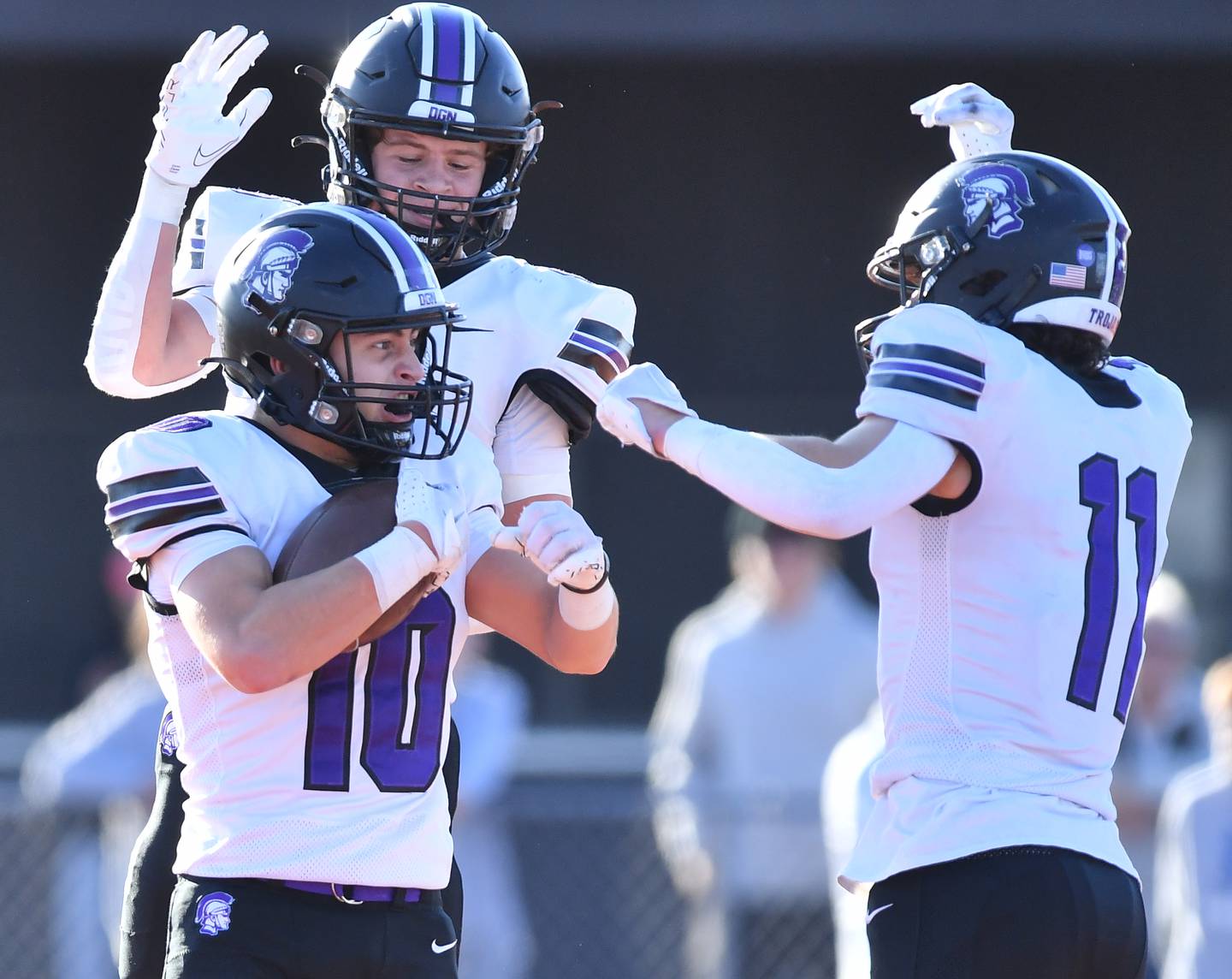 Downers Grove North update
Downers Grove North (10-2) hosts Normal Community Saturday after beating Lincoln-Way West 34-6 in the quarterfinals. It will be the first semifinal in Downers Grove since 2003.
"We're all very excited for our kids and the school," Downers Grove North coach Joe Horeni said. "They are on a fun ride right now. We're hoping to keep it going for another week. A lot of people have worked very hard to help our team achieve what they have so far, but we're not done yet."
"Normal is a very balanced team offensively and has scored a lot of points. They have some key players but also are very solid. Defensively, they have a very impressive team. They have good size up front and all of the kids fly around to the football."
Horeni said advancing to the semifinals has uplifted the entire school and community.
"We're all very excited for our kids and the school," Horeni said. "They are on a fun ride right now. We're hoping to keep it going for another week. A lot of people have worked very hard to help our team achieve what they have so far, but we're not done yet."
Downers Grove North wide receiver Charlie Cruse was instrumental in Saturday's victory, catching seven passes for 115 yards and a touchdown. Horeni said Cruse could be an X-factor against Normal.
"Charlie has had two really solid offensive games in a row," Horeni said.
Extra points
Several area teams are looking to punch their ticket to state this weekend. Nazareth hosts St. Francis in a Class 5A semifinal Saturday at 2 p.m…Wheaton Academy travels to St. Laurence for a 3 p.m. game in Class 4A…Montini takes on Byron at 1 p.m. in Lombard.