When the IHSA football playoff brackets are released each season it's hard for many to not look ahead at potential matchups as the postseason progresses. That was more than likely the case for followers of Seneca and Wilmington when the Class 2A pairings showed a possible rematch in the quarterfinals.
In the opening week of the season, the Fighting Irish used a long scoring drive late and a stop on the Wildcats' final possession for a 27-21 victory. At 2 p.m. Saturday in Seneca, the two teams will meet again with a semifinal appearance on the line.
"We have both improved a lot since that opening game," Seneca coach Terry Maxwell said. "Seeing Wilmington on film from last week shows that, and I think we showed that as well in our game at Rockridge. Can either side take anything away from that first game? Maybe schemes and some other things, but not much after that. Each team has made personnel adjustments and moved some kids around to other spots, so while we both haven't went away from what we do, there have been a few changes.
"I think this game will be a lot crisper and cleaner than what we saw in Week 1."
"Each side wants to be physical up front, control the clock and wear each other down. ... Whichever team can do all of those things will more than likely be showing up again for another week of football practice next Monday."

—  Terry Maxwell, Seneca football coach
Seneca is 11-0 after playoff wins over Dwight/Gardner-South Wilmington (45-0) and Rockridge (47-14). Wilmington (10-1) hasn't lost since the initial setback, including playoff wins over Mercer County (41-14) and Tri-Valley (42-14).
Seneca last made it to the quarterfinals with a trip to the 3A Elite Eight in 2013. The Irish's last time in the semifinals was during their 2A state championship season in 1990. The Wildcats are in the playoffs for the 27th consecutive season – the playoff-less spring 2021 season notwithstanding – under coach Jeff Reents.
Last week the Irish were solid in all three phases with the offense continuing its consistent play.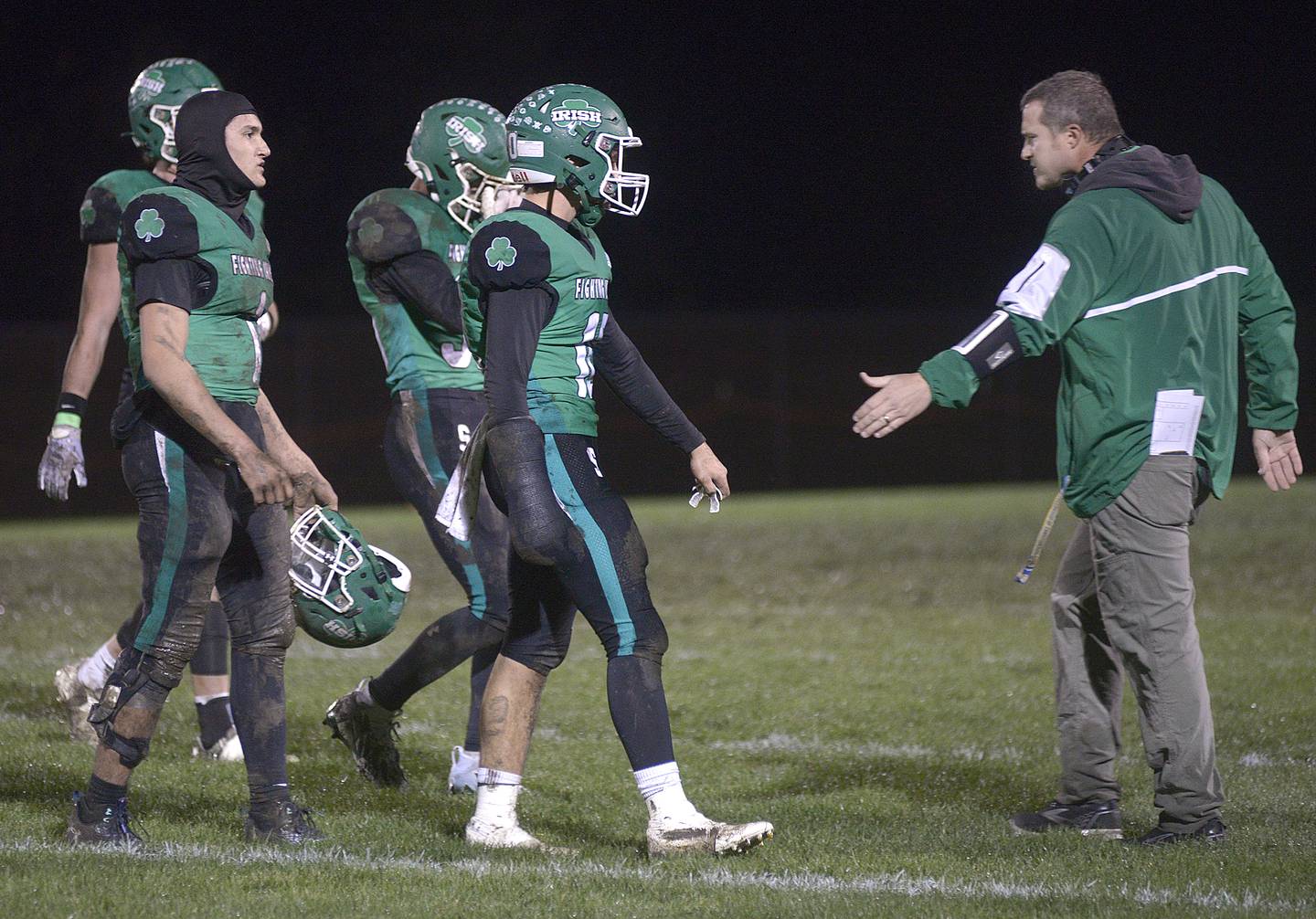 "Sometimes it's easy to look at the final score and think everything went perfect offensively, but that's not always the case," Maxwell said. "Opponents are going to try different things to stop you from week to week, so it's important to look for the things we didn't do well and work on those. Our faking was maybe the best it's been all season, everyone was carrying out fakes six or seven yards past the line of scrimmage. It just shows how selfless our skill guys are, they don't care who has the stats as long as at the end of the game we have more points than our opponents do."
The backfield power-T foursome of junior quarterback Paxton Giertz and senior backs Asher Hamby, Nathen Neal and Nathan Grant combined for 356 rushing yards last week for Seneca, which has run for more than 3,000 yards this season. Grant, a three-plus-year starting QB missed a couple games this season with an injury with Giertz taking over as signal caller.
"Paxton has done a tremendous job of commanding the quarterback position, and his fakes are right there with what Nathan has done for us for three-plus years," Maxwell said. "Nathan is a very physical runner, as is Asher and Nathan, but having Paxton step in has allowed us to put Nathan – who has gotten healthier each week – in the backfield, and he had a really good game last Saturday."
Seneca also showed it can hurt defenses with the pass if needed as Giertz threw for a pair of touchdowns against Rockridge.
"We work on our passing a game a lot, which might surprise some people, but we don't always have to go that direction in the games," Maxwell said. "We want to run the ball, but we also want the defense to have to cover the whole field, and that's where being able to be successful in the passing game can be a big weapon for us. So, the passing game is always there if we need it, and I'm more than comfortable calling for a pass if we are in a situation where I feel we need it, or I feel it will be effective."
Maxwell said the outcome will more than likely come down to the norms, taking care of the football and minimizing mistakes, but added it's the play on the lines that will be the biggest key in his mind.
"Our line play on both sides of the ball has been really strong all season and that's something that will have to continue if we want to beat Wilmington," Maxwell said. "Each side wants to be physical up front, control the clock and wear each other down.
"Whichever team can do all of those things will more than likely be showing up again for another week of football practice next Monday."