Oregon 48, Rockford Christian 13: At Rockford, the Hawks routed the Royal Lions, finishing their regular season with a 5-4 record.
Logan Weems rushed 18 times for 127 yards and two touchdowns, bringing his season totals to 1,006 rushing yards and 14 rushing touchdowns.
Jack Washburn finished 6-for-10 passing for 78 yards with two touchdown passes: a 12-yarder to Josh Crandall and a 20-yarder to Griffin Marlatt. Washburn finished the regular season with 1,048 passing yards.
Austin Egyed caught two passes for 42 yards as the leading receiver.
Lucas Cole returned a kickoff 73 yards for a touchdown and rushed for 43 yards on seven carries. Cooper Johnson added 92 rushing yards and a touchdown on eight carries.
Hunter Bartel returned a blocked punt 13 yards for a touchdown.
Rockridge 41, Erie-Prophetstown 6: At Rockridge, the Panthers were shut out for three quarters in a loss to the Rockets.
Justus Hough scored on a 16-yard touchdown run with 3:34 remaining in the game.
Demetree Larson was the leading rusher for Erie-Prophetstown, taking 10 carries for 47 yards.
Cullen Schwigen rushed for 89 yards and a touchdown and passed for 139 yards and a touchdown to lead Rockridge.
The Panthers finished their season 3-6.
Eastland-Pearl City 28, Dakota 8: At Dakota, the Wildcatz capped a 3-6 season with a 20-point win over the Indians.
Jackson Corbin went 5-for-6 passing for 106 yards and two touchdowns, and Jaxsyn Kempel rushed 10 times for 63 yards and a touchdown, caught one pass for an 80-yard touchdown and recorded a sack. Zye Haverland caught three passes for 41 yards and a touchdown, and Draven Zier rushed for 25 yards and a touchdown.
Will Birchen led Eastland-Pearl City with 10 tackles.
Rock Falls 41, Winnebago 35: At Rock Falls, the Rockets edged the Indians to finish their season 2-7.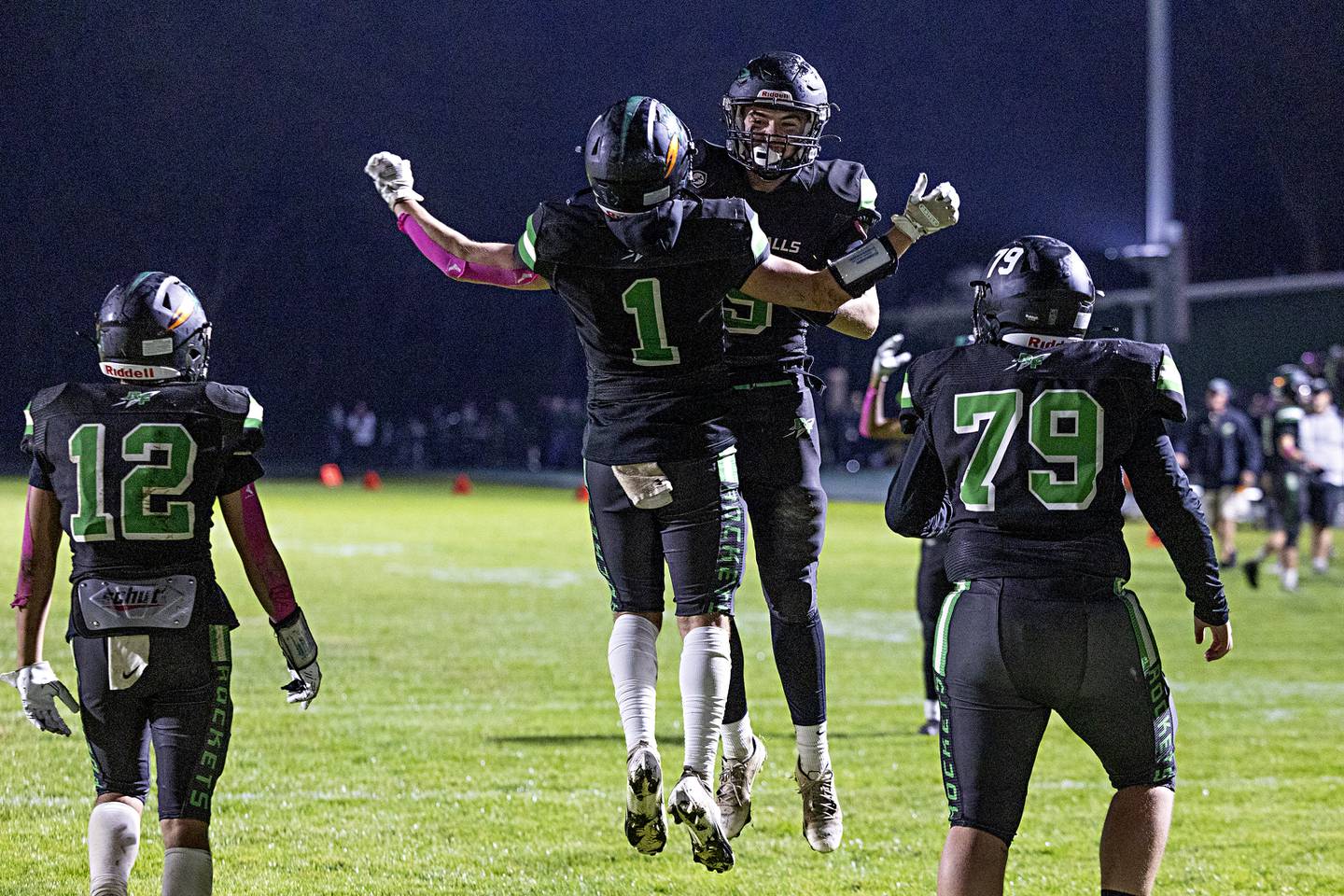 Illinois 8-Man Football Association
Milledgeville 72, Bushnell-Prairie City 12: At Milledgeville, the Missiles steamrolled the Spartans, finishing their regular season at 8-1.
Connor Nye went 7-for-11 passing for 171 yards and five touchdowns and rushed for 77 yards on seven carries to lead the Milledgeville offense. Karter Livengood caught three passes for 74 yards and two touchdowns, Bryce McKenna caught an 8-yard touchdown pass and Konner Johnson caught a 53-yard touchdown pass. Johnson also had a 26-yard touchdown run.
Evan Schenk threw a 25-yard touchdown pass to Bryson Wiersema, and Spencer Nye had a 26-yard pick-six.
Micah Toms-Smith rushed for 169 yards and two touchdowns on eight carries and caught an 18-yard touchdown pass.