Crystal Lake South quarterback Caden Casimino had a memorable and historic night during Friday's 54-43 Fox Valley Conference loss to Huntley.
The 5-foot-11, 185-pound senior, who entered the week as the area's third-leading passer behind Marian Central's Cale McThenia and Crystal Lake Central's Jason Penza, set a school and conference record with 551 yards on 36-of-66 passing.
The previous FVC record was held by Dundee-Crown's Josh Raby, who threw for 545 yards in a 70-55 loss to Prairie Ridge on Sept. 14, 2018. Casimino's total also means he takes over 13th on the IHSA list for a game from Raby.
Casimino had four touchdowns, three interceptions and averaged 15.3 yards per completion. Three Gators' receivers (Sasha Summers, Colton Hess, AJ Demirov) went over 100 yards. Summers had 211 yards on 12 catches.
Casimino connected twice for touchdowns of 49 yards.
The Gators (2-4, 2-4 FVC) planned all week to air it out against the Raiders (5-1, 5-1), and coach Rob Fontana joked with Casimino that he should be ready to ice his shoulder. But even Fontana was surprised to hear his quarterback threw it 66 times.
"He's a heck of a leader and a guy who has no quit," Fontana said. "I'm just proud of him for keeping these guys together and staying after it. None of these guys want us to let up on them, so we're going to continue to coach them hard."
Huntley coach Mike Naymola was impressed by the Gators' air attack.
"They can sling it, man," Naymola said. "Their quarterback is a special player, he's ultra-talented. They've got some really talented receivers, and (Michael) Prokos, their best receiver, wasn't even on the field. I can only imagine what they would have done with him out there.
"They put the ball in good spots for their receivers and they make big plays. I think it just shows that we have to continue to get better on defense and make sure that kind of stuff doesn't happen again."
The Gators will have to win their final three games against McHenry, Cary-Grove and Jacobs in order to qualify for the postseason. If they get there, Casimino will certainly play a big part.
Friendly competition benefits Tigers: Nick Kozlowski doesn't have to pick a side since the senior plays on both sides of them up front at tackle for Crystal Lake Central.
The best part for Kozlowski and the Tigers is big things are happening on offense and defense as they won their fourth consecutive game 42-0 at McHenry on Friday night. They allowed only 80 yards of total offense and extended their scoreless streak to 10 quarters.
"We play well off of each other," Kozlowski said. "If the offense does well the defense wants to do even better and if the defense does well the offense wants to do better. We have an internal competition on and off the field."
Central (4-2, 4-2) is allowing only 12 points per game after giving up an average of 32 the last two seasons. The two shutouts matches the 2006 team for the most in one season by the Tigers since 1996, when the IHSA website started posting yearly scores.
"It's a case of the kids believing more and more and understanding what their assignments are," Central coach Dirk Stanger said. "The focus has been there with the defense. They play hard and they play physical, which is what we want to see."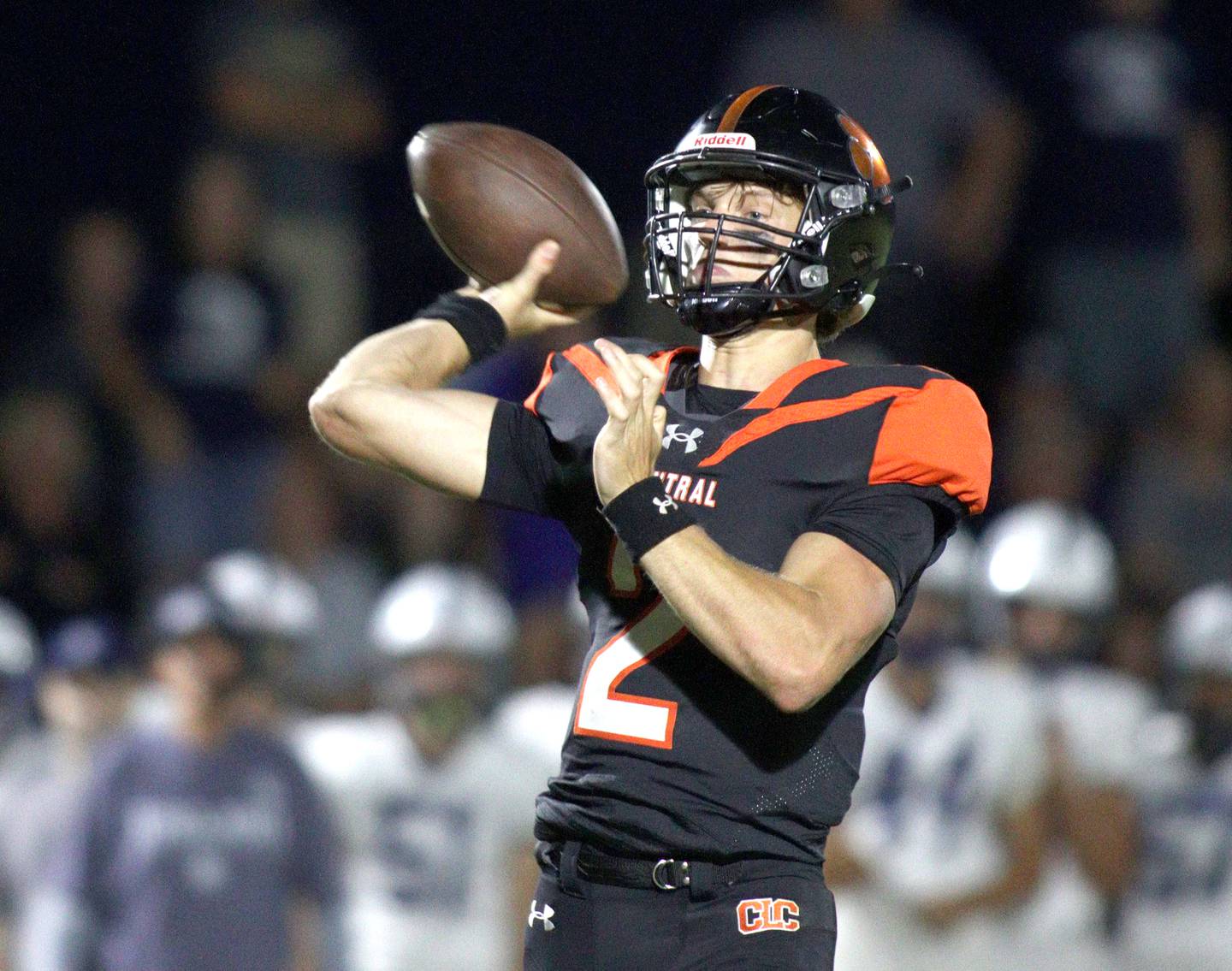 Half full, half nearly empty: Central couldn't have asked for a much better first half Friday at McHenry as Jason Penza threw touchdowns on five of its six offensive possessions and it had an advantage in total yards of 283-24. But that rhythm seemed to be disrupted when McHenry ate up the first eight minutes of the second half with a 13-play drive.
"We played our butts off, but in the third quarter we came out a little flat," Kozlowski said. "We can't let us get ahead of ourselves. We have to remember to play two halves of football."
When the Tigers did get the ball back they looked as if they were on the way to another score on a drive from their 21 to the McHenry 18. Three successive penalties - including two for unsportsmanlike conduct - suddenly put them in a second-and-39 that even their prolific offense couldn't overcome.
"It was definitely just penalties (eight for 70 yards), we let that kill us," Penza said. "It's definitely something we have to clean up in practice. It's a key point to focus on."
Penza's five first-half touchdown passes broke his previous best of four in a game, which he accomplished three times, against Crystal Lake South and Dundee-Crown this year and Prairie Ridge last year.
"They're a very good offense and very talented," McHenry coach Jeff Schroeder said. "Any time you face a good scheme with talent it's going to be tough. They're good at what they do."
The drive for five: High school football teams generally have similar goals, one of which is to win their respective conference.
But when that hope is dashed, getting to five wins and making the playoffs becomes the next most important achievement.
And it's what made Friday night's Burlington Central vs. Jacobs contest wreak with anticipation. The Golden Eagles' 28-7 victory left both teams with 3-3 records with three games to play.
Central has arguably the more challenging road as it faces teams with a combined 12-6 record. Two of those teams - Prairie Ridge (6-0) and Huntley (5-1) - are perennial top-tier teams in the Fox Valley Conference.
"No doubt, it's a great challenge for us," Rockets coach Brian Iossi said, "but we still have the opportunity to make (the playoffs). We just have to win two games in the next three weeks."
Jacobs, meanwhile, will take on teams with a combined 6-12 record (Crystal Lake Central, McHenry, Crystal Lake South). Both Central and South have quarterbacks who are Nos. 2 (Penza) and 3 (Casimino) in area passing.
"(Penza) is elusive and he can throw the ball well," Zimmerman said. "He has (George) Dimopoulos as a key target and a good group of receivers. We will have to do our best to pressure him. Our defense has been playing well and we'll have to be at our best."
Crazy stat update: When Cary-Grove quarterback Peyton Seaburg completes a pass, there's an 87.5% chance it will end up in the end zone. Seaburg is 8 of 17 for the season and seven have gone for touchdowns, the most recent being Friday's 34-yard score to wide receiver Jake Hornok in a 41-21 win over Hampshire.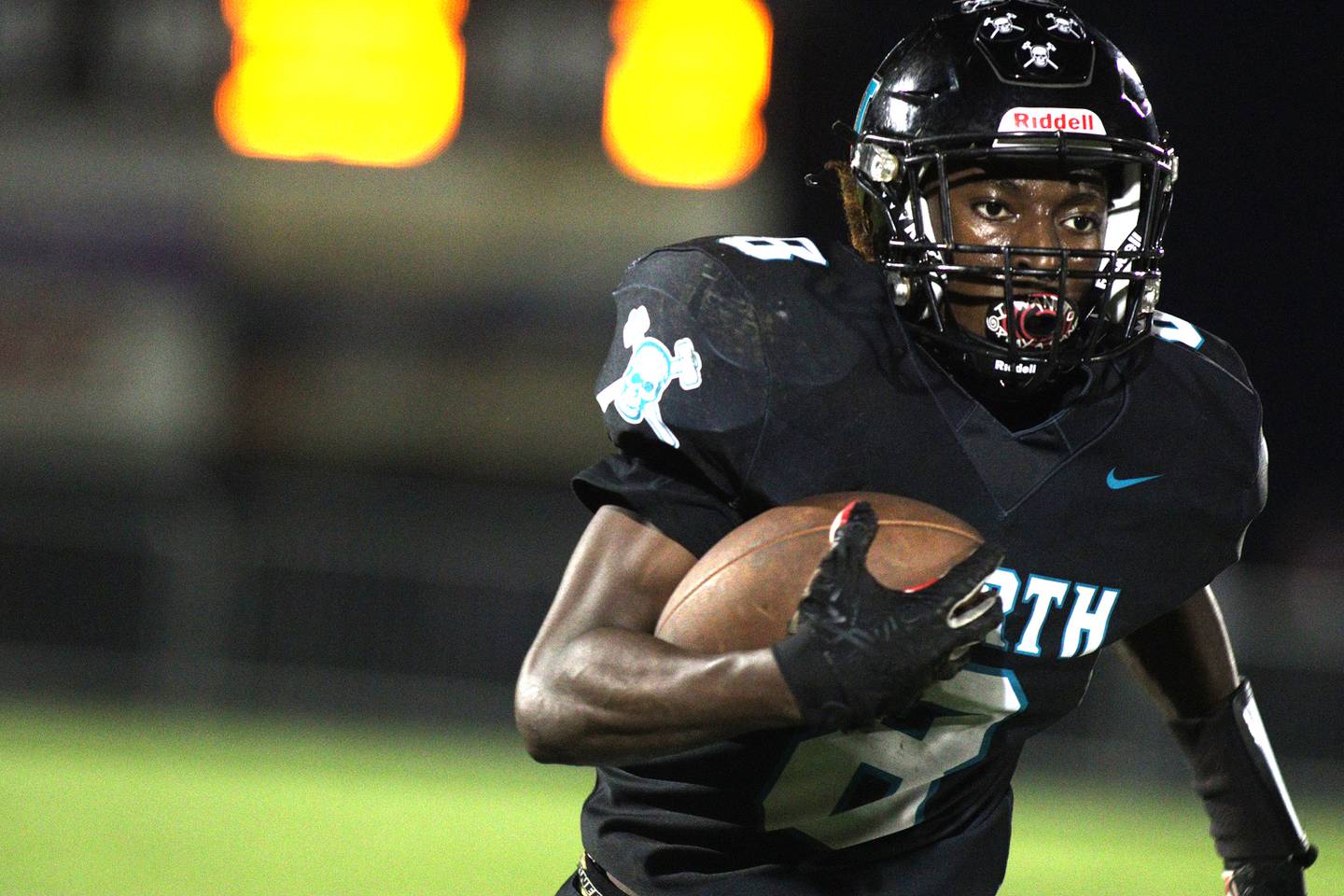 Max effort: Woodstock North junior wide receiver Max Dennison has eight touchdowns total after scoring three times in Friday's 28-27 loss to Ottawa. Dennison has five receiving touchdown, two rushing and one via punt return.
Dennison carried five times for 57 yards and two touchdowns against Ottawa and caught two passes for 80 yards and another score.
"He's a great kid, and it's nice that he'll be back next year for us," Thunder coach Matt Polnow said. "And that's a big thing for us this season. We just wanted to build a culture (for the players who will be returning), and I think that culture is starting to come around.
"The kids are coming to practice every day, we're not missing any practices. I just hope that can carry over to the offseason and the weight room."
Creighton's record: North quarterback Landan Creighton set a school record in Week 5′s 14-7 win over Woodstock. Creighton's 96-yard rushing touchdown was the longest in school history.
There is a 99-yard kickoff return as the longest for the Thunder, but for rushing plays Creighton now has the mark.
Skyhawks' bright spot: Despite a tough night on the offensive side of the ball, Johnsburg coach Sam Lesniak did have reason to be pleased about what his defense was able to do in the second half of Friday's loss to Plano.
Despite being on the field for more than 17 minutes in the first half, the defense tightened up enough in the second half to give the Skyhawks some hope. Plano was just 1-for-3 on third downs in the second half. That included a big sack by Dominic Vallone in the third quarter to pin the Reapers deep in their own territory.
Plano had just four first downs in the second half compared to 12 first downs in the first half.
Plano averaged just 3.1 yards per play for the game.
"Defensively, they played tough," Lesniak said. "They got stops. They were on the field for a long part of the game, but they continued to come up with some stops. They made some big plays in the backfield to put them behind the sticks at times. Hats off to them for giving the offense a chance."
• Alex Kantecki, Sam Natrop, Andy Tavegia, Joe Stevenson and J.T. Pedelty contributed to this report.