Dixon 62, Winnebago 12: At Dixon, Aiden Wiseman rushed for 119 yards and three touchdowns on 12 carries to lead the Dukes to a homecoming win.
Tyler Shaner went 10-for-12 passing for 172 yards with two touchdowns and one interception and rushed for 105 yards and a touchdown on 13 carries. Brady Lawrence rushed for two touchdowns and Landon Knigge rushed for one touchdown for the Dukes.
Tyson Dambman caught six passes for 82 yards and two touchdowns as the leading Dixon receiver.
Forreston 22, Stockton 8: At Forreston, Owen Mulder rushed for two touchdowns and Kaleb Sanders rushed for one to lead the Cardinals past the Blackhawks.
Mulder rushed for 71 yards on 14 carries and Sanders rushed for 45 yards on four carries. Micah Nelson chipped in 71 rushing yards on 11 carries for Forreston.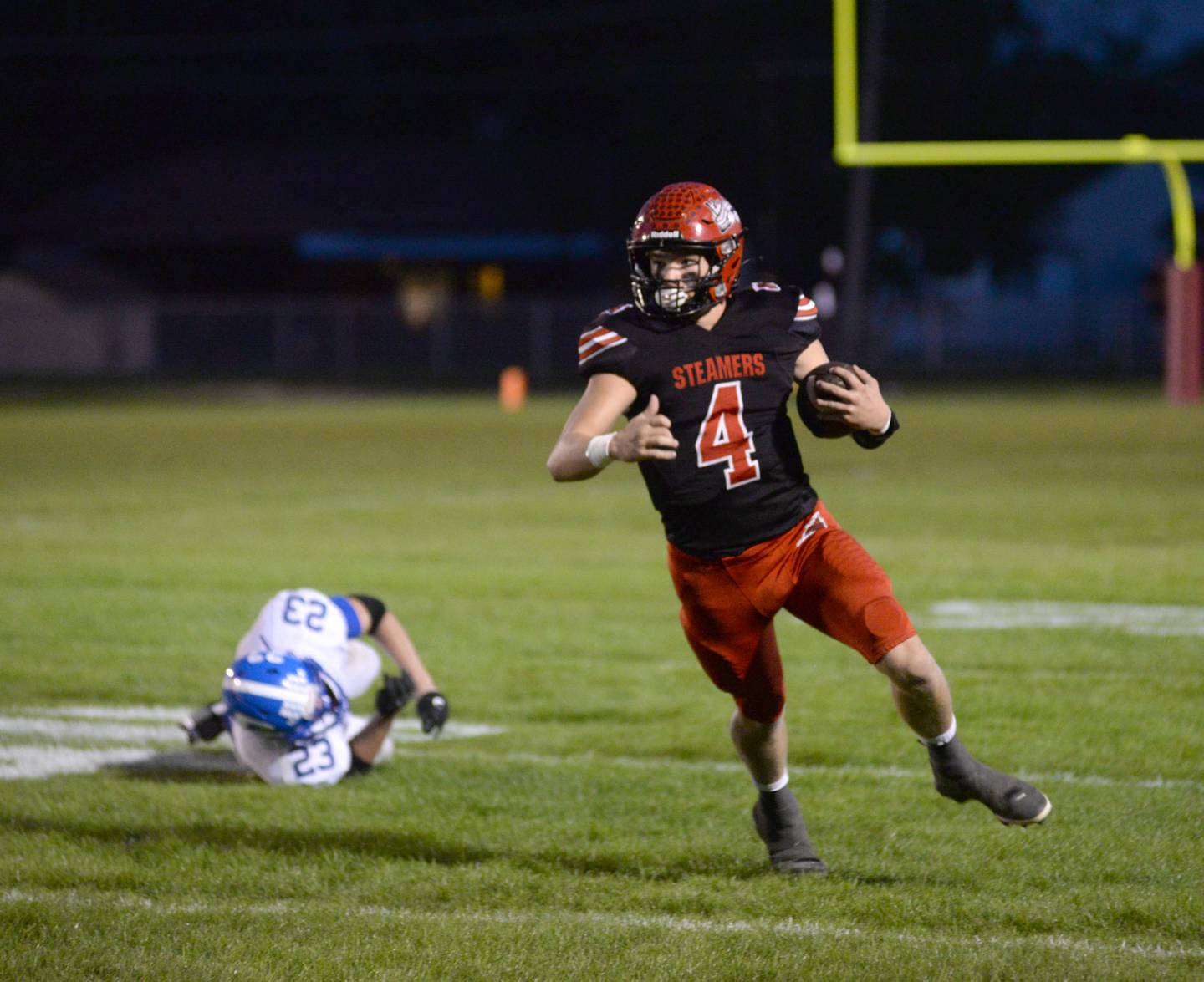 Fulton 18, Galena 7: At Fulton, the Steamers defeated the Pirates in an NUIC matchup.
Dom Kramer threw a 16-yard touchdown pass to Baylen Damhoff and a 14-yard touchdown pass to Jacob Huisenga to lead the Steamers. A.J. Boardman rushed for a 29-yard Fulton touchdown.
The Steamers rushed for 200 yards and passed for 102.
Roman Romer caught a 19-yard touchdown pass from Kaden Hauber for Galena's lone score.
Eastland-Pearl City 40, Aurora Central Catholic 15: At Aurora, the Wildcatz cruised past the Chargers in a nonconference matchup.
Jaxsyn Kempel rushed for 104 yards and a touchdown on 10 carries, Draven Zier rushed for 81 yards and two touchdowns on 13 carries, and Will Birchen added 37 rushing yards and two touchdowns on six carries to lead Eastland-Pearl City. Adam Awender had an 82-yard kickoff return touchdown for the Wildcatz.
Erie-Prophetstown 35, Orion 34: At Orion, the Panthers defeated the Chargers in a nail-biter.
Erie-Prophetstown running back Demetree Larson caught the last three passes of the game, including the final touchdown and the game-winning two-point conversion. Larson had a monster game on both sides of the ball, as he compiled 134 receiving yards and 75 rushing yards, a forced fumble and an interception.
Panthers quarterback Jeremiah Kochevar was also instrumental in the win, passing for 239 yards with one touchdown and one interception and rushing for 94 yards and two touchdowns.
Running back Justus Hough totaled 118 rushing yards, two rushing touchdowns and 10 receiving yards, and tight end Luke Otten added 82 receiving yards and 17 rushing yards in a 505-yard effort for E-P.
Illinois 8-Man Football Association
Polo 64, Unity Christian 0: At Polo, the Marcos streamrolled the Lions in a nonconference matchup.
Brock Soltow rushed for 124 yards and one touchdown on five carries, caught two passes for 32 yards and a touchdown, and threw a 48-yard touchdown pass to Noah Dewey on his only attempt of the game. Dewey also rushed for a 25-yard touchdown, Billy Lowry rushed for a 59-yard touchdown and Kailin Gulbranson rushed for a 29-yard touchdown.
Carter Merdian threw a 28-yard touchdown pass to Soltow, Gus Mumford nabbed a 55-yard pick six, and Delo Fernandez rushed for 51 yards and two touchdowns on three carries.