GENEVA – Every time Batavia needed the big play or the smart play Sept. 29, Ryan Boe delivered.
Even with the game in hand.
One play after the Batavia senior quarterback bulled his way to a third-and-short conversion in the final two minutes with Geneva out of timeouts, Boe had a clear path to his fourth touchdown on a quarterback keeper. Instead, Boe slid and took a knee, mindful of running out the clock.
"That's just coaching," Boe said. "We always talk about what to do in certain situations. Once I look over, I'm past that third-down marker, just go down, know I can take the knee and end the game."
[ Photo store: Batavia vs. Geneva ]
The Bulldogs needed that experienced mindset and toughness to turn away its toughest challenge from Geneva in more than a decade.
Boe, a third-year starter and North Dakota State recruit, ran for a touchdown and threw for one in the first half. His biggest score, however, was a 27-yard touchdown run early in the fourth quarter after Geneva had closed to within one score.
Batavia held on for a 21-18 win at Burgess Field in the 105th edition of the rivalry game between DuKane Conference leaders.
It was Batavia's 13th straight win in the series, but the closest margin of the 13 and the first decided by single digits in nine years.
Boe was 14-of-23 passing for 137 yards and a 23-yard touchdown to Luke Alwin. Boe also ran for 109 yards on 12 carries for the Bulldogs (5-1, 4-0).
"I mean, we talked, we knew [Geneva] was going to be good this year, this is one of their years," Boe said. "We expected a close game. We kept the morale high and kept chugging along."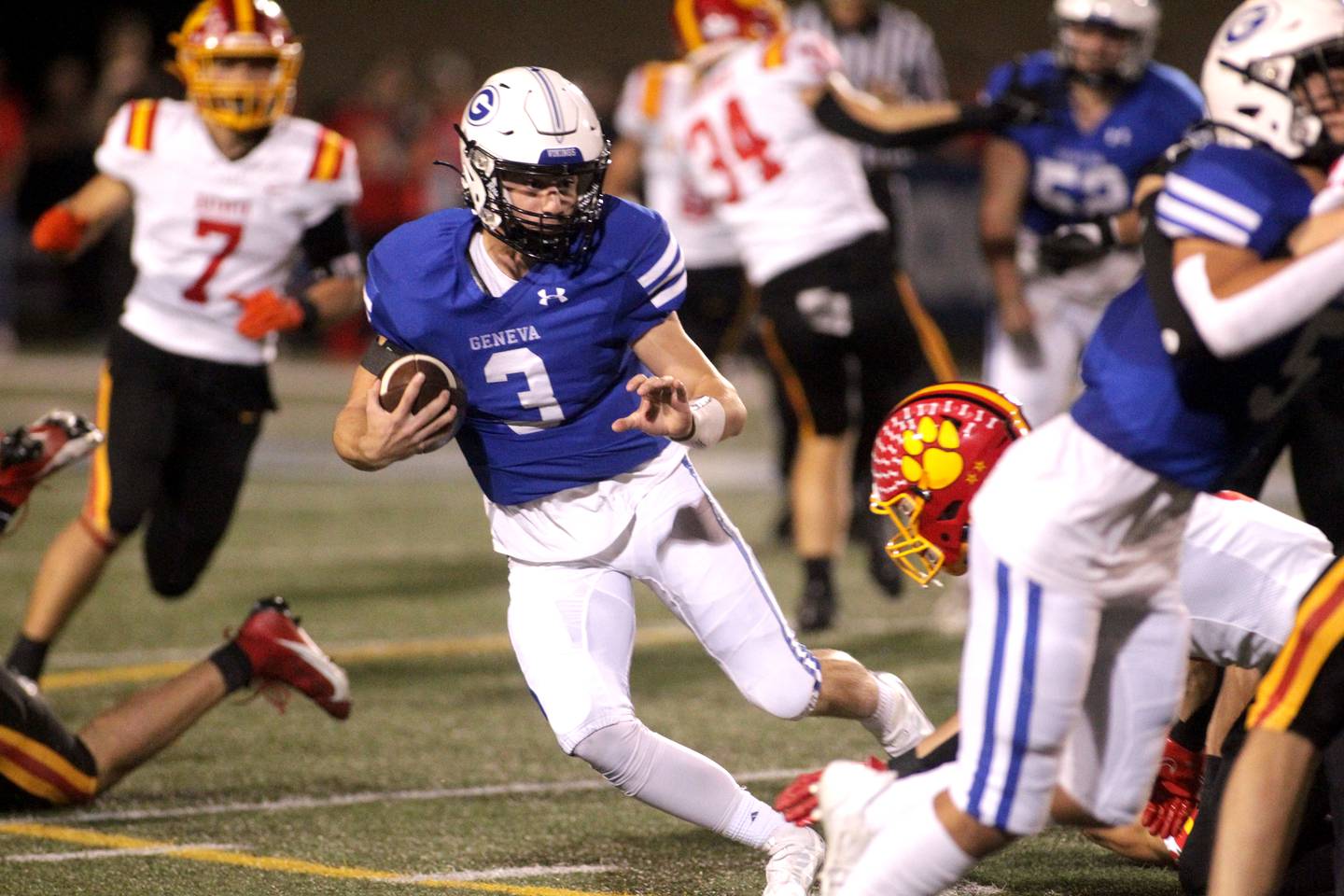 Geneva (5-1, 3-1), off to its best start since 2015, trailed 14-3 at the half but twice closed to within one score on TD runs by senior quarterback Nate Stempowski.
Stempowski's 1-yard TD with 1:07 left in the third quarter got the Vikings to within 14-10. Batavia promptly answered with a seven-play, 75-yard scoring drive. Charlie Whelpley (15 carries, 90 yards) went for 25 yards on a third-down conversion and Boe connected with Alwin for 12 yards for another third-down conversion. Boe followed on the next play with a 27-yard TD to make it 21-10 with 9:58 left.
"That's just Batavia football," Boe said. "We're going to put our guys against yours and we're going to push you back and we're going to go. It's nice having that core group of guys that you're going to get that good push."
It's also nice to have a core guy such as Boe.
"He's a special, special football player," Batavia coach Dennis Piron said.
Geneva scored on its first drive of the game on Jayden Hodgdon's 29-yard field goal. But the Vikings' offense seemed stuck in neutral for the rest of the first half. Standout wide receiver Talyn Taylor had one catch for five yards in the first half and three catches for the game.
Stempowski's 3-yard run on a fake punt on Geneva's second series of the second half provided a spark and a 14-play drive ended with Stempowski's 1-yard TD run.
Taylor's fourth-down end around pass to Troy Velez set up Stempowski's second TD run from 4 yards out and Stempowski's conversion pass to Bryce Breon made it 21-18 with 2:55 left in the game.
Stempowski was 17-of-28 passing for 103 yards and ran for 84 yards on 13 carries.
"We showed a lot of grit and a lot of resolve and I love that out of my football team," Geneva coach Boone Thorgesen said. "[I'm] very pleased with that. [It's] obviously not the outcome, but we played a great team in Batavia. You have to be really, really freaking good. We missed a few plays here and there, but I'm proud of my boys."
Thorgesen agreed that the game was further confirmation that the gap indeed has closed between the two rivals.
"Our boys were ready to play this game," Thorgesen said. "I knew all week that they would come out and play hard and play with heart and see where the chips would fall."
Batavia has put itself in the driver's seat in the DuKane Conference with consecutive wins over Wheaton North, defending DuKane champion St. Charles North and previously unbeaten Geneva.
"[It was] just a great high school football game that went down to the wire," Piron said. "That's a tough run of teams to play. They've all had a playoff feel to them. We didn't win conference last year even though we went to state. We really want to win a conference title. We know we have our hands full."