HUNTLEY – Crystal Lake South's plan of attack against Huntley on Friday was to chuck the ball all over the field with senior quarterback Caden Casimino.
And while Casimino had a record-setting night – breaking the Gators' single-game record with 546 passing yards on 65 attempts – it was Huntley's own hard-to-stop offense that proved to be the difference in a wild 54-43 Fox Valley Conference victory for the Red Raiders.
After South scored a pair of 49-yard touchdowns on consecutive plays thanks to a successful onside kick that cut Huntley's lead to 46-34 with 1:37 remaining in the third quarter, it was Huntley senior running back Haiden Janke who came through with a big play of his own.
[ Photos: Crystal Lake South vs Huntley ]
Janke busted through the line, and after almost being tackled by a couple of Gators defenders, he ran free 66 yards to the end zone to give the Raiders (5-1, 5-1 FVC) some much-needed breathing room and a 54-34 lead.
"They couldn't stop our offense," Janke said. "We knew we were going to come out and shove it right back down and score another touchdown. It felt so good. I had it, and I trusted my O-line. I tell them I love them every week."
Janke finished with 182 yards rushing on 22 carries and three touchdowns, adding scores of 34 and 6 yards. On his 34-yard touchdown on Huntley's first possession of the game, Janke stiff-armed a South defender at about the 20-yard line.
Huntley scored on its first five possessions of the game and led 33-13 at halftime. At that point, the Raiders felt like they were in a good spot.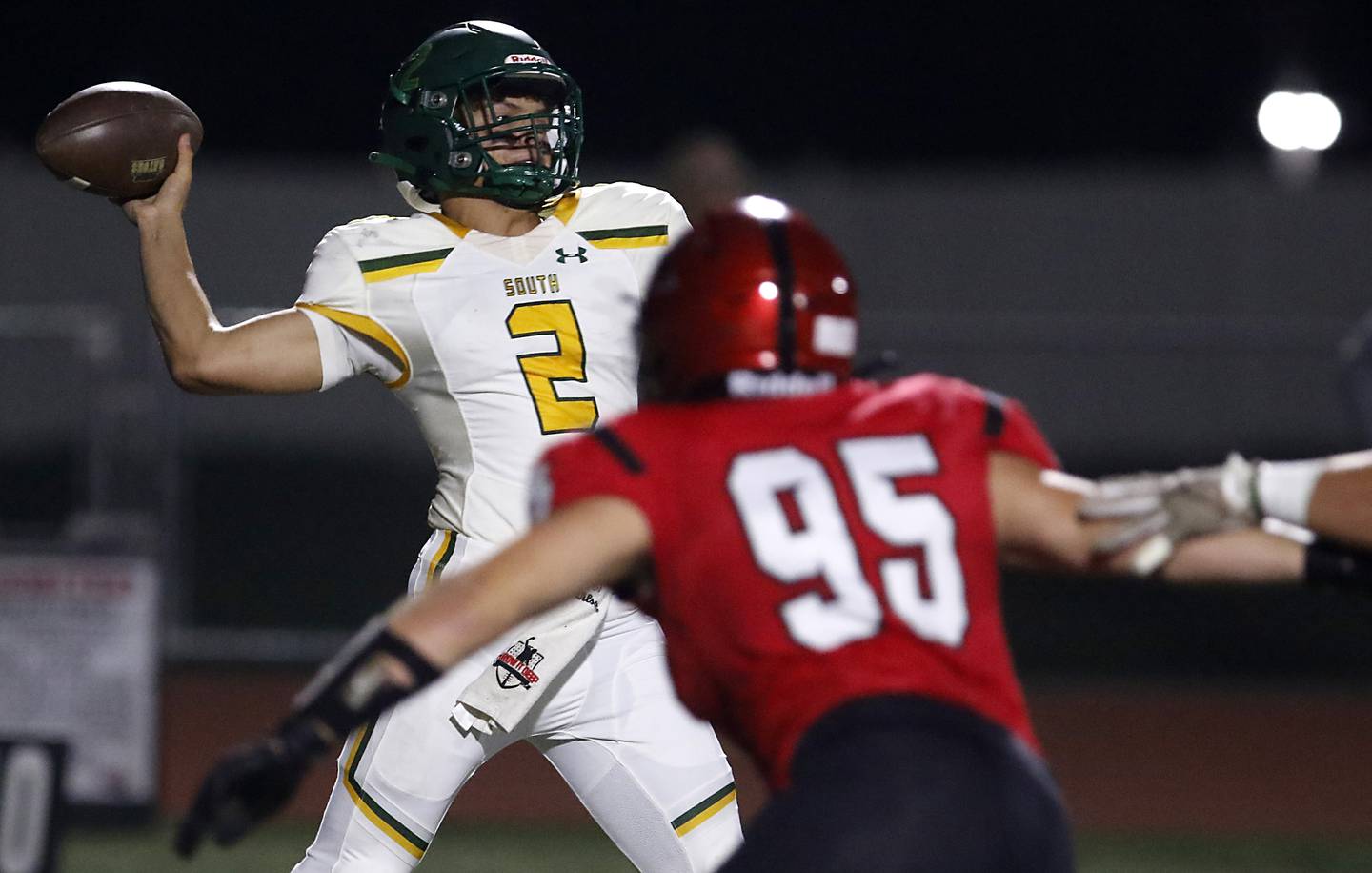 "We were able to move the ball pretty consistently," Huntley coach Mike Naymola said. "Credit to [South] for sticking around and making plays. They didn't quit. We had to get refocused there for awhile. We thought the game was at hand, and all of a sudden it wasn't."
South recovered two onside kicks to help them inch closer to Huntley. A wild third quarter saw the teams combine for six touchdowns.
The Gators (2-4, 2-4) scored on a Jake Christiansen 1-yard run with 3:17 remaining to cut Huntley's lead to 54-41. They then recovered an onside kick, but Casimino threw deep and was intercepted by Zach Rysavy for the second time, putting the ball at the 2-yard line.
Huntley fumbled the snap immediately after, with the ball going out of the end zone for a safety. Trailing 54-43 with 2:23 left, Casimino had one more chance to bring the Gators closer, but Huntley's defense came up with a stop, including a sack before getting a stop on fourth down.
"They couldn't stop our offense. We knew we were going to come out and shove it right back down and score another touchdown."

—  Haiden Janke, Huntley senior running back
Casimino finished 36-of-65 passing for 546 yards and four touchdowns and three interceptions. Sasha Summers had 12 catches for 211 yards and a touchdown, Colton Hess had six catches for 144 yards and three touchdowns, and AJ Demirov had 10 catches for 132 yards.
Huntley's Braylon Bower was 12-of-17 passing for 179 yards and four touchdowns. Jacob Witt had nine catches for 129 yards and two scores, and Omare Segarra and Jacob Pochicha each had one TD.
South coach Rob Fontana was proud of his team's effort, especially in the second half.
"We always preach two things: effort and energy," Fontana said. "We wanted to make sure we saw that in the second half. It looked like we were having a little fun in the second half. We had guys stepping up. Our seniors have no quit in them."
"[Huntley's] back is big, strong and physical. I was so proud of our guys for the way they responded."
Fontana called Casimino super competitive and "a machine."
"We told him this week that he was going to need some ice on his shoulder," Fontana said. "Our intention was to put the ball down the field. We let him know in this game, if he was throwing any [interceptions], that wasn't going to fall on him. We wanted him to take some shots. He was incredible today."
Huntley 54, Crystal Lake South 43
Crystal Lake South 7 6 21 9 – 43
Huntley 6 27 21 0 – 54
First quarter
H-Janke 34 run (kick blocked), 7:29
CLS-Burburija 1 run (Semradek kick), 0:54
Second quarter
H-Segarra 49 pass from Bower (run failed), 11:51
H-Witt 26 pass from Bower (Sargent kick), 7:42
H-Walker 9 run (Sargent kick), 5:01
CLS-Hess 6 pass from Casimino (run failed), 3:42
H-Pochicha 5 pass from Bower (Sargent kick), 0:41
Third quarter
H-Witt 40 pass from Bower (Sargent kick), 11:00
CLS-Hess 35 pass from Casimino (Semradek kick), 8:59
H-Janke 6 run (kick missed), 2:51
CLS-Summers 49 pass from Casimino (Semradek kick), 1:47
CLS-Hess 49 pass from Casimino (Semradek kick), 1:37
H-Janke 66 run (Witt pass from Bower), 1:23
Fourth quarter
CLS-Christiansen 1 run (Semradek kick), 3:17
CLS-Safety, 2:23
INDIVIDUAL STATISTICS
RUSHING–Crystal Lake South: Christiansen 9-50, Casimino 4-25, Hess 1-5, Burburija 1-1, Team 3-minus 30. Totals: 18-51. Huntley: Janke 22-182, Bower 4-10, Garifo 2-23, Walker 2-5. Team 1-minus 3. Totals: 31-217.
PASSING–Crystal Lake South: Casimino 36-65-3-546. Huntley: Bower: 12-17-0-179.
RECEIVING–Crystal Lake South: Summers 12-211, Demirov 10-132, Hess 8-144, Christiansen 4-24, Buelna 2-35. Huntley: Witt 9-123, Segarra 1-49, Pochicha 1-5, Janke 1-2.
TOTAL YARDS: Crystal Lake South 597, Huntley 396.