WOODSTOCK – Marian Central left George Harding Field on Friday night impressed with Chicago Hope, which presented multiple challenges, yet was frustrated by its own shortcomings.
The Hurricanes felt that with better focus and discipline, they would not have come out on the short end of a 28-26 decision to the Eagles in their Chicagoland Christian Conference game.
Back-to-back holding penalties on the penultimate drive after Marian (3-3, 3-1) reached Hope's 24-yard line helped kill that drive. There was a missed extra point on a mishandled hold and a missed two-point conversion because of a missed block.
[ Photos: Chicago Hope vs. Marian Central ]
Through it all, Marian had a shot with five seconds remaining. Kicker Andrew Thielsen went on to try a 47-yard field goal that would have won the game, but the Eagles (5-1, 3-1) broke through up the middle to block the kick.
Quarterback Cale McThenia ran for 111 yards and three touchdowns, and threw for 284 yards and a score, but said he felt responsible because he had a pass picked off and returned 85 yards for a touchdown in the second quarter.
"We should not have been in that position," McThenia said of being behind at the end. "That pick-6 is on me. I tried to get it back, but I couldn't get it at the end. We did everything we could to get the win. I told them, 'Sorry, it's on me.' "
That play happened late in the first half, but McThenia rebounded with a 57-yard scoring strike to Jacob Sievert. The score was tied at 14 at halftime.
After Marian's drive failed at Hope's 32, the Eagles moved to Marian's 39. The Hurricanes got the ball back with 20 seconds remaining, and McThenia hit Sievert for 30 yards, giving Marian life.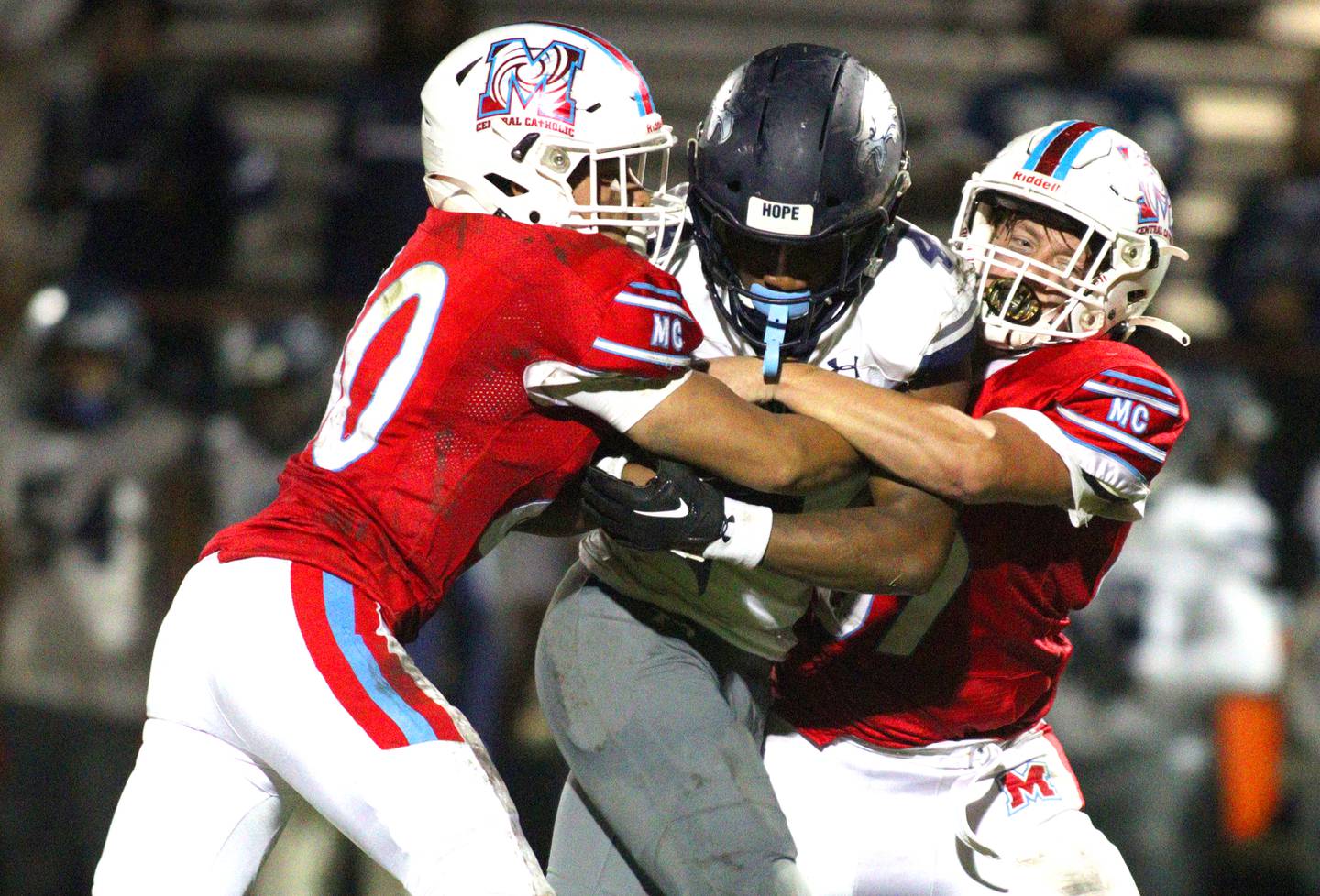 McThenia spiked the ball, then missed on a pass to Rylan Dolter, so the Hurricanes tried the kick.
"It's big and big," Hurricanes linebacker Sean Truckenbrod said. "We have to perform in big moments and avoid big mistakes. We weren't able to do that today. We have a lot of potential, but we're tired of talking about potential and we need to put it on the field."
Marian has remaining games with Aurora Christian, St. Edward and Wheaton Academy, and needs two wins to become playoff eligible.
"We've backed ourselves into a little bit of a hole. We have to have a playoff mindset, starting right now," Hurricanes coach Liam Kirwan said. "We have to win next week against Aurora Christian. Chicago Hope has some great playmakers. I told the boys pregame, 'They're going to make some big plays. How many can you limit?'
"It was nice to see us get some stops defensively, but it wasn't enough. We have to get four quarters of football in. We got close, but the level of focus and discipline was just not there."
Hope's Aaron Green caught a 65-yard touchdown pass from Eddie Jenkins Jr. in the first quarter, then picked off McThenia for the defensive touchdown in the second.
Running back JaMarkus Lofton ran 11 times for 153 yards and a 60-yard touchdown in the fourth quarter.
The Eagles did the best job of any team this season defending Marian wide receiver Christian Bentancur. Bentancur had seven catches for 72 yards.
"We knew we were going up against a great player," Eagles coach Chris Mallette said. "We schemed against him. You don't scheme against 22 guys, you game plan against two or three guys. He was one, and No. 7 was another. We knew they were very dangerous, very gifted.
"They're going to be playing at home. We're getting to that playoff berth time, [and] things are starting to get tight."
Chicago Hope 28, Marian Central 26
Hope 7 7 7 7 28
Marian Central 7 7 6 6 – 26
First quarter
MC–McThenia 2 run (Thielsen kick), 5:34.
CH–Green 65 pass from Jenkins (Gonzalez kick), 4:19.
Second quarter
CH–Green 85 interception return (Gonzalez kick), 1:31.
MC–Sievert 57 pass from McThenia (Thielsen kick), 1:08.
Third quarter
MC–McThenia 10 run (kick failed), 5:59.
CH–West 21 pass from Jenkins (Gonzalez kick), 3:48.
Fourth quarter
CH–Lofton 60 run (Gonzalez kick), 11:19.
MC–McThenia 5 run (pass failed), 9:14.
INDIVIDUAL STATISTICS
RUSHING–Chicago Hope: Lofton 11-153, Jenkins 11-96, West 7-32, Stuckey 2-15. Totals: 27-281. Marian Central: McThenia 20-111, Brady 19-79, Schmid 1-minus 1, Team 1-minus 22. Totals: 41-167.
PASSING–Chicago Hope: Jenkins 5-17-0-108. Marian Central: McThenia 18-31-1-284.
RECEIVING–Chicago Hope: Green 4-87, West 1-21. Marian Central: Bentancur 7-72, Dolter 5-50, Brady 5-47, Sievert 3-116.
TOTAL TEAM YARDS–Chicago Hope 389, Marian Central 451.