SouthWest Suburban Blue
Lincoln-Way East (5-0, 0-0) at Lockport (3-2, 0-1)
When: 6 p.m. Friday
Last matchup: Lincoln-Way East 37, Lockport 10 (2022)
About the Griffins: There's a standard that most have come to expect from Lincoln-Way East, and the Griffins always seem to reach it. A Week 5 dismantling of Andrew showed East is getting closer to the offensive balance it strives for, and if that happens opponents have even more problems to deal with. The Griffins hadn't run the football at the level they typically do before the Andrew win, but an explosive five-touchdown performance from Nuri Muhammad plus a fine game from Zion Gist showed East has those tools in its collective box. The defense continues to shine, as Andrew's lone points came on an interception return for a score.
About the Porters: Lockport was flying high after three weeks, but a schedule that might contain nine playoff-bound teams is starting to wear on the Porters, particularly on defense. In back-to-back losses to Sandburg and Bradley-Bourbonnais the past two weeks, Lockport has given up a number of big plays, largely through the air, and the typical hallmark of the Porters has faltered at key times. There have been some positives, as RB Jordan Kemp has shown a knack to make the big play.
Friday Night Drive Pick: Lincoln-Way East
SouthWest Suburban Red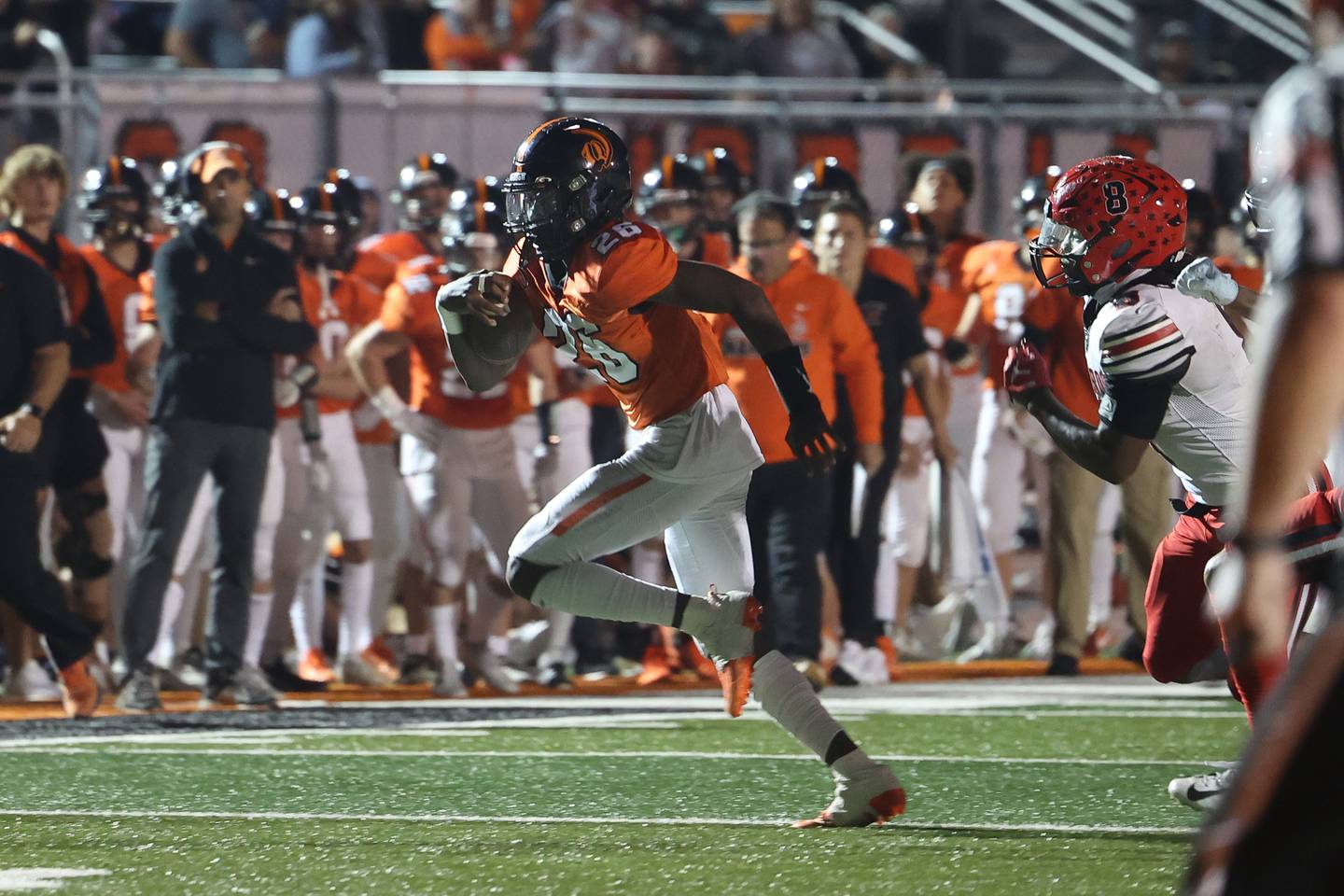 Lincoln-Way West (4-1, 1-0) at Stagg (3-2, 0-1)
When: 7 p.m. Friday
Last matchup: Lincoln-Way West 36, Stagg 0 (2022)
About the Warriors: Lincoln-Way West's season hasn't gone exactly to plan, but in this case that hasn't necessarily been a bad thing. Although the Warriors would like to have a healthy Cole Crafton to play quarterback, Chase Hetfleisch has not been overwhelmed when asked to take over. Hetfleisch engineered an almost perfect effort against Bolingbrook in Week 5, as the Warriors managed to keep the ball out of the hands of the high-octane Raiders offense as much as possible while draining clock and scoring.
About the Chargers: Stagg was able to repeat its strong start of a season ago and extend on it by winning its first three games. The Chargers didn't play the strongest competition prior to the SouthWest Suburban Conference play, and now that has started to show itself as Stagg has taken two losses and been outscored 82-13 against Andrew and Homewood-Flossmoor.
FND Pick: Lincoln-Way West
SouthWest Suburban crossover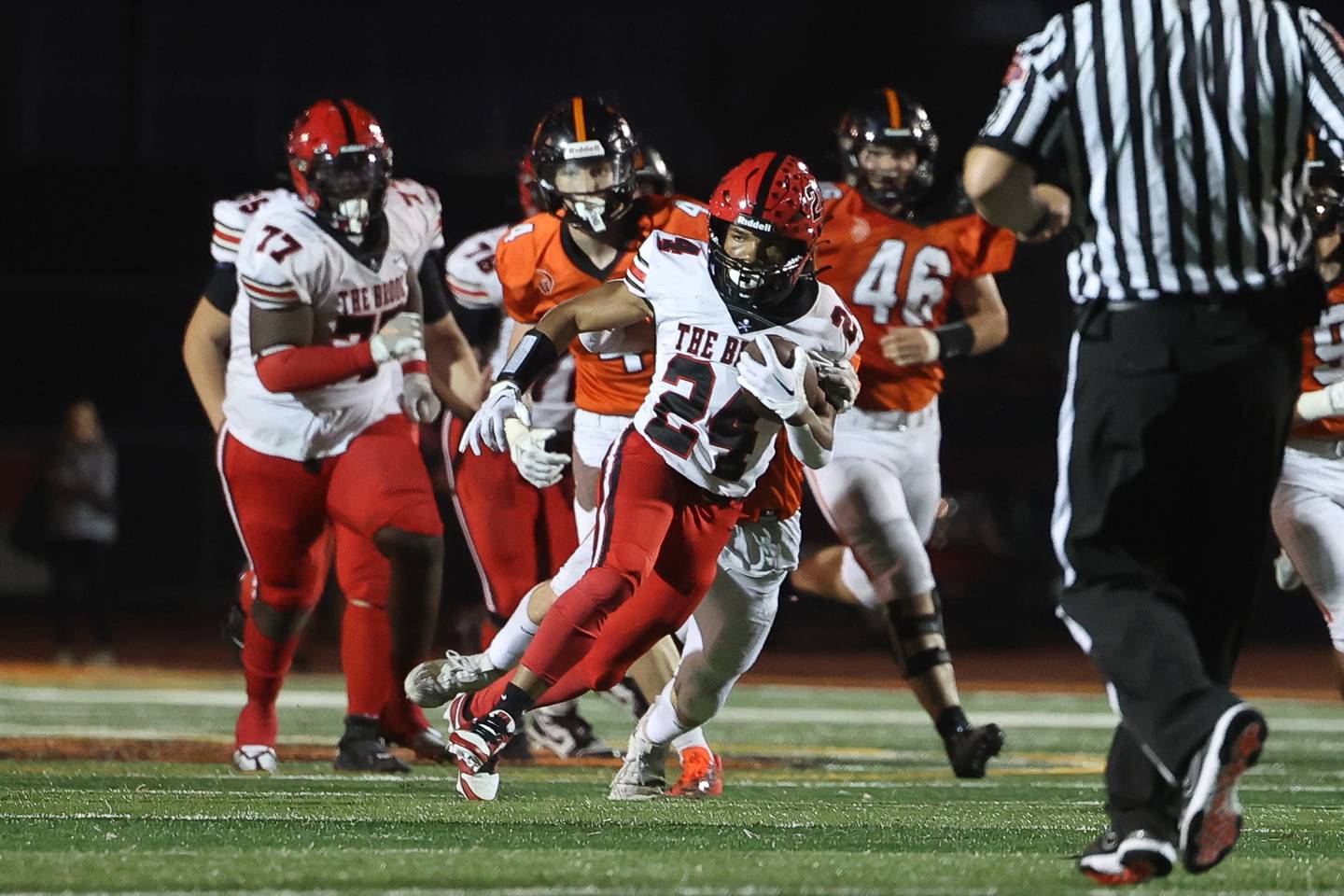 Lincoln-Way Central (4-1) at Bolingbrook (3-2)
When: 6 p.m. Friday
Last matchup: Bolingbrook 44, Lincoln-Way Central 7 (2022)
About the Knights: Lincoln-Way Central has seemed to find a recipe that works, even if the mixture doesn't always taste good. Despite being outgained Week 5 against Sandburg, Central found a way to piece together another victory and get themselves within one win of playoff eligibility. The Knights are doing it it by controlling possession and utilizing 5-foot-8 running back Anthony Noto, whom head coach David Woodburn refers to as "a little bowling ball." Opponents don't want to get into a special teams war with Central either, as kicker Andrew Schiller has proved his adeptness time and time again.
About the Raiders: Bolingbrook has gotten the offensive productivity it expected this season, averaging a little more than 35 points a game. QB Jonas Williams threw for 300-plus yards and four touchdowns in a Week 5 loss to Lincoln-Way West. The problem for Bolingbrook might be that the offense has such a quick-strike mentality that if the defense doesn't get a quick stop or two, they find themselves on the field for a larger percentage than the Raiders want to have.
FND Pick: Bolingbrook
Southwest Prairie East
Plainfield East (1-4, 1-0) at Joliet Central (0-5, 0-1)
When: 7 p.m. Friday
Last matchup: Plainfield East 41, Joliet Central 6 (2022)
About the Bengals: Plainfield East got its first win in the Harvey Jackson era as the Bengals defense showed up big time, limited Plainfield Central to only a pair of scores and did just enough on offense to catapult them to victory. It's an equation that could work well for the Bengals in divisional play in the Southwest Prairie Conference, which remains a group that has only Joliet West with more than one victory on the season.
About the Steelmen: Joliet Central hung around for about a half in the rivalry matchup with Joliet West, then the Steelmen started to wilt. There's still quite a bit of distance the Steelmen have to bridge before they can be a regular factor in most games, but there's still some talent on this roster. All-around athlete Christian Smith definitely fits in that category.
FND Pick: Plainfield East
Romeoville (0-5, 0-1) at Plainfield Central (1-4, 0-1)
When: 7 p.m. Friday
Last matchup: Plainfield Central 41, Romeoville 6 (2022)
About the Spartans: Romeoville put up arguably its best fight of the season before losing to Plainfield South. It was more progress on defense for the Spartans, but Romeoville probably is going to need to score more than two touchdowns, which it has yet to do this season, if it wants to find its first win.
About the Wildcats: Plainfield Central seems to be on the cusp of breaking through but hasn't quite put it all together. There's still a lot of inexperience for the Wildcats on both sides of the ball, but at some point that becomes a crutch they have to discard. If there's any chance for the Wildcats to salvage a playoff appearance, a win here is an absolute must.
FND Pick: Plainfield Central
Plainfield South (1-4, 1-0) at Joliet West (4-1, 1-0)
When: 7:30 p.m. Friday
Last matchup: Plainfield South 28, Joliet West 26 (2022)
About the Cougars: For the first time this season, Plainfield South scored more than seven points in a game, and that offensive outburst led to the Cougars first victory of the season. The defense has been fairly consistent other than a Week 4 misstep against Oswego East where it surrendered 41 points. The Cougars will need that defensive effort against Joliet West, a team that has had no problem scoring points through the first five games.
About the Tigers: Joliet West continued to ramble through the season, collecting an easy 68-12 win over crosstown rival Joliet Central in Week 5. It was a game of forced turnovers by the Tigers, which obviously created extra scoring opportunities. The Tigers played without starting quarterback Juan Rico, who missed the game with an injury, but they didn't skip a beat. Gavin Garcia scored three touchdowns in the victory over Joliet Central and could be another offensive weapon moving forward.
FND Pick: Joliet West
Southwest Prairie West
Minooka (4-1, 1-0) at Yorkville (2-3, 0-1)
When: 7 p.m. Friday
Last matchup: Yorkville 7, Minooka 0 (2022)
About the Indians: The Minooka offense is playing with authority right now. QB Nathan Maul was about perfect in a Week 5 win over Oswego East, throwing one incomplete pass in 17 attempts, which also included two touchdown passes. The unit also is showing balance, both rushing and passing for about 175 yards in the win. Not to be outdone, the defense forced three turnovers and held Oswego East largely in check.
About the Foxes: Yorkville is getting closer to painting itself into a corner. A Week 5 loss to West Aurora was the Foxes' third loss in four weeks, a streak that will have to be stopped if Yorkville has any hope of returning to the playoffs. An extremely challenging stretch of schedule looms, adding an additional hurdle for the Foxes to clear.
FND Pick: Minooka
Oswego East (2-3, 0-1) at Plainfield North (2-3, 1-0)
When: 7 p.m. Friday
Last matchup: Plainfield North 35, Oswego East 0 (2022)
About the Wolves: Oswego East slipped below the .500 mark with a rough performance in a loss to Minooka in Week 5. The Wolves still are rotating quarterbacks, but neither got much of a foothold on a night where they committed four turnovers and had less than 200 yards of total offense. The defense also experienced a hiccup after allowing only three points in their previous two games. Getting back to their previous level might be enough for them to seize control against a scuffling Plainfield North offense.
About the Tigers: Plainfield North always has set its foundation around defense, and it took those principles to the extreme in a 10-7 win over Oswego in Week 5. The Tigers held previously undefeated Oswego to only 37 yards of total offense in the second half and got big defensive plays from multiple players, including Treycen Bownes and Kyle Darlington. That offset yet another tough night for the offense, whose lone touchdown came from Robert Tota during his 110-yard performance. Plainfield North has allowed 44 points through five games, but the offense has barely outpaced that effort for the Tigers, as scored only 55 points themselves.
FND Pick: Plainfield North
CCL/ESCC Green
Joliet Catholic (3-2, 1-0) at Marist (1-4, 0-1)
When: 7:30 p.m. Friday
Last matchup: Marist 42, Joliet Catholic 6 (2018)
About the Hilltoppers: Joliet Catholic experienced a rare second-half letdown in a loss to Wheaton St. Francis in Week 5, as the Spartans gashed a usually stout Hilltoppers defense for multiple big plays. That led to the Spartans scoring with just over a minute to play for the victory. Joliet Catholic had used a potent running game, paced by HJ Grigsby's 169-yard rushing effort, but St. Francis' defense tightened up after the break, and the Hilltoppers were unable to put together a suitable response to it late in the game.
About the Redhawks: Marist has played a virtual who's-who of Illinois football in the first five weeks of the season and has been battered and bruised through that gauntlet. It's 1-4 record is something it probably wasn't expecting, but to look at the Redhawks and to classify them as a substandard football team would be a mistake. They are a couple of positive plays away from a different record, and if they put it all together they are dangerous. RB John McAuliffe racked up about 200 yards rushing in a Week 5 loss to IC Catholic, and QB Owen Winters can make plays for Marist.
FND Pick: Marist
CCL/ESCC White
Montini (5-0, 1-0) at Providence (3-2, 0-1)
When: 7:30 p.m. Friday
Last matchup: Providence 33, Montini 0 (2022)
About the Broncos: Montini has put the past few years of disappointments behind it and already has made itself playoff eligible. It's been an adventure at almost every step to this point. Last season, the Broncos struggled to finish games with a largely young core. Now experienced, Montini has had several successful late rallies, including a come-from-behind victory over upstart Marian Catholic in Week 5.
About the Celtics: Providence survived a substantial scare from DePaul Prep and managed to stay above .500 on the season. The Celtics continue to look for more consistency on offense, and it is a riddle they will have to solve in a hurry as their next three opponents have a combined record of 14-1.
FND Pick: Providence
South Suburban Blue Conference
Hillcrest (4-1, 2-0) at Lemont (3-2, 2-0)
When: 7 p.m. Friday
Last matchup: Lemont 42, Hillcrest 8 (2022)
About the Hawks: Hillcrest has seemed to find its offensive stride over the past few weeks, posting back-to-back 40-plus-point efforts during its current three-game winning streak. This tends to be the hypothetical South Suburban Conference championship game, but Hillcrest is going to have to ratchet up its level of play several notches to have a legitimate chance of beating Lemont.
About Lemont: Things appear to be back to normal for Lemont once it returned to the familiar surroundings of the South Suburban Conference. Three easy conference victories have followed after those early back-to-back nonconference losses to Libertyville and Geneva. This game probably will require a bit more finesse than against other South Suburban foes, but it appears Lemont is a substantial favorite.
Friday Night Drive Pick: Lemont
Kishwaukee River/Interstate 8 crossover
Richmond-Burton (5-0) at Morris (5-0)
When: 7 p.m. Friday
Last matchup: Richmond-Burton 31, Morris 7 (2022)
About the Rockets: Richmond-Burton continues to do what it does, stack up regular-season victories. The program hasn't lost one since 2018, and after a little bit of a duel with Marian Central Catholic in Week 1, the Rockets haven't been pushed since. It's a balanced offensive attack with QB JT Groh and WR Max Loveall in the passing game and RB Braxtin Nellessen leading the way for a multi-faceted running game that seldom is slowed. The Rockets defense keeps things in line.
About Morris: To say Morris is firing on all cylinders right now is an understatement. Morris went over the 40-point mark again in Week 5, as it has in every game this season. The core of this Morris team is a year older and a year wiser, and it likely hasn't forgotten what Richmond-Burton did to it the last time these two teams met. Morris was flying high heading into that game as well. QB Carter Button has thrown for just short of 1,000 yards with 13 touchdowns and one interception despite rarely taking snaps in the second half of games.
FND Pick: Richmond-Burton
Illinois Central Eight
Coal City (4-1, 3-0) at Reed-Custer (2-3, 1-2)
When: 7 p.m. Friday
Last matchup: Reed-Custer 58, Coal City 14 (2022)
About the Coalers: Coal City has been a bit of a steamroller, as it won its fourth consecutive game by a comfortable margin, cruising past Peotone in Week 5. Since giving up 43 points to Morris in a season-opening loss, the Coalers have allowed just 20 points in their other four games. It sets the stage for what the Coalers tend to do best – run the football led by bruiser Landin Benson and force teams to submit on the defensive side.
About the Comets: Reed-Custer has been gritty this season and put up a better fight than was probably anticipated against Wilmington in Week 5. They slipped below the .500 mark and need at least one game where they beat a team they aren't expected to. This certainly isn't the ideal game for that, as Reed-Custer no longer has the high-octane offense that would give this Coal City defense problems.
FND Pick: Coal City
Manteno (3-2, 3-0) at Peotone (2-3, 1-2)
When: 7 p.m. Friday
Last matchup: Peotone 28, Manteno 13 (2022)
About the Panthers: Manteno seems to have found a nice rhythm the past three games, all wins, behind a surging sophomore quarterback Connor Harrod. Manteno has been down for a few seasons, but when veteran coach RJ Haines gets the right parts for his high-speed offense the Panthers have been quite dangerous. There's still going to be some ups and downs for Manteno, but there's a path to a playoff berth, especially if it gets this victory.
About the Blue Devils: There's little doubt that Peotone's schedule was front-loaded with stronger teams, but this game became a lot more interesting with the resurgence of this week's opponent, a former cooperative partner of Peotone before Manteno established its own independent program. Peotone's fortunes likely rest on its ground game going like it did earlier this season, but back-to-back games against Wilmington and Coal City makes life tough for just about any offense.
FND Pick: Peotone
Wilmington (4-1, 3-0) at Herscher (1-4, 1-2)
When: 7 p.m. Friday
Last matchup: Wilmington 56, Herscher 20 (2022)
About the Wildcats: The Wilmington double-wing offense seems to be working at maximum capacity. The Wildcats running game had a pair of 100-yard rushers in a Week 5 win over Reed-Custer in Jake Castle and Kyle Farrell, and it saw no need to even attempt a pass. Wilmington's defense gave up a few more yards than usual and also surrendered a late touchdown in the win over Reed-Custer that made it seem closer than it was, but like always the Wildcats defense seems to be causing a lot of problems.
About the Tigers: After a couple of close calls, Herscher finally broke through for its first win of the season in Week 5 against struggling Streator. Sophomore Tanner Jones has been growing into the quarterback role for the Tigers, and he has a solid target to throw to in Jaxson Ruder. And while it hasn't shown in the win column as of yet, Herscher's defense seems to be solidifying around Bennett Crane and Mason Roberts.
FND Pick: Wilmington