Many people questioned why Princeton was interested in playing a 5A school like Sterling that was nearly twice its size.
The Tigers showed Friday night why they were.
Princeton made the most of the opportunity of playing its old North Central Illinois Conference rival for the first time in 74 years, defeating Sterling, 28-6, capped by a 40-yard interception touchdown return by junior Noah LaPorte with 2:13 left to play.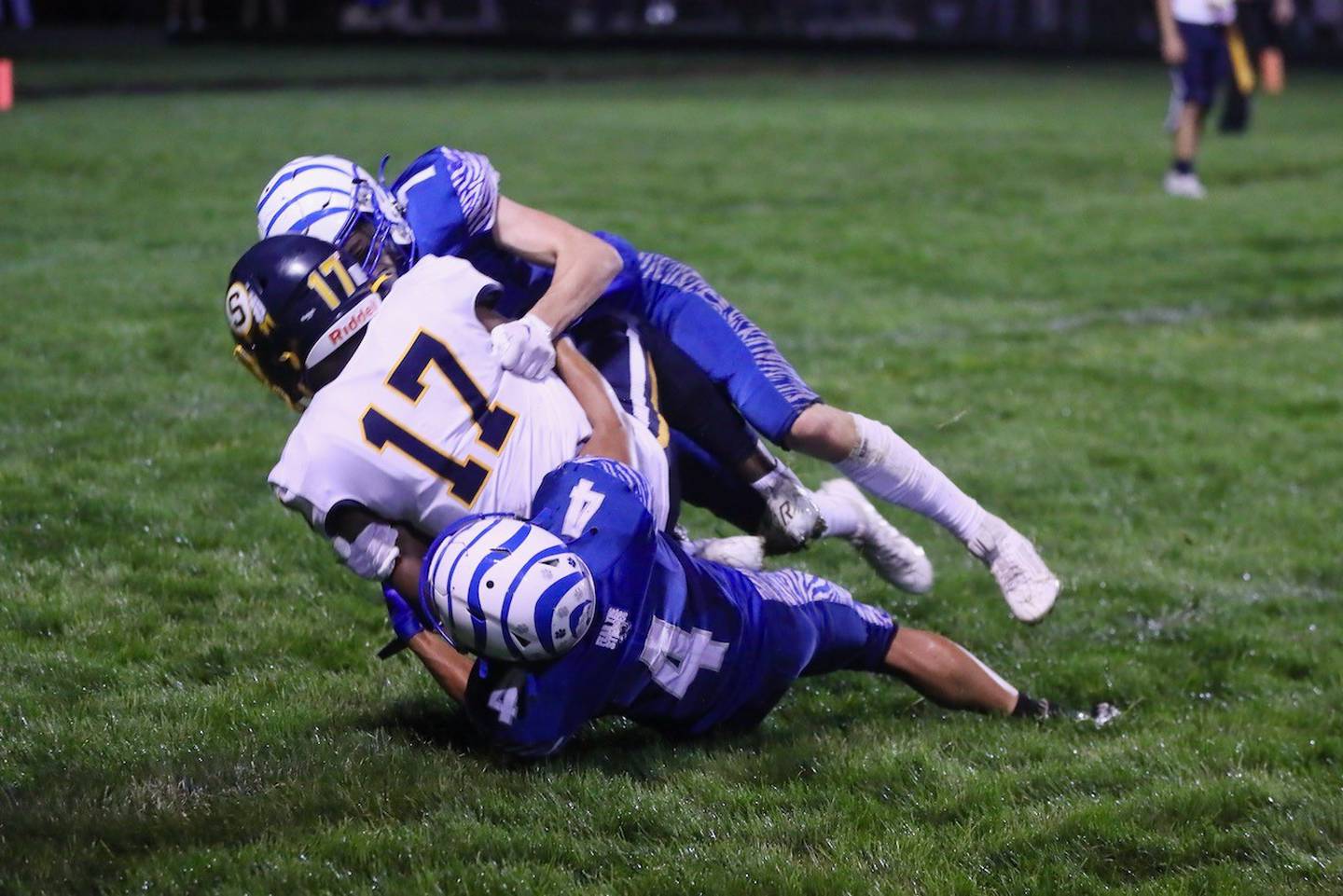 Sophomore Casey Etheridge scored three touchdowns, including a one-yard run on their first possession of the game, giving Princeton its first win over the Golden Warriors since beating them 26-6 in 1928, 95 years ago.
"I was talking to news reporter after news reporter after news reporter. Basically they were saying, 'Why in the world would a school of 450 kids play a school of 1,100?' " Princeton coach Ryan Pearson said. "They kept talking about the (size) differential and I just told every one of them, the one thing you can't measure is the heart of our kids. I couldn't be more proud of our kids, because they battled and battled and battled.
"I kept telling them if you win the three to four second battles and get on the line and do it again, you got a shot to win the war in the end."
The Tigers welcomed the challenge of playing a bigger school. They played by the notion the bigger they are, the harder they fall.
"We'll take them on. As long as we do our jobs and work as a family, we will win," Princeton senior lineman Jack May said. "This one was big. Big as a program. Every kid was playing as hard as they could tonight. They gave everything they had and I think that's going to show the whole season and the playoffs."
"It feels great. Coach showed us all week that size doesn't matter in a school. It's all in the heart. it just showed right there in the result," LaPorte said.
Friday's game came about when Princeton was in need of a replacement for St. Bede on its Three Rivers schedule and Sterling sought a fill-in on its Western Big Six slate when Alleman was unable to field a team this year.
The former NCIC rivals last met in 1949 with the Warriors winning 19-6. The Warriors now hold a 6-4 series edge.
Ace Christiansen added the conversion run on the back end of Etheridge's opening touchdown to give the Tigers an early 8-0 lead with 8:56 left in the first quarter.
Joseph Holcomb connected with Mason Emin for a 63-yard scoring strike to get the Golden Warriors on the board with 1:52 left in the second quarter to make it 8-6 at the half.
Then it was all Princeton (4-1).
Etheridge, who rushed for 174 yards on 35 carries, added a 35-yard touchdown with 2:21 left in the third quarter and a 3-yard score in the fourth quarter to put the Tigers up 22-6 with 2:47 left to play.
LaPorte used all of his 6-6 frame to snag an interception for a Pick 6, racing 40 yards to pay dirt.
"It was amazing. I had to full extend for that one. All of 6-6," LaPorte said with a big smile. "Especially to end the game like that. Amazing."
Pearson said the Tigers have come a long way since their 22-21 Week 2 stumble to Class 1A Morrison.
"We weren't happy with where we were the beginning of the year. Our kids went back to the grindstone, bringing their blue collar mentality and hard hat and lunch pail each and every week, because they thought we were better than what we showed Week 2. I think they showed that tonight."
The Tigers' win was dampened by the loss of senior lineman Bennett Williams to a second-half injury.