DuKane Conference
Wheaton North (3-1, 2-0) at Batavia (3-1, 2-0)
Time: 7 p.m.
Last matchup: 27-24 Wheaton North (2022)
About the Falcons: Wheaton North is going to have opportunities downfield for Max Howser to choose from. Matt Kuczaj and Rich Schilling are a fantastic wideout tandem and will find holes in the defense to exploit. Add in a balanced rushing attack with Walker Owens, and the Falcons should be putting points on the board. Joe Barna headlines their front seven as a top-flight pass-rusher in the conference.
About Batavia: The Bulldogs have a balanced and talented offensive attack as well. While the spotlight usually shines on QB Ryan Boe, RB Charlie Whelpley and Co., their offensive line has quietly produced to make it happen in the trenches all season. Batavia's secondary has stabilized since the first weeks of the season, and its linebacking corps continues to shut down opposing rushing attacks. Something will have to give, though.
FND pick: Batavia
St. Charles North (2-2, 0-2) at Wheaton Warrenville South
Time: 7 p.m.
Last matchup: 35-20 SCN (2022)
About the North Stars: SCN's tough slate the last two weeks against Wheaton North and Batavia didn't go as planned, though this is a team capable of a bounce-back. Despite injuries on the offensive line, their skill positions with Jake Mettetal, Anthony Taormina and Jake Furtney are among the best in the conference. The defensive line got gashed a little bit last week by Batavia's rushing attack, which won't get much easier with Matt Crider looming on the horizon for WWS.
About the Tigers: This is quietly an important game for the Tigers. In both its losses, WWS has been outpaced 41-6, and it's about to enter the stage in the schedule where it'll face the rest of the top-of-conference contenders. Matt Crider's return to the lineup is a big boost for Luca Carbonaro and the offense.
FND pick: St. Charles North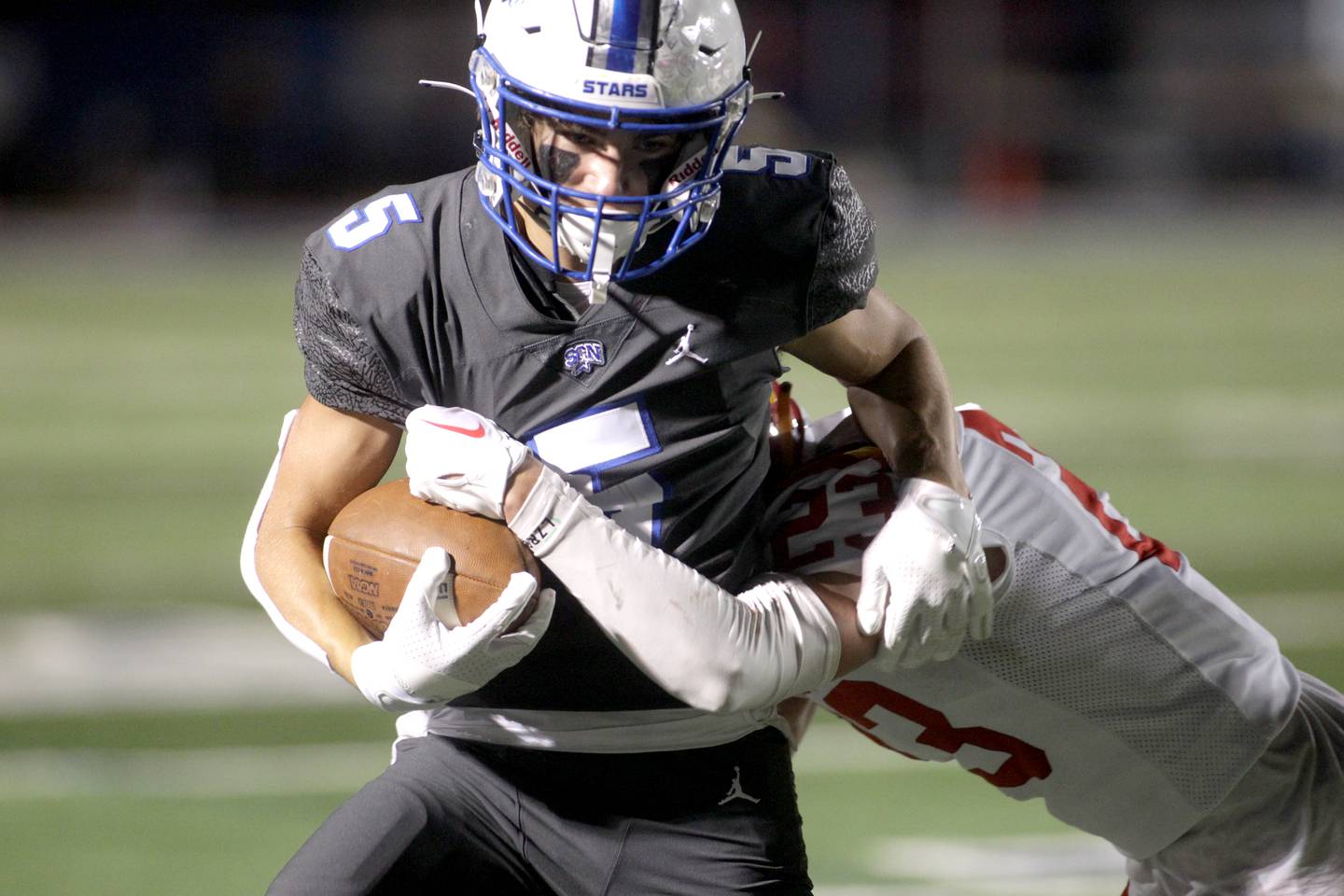 Geneva (4-0, 2-0) at Glenbard North (0-4, 0-2)
Time: 7 p.m.
Last matchup: 14-10 Geneva (2022)
About the Vikings: Geneva is firing on all cylinders at this point. Whether it's the defense only allowing 23 total points or the Vikings' rushing attack of Michael Rumoro, Troy Velez and QB Nate Stempowski combining for over 100 yards per game, there's little not to like with what Geneva has done. Another win this week and it already secures them playoff eligibility with Batavia on the horizon.
About the Panthers: Glenbard North is obviously struggling, and it gets no easier with an undefeated team coming into your building. They've gotten shut out in consecutive weeks.
FND pick: Geneva
St. Charles East (1-3, 1-1) at Lake Park (2-2, 0-2)
Time: 7 p.m.
Last matchup: 24-0 Lake Park (2022)
About the Saints: The schedule isn't going to get any easier, so this is a pretty important week for the Saints to get momentum before the likes of SCN, Geneva and Batavia in the next three weeks. Outside of Week 2, the Saints haven't scored more than 14 points, so getting the offense going is imperative.
About the Lancers: On the other side, Lake Park is starting to enter a stage where the schedule might favor them a bit. Lake Park is coming off consecutive losses to Batavia and Geneva, but is really starting to show the bounce-back season it was hoping for. Wideout Matt Rodriguez and running back Declan Fortuna are their marquee offensive players, and that should continue this week.
FND pick: Lake Park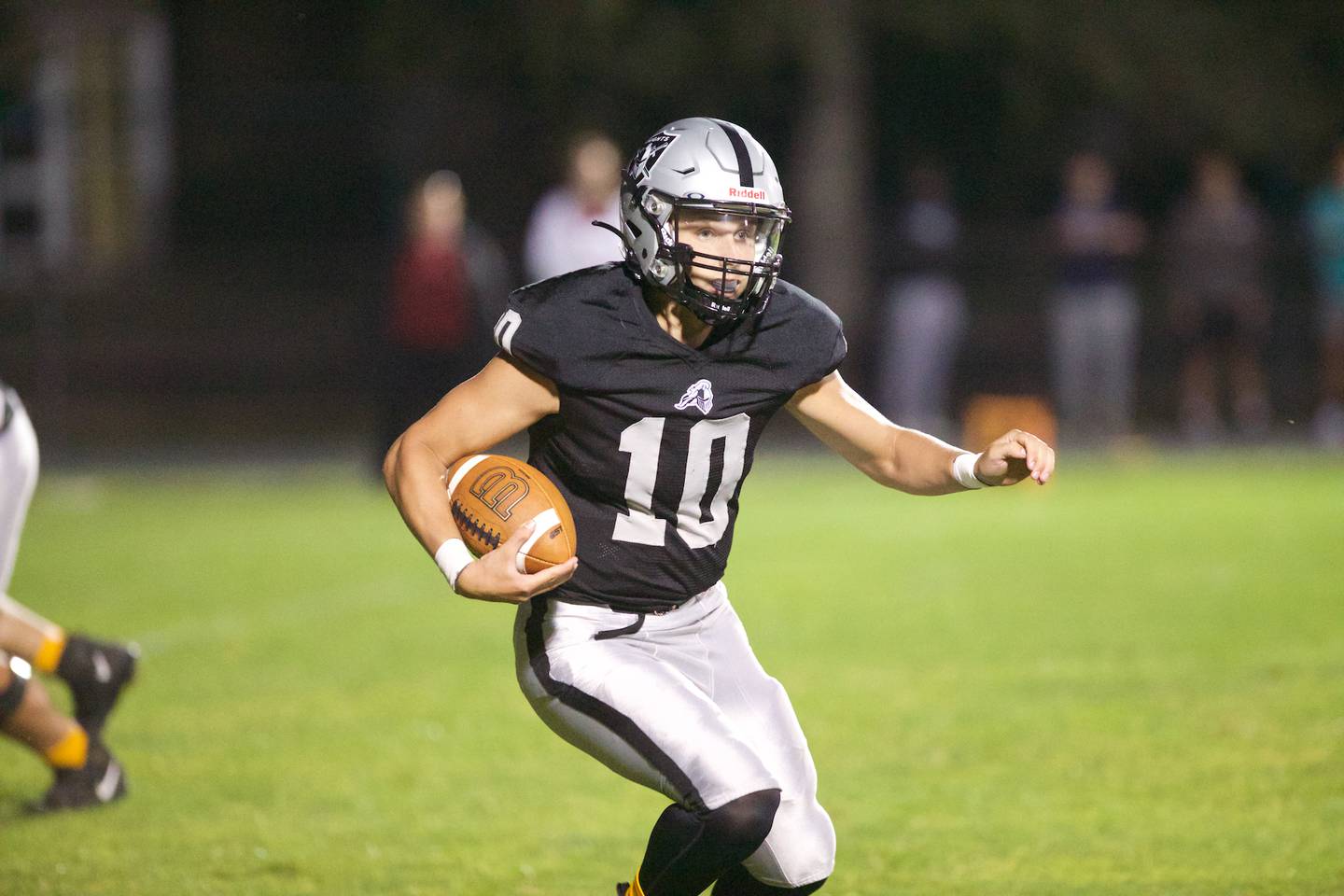 Kishwaukee River/Interstate 8 White
Ottawa (2-2, 0-1) at Kaneland (2-2, 1-1)
When: 7 p.m. Friday
Last matchup: 41-14 Kaneland (2022)
About the Knights: Kaneland picked up an emphatic 42-0 win at Woodstock, rebounding from a 43-33 loss to Morris the week before. Both Kaneland losses have been at home, losing to Morris in Week 3 and 33-27 to Washington in Week 1, and in both games the Knights led in the fourth quarter. First-year coach Michael Thorgesen said the Knights are hoping for a strong performance and their first home win of the season.
About the Pirates: The 48-0 loss to Sycamore last week was the first time Ottawa has been shut out since a 34-0 loss to Plano in Week 9 of the 2021 season. Colby Mortensen had a hard time getting the Ottawa offense going, completing 11-of-21 passes for 84 yards and an interception. Hayden Swett, Packston Miller and Archer Cechowicz had three catches each. Ottawa has scored 79 points in its two wins and 20 in its two losses.
FND pick: Kaneland
Chicago Catholic League
Marmion (2-2, 0-1) at St. Rita (3-1)
Time: 7 p.m.
Last matchup: 49-13 St. Rita (2019)
About the Cadets: Marmion was overmatched in last week's loss to Carmel. While Jacob Sullivan passed for 15 of 19 for 234 yards and two touchdowns, it was when the Cadets were already down 25-0. Wideout Ben Morcos impressed with six catches for 159 yards and a touchdown.
About the Mustangs: St. Rita understandably struggled in a loss to Mt. Carmel last week, but has an opportunity to get the defense back on track after allowing 38 points. Jett Hilding had a 69-yard touchdown pass to Jimmie Maxson III early, but that was it after that.
FND pick: St. Rita
Fox Valley Conference
When: 7 p.m. Friday.
Last matchup: 28-13 McHenry (2022)
About the Warriors: McHenry lost to Dundee-Crown 13-7 last week. The Warriors got a boost for their offense when sophomore QB Ethan Dietmeyer returned to the lineup. Dietmeyer suffered a broken finger in the opener and missed two games. He ran 12 times for 87 yards last week, and RB Jacob Jones had 19 carries for 98 yards. McHenry's win over Central in Week 9 last season left the Rockets out of the Class 5A playoffs, and the teams tied for fifth in the FVC.
About the Rockets: Central fell to Crystal Lake Central 25-10 last week. QB Ryder Bergemann, playing in place of injured Jackson Alcorn, threw for 160 yards, but left the game late with an ankle injury. After the game, Rockets coach Brian Iossi thought Bergemann would be able to come back. RB Joey Kowall (335 yards rushing) also was injured in that game, but Iossi said his absence was more precautionary. WRs Michael Person (16 receptions), Brady Gilroy (15) and Caden West (11) are Bergemann's top targets.
FND pick: Central