Lincoln-Way West senior running back Joey Campagna had a big night Friday night in a 28-21 overtime win against crosstown rival Lincoln-Way Central, rushing for 189 yards and two touchdowns on 29 carries. Most of his yards came on plays right up the middle.
Campagna lined up next to quarterback Chase Hetfleisch, who was in the shotgun. Fullback Jack Deval lined up just behind the line of scrimmage and served as Campagna's lead blocker.
"I've been running behind Jack for a long time," Campagna said. "He does a great job. I just look for him and run behind him."
Ramirez steps in for Joliet West
Even after seeing starting quarterback Juan Rico in pain after a third-down play in the first quarter Friday night, Joliet West junior Adrian Ramirez did not anticipate he would be in the game the next time the Tigers got the ball.
Ramirez figured Rico would be OK, but Rico was out for the rest of the game against Plainfield North, and Ramirez stepped in to help Joliet West pull off a 17-10 win.
"To be honest with you, it was kind of out of the blue," Ramirez said. "When he came out, I didn't think he was going to be out for the game. I was shocked in the beginning.
"But we made it happen. We just did our thing, and our defense stepped up."
Ramirez completed 6-of-14 passes for 85 yards. He also kicked a 24-yard field goal.
While Joliet West did not score an offensive touchdown after Rico's injury, Ramirez and company were able to move the ball successfully enough to swing field position in the tight game.
Ramirez feels prepared going forward if Joliet West will need him in the quarterback spot.
"I got the first-game jitters out," he said. "I think I'll be good. I've just got to have a good week of practice and be ready to keep it going."
Morris' Thorson hits 100
Last Friday's 49-7 Kishwaukee River/Interstate 8 White victory for Morris over Woodstock North was undefeated Morris' fourth of the season.
It was also head coach Alan Thorson's 100th of his career.
Thorson's Morris teams have gone 100-44 (.694) and made the postseason nine times — including state runner-up finishes in Class 5A in 2012 and 4A in 2017 — since he took over the program in 2010.
He is the second Morris football coach to reach 100 wins. Dan Darlington went 264-55 (.828) over 28 seasons stretching from 1977 to 2004.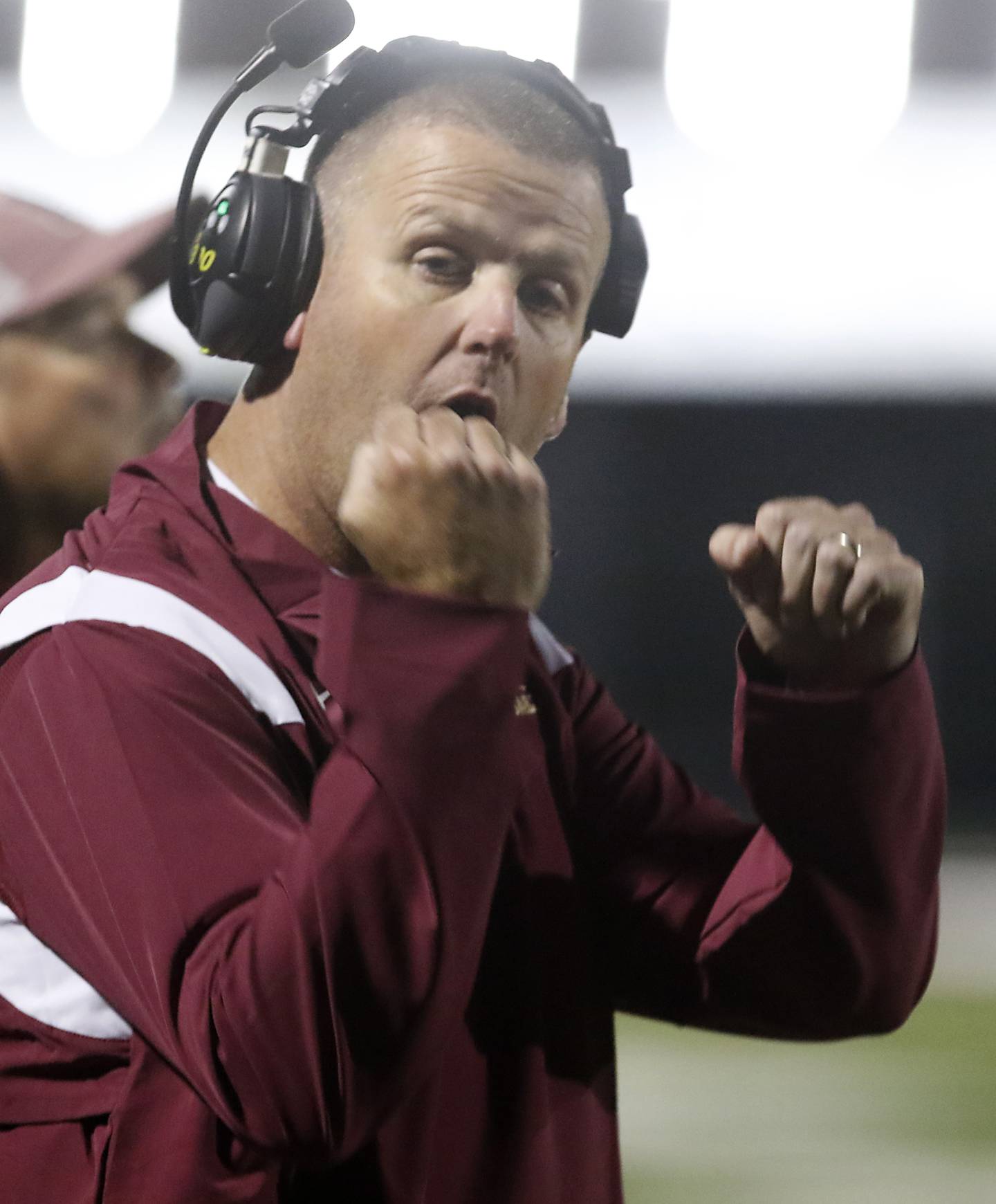 Late win a big one for Bolingbrook
Jonas Williams' game-winning, fourth-quarter touchdown pass to Kyan Berry Johnson lifted Bolingbrook to a 21-14 victory over Homewood-Flossmoor and to 3-1 on the season.
It was a huge win, as the Raiders have their work cut out for them the remainder of the season. All five of Bolingbrook's remaining opponents are currently either 3-1 or 4-0 – in order, Lincoln-Way West (3-1), Lincoln-Way Central (3-1), Sandburg (3-1), Lockport (3-1) and Lincoln-Way East (4-0).
Griffins have to wait for Southwest Suburban Blue
Lincoln-Way East (4-0) remained undefeated with a 27-3 handling of Bradley-Bourbonnais in Week 4. It was the lone Southwest Suburban Conference crossover of Week 4, and the Griffins will have to wait another week with a crossover at Andrew on the slate this coming Friday.
In addition to being the last team to play a Southwest Suburban Blue contest, L-W East is also the last undefeated team in a stacked two-division Southwest Suburban that features all 10 members with records of .500 or better, including eight teams currently 3-1.
JCA getting it done on ground, through air
Joliet Catholic's 28-13 home triumph saw a trio of triple-digit offensive performances for the Hilltoppers, as quarterback Andres Munoz, receiver Adrian Washington (five receptions for 112 yards) and running back HJ Grigsby (22 carries for 115 yards) all led JCA to get to 3-1 on the season.
Rally time for L-W Central
When a team is trailing by a big margin, as Lincoln-Way Central was 21-0 at halftime Friday to Lincoln-Way West, oftentimes the spark for a comeback comes from either defense or special teams.
That's exactly what happened for Central.
The Knights opened the second half with a pick-six by Ben Rafferty, who returned an interception on the third play of the second half 25 yards to ignite the comeback. In the fourth quarter, West was driving and seemed to be about to put the game away with a 28-yard field goal that would have made the score 24-14 with less than 2:00 left. Instead, the snap was high and Central pounced on the ball at its own 23.
Two plays later, Michael Keuhl hit Jimmy Herget for a 72-yard TD to tie the score of an eventual 28-21 defeat.