GLEN ELLYN – As Glenbard West has learned plentifully this season, nothing comes easy.
After a narrow one-point win to open the season against Marist, the Hilltoppers were blown out by a combined 41-7 over the next two games entering the Sept. 16 contest against Lyons Township.
Glenbard West, down a combined 10 starters across defense and offense because of injuries through the first three weeks, according to coach Chad Hetlet, still dug deep and somehow found a way to win in a gutsy 13-10 victory over the visiting Lions.
Hilltoppers senior linebacker Ben Cesario blocked a 42-yard field-goal attempt by Jack McMahon with 50 seconds remaining. It was one of two missed field goals on a frustrating afternoon for the Lions' special teams unit.
"Coach was telling everybody to go off the wings," Cesario said after the jubilant homecoming win. "Earlier [on a field-goal attempt in the second quarter] Ben Troyer tipped one, so I knew he wasn't going to be kicking it very high. So I don't know, tried to get up as high as I could."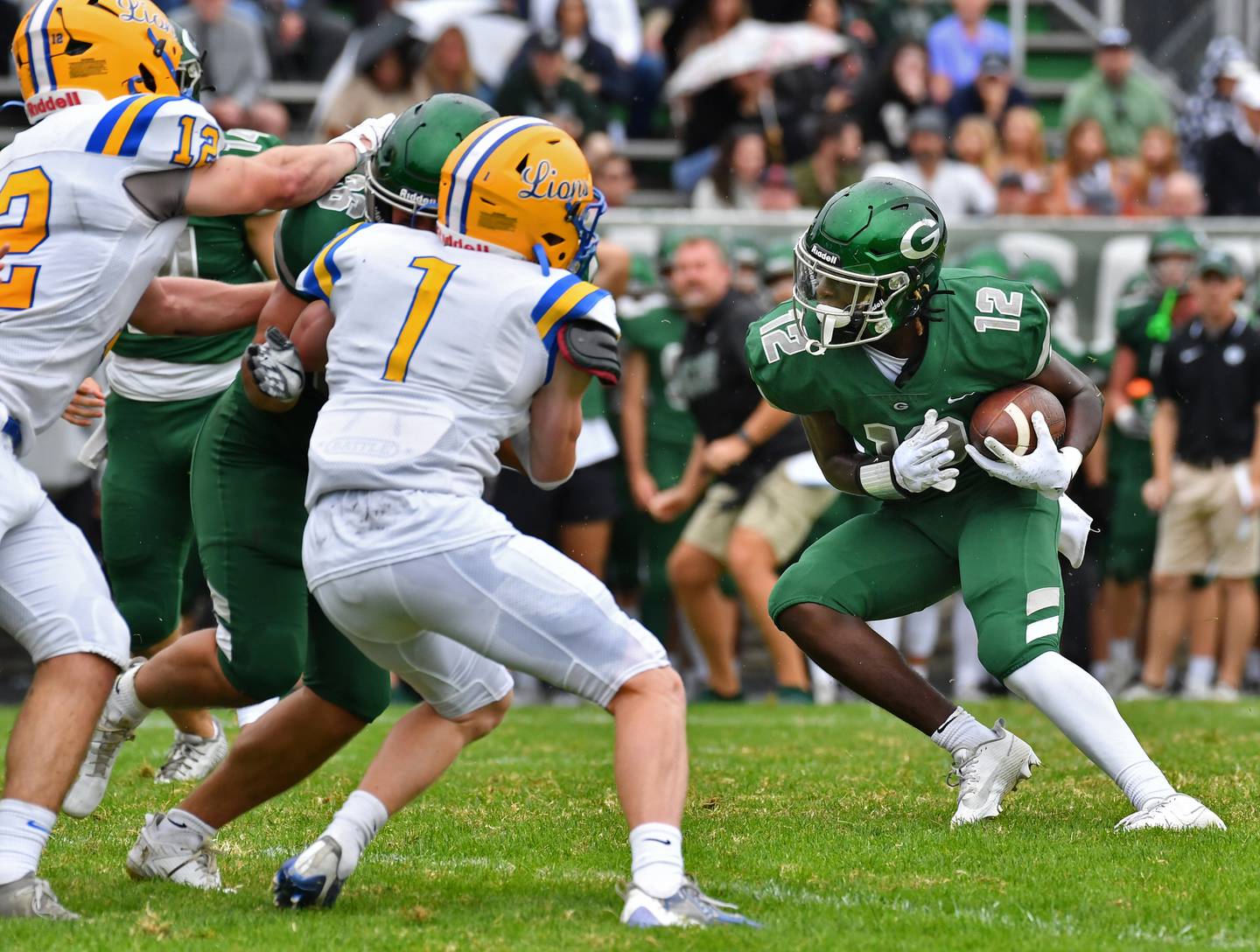 "I can't even put it into words," Hetlet said. "We played a tough Marist team. It was physical and we lost a couple starters in that game for the year. Then we went down to De Smet [Missouri] and we lost six starters that week and we lost another two starters last week. ... I can't be more proud of how they played and executed. LT is a really good football team. It was a huge, huge win for us."
On the Lions' drive to set up the field-goal attempt, they were plagued by two ineligible man downfield penalties and an unsportsmanlike penalty.
"We shot ourselves in the foot. We kept having penalties and guys down field, but we're going to use this as motivation," Lions coach Jon Beutjer said. "We're going to use this to get better."
Glenbard West started the game slowly. Lyons cornerback Caleb Greer had an interception two plays into the game and Danny Carroll scored from a yard out for a 7-0 Lions lead with 5:28 left in the first quarter.
The Hilltoppers answered with Aidan Nelson's chip shot field goal to make it 7-3 shortly into the second quarter.
Both teams then traded punts. Lyons had a chance to add to its lead on a McMahon field-goal attempt, but Troyer blocked it. McMahon connected on a 42-yard field goal with 19 seconds before the end of the half and it was 10-3 Lions at the break.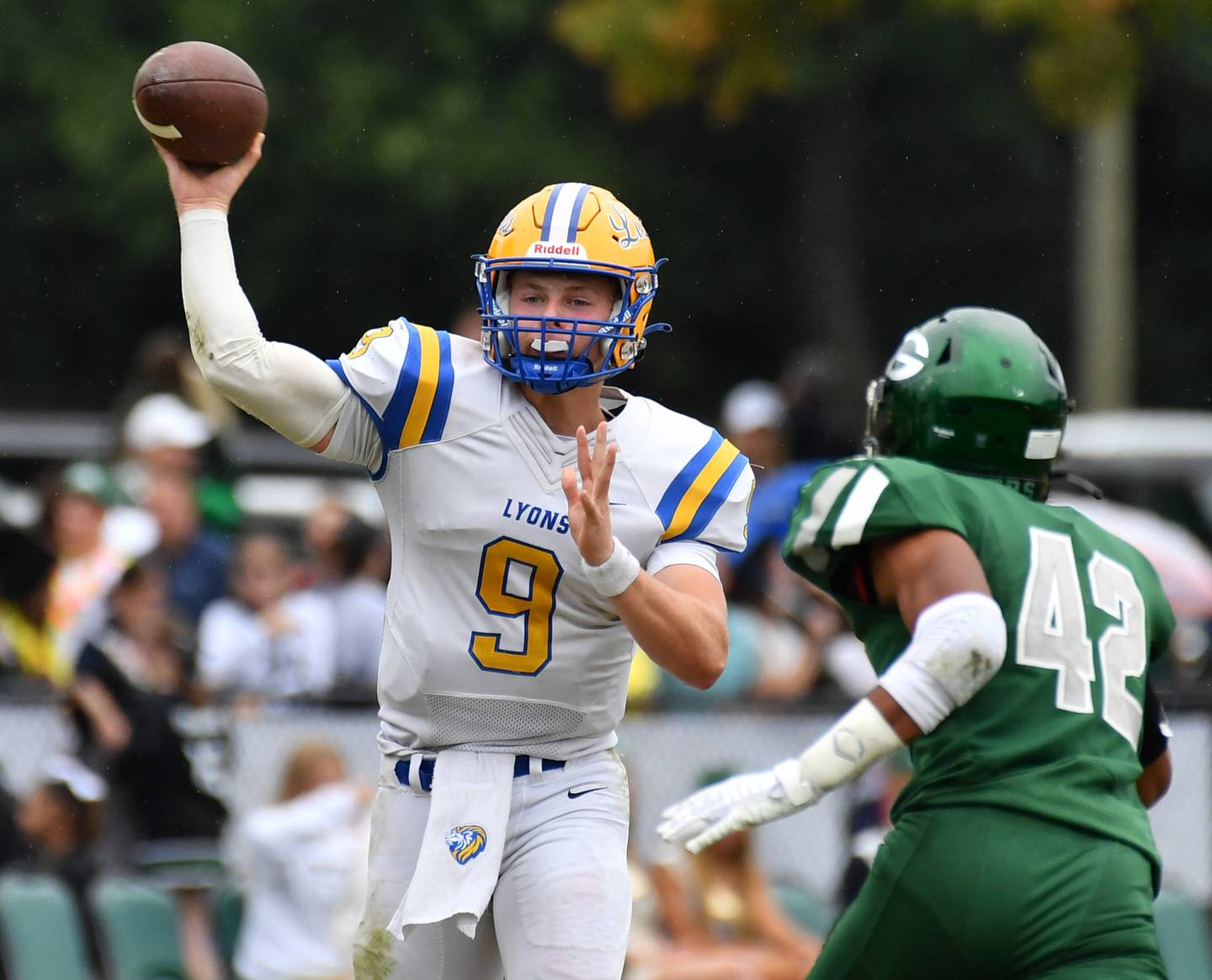 Out of halftime, Glenbard West linebacker Eli Limouris almost pulled off a long fumble return for a touchdown two plays into Lyons' drive, but Carroll was ruled down. The only score of the third quarter came on Nelson's 32-yard field goal to chip into the Lions' lead at 10-6 and set the stage for an eventful fourth quarter.
After a Lyons punt, the Hilltoppers found life in their passing game with two crucial completions from Charlie Cline to Brian Clohecy for a combined 25 yards to keep the chains moving. Teyion Oriental found the end zone for the go-ahead score with 9:28 remaining to make it 13-10 Glenbard West.
The Lions soon were driving, but a false start on fourth-and-2 at the Hilltoppers' 38-yard line backed them up. Undeterred, the offense stayed out and quarterback Ryan Jackson's rush was stopped inches short of a first down.
Glenbard West did nothing on its final offensive drive, leaving it in the hands of the defense to finish the job.
Jackson finished 26 for 35 for 214 yards. Lions wideout Travis Stamm had an outstanding 15 catches for 178 yards to pace the offense.