STERLING – The Sterling Golden Warriors defeated the Galesburg Silver Streaks 45-14 Friday night at Roscoe Eades Stadium.
Here are the top takeaways from the Week 4 game:
[ Purchase photos from Sterling vs. Galesburg football game ]
Sterling fires on all cylinders offensively
Junior quarterback Joseph Holcomb showcased his dual-threat ability in the dominating win. In the first half, he completed 4 of 6 passes for 71 yards and two touchdowns. One of the two incompletions was an on-target pass that would have been a 32-yard touchdown. It was dropped near the goal line. Holcomb also rushed for 87 yards and two touchdowns on 11 carries in the first half. Sterling scored on its first seven drives of the game.
The Golden Warriors opened the game with a four-play, 80-yard touchdown drive. Holcomb took a draw up the middle for a 68-yard gain on the first play from scrimmage. Senior running back Andre Klaver cashed in with a 1-yard touchdown run three plays later. Sterling took a 7-0 lead with 10:26 to play in the first quarter.
"It brought a lot of energy for our defense, knowing that our offense was going to push the pace like that," Klaver said about the opening drive. "It put the pedal on them from the jump."
Sterling took advantage of short field after a fumble, recovered by Mason Emin, on its second drive of the game. Holcomb capped a 7-play, 24-yard scoring drive with a 1-yard touchdown run on fourth-and-1. The Warriors took a 14-0 lead with 5:51 to play in the first quarter.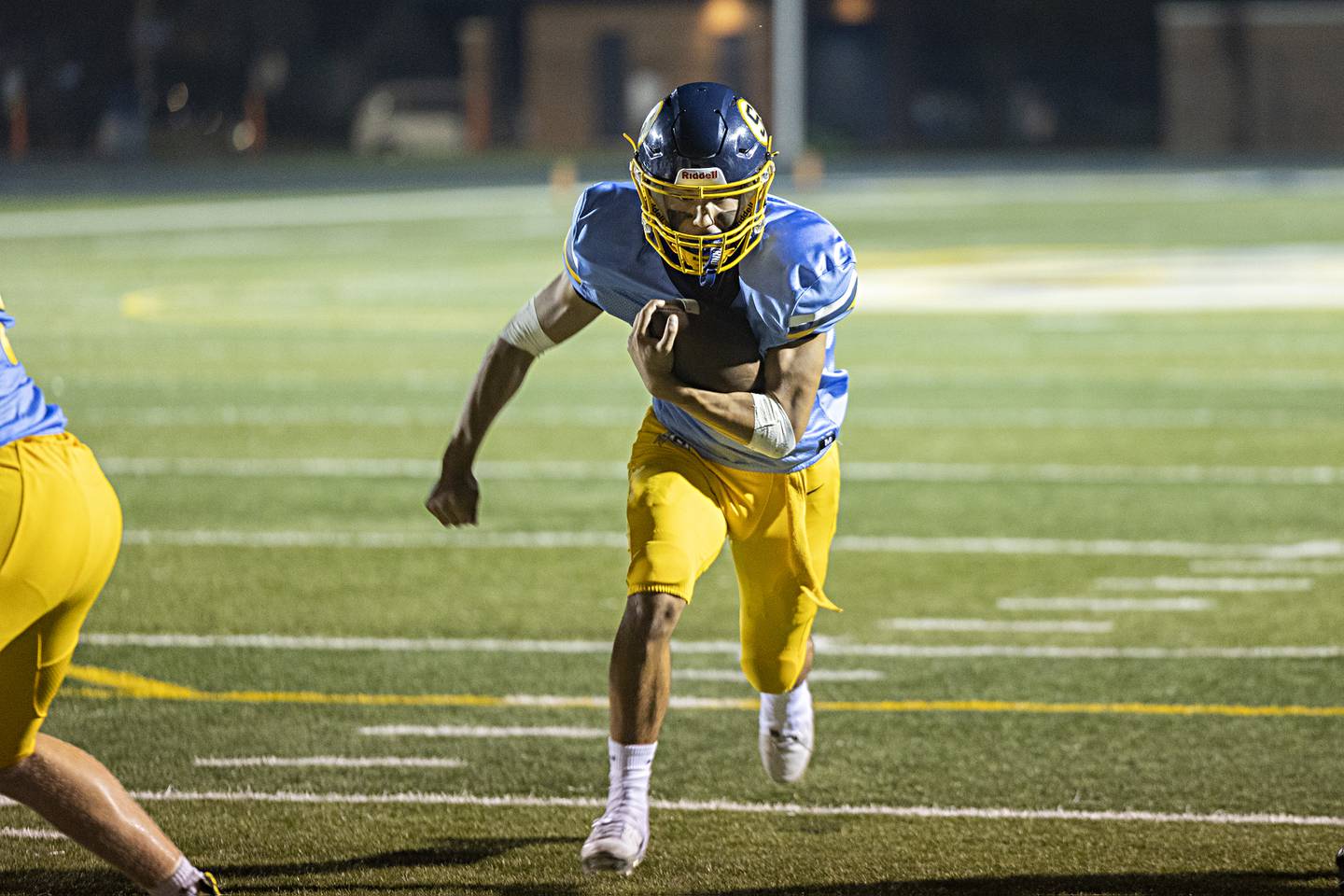 Sterling stuffed a Galesburg fake punt for a loss of three on fourth down, then scored two plays after taking over at the Silver Streaks' 25. Holcomb hit Emin in tight coverage in the front-right corner of the end zone for a 28-yard touchdown. Emin snatched the ball near the goal line with a defender draped all over him, then walked in for the touchdown and a 21-0 lead.
Holcomb capitalized on a short field with a 2-yard touchdown run on third-and-2 for a 28-0 lead in the second quarter. Sophomore kicker Ryan Gebhardt nailed a 47-yard field goal to make it 31-0 on the next drive.
"Joe has wheels, track kid, but he's also getting smarter," Klaver said. "It's his first year at quarterback. It's Game 4, and we can only expect him to get better."
Junior quarterback Drew Nettleton hooked up with junior wide receiver Kaedon Phillips on his first pass of the game for a 78-yard touchdown and a 38-0 lead with 3:23 to play in the first half.
Holcomb capped the first-half onslaught with a 14-yard touchdown pass to senior wide receiver Miles Nawrocki as 2:26 remained in the first half.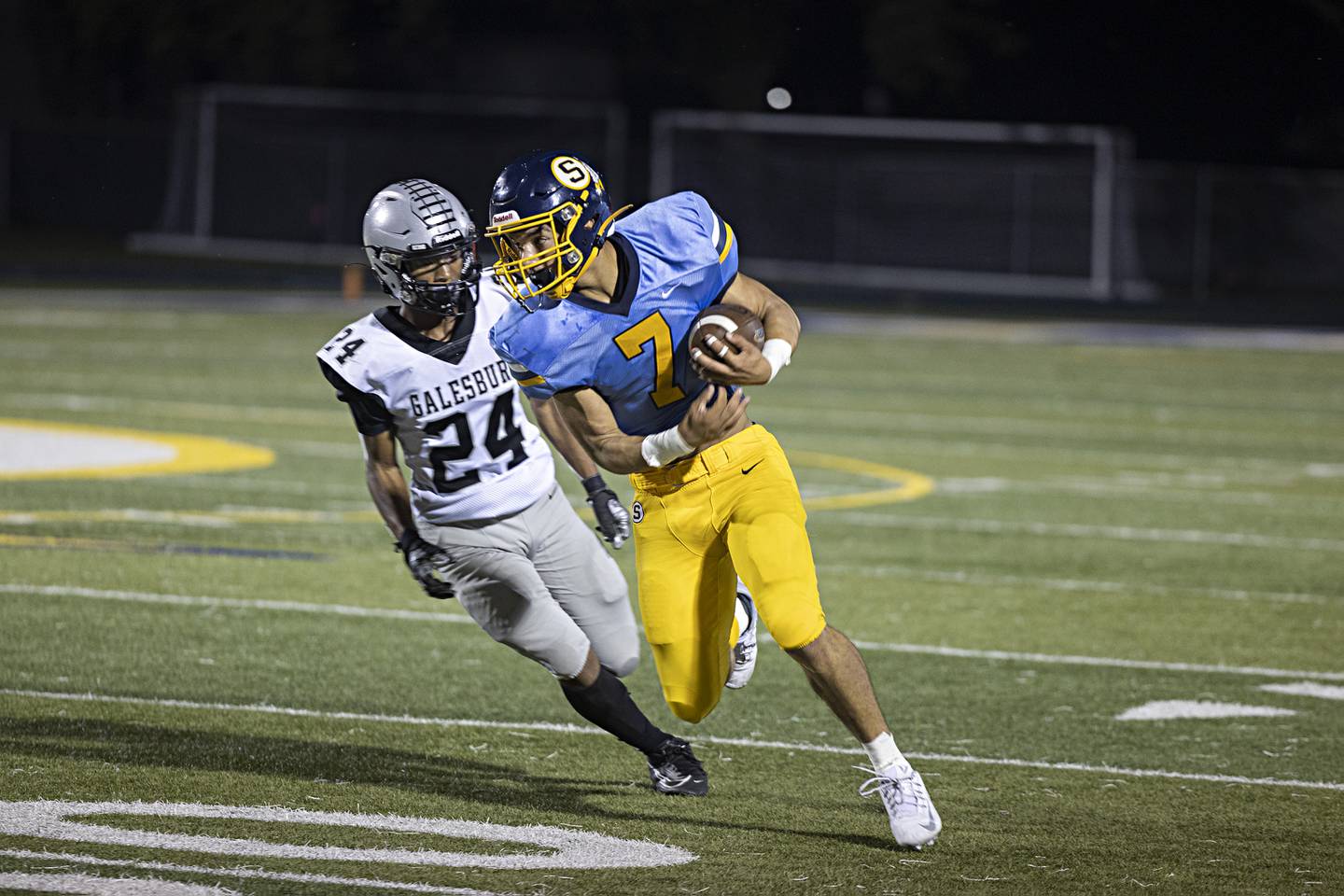 Sterling defense dominates
Sophomore linebacker Wyatt Cassens led a stellar defensive effort with two sacks, four tackles and a fumble recovery, all in the first half. Klaver also recorded a sack for Sterling, and Emin and Maurice De la Cruz each recovered a fumble. Braden Birdsley and Emin each forced a fumble. Jaden Thompson snagged an interception in the third quarter, adding to the four-takeaway effort. Galesburg was held to 141 total yards. The Silver Streaks were 1 for 8 on third downs and 0 for 2 on fourth downs.
"We knew from practice what they liked to do, and we had a game plan that took that away," Klaver said. "They were in GH a lot – we had a perfect defense set up for that – so I feel like on those third-and-shorts or third-and-longs, we knew what they would run, and it allowed us to be very smart and methodical in our defensive schemes."