DIXON – Controlling the trenches is always key when Big Northern Conference rivals Dixon and Genoa-Kingston face off.
The Dukes were the dominant team up front this time, limiting the Cogs to 115 total yards while running for 136 and throwing for 148 in a 30-0 victory Friday night at A.C. Bowers Field.
"Definitely, for sure, 100% it was all clicking tonight," Dixon senior quarterback Tyler Shaner said. "We played a great team game, and everyone played together: offense, defense and special teams. We just had a great team win."
[ Photos from Genoa-Kingston at Dixon football ]
Dixon (4-0) was strong all night, and led 17-0 at halftime. Despite numerous penalties and mental mistakes throughout the third quarter, the defense never relented. Even when G-K (2-2) took over on the Dukes' 17-yard line late in the third quarter, two running plays went backward and an incomplete pass turned it back over on downs.
"Credit to the defense; honestly. They kept us in this game. Whether we scored 30 points or not, they carried us," Shaner said.
"We did our job, it's really that simple," junior linebacker Eli Davidson said. "We played hard, we played fast, we played low. Yeah, we got a little sloppy at times, but when you play hard and play fast, you give all your effort and you do your job. That's a strong defense right there. We locked them up."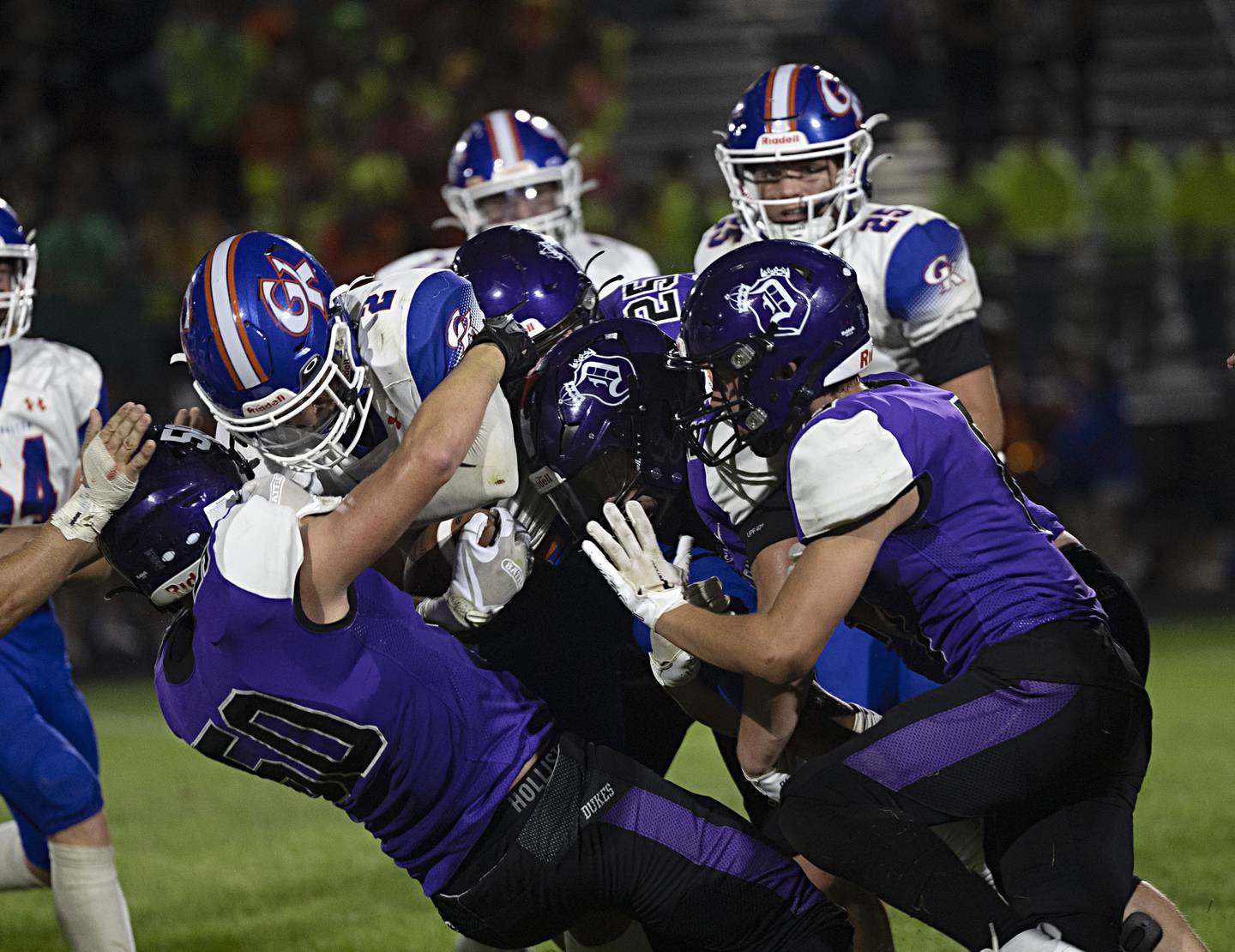 Dixon's offense got back on track in the fourth quarter. After forcing another turnover on downs at their own 40 with 9:01 remaining, the Dukes drove 60 yards in seven plays, the big one a 35-yard run by Aiden Wiseman to set up a 16-yard scoring run by Shaner, who kept the ball on a read play and weaved his way through the middle of the G-K defense to the end zone.
A 5-yard tackle for loss on fourth down of the next G-K series gave Dixon the ball at the Cogs' 19, and Devon Wallace ran for 13 yards, before Shaner plunged in from 6 yards out for a 30-0 margin.
"This is the best week of practice we've had all season. So last night after practice, I knew that we were going to come in here strong," Shaner said. "I didn't think that we were going to hold them to a goose egg and I wasn't sure if we were going to score 30 points or not, but I knew it was going to be a great game – and we played one heck of a game."
Shaner finished 9 for 13 passing for 148 yards and a touchdown and ran for 14 yards and three TDs. Wiseman had 93 yards on 14 carries, and Cullen Shaner caught five passes for 82 yards.
Penalties don't hurt Dukes
Dixon extended three different Genoa-Kingston drives with third-down penalties, but each time the Cogs got a new set of downs, the Dukes bowed their backs and didn't give in.
G-K's longest run of the game was 8 yards, and 27 of the Cogs' 37 running plays went for 3 or fewer yards, 10 for negative yards. The longest play on the night for G-K was a 34-yard pass from Nathan Kleba to Hayden Hodgson midway through the second quarter that came the Cogs' longest drive of the game, and it ended after 54 yards at the Dixon 26.
"Tip your hat to Dixon, they did such a nice job of their gap assignments on defense, knowing their assignments and controlling each gap," Genoa-Kingston coach Cameron Davekos said. "We tried to do some misdirection against them, and we were driving a little bit, but we just couldn't capitalize and finish off drives. We're going to watch film and try and get better and build off what we can."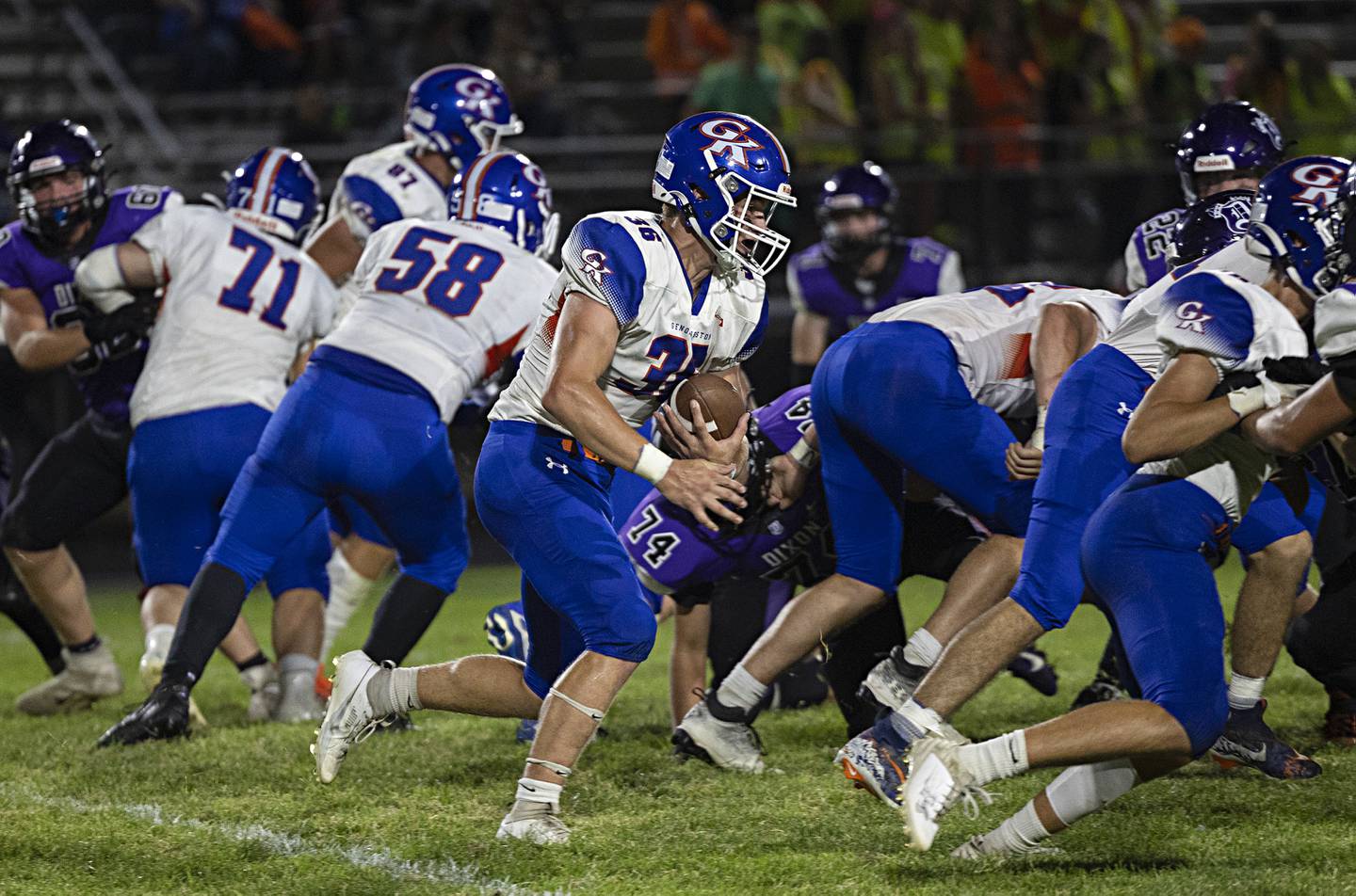 It was the same for the Dixon offense. Every time the Dukes were assessed a holding penalty, they bounced back to get a first down or the defense took over and shut down the Cogs.
Davidson credited the Dixon defensive line for allowing him and fellow linebacker Wiseman to run free and go from sideline to sideline to make plays all game.
"That's so huge. I can't express how big of a deal that is as a backer," Davidson said. "When your nose tackle is taking up two blockers every time, and your tackles are running after pulling guards, we're running around by ourselves. You feel like something's wrong, because you're so open to make plays. All the credit to our D-line, and our DBs did a great job, too. I didn't have to worry about anything behind me, because I knew we had our DBs back there. I just love our D-line, it's awesome."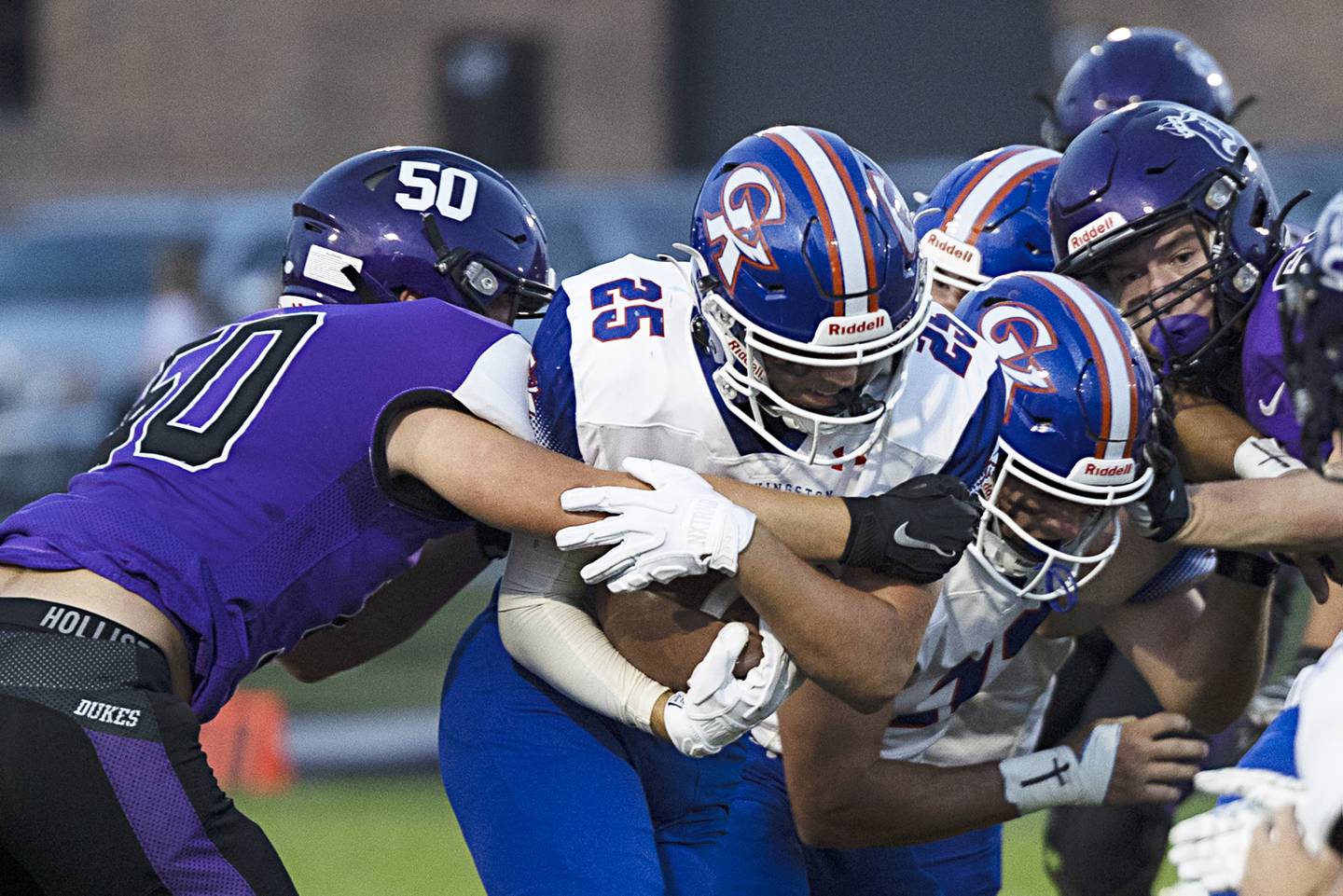 Offensive efficiency
Dixon scored on all three first-half possessions, and all three started inside its 35-yard line.
The Dukes drove 66 yards in eight plays on their opening drive, finishing it with a 19-yard touchdown pass from Tyler Shaner to Collin Scott with 3:41 left in the first quarter. The next drive covered 70 yards in eight plays, culminating in a 28-yard Caleb Carlson field goal for a 10-0 lead with 10:22 remaining before halftime.
The final drive was swift and decisive. Tyler Shaner completed passes of 8, 32, 19 and 11 yards to move Dixon from its own 26-yard line to the G-K 4, then covered the final 4 yards himself on back-to-back QB keepers to give the Dukes a 17-0 lead with 31 seconds left before halftime.
Shaner was 7 for 9 for 119 yards and a TD in the first half, with younger brother Cullen catching three passes for 53 yards.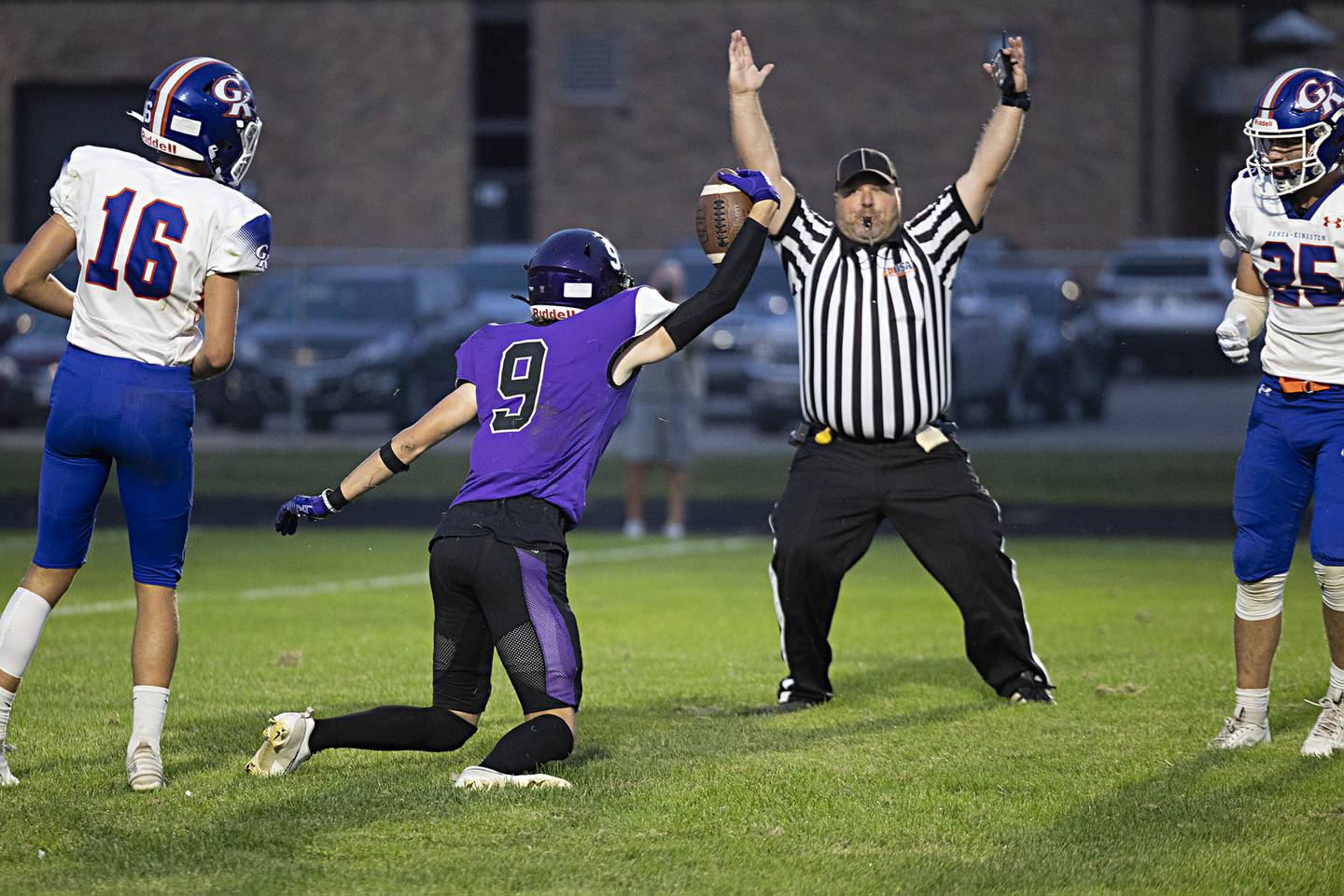 No payoff
The Cogs moved the ball in the first half, but couldn't finish off their drives with points.
G-K took the opening drive of the game 29 yards to the Dixon 36, but gained only 2 yards on fourth-and-4 to turn it over on downs.
The second drive ended in disaster, as a bad snap on a punt attempt inside the G-K 35 gave Dixon excellent field position; the Cogs defense rallied to force a field goal.
The third possession was the most promising, as GK traversed 54 yards in 13 plays, but a holding penalty on second-and-5 at the Dixon 20 halted that march. The Cogs turned it over on downs thee plays later.
"Something that we talk about with the kids constantly is trying to control what you can control," Davekos said. "Sometimes it just doesn't go your way. Things bounce funny because the football's not round. We'll watch film, we'll see what we can tighten up, and we'll get better from here."