Montini junior linebacker Nick Iron admitted he was a little bit lost Friday night.
Not lost in the sense he wasn't sure about his duties on the football field — he eventually proved he was definitely focused later in the game — but he was missing his twin brother, Vince.
Vince Iron suffered a major injury that forced him to sit out Friday's pivotal home game against defending Class 5A state champion Nazareth. The Broncos (3-0) were in dire need of a momentum-building victory following consecutive three-win seasons that had them miss the playoffs.
But Iron had another pressing issue on his mind. He had to adapt to playing without his twin brother.
"Last week my brother broke his wrist and the growth plate. He just got surgery today, but he was at the game today," Iron said. "So I'm playing for me and him now. He's with me.
"I train with him. I'm with him 24/7, so not being on the field with him is a little tough. But I'm playing with him. This is the first game I've played without him. I started playing football at 4 years old with the Lombard Falcons."
Iron saved the day, helping the Broncos avoid a defeat by blocking the game-winning field-goal attempt as the final horn sounded in a 24-23 victory over the Roadrunners in Lombard.
Iron stretched out his left hand and dove from the right side to block the field goal.
Montini coach Mike Bukovsky said it was a storybook ending for the Iron family.
"His twin brother broke his wrist just last week," Bukovsky said. "He was in the hospital and had surgery today. (Vince) came here and was on the sidelines, and his twin brother makes the game-winning play. That, to me is unbelievable, just unbelievable. And his dad, Dave, is an alum. He had surgery today. Just unbelievable."
The Broncos were on cruise control with a 24-7 lead early in the third quarter. The Roadrunners, perhaps sensing their season was in jeopardy, responded with several big offensive and defensive plays. After stopping the Broncos to force a punt deep in their own territory, the Roadrunners blocked the punt to set up for one final play with six seconds left.
Both teams were in a rush, leading to many players wondering if the Roadrunners were attempting a play or a field goal.
But Iron was locked in.
"(No. 11) on their team is a great player," Iron said. "I didn't know what they were going to do. I got out there. I wanted to see where (11) would line up. I see he gets out of the game, so I'm like why would they take their best player out of the game? Then, I see their sideline go "field goal, field goal" and they get the tee. That's when we lined up in our extra-point or field goal-block, and we got the job done."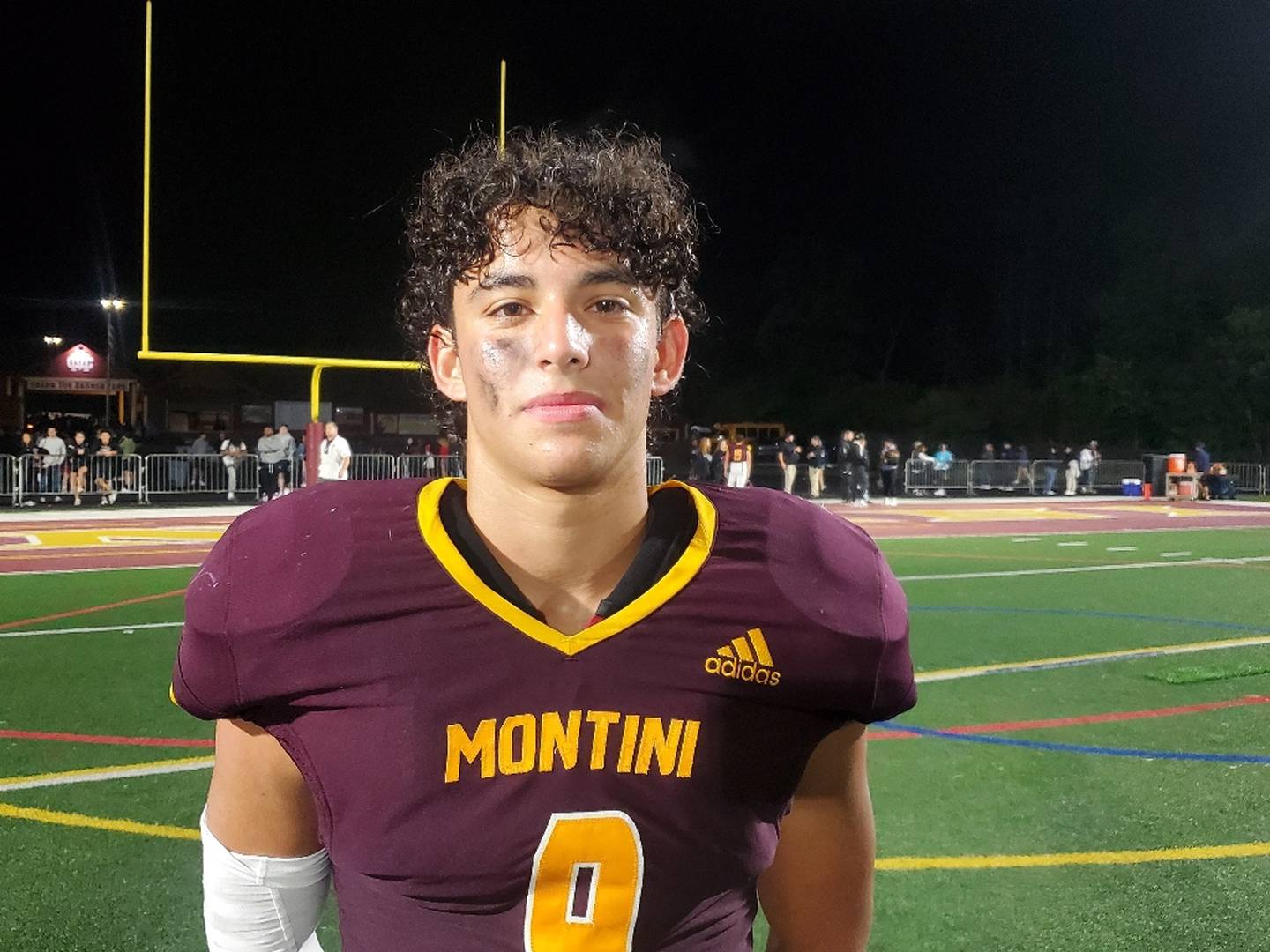 Nazareth winless
A year after winning the Class 5A state championship, Nazareth finds itself in a unique position just three games into the season: winless. The Roadrunners have been down this road to a degree, opening with a 1-3 record last season before embarking on a memorable run that ended with a state championship.
A big part of the Roadrunners' early-season woes stems from one of the toughest schedules in the state.
Nazareth coach Tim Racki understood the challenge of playing four tough teams — Kankakee, York, Montini and IC Catholic — in a row to start the season, but his team was saddled with a rare scheduling quirk of playing all four games on the road. Through three games, Kankakee, York and Montini have a combined 9-0 record.
Twenty minutes after losing at Montini last Friday, Racki stood in the far end zone away from his players, coaches and fans. Still frustrated from the defeat and digesting the craziness of the final eight-plus minutes, Racki joked about his odd first month of the season.
Before the season, Racki, a former college football player who remains active by hitting the weights, suffered a serious bicep injury that forced him to wear a sling on his right arm.
"This is my first (surgery)," Racki said.
Yes, it's been that kind of season for the Roadrunners, but Racki realizes not many people are going to shed a tear for a coach who has won eight state championships in his illustrious career, including four at Nazareth and four at Addison Driscoll.
"It's frustrating to lose like this, but they fought hard and showed a lot of heart," Racki said. "We know we can play better. We've played some of the best teams in the state. We have to improve. We will.
"This is a great group of kids. They work hard and will bounce back."
Tidbits
Glenbard West (1-2) is also another state powerhouse team with a losing record. The Hilltoppers have been beset by injuries, losing nine starters, including highly regarded running back Julius Ellens. The Hilltoppers have scored 14 points this season. … Wheaton Warrenville South (1-2) has also struggled scoring points in the first month, accounting for just 18 points in three games. …Hinsdale Central (0-3) is another solid program without a win this season. The Red Devils are averaging 19.3 points per game, but allowing 31.7.