SouthWest Suburban Conference Blue
Bolingbrook (2-1) at Homewood-Flossmoor (2-1)
When: 6 p.m. Friday
Last matchup: Bolingbrook 43, Homewood-Flossmoor 36 (2022)
About the Raiders: Bolingbrook's offense continues to flourish, as witnessed by the 49 points posted in a heartbreaking, last-second loss to Naperville North in Week 3. Sophomore quarterback Jonas Williams has been as good as, possibly better than, advertised, tossing six touchdown passes in the loss to the Huskies. Williams is feeding his primary target, Wisconsin recruit Kyan Berry-Johnson, but also getting others involved. Chico Thomas also latched on to two scores in Week 3. Defensively, some solidifying needs to be done, because as good as the offense has been, the Raiders have to get stops to ensure more wins. Bolingbrook has appeared to run away from opponents in each of the past three weeks, but in the past two, teams have rallied to at the least make the game interesting, and in Week 3 Naperville North needed less than a minute to get itself in field-goal range for the game-winner.
About the Vikings: Homewood-Flossmoor and Bolingbrook already share a common opponent. Naperville North toppled H-F 35-21 in the season opener. Just as Bolingbrook hasn't been able to lock down opponents, Homewood-Flossmoor has struggled to rein in foes. They were involved in one of the wilder games of the season in Week 2, needing a last-minute onside-kick recovery to earn a 54-47 victory over Marian Catholic, a contest where there were seven lead changes. Homewood-Flossmoor has plenty of experience with back-and-forth games this season, but this is a fight where they might not have enough ammunition to do it again in Week 4.
Friday Night Drive pick: Bolingbrook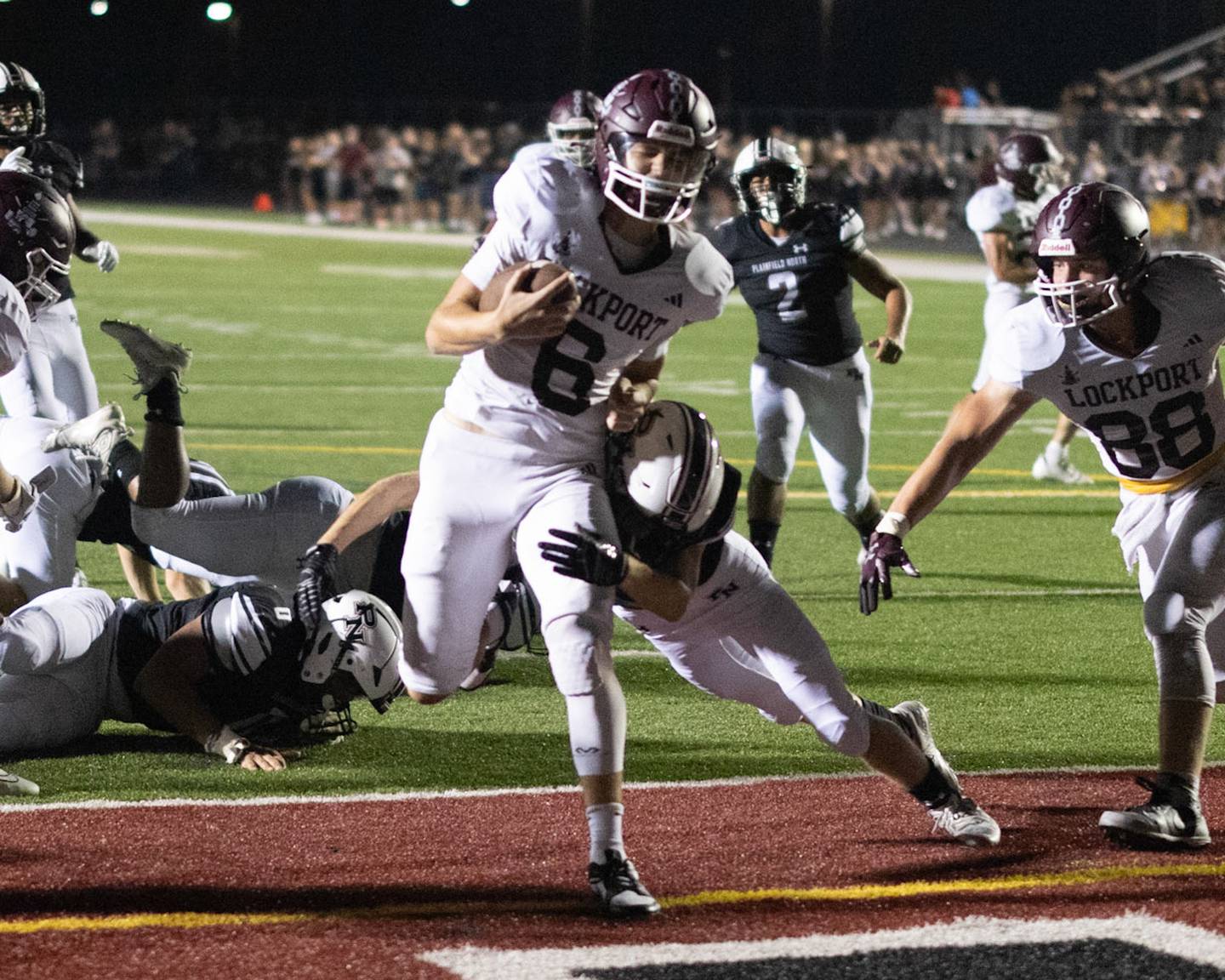 Lockport (3-0) at Sandburg (2-1)
When: 7 p.m. Friday
Last matchup: Sandburg 34, Lockport 3 (2022)
About the Porters: Lockport pulled a rabbit out of its hat in upending Naperville Central in overtime in Week 3. The Porters appeared to be finished after turning the ball over on downs with just over two minutes to play but were able to get the ball back for a last-ditch drive. With the services of kicker Nate Blazewski available, the Porters aren't out of any last-minute situation, and he cut it close but drilled a field goal with less than a second left to send the game into overtime, where Kevin Holland (six catches, 140 yards) won it for the Porters with his second TD reception of the night. Lockport is finding a way to get plays when it needs to and has managed to navigate one of the state's more difficult nonconference schedules with a 3-0 record.
About the Eagles: Sandburg found its mojo in a wild win over DeKalb in Week 3, where finely placed onside kicks turned the tide for the Eagles. The Eagles looked poised two years ago to make a mark in the SouthWest Suburban Conference but took a bit of a step back last year. However, it looks like veteran coach Troy McCallister has found some offensive weapons to build around, most notably quarterback Anthony Shelton, who tossed five touchdowns and ran for another in the DeKalb victory. Wide receiver Charlie Snoreck is also someone who must be contended with, as he snared 12 passes for 187 yards with a pair of scores in Week 3.
FND pick: Lockport
SouthWest Suburban Conference Red
Lincoln-Way West (2-1) at Lincoln-Way Central (3-0)
When: 7 p.m. Friday
Last matchup: Lincoln-Way Central 38, Lincoln-Way West 27 (2022)
About the Warriors: Lincoln-Way West took its first loss of the season in a trip to Illinois Wesleyan University against Belleville East, and it may have turned out to be more expensive than a run-of-the-mill setback. Quarterback Cole Crafton was injured in the game, and early indications were that it might be serious enough to keep him out for a long stretch. Chase Hetfleisch filled in admirably for Crafton when the latter didn't get enough practices in to start the regular season in a Week 1 win over Plainfield Central, but he might be in line for a more extended look at the position.
About the Knights: Lincoln-Way Central already has equaled its win total of a year ago and is 3-0 for the first time since 2017. The Knights added a major feather in their cap in Week 3 with a nonconference win over O'Fallon, a team that entered the contest ranked seventh in the Associated Press Class 8A poll. Lincoln-Way Central is playing stout defense and getting contributions from all over its roster. Braden Meyer has evolved into sort of a jack-of-all-trades performer for Lincoln-Way Central, and running back Anthony Noto has been wildly productive setting the pace for an offense that has supplied some unorthodox offensive looks to opponents.
FND pick: Lincoln-Way Central
SouthWest Suburban crossover
Bradley-Bourbonnais (3-0) at Lincoln-Way East (3-0)
When: 7 p.m. Friday
Last matchup: Lincoln-Way East 28, Bradley-Bourbonnais 21 (2022)
About the Boilermakers: Bradley-Bourbonnais has a solid, veteran team. But the first three weeks of the season haven't afforded much of an opportunity to see how good the Boilermakers might be. The first three opponents on Bradley's schedule have a combined record of 0-9, and Bradley has handled all three of them rather easily. Obviously, the level of competition steps up in a big way here, but with solid weapons such as quarterback Ethan Kohl and linebacker AJ Mancilla, Bradley might have what it takes to push the Griffins. Recent contests between the two programs have been much closer than they might appear on paper, including last year's matchup in which Lincoln-Way East trailed for much of the game before pulling the win out of the fire.
About the Griffins: Lincoln-Way East is making it look pretty easy right now, breezing to a 35-0 win over Neuqua Valley in Week 3. The Griffins' defense has shined in the early going, and that isn't all that surprising. One of the underlooked elements of the Griffins' defensive strength is a secondary that has multiple experienced players. Bradley's strength is throwing the football, so Lincoln-Way East's defense should be on alert in that area, but considering how nice of a job the unit did against Batavia gunslinger Ryan Boe in Week 2, the Boilermakers are probably the team that needs to figure out how to crack Lincoln-Way East rather than the other way around.
FND pick: Lincoln-Way East
Southwest Prairie crossover
Oswego (3-0) at Joliet Central (0-3)
When: 6 p.m. Friday
Last matchup: Oswego 42, Joliet Central 0 (2022)
About the Panthers: Oswego clearly has put last year's less-than-standard 3-6 record behind it, looking more and more like the dominant force that Southwest Prairie opponents have been accustomed to over the past decade. The Panthers are getting production from multiple players all over the field — so much so that's its hard to focus on just a few players that have led the turnaround. One thing is for sure: Opponents better bring a good plan to try to break through on this defense. The Panthers have allowed only 10 points all season and were kept from tossing their second shutout of the year in Week 3 only by a Plainfield Central field goal on the final play of the game.
About the Steelmen: Joliet Central had made some progress in the first two weeks of the season, particularly on offense. But Week 3 wasn't nearly as kind, as the Steelmen were overwhelmed by Minooka. This isn't an ideal matchup for Joliet Central, but hopefully it can survive it without too much damage before entering SPC East Conference play, where the level of competition might be a touch more conducive to the Steelmen doing a few more positive things.
FND pick: Oswego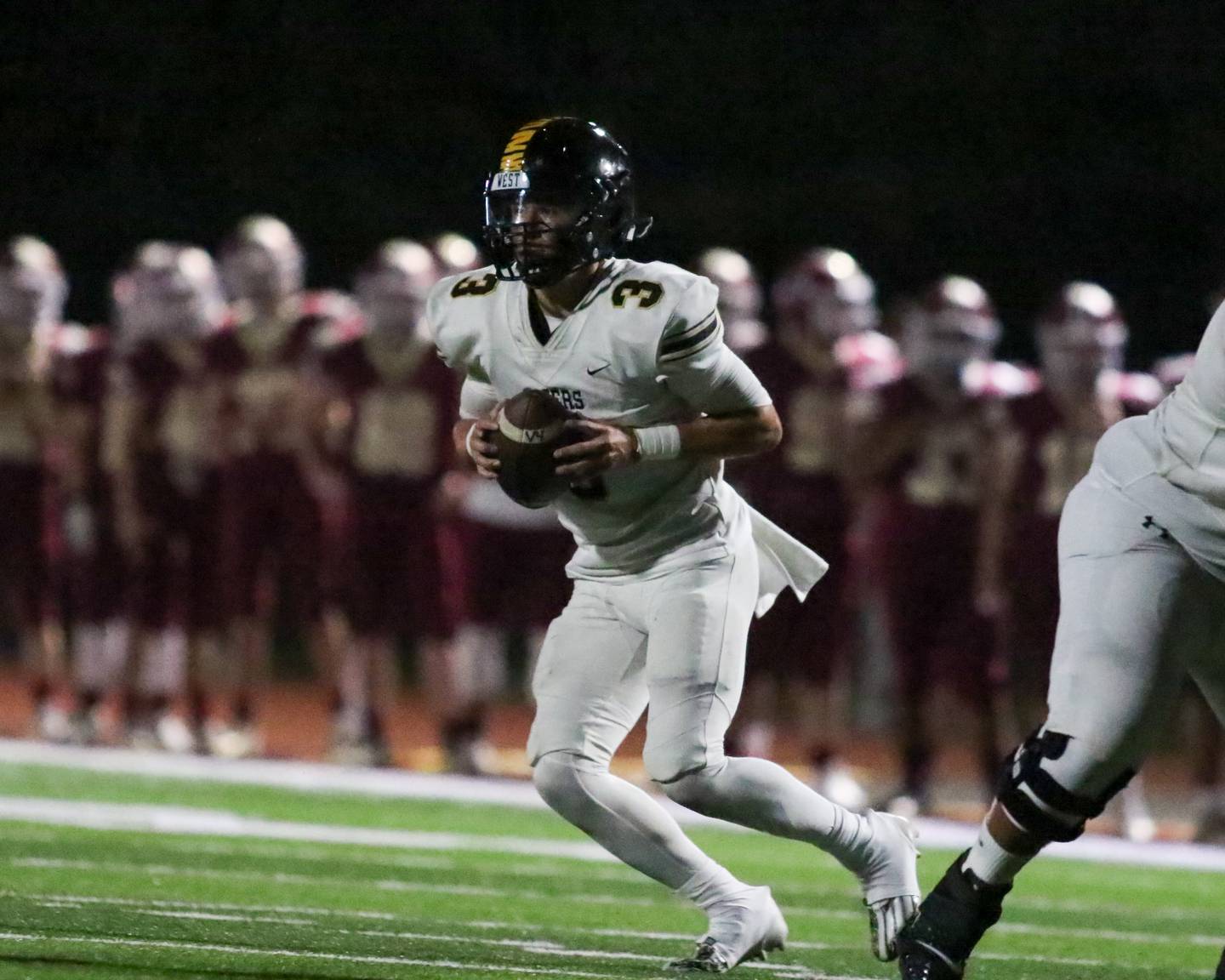 Plainfield North (2-1) at Joliet West (2-1)
When: 6:30 p.m. Friday
Last matchup: Plainfield North 48, Joliet West 0 (2022)
About Plainfield North: Plainfield North usually leans on its defense to provide the foundation for the program. So far, that unit has lived up to its part of the bargain, having allowed only 20 points through its first three games. But the offense to this point has been scuffling to get going. It may have found an answer to some of those issues by inserting reserve quarterback Lukas Alvarez into the lineup. Alvarez seemed to provide a spark for Plainfield North in its Week 3 win over Plainfield South, and his influence might help wide receivers Braxton Bartz and Omar Coleman become a little more involved. Running back Robert Tota also had a solid effort in the Plainfield South victory, and the Tigers would like nothing more than to have a reliable running back anchoring their offensive efforts.
About Joliet West: Joliet West picked up what could be defined as one of its more impressive victories in recent memory. By defeating Yorkville in Week 3, it marked only the second time Joliet West had toppled a Southwest Prairie Conference team from the West Division since the league separated into divisional play. Quarterback Juan Rico has proved he can move the offense down the field, but more importantly the Week 3 result proves Joliet West's defense can answer the bell against a higher caliber opponent. The Tigers also have added another dimension to their offense, with Adrian Ramirez giving the Tigers an option in the kicking game. Ramirez provided the game-winning field goal in the win over Yorkville.
FND pick: Plainfield North
Romeoville (0-3) at Minooka (2-1)
When: 7 p.m. Friday
Last matchup: Minooka 41, Romeoville 0 (2022)
About the Spartans: Romeoville seems to be doing better offensively, but that's getting lost in the shuffle right now as the Spartans are having trouble keeping opponents from scoring considerably more. After back-to-back weeks of holding opponents down to 21 points, things came apart at the seams for the Spartans in Week 3 against West Aurora, as they surrendered 56 points in the loss. Adjustments need to be made in a hurry against a Minooka team that hasn't had many problems offensively either.
About the Indians: Minooka must have taken its meager six-point output in a loss to Neuqua Valley in Week 2 personally. It erupted for 69 points in a win over Joliet Central in Week 3. The Indians historically have feasted in the SPC crossover contests, and that's a trend they'd definitely likely to continue as a deep SPC West schedule waits on the horizon in Week 5.
FND pick: Minooka
Yorkville (1-2) at Plainfield Central (1-2)
When: 7 p.m. Friday
Last matchup: Yorkville 27, Plainfield Central 0 (2022)
About the Foxes: Yorkville was surprised in Week 3 by Joliet West, leaving them needing a win just to get back to the .500 mark before heading into a rigorous SPC West schedule. Despite its 1-2 record on the season, the Foxes have still been fairly strong on defense. It is a middling offense that might be able to get on track against a Plainfield Central defense that has already surrendered over 100 points in three games.
About the Wildcats: Plainfield Central ran into a buzzsaw in Week 3 against Oswego, failing to figure out how to get points on the board until the last play of the game. The Wildcats are an extremely young bunch and are still trying to find their way at several positions. The Wildcats have posted just 25 points through three games, and their win over Metea Valley marked the only time Plainfield Central has posted more than seven points in a game.
Friday Night Drive Pick: Yorkville
Oswego East (1-2) at Plainfield South (0-3)
When: 7 p.m. Friday
Last matchup: Oswego East 28, Plainfield South 0 (2019)
About the Wolves: Oswego East broke out of its early-season offensive funk in a big way in Week 3, posting 41 points in a shutout victory over Plainfield East. In its prior two games, the Wolves had scored only 25 points. If that's sustainable, the Wolves could get back to the .500 mark – an absolute must heading into SPC divisional play.
About the Cougars: New coach Jake Brosman seems to have built a similar foundation to the previous Plainfield South regime, as the Cougars have played strong defense through the first third of the year. But the offense has not been up to the standard required. Plainfield South has put up only 13 points. That's going to put any defense, no matter how good, up against the eight ball in every situation. Plainfield South quarterback Cody Hogan showed some flashes late in the Week 3 loss, but the Cougars need to see that more often and more consistently.
FND pick: Oswego East
West Aurora (3-0) at Plainfield East (0-3)
When: 7:30 Friday
Last matchup: Plainfield East 27, West Aurora 25 (2019)
About the Blackhawks: West Aurora has gotten off to a great start, particularly on offense. But the Blackhawks have flourished against a schedule that has been less than stellar, as its opponents are 2-7 on the season. This is an experienced West Aurora group, however, so they should be able to keep focus on completing the nonconference portion of their schedule with a spotless record. That's probably a must for the Blackhawks as they navigate a brutal Southwest Prairie West schedule after Week 5, an area where they have struggled mightily since joining the SPC.
About the Bengals: Plainfield East hasn't had much to hang its hat on in the first three weeks, having watched Oswego East simply run away from them in Week 3. The Bengals haven't been all that competitive in any of their games this far, but the schedule hasn't been all that kind either. Including this week's opponent, West Aurora, the combined record of Plainfield East's opponents is 9-3. There's talent in the Plainfield East offensive stable, it just hasn't been able to get on the same page.
FND pick: West Aurora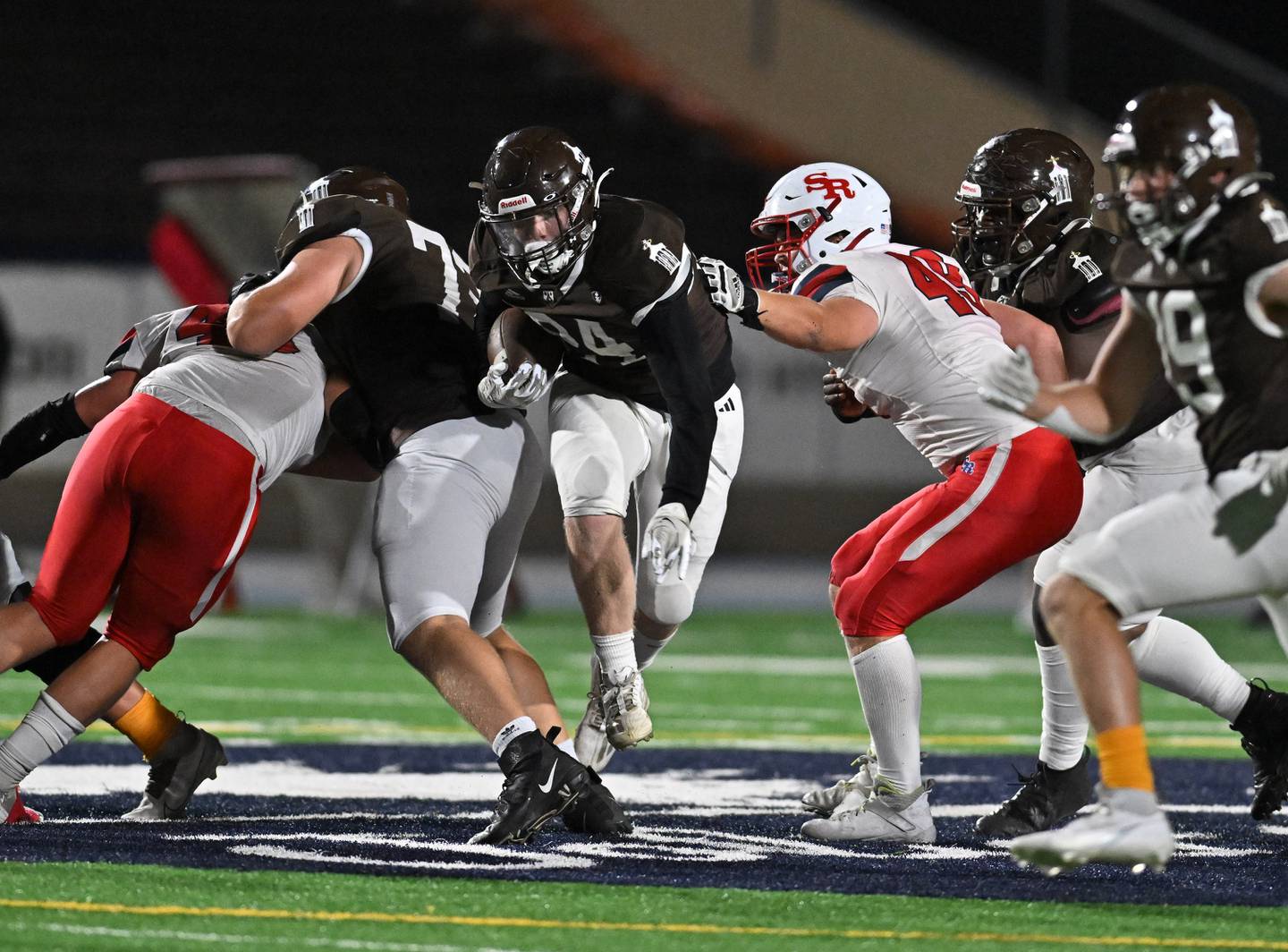 CCL/ESCC Green
Niles Notre Dame (2-1) at Joliet Catholic (2-1)
When: 7 p.m. Friday
Last matchup: Joliet Catholic 33, Niles Notre Dame 17 (2018)
About the Dons: Niles Notre Dame ground out a pair of low-scoring victories over Willowbrook and St. Patrick to start the season but ran into a brick wall in a loss to Mount Carmel in Week 3. Notre Dame probably will try to force this game into a tempo similar to what got them those early wins. The Dons will have to find a way to scrape out some offense against what has proved to be a stingy Joliet Catholic defense.
About the Hilltoppers: For really the first time all season, Joliet Catholic faced some second-half adversity against St. Rita and didn't respond to it all that well. The Mustangs posted 20 second-half points, and the Hilltoppers couldn't answer with any of its own. An offense led by HJ Grigsby on the ground still needs to finish off more drives with touchdowns moving forward, but Patrick Durkin has proved more than capable of adding points with his foot if the Hilltoppers can't cross the goal line.
FND pick: Joliet Catholic
CCL/ESCC White
Providence (2-1) at St. Laurence (2-1)
When: 7:30 p.m. Friday
Last matchup: Providence 49, St. Laurence 20 (2022)
About the Celtics: The Providence defense and special teams have been the predominant sources of offense for the Celtics. Despite having scored only one offensive touchdown in its past eight quarters, Providence still finds itself with a 2-1 record. And although the defense has been splendid, that lack of offensive contribution probably won't be sustainable over the course of the rest of the season. But if the defense keeps forcing turnovers at the rate it has been, maybe it is.
About the Vikings: St. Laurence was outdueled by St. Francis in its Week 3 matchup, but there's still a lot left to learn about the Vikings, as it was really the team's first actual competitive football game this season. The Vikings started the season by smashing an ill-equipped Chicago Public League team in Week 1 and followed that up with a forfeit win over another CPL team, so the St. Francis game served as St. Laurence's first competitive game, and there probably are some kinks that need to be worked out.
FND pick: Providence
South Suburban Blue
Lemont (1-2, 1-0) at Tinley Park (2-1, 1-0)
When: 7 p.m. Friday
Last matchup: Lemont 44, Tinley Park 6 (2022)
About Lemont: After a pair of tough nonconference losses to Geneva and Libertyville, things got back to normal for Lemont once it entered South Suburban Conference play. It is a league Lemont has been dominant in for well over a decade, and there's no reason to expect that to change this week.
About the Titans: Tinley Park experienced a brutal 2022 season. But that sour taste in the Titans' mouths from last year has been converted into a much more competitive product this season. The Titans already have collected a pair of wins on the season (they had none in 2022) and played a much more competitive game with Hillcrest than it had in years in before falling 20-7.
FND pick: Lemont
Kishwaukee River/Interstate 8
Morris (3-0, 1-0) at Woodstock North (1-2, 0-1)
When: 7 p.m. Friday
Last matchup: Morris 41, Woodstock North 0 (2022)
About Morris: Morris is once again making offense look like a breeze, averaging over 400 yards per game. Jacob Swartz is the leader of a multipronged offensive attack. He already has rushed for 500-plus yards this season, including a 200-yard plus effort in the only game this season where Morris has been pushed, last Friday's win over Kaneland. Morris also has gotten a strong start from A.J. Zweeres, who has 16 receptions, six of which have gone for scores.
About the Thunder: Woodstock North has provided a little bit more fight this season, but still it appears that there's a bit more distance that needs to be covered before it can be expected to fully tussle with the top teams in the league. The Thunder held a halftime lead over La Salle-Peru in Week 3, but faded down the stretch and dropped below the .500 mark with that loss.
FND pick: Morris
Illinois Central Eight
Coal City (2-1, 1-0) vs. Lisle (1-2, 0-1)
When: 7 p.m. Friday at Illinois Benedictine University in Lisle
Last matchup: Coal City 31, Lisle 0 (2022)
About the Coalers: To say that Coal City has rebounded from what appeared to be a humbling loss to Morris in Week 1 would look like a massive understatement. The Coalers have flattened Canton and Streator since, with running back Landin Benson bowling over nearly anything that gets in his way. One of the trickier places to play as a guest in the Illinois Central Eight tends to be Benedictine, but its hard to see Lisle's path to derailing this Coalers train right now.
About the Lions: Lisle started off on the right foot in its Week 3 matchup with Wilmington, drawing first blood against the powerful Wildcats. Wilmington then proceeded to rip off the game's next 49 points in a runaway victory. Lisle has been game this season but has a relatively small roster that might see fatigue set in against rosters blessed with a little more depth, such as Coal City's.
FND pick: Coal City
Reed-Custer (1-2, 0-1) at Herscher (0-3, 0-1)
When: 7 p.m. Friday
Last matchup: Reed-Custer 58, Herscher 7 (2022)
About the Comets: Reed-Custer has been able to maintain some of its offensive fluency over the first third of the season, but the defense hasn't been able to keep opponents in check quite enough to make those offensive efforts stand up. Peotone ground out nearly 400 yards rushing against Reed-Custer in Week 3, and the Comets couldn't get the Blue Devils off the field for much of the game. Running back Rex Pfeifer continues to have a huge year for Reed-Custer, breaking the century mark in rushing for the third straight game while scoring two more touchdowns.
About the Tigers: Herscher has been on the verge of collecting wins in each of the past two weeks, but the Tigers fell short in a low-scoring loss to Bishop McNamara in Week 2 and a back-breaking late-in-the-game one-point loss to Manteno in Week 3. For Herscher, the key will be getting the offense and the defense to turn in a solid effort in the same game. The Tigers have gotten either one or the other or none of the above in each of their games thus far.
FND pick: Reed-Custer
Wilmington (2-1, 1-0) at Peotone (2-1, 1-0)
When: 7 p.m. Friday
Last matchup: Wilmington 28, Peotone 13 (2022)
About the Wildcats: The Wilmington offense has been running like a well-oiled machine after a Week 1 loss to Seneca, as the wing-T formation has cultivated a number of productive runners, led by junior Kyle Farrell. Wilmington's defense also seems to be closing in on its prime. It has allowed only two touchdowns in lopsided wins over Aurora Christian and Lisle over the past two weeks.
About the Blue Devils: Peotone tries to do many of the same things Wilmington does, and last week it came pretty close to mirroring them. The Blue Devils ran twice as many plays as Reed-Custer did in a victory and got a school-record 268-yard rushing effort from Jayden Rodriguez running largely between the tackles in a gritty effort.
FND pick: Wilmington