Back in 2016 and 2017, Marian Central felt good about its chances in the Class 5A playoffs if it could just get enough wins to qualify.
Those Hurricanes teams made it through the rugged East Suburban Catholic Conference at 5-4 and advanced to the quarterfinals both years.
Marian finds itself in a similar situation this season in the new Chicagoland Christian Conference. While the CCC should not be as demanding at the ESCC, two nonconference losses to start the season to Richmond-Burton and Milwaukee Academy of Science, reduced Marian's margin for error the rest of the way.
But the Hurricanes rolled to a 40-0 victory Saturday at Bishop McNamara in Kankakee and have high hopes for the postseason, where they feel like they could be a force in Class 2A.
"I mean, playing a tough team like Richmond first, then going off to Milwaukee on a long road trip and starting 0-2 is not necessarily a good feeling," Hurricanes coach Liam Kirwan said. "But you know there's a lot of teams that have done it. Montini, back in the days when I was a student (at Marian). Nazareth last year. The key is it's just one game every week."
Marian's prolific quarterback-wide receiver duo of Cale McThenia and Christian Bentancur really had it rolling Saturday. McThenia, who is headed to Northern Iowa, completed 18 of 23 for 335 yards and six touchdowns. Bentancur, who will play tight end at Clemson, caught seven passes for 206 yards and four scores.
That put McThenia at 1,138 passing yards and 13 touchdowns. Bentancur now has two 200-yard games for the season and needs 40 catches to reach 200 for his career. The IHSA's website has only 10 players listed to ever have reached 200 career receptions.
If the Hurricanes keep their focus each week, Kirwan feels they can get enough wins to reach the playoffs for the first time since 2017.
"It's hard not to look at what Wheaton Academy and Hope Academy are doing, or what all these other teams are doing that are really good teams, but if we overlook anybody, we're going to get beat," Kirwan said. "That's just football. It was disappointing. But it is about focus on what we have right now. Chicago Christian will be our focus this week."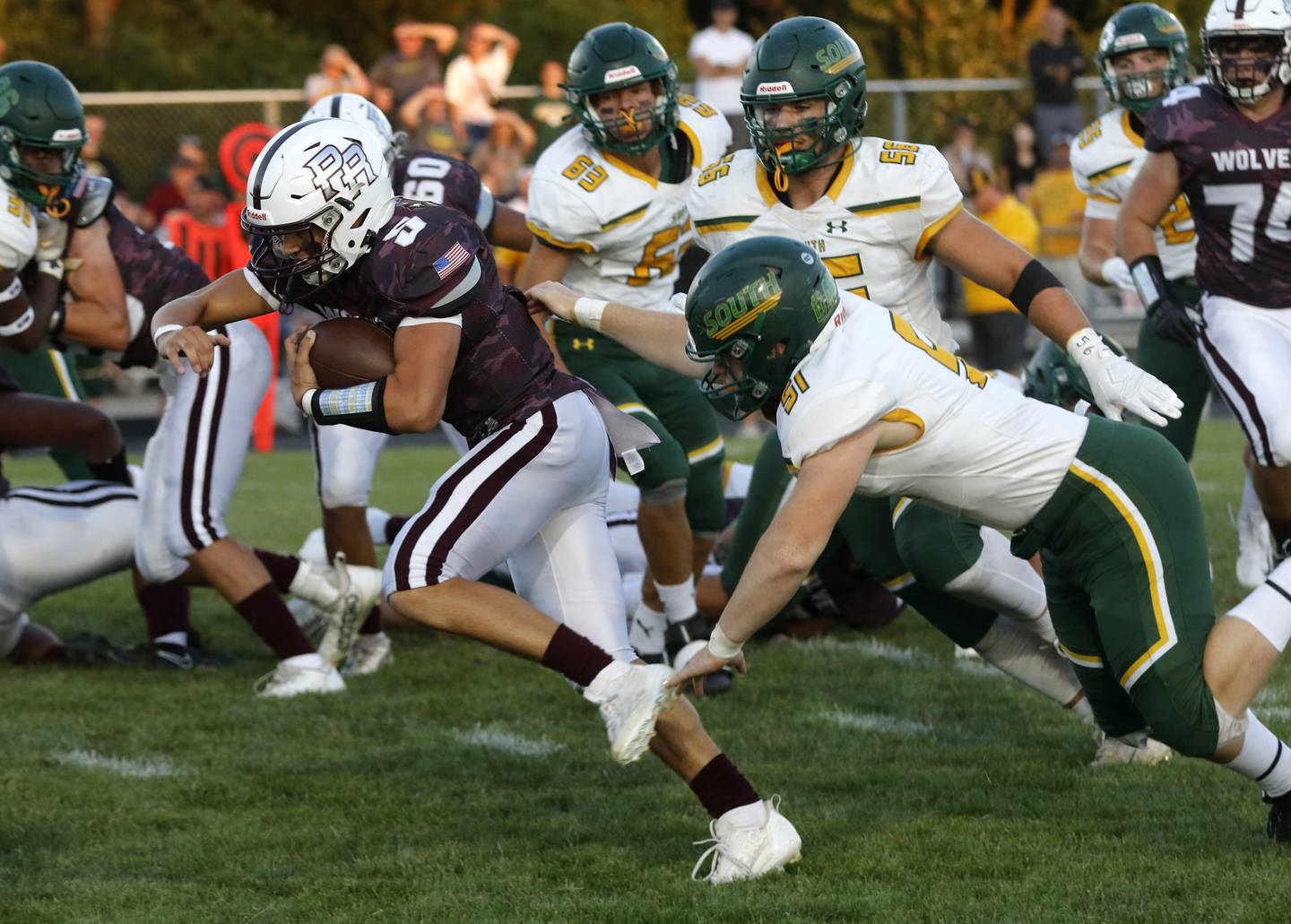 Brotherly love: Joey and Luke Vanderwiel were starters on last year's Prairie Ridge team that was Class 6A state runner-up, but this year they are on the field together.
Joey Vanderwiel started at linebacker last season, while Luke Vanderwiel was one of the Wolves' running backs. Joey, a senior, has moved to quarterback where he hands off, pitches or throws passes to his sophomore brother.
In Friday's 50-12 Fox Valley Conference victory over Hampshire, Joey Vanderwiel rushed 11 times for 75 yards and a touchdown and completed 5-of-8 passes for 49 yards and a score. Luke Vanderwiel ran for 88 yards and two touchdowns.
"They did a heck of a job tonight," Wolves coach Chris Schremp said. "They are two awesome kids. They really take football to heart and, when we get them rolling, it's really fun to watch."
Four of Joey Vanderwiel's five completions went to his brother, including a 15-yard touchdown.
"It's always fun to play with your brother out there," Joey Vanderwiel said. "It's really enjoyable, especially when our offense gets going."
Promising news: Dundee-Crown suffered a big blow to its offense when wide receiver Kali Freeman suffered an injury to his lower body on a special teams play in the second quarter of the Chargers' 55-19 FVC loss to Crystal Lake Central.
Freeman, who also punts for the Chargers, tried to run after receiving a bad snap, was tackled on the play and hurt. He did not return to the game. Only a few minutes earlier, Freeman took a pass from Zach Randl for a 64-yard touchdown.
Freeman was on crutches for the rest of the game, but Chargers coach Mike Steinhaus termed the news positive on Saturday as X-rays showed no broken bone. Steinhaus hopes Freeman, who has a TD catch in every game, may only miss two games.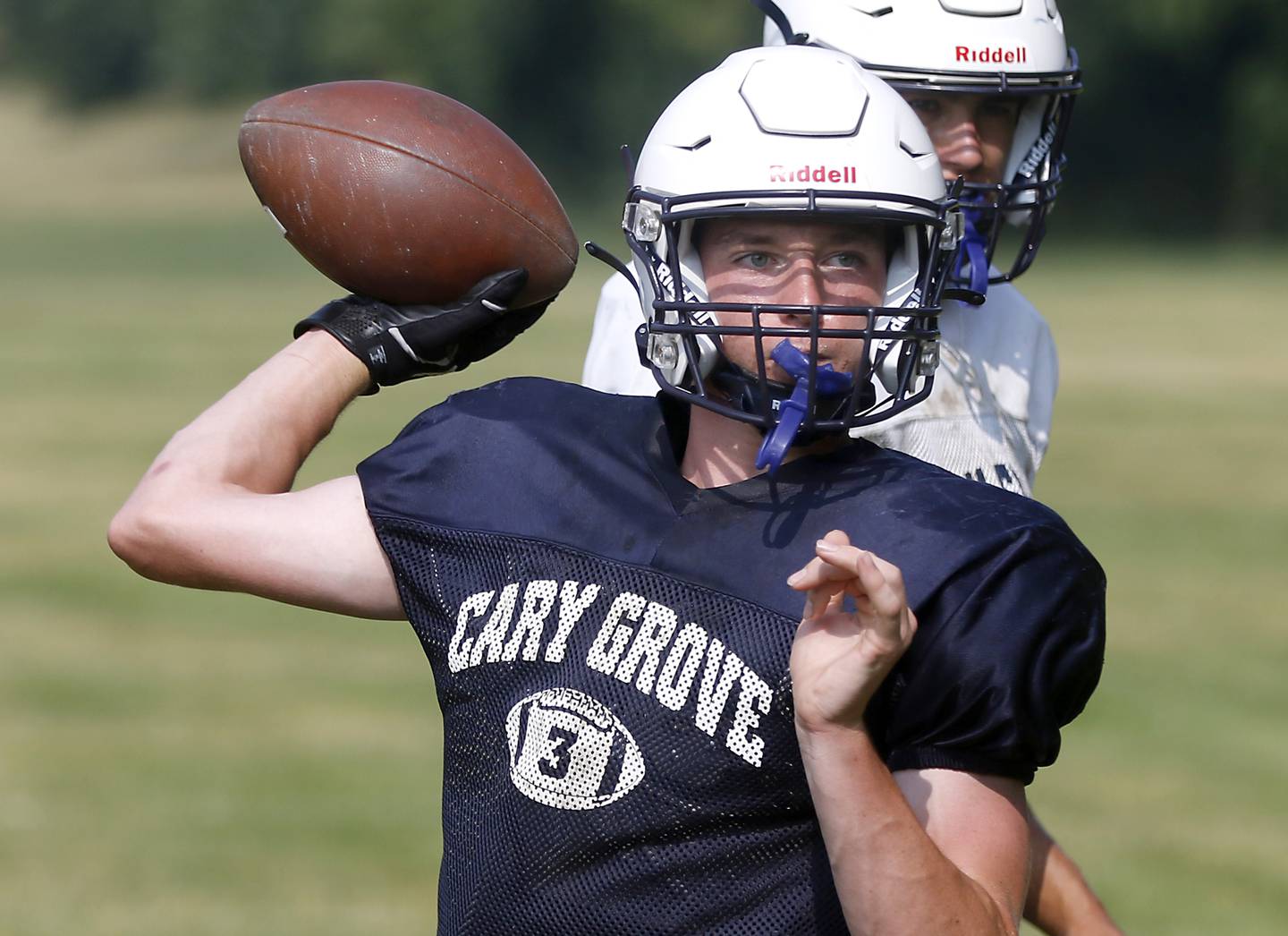 Passing efficiency: Cary-Grove quarterback Peyton Seaburg had completed 3-of-8 passes this season and all three completions have gone for touchdowns. In Friday's 42-19 FVC win over McHenry, Seaburg's two completions to Jake Hornok and Andrew Prio both went for scores.
Prio touched the ball three times from scrimmage and scored twice, on an 8-yard run and 27-yard reception. He also had a 63-yard kickoff return to start the second half. That set up his touchdown run a few seconds later.
More passing efficiency: Huntley and Jacobs both lean on their running games more than passing, yet both threw the ball well in the first half of their game Friday.
Huntley quarterback Braylon Bower and Jacobs quarterback Daniel Curran combined for 14 consecutive completions in the first half of a FVC game Huntley won 40-21. Curran finally thew an incompletion late in the half. Bower finished the game with 11 of 11 passing for 136 yards and two touchdowns.
Huntley coach Mike Naymola appreciated what he saw from the Red Raiders attacking through the air.
"Credit to the receivers for making plays," Naymola said. "They kept us in manageable situations. We need to take advantages when we have opportunities to take shots. We did that today. There were times last year when we didn't do that."
Three-way tie: Cary-Grove, Huntley and Prairie Ridge are tied at 3-0 atop the FVC one-third of the way through the season. Huntley plays at Prairie Ridge this week, then Prairie Ridge plays at Cary-Grove in Week 5. Huntley is at C-G in Week 7.
Huntley and Prairie Ridge tied for the FVC title last season with Jacobs.
"They always play hard and physical," Naymola said. "We've heard a lot about their defense and how good it's been. We'll be ready for the challenge and I'm sure they'll be ready for us."
• Steve Soucie and Thom Gippert contributed to this report.