WESTERN SPRINGS – Lyons Township senior quarterback Ryan Jackson is a proven passer. He had a single-season school-record 26 touchdowns in 2022.
What really separates him from other quarterbacks is the ability to scramble and run like he did Sept. 8 against rival Hinsdale Central.
[ Photos: Lyons vs. Hinsdale Central ]
"I watched a lot of [former college quarterback] Johnny Manziel highlights and that kind of gave me motivation to do what he does and I did my thing," Jackson said.
Jackson had 150 yards on 15-for-19 passing with three touchdowns to junior Travis Stamm but also had key rushing plays in the Lions' 42-17 victory in Western Springs.
The Lions (2-1, 1-0) beat the Red Devils (0-3, 0-1) for the second straight year in the West Suburban Conference Silver opener for both teams to set up this week's first big test against Glenbard West.
Stamm caught nine passes for 98 yards and touchdowns of five, 34 and 10 yards. Danny Carroll rushed for 156 yards on 25 carries with a 5-yard TD for a 14-0 lead early in the second quarter and 73 yards in the fourth quarter before Jack McQueeney scored the final TD on a 2-yard run.
"The offensive line set the tone for us. The defense did a great job, too. All of the guys were locked in to get this victory," Jackson said. "Travis did a great job getting separation. The O-line did a great job blocking. We just really felt that connection today. We got back on our normal path."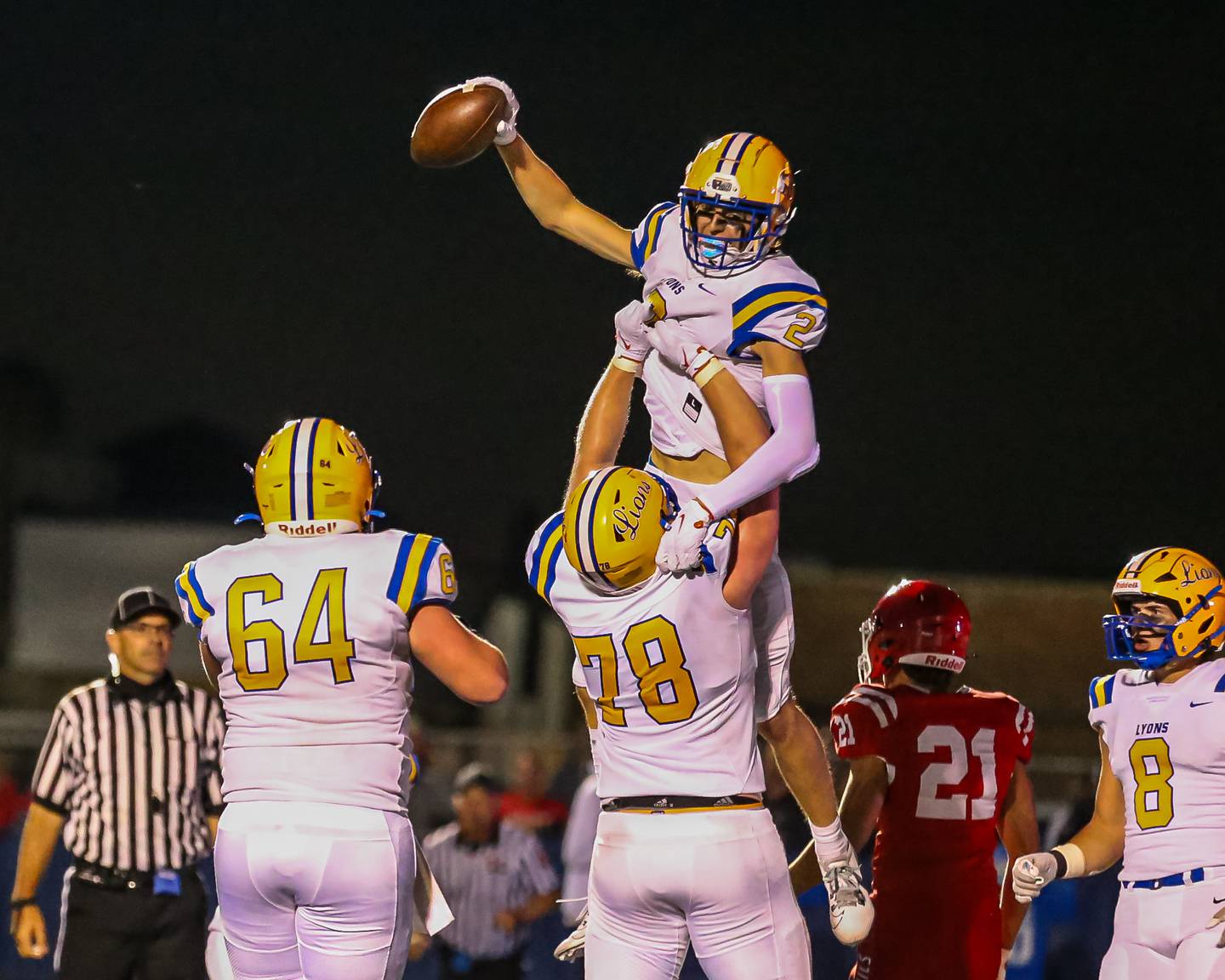 Jackson made perhaps the play of the game in the second quarter on a fourth-and-1 at the Red Devils' 37. Jackson rolled right and was stopped by a defender but broke free, reversed field and ran to the left sideline and earned a 3-yard gain and first down.
On the next play, Jackson found Stamm wide open over the middle at the 10 for a 34-yard TD pass and 21-7 advantage.
"The focus the last two weeks was just get better, work hard [since losing to Prospect]," Lyons coach Jon Beutjer said. "Ryan was laser focused all week. We were on the same page when we watched film on where we were going to attack. Speaking of him as a veteran and senior, he was giving me ideas and that's what you want as the offensive coordinator, head coach and quarterbacks coach. He also had some really nice runs to extend plays and he also made some beautiful throws."
Like in their first two games, Hinsdale Central kept coming back but couldn't sustain the momentum. After the Red Devils closed to 21-17 in the third quarter, the Lions scored on the ensuing possession on a 13-yard run by Carroll. The play was set up by Jackson's roll to the right and then reverse to the left for 10 yards on third-and-6 to reach the 36.
Lyons scored on a 10-yard strike from Jackson to Stamm with 11:21 left to lead 35-17.
"Some kids made some plays and did some things, but we got our [behind] kicked. And kudos to them. They wanted to play football more than we did," Hinsdale Central coach Brian Griffin said. "I thought [Jackson] was the best player on the field. Every play he needed to make he made. We had a chance on a fourth down to get off the field and he made an individual play that was pretty spectacular."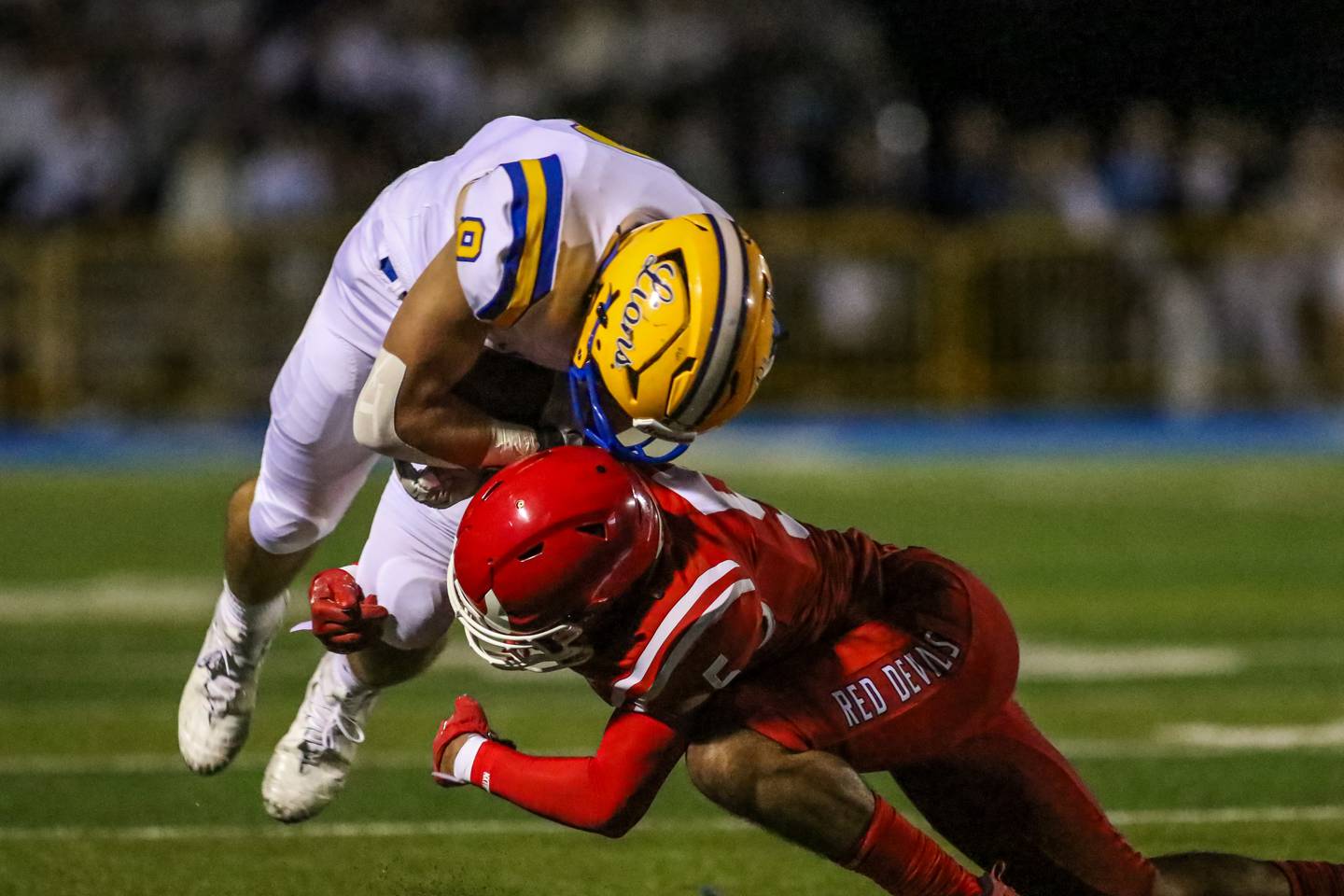 In the second quarter, the Red Devils scored on a 74-yard TD pass from quarterback Riley Contreras to Kelan McInverney, who broke a tackle near midfield. The Red Devils closed to 21-10 when Ardit Abdullai kicked his third field goal this season, a 40-yarder on the last play of the first half after a pass interference penalty.
The Red Devils threatened again at 21-17 on a 2-yard TD run by Contreras after Mason Brady recovered a muffed punt at the 19.
Second-half interceptions by Roman Sosnovyy and Jack Cheney helped the Lions pull away.