GLEN ELLYN – Noah Battle and Downers Grove North came close to breaking the program's drought against Glenbard West the past two years.
The Trojans snapped the 16-game losing streak Sept. 9 in emphatic fashion.
[ Photos: Downers Grove North vs. Glenbard West football ]
Battle, a third-year varsity player, rushed for 198 yards and three touchdowns. The Trojans' defense forced three turnovers and shut out the Hilltoppers deep into the fourth quarter. Downers Grove North went on to a 31-7 win at Duchon Field – its first win over Glenbard West since 2006.
"We were thinking about it all week," Battle said. "We knew we had a chance to come out here and beat them. And we did it with style."
Battle broke off long touchdown runs of 44 and 67 yards in the second half to break open what was a 10-0 Trojans halftime lead. The second TD on his 30th and last official carry of the day gave Downers Grove North (3-0, 1-0 West Suburban Silver) a 24-0 lead with 5:32 left in the game.
Jameson Ordway's 20-yard interception return for a TD on Glenbard West's next possession completed the Trojans' scoring.
"I feel like they [Glenbard West defense] got tired toward the end. They were starting to slow down and lose that hope," Battle said. "This is my third year going against these dudes, so I was used to it. Got to prepare my body the week before to compete."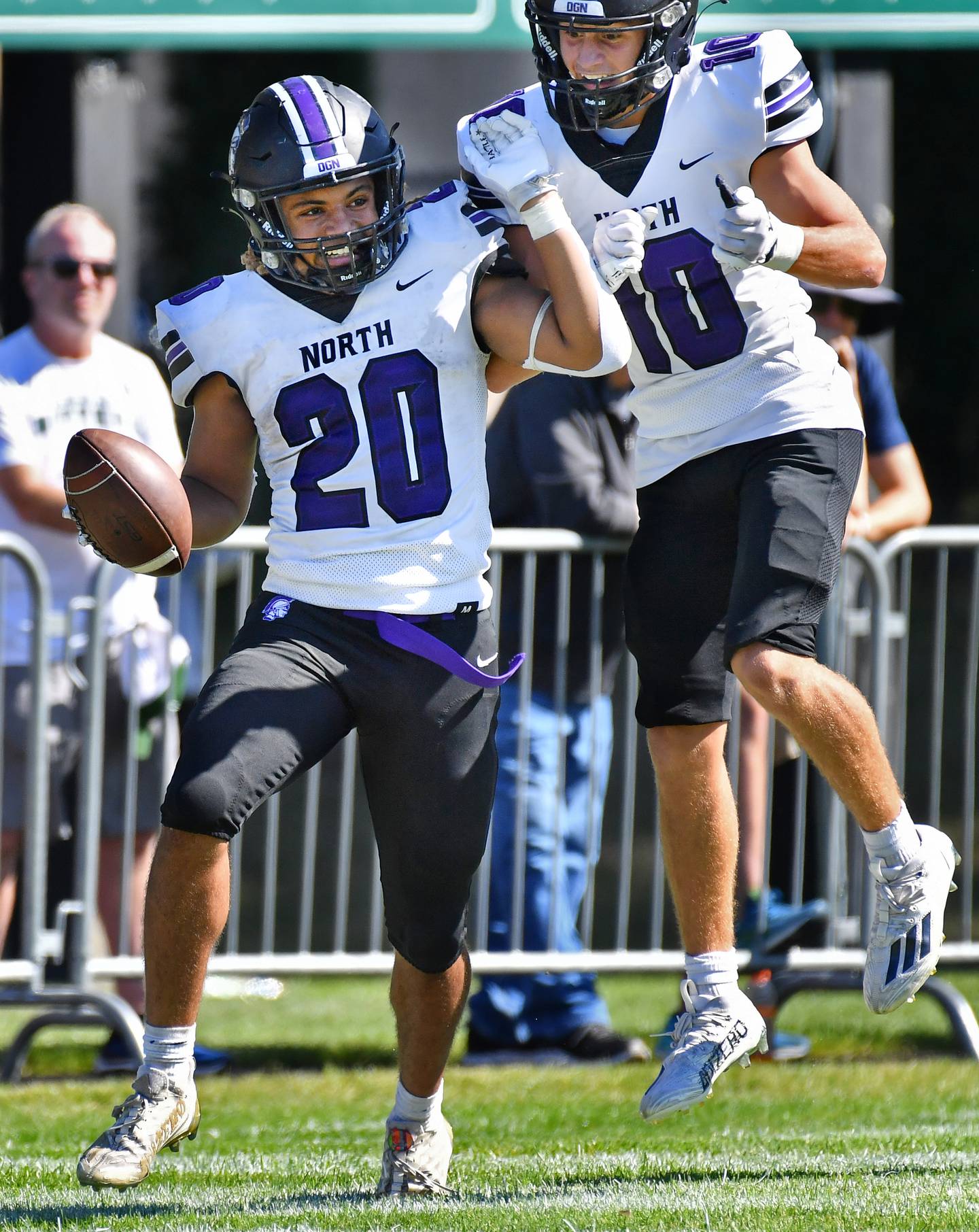 Battle, who also plays defense and rarely leaves the field, is putting up enormous numbers on the young season. The shifty, yet physical 5-foot-11, 200-pound senior has rushed for nine touchdowns in three games, gone over 100 yards the past two games and had 146 of his 198 yards in the second half Sept. 9.
Downers Grove North coach Joe Horeni hopes the latest eye-opening win opens some eyes to Battle.
"Noah Battle is a special player for sure," Horeni said. "I wish more colleges took notice of him because he's a difference-maker – and he can be at any level. People walk in our building [and] they say he's bigger than they thought.
"It's weird with the transfer portal there is only one ball. I don't know if Power 5 or MAC schools say they're going to get a kid from somewhere else that's a Power 5 bounceback. He's got D-2 [Division II] interest. I think today will hopefully help."
Battle's 2-yard TD run with 1:22 left in the second quarter gave the Trojans a 10-0 halftime lead. The key play of the drive was a 3-yard scramble by Downers Grove North quarterback Owen Lansu on fourth-and-2.
Lansu, a highly-touted sophomore, was 9-for-16 passing for 96 yards in his third varsity start.
"You don't think he's a sophomore," Horeni said. "He makes decisions that are best for the team. He is so smart and composed. It's like he's started for two or three years. It's another learning process to grow in a game and atmosphere like this."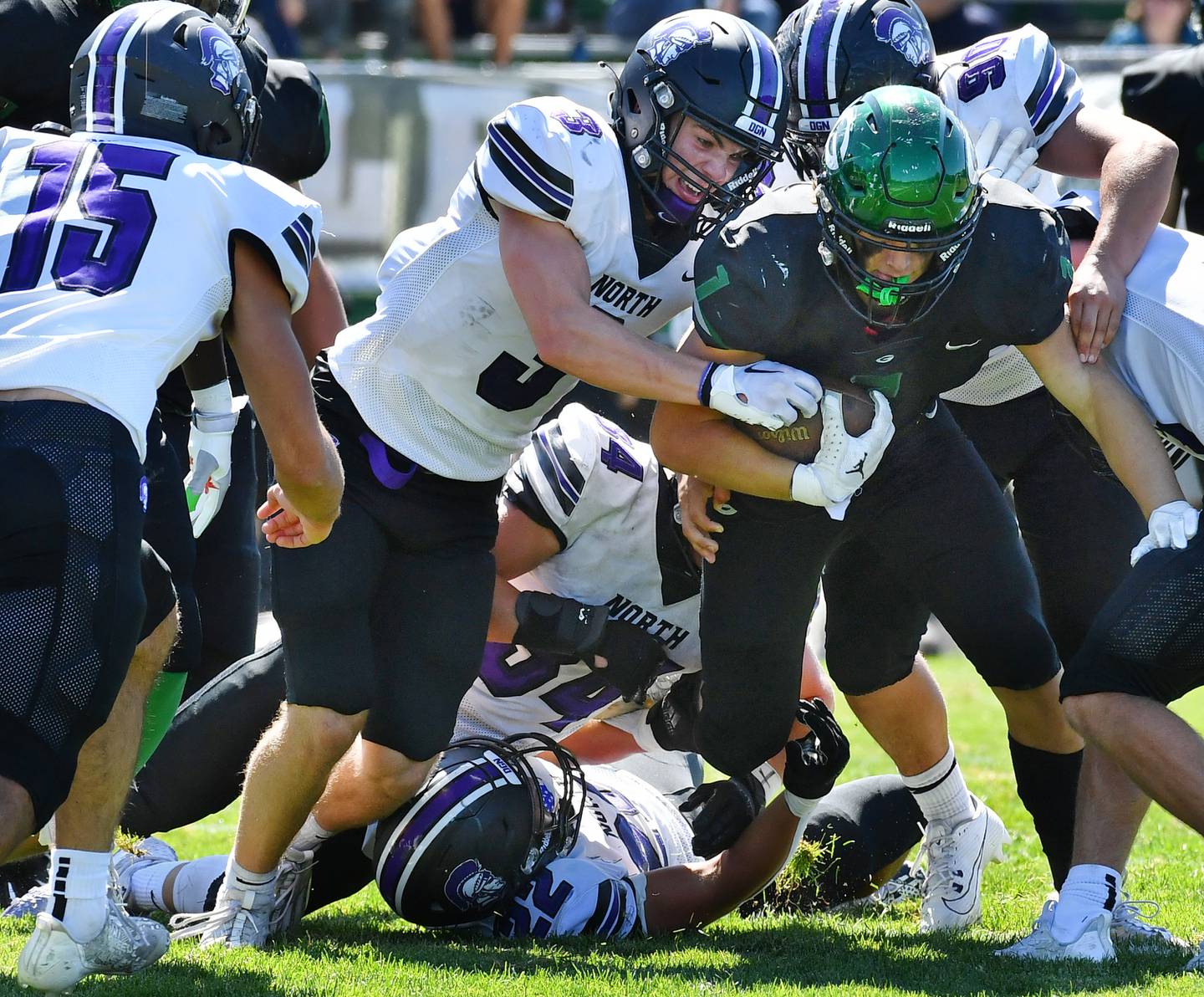 Glenbard West (1-2, 0-1), whose offense had not scored a point through two games, had two turnovers on downs in the first half inside Downers Grove North territory.
On the second turnover on downs, the Trojans stuffed a fourth-and-goal from the 1-yard line.
"It sets the tone for the defense to make stops like that," Downers Grove North's Owen Thulin said. "Really, it's just about being physical. They are the most physical team in the West Suburban Conference and we had to match it to beat them."
Charlie Cruse had Downers Grove North's other interception and Jake Gregorio recovered a fumble.
Shut out the first 11 quarters of the season, Glenbard West's offense finally got on the board with Teyion Oriental's 13-yard TD run with 3:57 left in the game.
In dropping their second straight game, the Hilltoppers are beat up.
Standout running back Julius Ellens, hurt in the second quarter against Marist in Week 1, has not played since that game. His younger brother, Mason Ellens, whose 94-yard kickoff return against Marist was the team's only points before the Sept. 9 game, also did not play.
Glenbard West coach Chad Hetlet said the Hilltoppers are down nine starters, with two lost for the year against Marist and seven guys injured in Week 2.
"We're just trying to figure things out," Hetlet said. "But that's not why Downers beat us. Downers beat us because they played better than we did today. The injuries had nothing to do with it.
"We missed a bunch of tackles on defense. The defense played extremely well the first two weeks against two powerhouse programs and then we didn't come out and tackle well. Noah Battle played extremely well running the football. It came down to us missing tackles."
Battle believed a win like this will make believers of the Trojans, and not just around the Downers Grove North hallways.
"This is going to open everybody's eyes – not just the school," Battle said. "The state is going to be looking at us. We're on their radar."