WHEATON – Wheaton North stuck to its motto: Finish.
The Falcons came away with a 35-23 victory over St. Charles North on Sept. 8 to open DuKane Conference play.
[ Photos: St. Charles North vs. Wheaton North ]
Knotted 21-21 headed into the fourth quarter, the Falcons capitalized on their chances, beginning with defensive end Joe Barna sacking North Stars quarterback Ethan Plumb on the first possession of the final quarter to force a turnover on downs.
Wheaton North took advantage of that play. Quarterback Max Howser and junior wideout Rich Schilling combined for a pivotal third-and-23 conversion to move the sticks. Two plays later, Howser again connected with Schilling for a 37-yard completion to set the table for a 1-yard rushing score by Howser with 3:42 remaining and a 28-21 lead.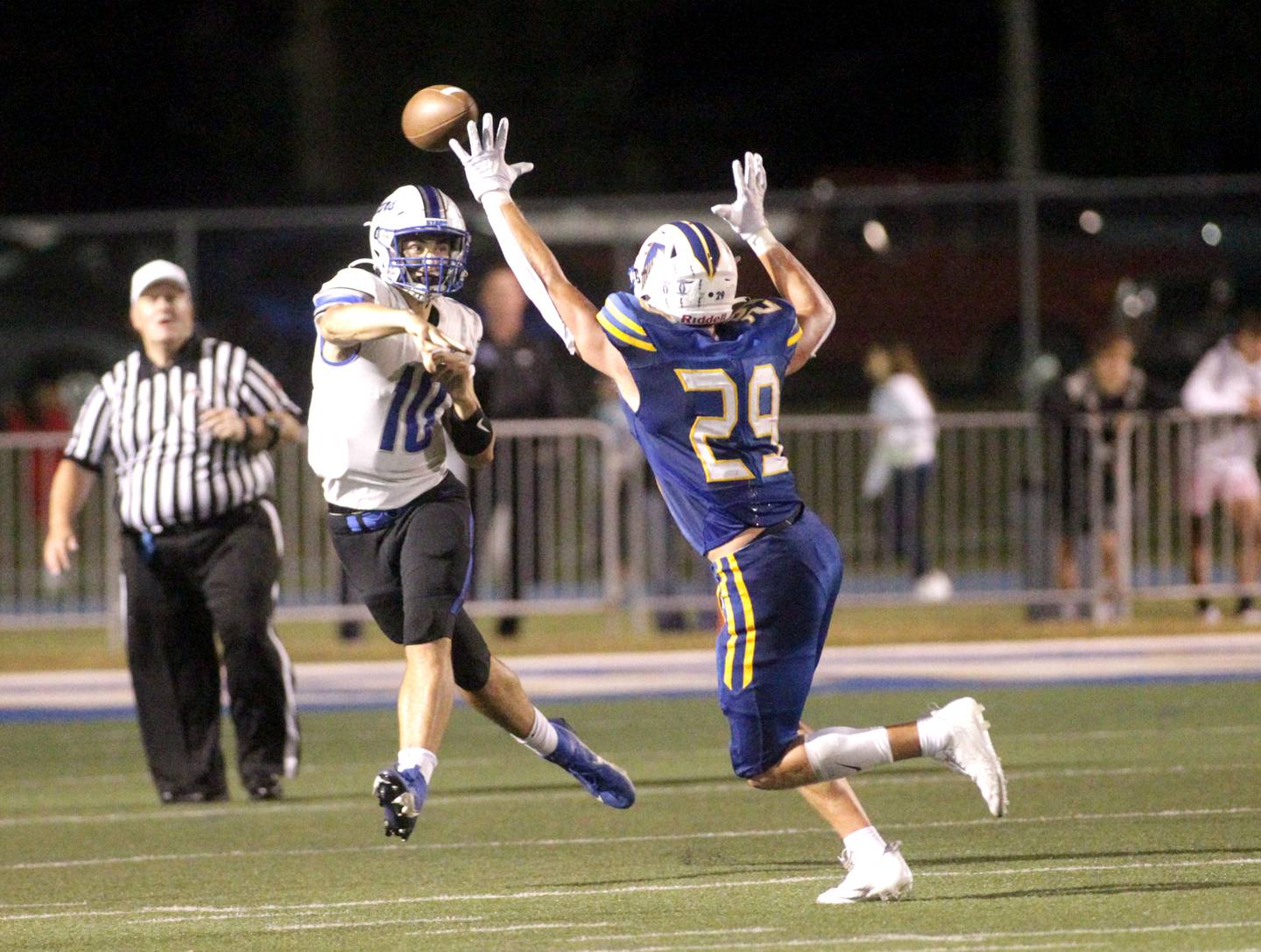 "Rich is really coming into his own as a junior for us," Wheaton North coach Joe Wardynski said. "He played up last year as a sophomore and his confidence is just growing every week. Max has confidence in him throwing the ball."
On the next possession, Plumb fumbled in traffic, picked the ball up and heaved a pass that went right into the arms of Matt Kuczaj for an interception.
Walker Owens scored from 1 yard out to make it 35-21 Falcons with 3:11 left.
The Falcons again forced a turnover on downs. Howser, who also punts, took an intentional safety to drain as much clock as possible and Wheaton North emerged with a big conference win.
"Last year, we weren't able to finish against this team and this year we were able to do it, so it felt great," Schilling said after a six-catch, 114-yard performance.
Howser finished 15 of 19 for 224 passing yards.
Kuczaj had five catches for 50 yards.
St. Charles North (2-1, 0-1) and Wheaton North (2-1, 1-0) traded blows in a busy first half.
The Falcons struck first on a 10-yard touchdown completion to Schilling, but the extra-point attempt was muffed. The North Stars punted, but defensive back Brogan Sons got the offense the ball back with an interception. Plumb improvised for a 10-yard TD run and a 7-6 North Stars lead with 45 seconds left in the quarter.
Wheaton North answered with Owens' 2-yard score, plus a successful two-point conversion from Howser to Kuczaj, to take a 14-7 lead with 9:10 remaining in the half.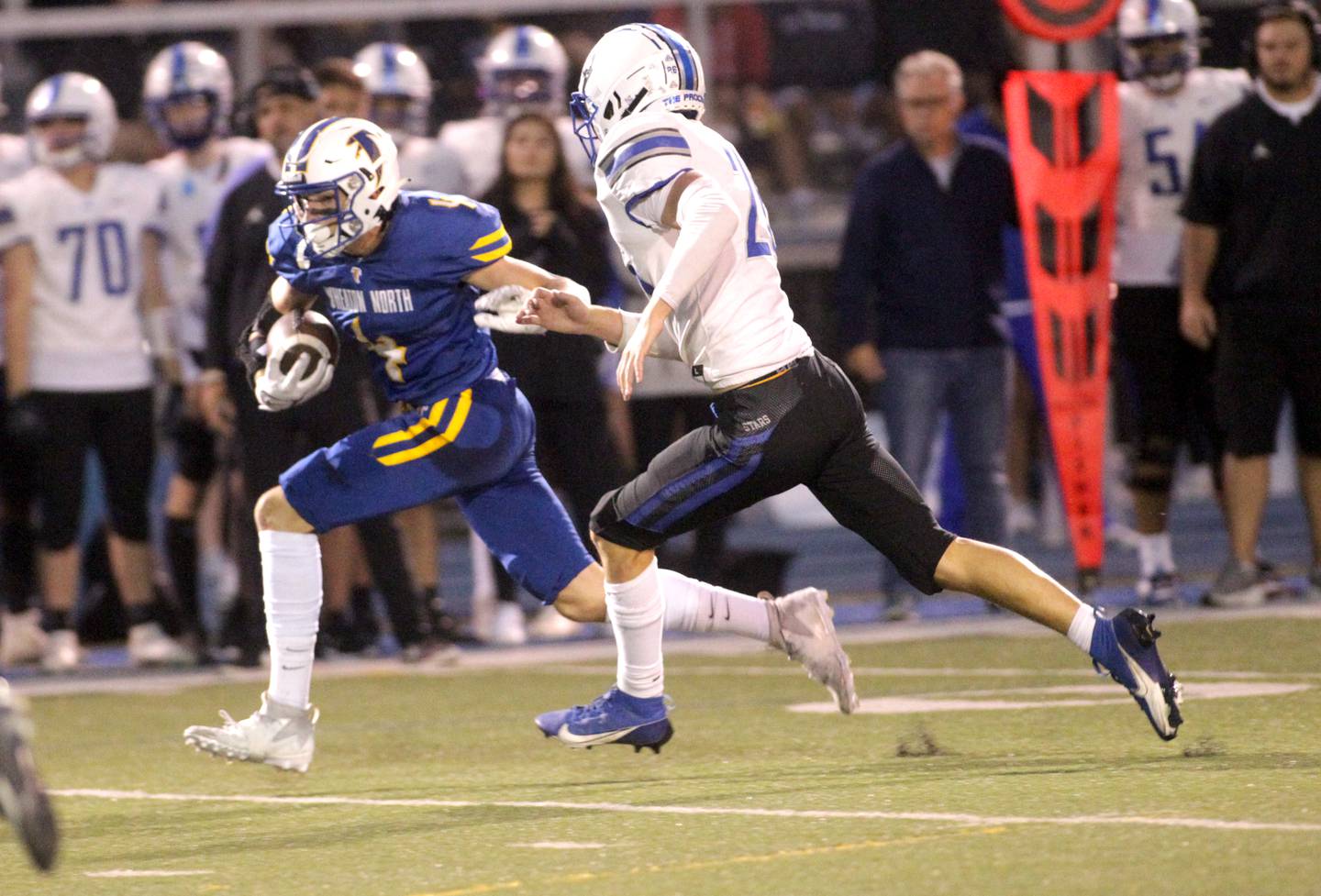 The North Stars punched back. After a promising drive was stalled, Kuczaj muffed the punt, which was recovered by St. Charles North. Plumb's 1-yard score tied it at 14.
St. Charles North successfully converted an onside kick and Plumb found Jake Furtney for a 23-yard touchdown with 3:49 in the half to take a 21-14 lead.
Howser later was intercepted by Jaden Harmon, but Hunter Lizska's 47-yard field-goal attempt right before the end of the half fell short.
Plumb finished 19 of 36 for 204 passing yards. He had two rushing touchdowns and passed for another TD.
"We start by playing smarter football," North Stars coach Rob Pomazak said. "Too many false starts [five] and got to work on the ABCs: tackling, understanding the scheme, understanding leverage. We didn't play our best game. There's a lot of room for improvement.
"We hung in there, despite all of it, but you can't do that against a really good football team like Wheaton North. And expect to win. We made a fourth-down call [the first turnover on downs]. We want to keep the ball on our side. We feel like we got to steal possessions and it didn't go well for us. But we've got to come back because we have a tough game [this] week."