KANKAKEE — Marian Central quarterback Cale McThenia sees the benefit of spreading the ball around.
But he can be forgiven for getting tunnel vision from time to time with Clemson-bound Christian Betancur available to him.
McThenia worked a fair amount of plays from both sides of that ledger on Saturday as the Hurricanes rolled to a 40-0 victory over their hosts from Bishop McNamara.
McThenia, who has committed to Northern Iowa, completed 19-of-23 passes Saturday for 335 yards with six touchdowns. He fed Betancur routinely, as his top receiver finished with seven catches for 206 yards and four scores.
Betancur's 62-yard touchdown catch-and-run, where he seemed to elude every player on the field, including some of his own teammates, set the running clock in motion. It also gave McThenia, Betancur and the rest of the Hurricane regulars the rest of the day off.
"I mean, they came out and they blitzed a bunch of times," McThenia said. "We were in a one tight end, so with nobody else by Benny (Betancur) and you have a Clemson commit, it's pretty easy to throw out there. So I just let him burn in space. It's pretty much easy like that.
"If they are going to send everyone, I'll let him run to the space. That's all him. I don't have to get hit."
The Marian Central (1-2, 1-0 Chicagoland Christian) defense set the tone early. The Hurricanes forced a three-and-out on Bishop McNamara's (1-2, 0-1) first possession and blocked a punt to put them just outside the McNamara 20-yard line. McThenia hit Rylan Dolter with a 14-yard score two plays later.
The Hurricanes then forced a fumble on Bishop McNamara lead running back Jayden Wright. Wright, a Minnesota commit, would carry the ball just twice in the game for negative yardage before leaving with an injury.
That fumble once again gave Marian Central tremendous field position. After two short run plays, McThenia floated a pass toward the end zone that Betancur and a Bishop McNamara defender appeared to both come down with. But Betancur got the nod from the official as possessing the ball, emphasizing his case by continuing to drag the defender with authority through the back of the end zone and practically to the running track while still keeping a hammer lock on the ball.
After another Bishop McNamara three-and-out, the Hurricanes quickly went back on the attack. On the second play of the drive, McThenia led Betancur beautifully to the ball. Forty yards later, he'd have his second touchdown of the afternoon.
"We we knew what they were doing on defense," Betancur said. "It was just open. Everything was open, and we executed really well what we wanted to do. It was really great to see."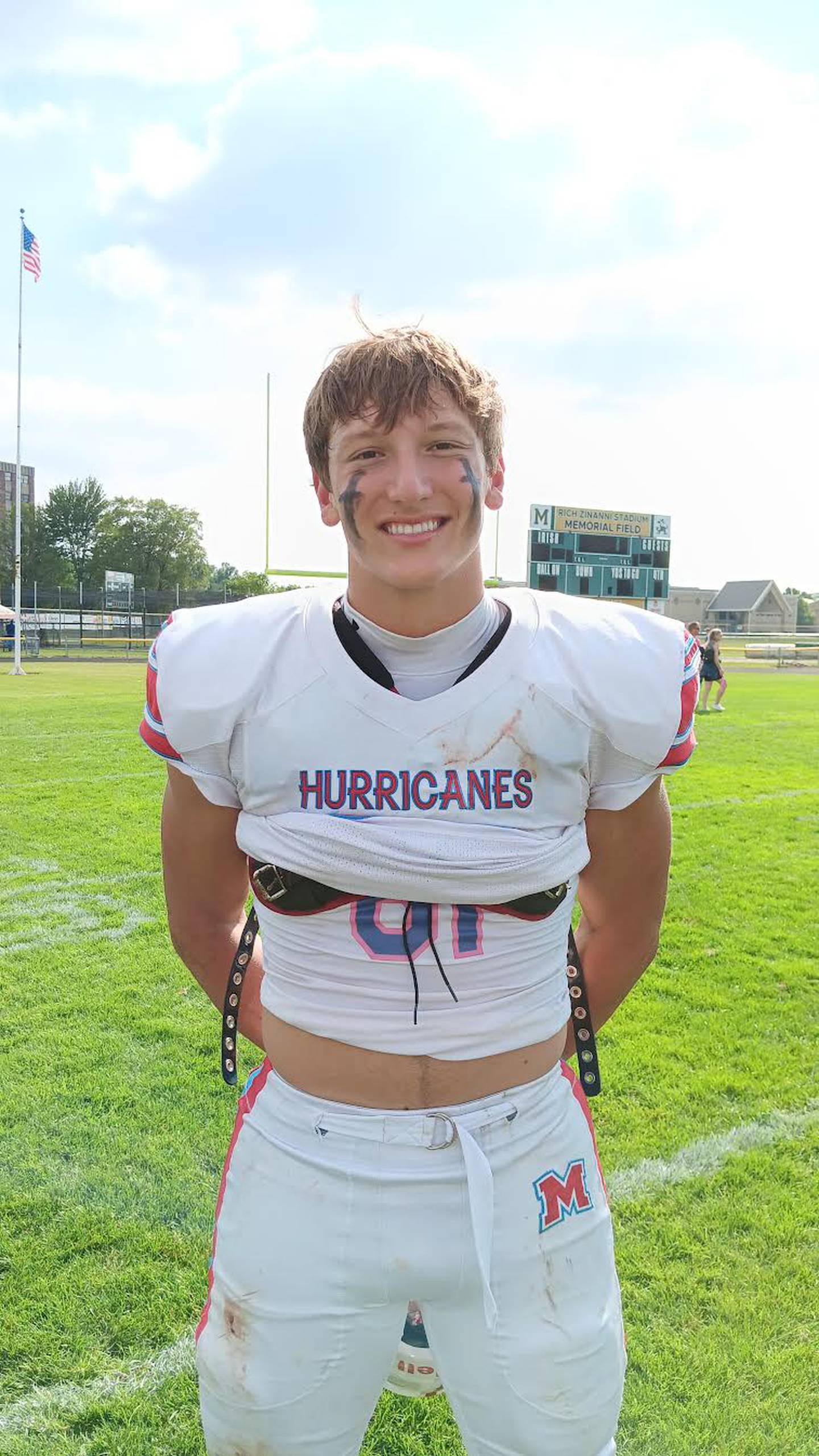 McThenia made his only mistake of the day to start the second quarter, throwing an interception, but the Fightin' Irish couldn't do much with the gift. McThenia would throw a 29-yard touchdown pass to Quinn Brady and then a 34-yard score to Betancur just before half to send the Hurricanes in with a 34-0 lead at the break.
"I think I saw the best game Cale's had as a Hurricane in the second half last week. I think he had three touchdown passes to three different receivers. And I don't know if he did that last year at all.
"I mean, I don't blame him. He's got 88 (Betancur) out there. He does a lot," Marian Central coach Liam Kirwan said. "And to see him do it again today shows that growth that he's having, and we're really excited about it, because when he puts it all together and he plays within the system, he's hard to stop."
Lost in the shuffle of all the offensive pyrotechnics was a truly spectacular effort by the Hurricane defense. Two different Bishop McNamara quarterbacks were sacked seven times in the contest and were constantly under heavy pressure all game.
The Fightin' Irish finished with negative offense in the first half and only got the yardage into the positive for the game after the running clock was set into motion.