DIXON – Setting the tone from the start, the Dixon Dukes scored on each of their first five possessions, then returned the second-half kickoff for a touchdown in a 40-0 win over Rock Falls in the Dukes' home opener Friday night at A.C. Bowers Field.
After the Rockets (0-3) returned the opening kickoff 49 yards to the Dixon 29-yard line, the Dukes (3-0) had two tackles for loss and forced two incompletions to take over on downs.
"If you want to be a great defense, you can't have a little adversity like that kickoff return get you down," junior linebacker Eli Davidson said. "We saw we needed to get a stop so we didn't put our offense in a hole to start the game, so we went out there and did our job and put the ball in the hands of our quarterback and watched the offense go."
That was the only momentum shift Dixon needed on this night.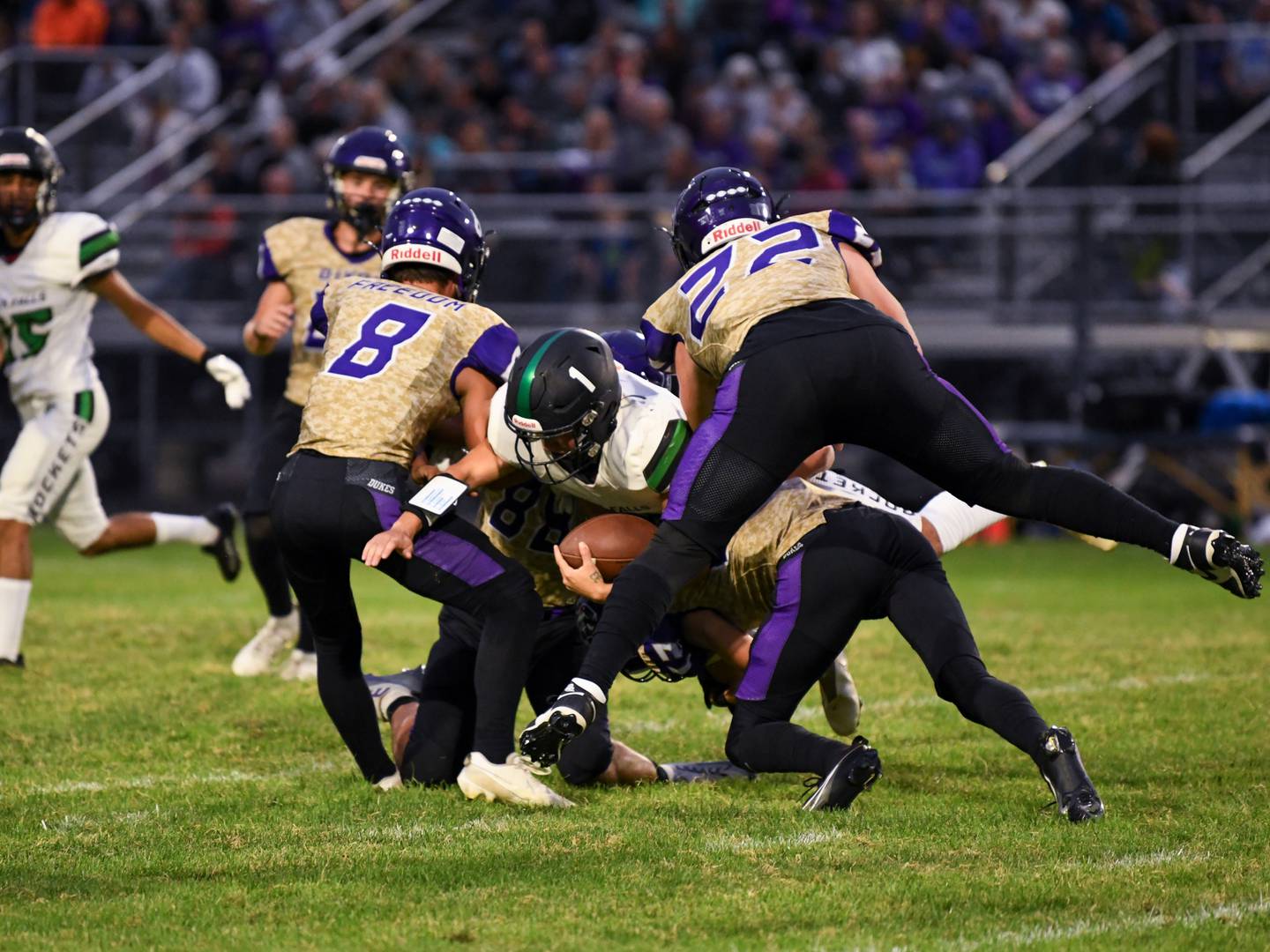 The Dukes drove 68 yards in seven plays before Tyler Shaner connected with Cullen Shaner on a 7-yard touchdown pass. Then after forcing a three-and-out, the Dukes scored two plays later on Aiden Wiseman's 31-yard scoring run.
The Dixon line was dominant all game long, controlling the line of scrimmage on both sides of the ball.
"Last week, we didn't do what we wanted to do, so we worked on it all week and just came out and executed," senior lineman Jaron Hermes said. "Just staying on doubles, getting to the 'backers. We worked well as a unit."
Wiseman finished with 126 yards and three TDs on 13 carries, and Tyler Shaner was 7 for 13 passing for 160 yards and two scores, both to Cullen Shaner; the second was a 77-yard strike for a 32-0 lead with 1:51 left in the first half.
"It's the best feeling in the world, watching those big plays," Hermes said. "It's nice to know that those guys back there [in the backfield], because if we miss a block, we know they're going to pick up our slack and make guys miss. They just do what they do."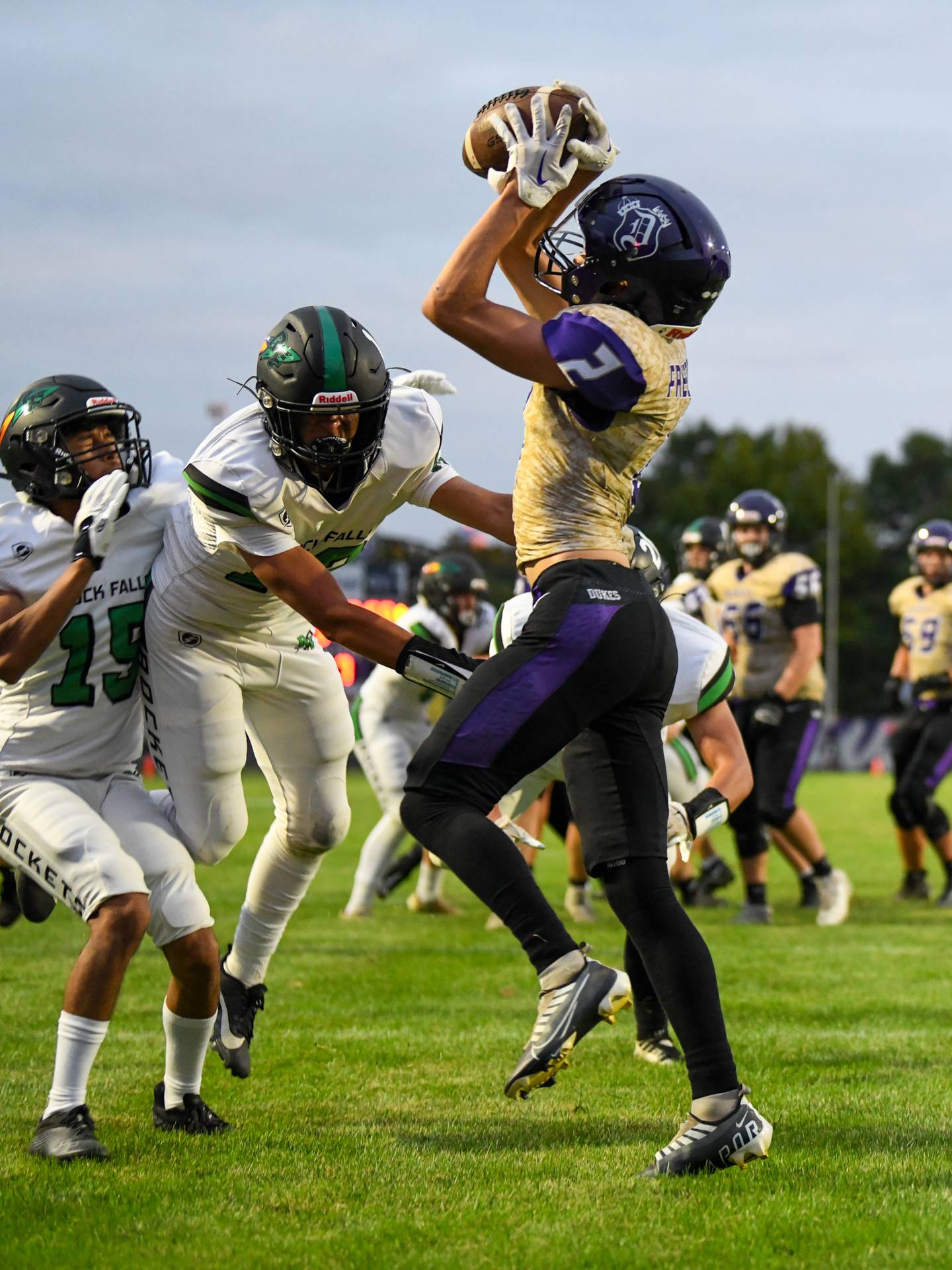 Rock Falls amassed 30 yards of total offense in the first half, with 19 of those yards coming on long running plays, a 16-yarder by Korbin Oligney and a 13-yarder by Easton Canales on third-and-18. The Rockets had a few other chances for big plays, but a relentless Dixon pass rush forced Canales to hurry all game long, and a couple of passes were dropped after a receiver got behind the Dixon defense.
"We're our own worst enemy. We continue to do that, stopping ourselves a lot of times. We had that great return, then Dixon comes out and really just punched us straight in the mouth – and we backed up," Rock Falls coach Kevin Parker said. "And that's what football's about: if you can't answer the bell when someone's being physical with you and you can't match it up, you don't have a chance. And that's what happened tonight. They came out there, they punched us in the mouth, and we did not respond."
[ Photos from Dixon vs. Rock Falls football ]
Wiseman finished off the Dukes' third and fourth drives with touchdown runs; he went in from 5 yards out to cap a 13-play, 63-yard drive, then he rumbled through and over the Rocket defense from 18 yards out to end a 12-play, 86-yard drive for a 26-0 lead with 3:47 left in the first half.
Landon Knigge set the running clock in motion right away in the second half, returning the second-half kickoff 98 yards for a 40-0 lead just 18 seconds into the third quarter.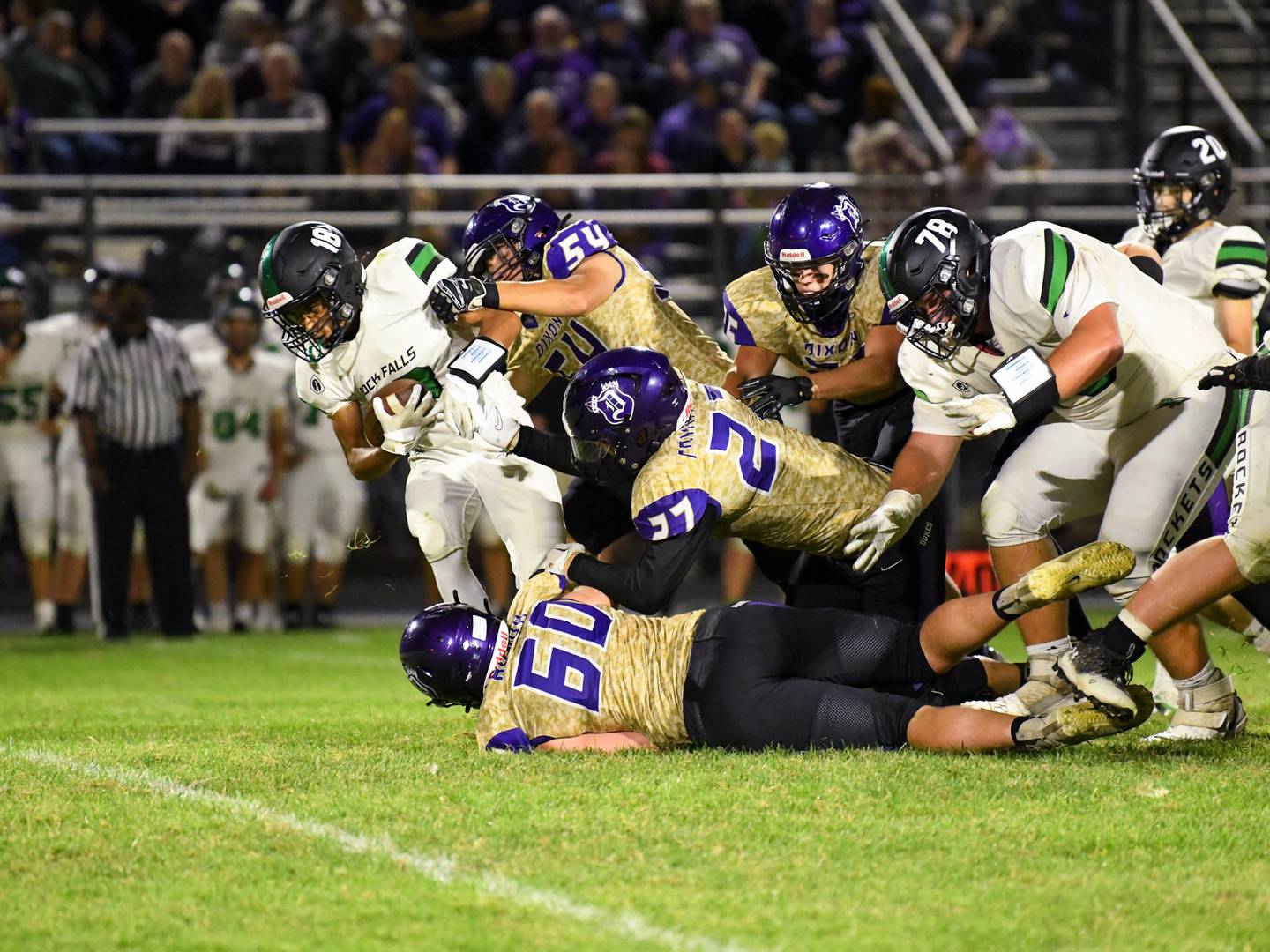 Neither team could get much going in the second half, as Dixon turned the ball over on both of its possessions on a fumble and on downs.
Rock Falls finished with 22 yards of total offense, including just two on the ground. Dixon had 11 tackles for loss and an interception by Carter Kibble.
"You've got to give credit to that front five, just a great job by the front five," Davidson said. "The ends did fantastic job, and made me and Aiden's job as easy as could be at linebacker. They're filling their holes, everyone's doing their job. The defensive backs doing their assignment, there was no miscommunication; we were on point. We did what coach [Tyler] Matteson told us to do, and this is what happens when we do our job."
The Rockets have run a gauntlet to start the season, taking on Byron, Stillman Valley and Dixon. But despite the losses, Parker and his coaching staff believe that the lessons learned to start the season will be a springboard the rest of the way in helping Rock Falls' young squad learn what it takes to win games in the Big Northern Conference.
"I told the kids that our goals have not changed for the season. The rest of the conference is just one big pile, I believe, and we've got to scramble for wins," Parker said. "But we've got to believe in ourselves. We can't stop ourselves, and that's what we've seemed to do. We've played great teams, but we're still not helping ourselves."