DOWNERS GROVE – Noah Battle had a night to remember.
Before an overflow crowd Sept. 1, the senior running back scored three of his career-high four touchdowns in the second half to lead visiting Downers Grove North to a 35-13 crosstown win over Downers Grove South.
[ Photos: Downers Grove North vs. Downers Grove South ]
Held to 18 yards on 11 carries over the first two quarters, Battle exploded for 113 of his game-high 131 yards after the intermission with scores of 13, 24 and 22 yards. He has six touchdowns through two games for the Trojans (2-0), who open West Suburban Silver conference play this week at Glenbard West.
"The first half, things were a little shaky," said Battle, who didn't start playing running back until eighth grade. "But we used that to adjust for the second half and that led to great success for our team. And our defense showed up the whole game. I was just focused on running hard and getting downfield. This was a great game to win going into [conference play]. We know Glenbard West is a great team. Our team is young, so this is a confidence booster going forward."
Battle also caught a 16-yard touchdown pass from Owen Lansu in the first quarter, which gave Downers North a 7-6 advantage at halftime. His first score of the second half, which came after a fumble recovery by Joe Edwards, increased the margin to 14-6 with 2:20 left in the third quarter. On the ensuing kickoff, Teddy Griffin recovered another fumble, punched out by Weston Waughop, in the end zone.
The Trojans forced the Mustangs (0-2) to punt seven times and held them to 73 passing yards.
"We play tough and we play physical," Griffin said. "We have a great group of guys on and off the field. We made some adjustments and we were able to respond [after their first touchdown]."
Oliver Thulin caught three passes for 24 yards.
"DGS is a well-coached team," Downers North coach Joe Horeni said. "They are a physical team and their defensive front was very good tonight. Our kids continued to play hard. We made some adjustments after the half and our players continued to trust the game plan. We stuck together as a team. It's always nice to get a win in the crosstown game."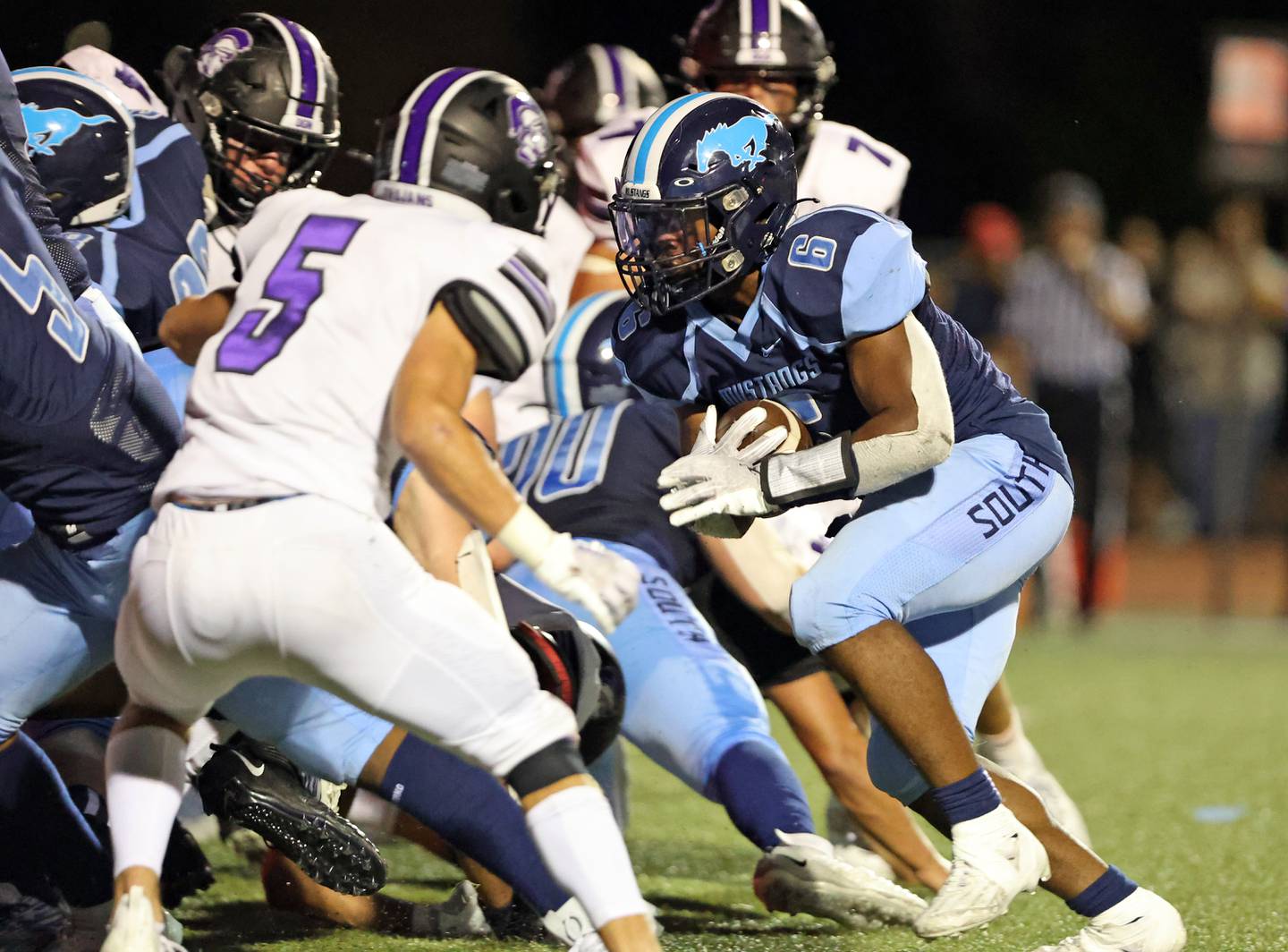 Deon Davis was a bright spot for the Mustangs. The senior scored both touchdowns for Downers South. He finished with 86 yards on 23 attempts. Dylan Spencer and Jack Schoenike added interceptions.
"Our defense did a good job," Downers South coach Mark Molinari said. "I thought they played really well last week, too. Right now, we are just not sustaining drives. Our execution on offense absolutely stinks and unless we fix that we are going to struggle."