WHEATON – Finding No. 6 in a sea of burnt orange Wheaton Warrenville South jerseys isn't the difficult part.
It's finding plays on the football field that Maison Haas wasn't a major contributing factor.
The Wheaton Warrenville South senior turned in quite the signature performance in the Tigers' 12-6 season-opening victory over Simeon on Aug. 26.
[ Photos: Wheaton Warrenville South vs. Simeon football ]
The 5-foot-10, 160-pounder had two interceptions at cornerback, kicked a 42-yard field goal, handled kickoffs, served as the punter – which included two punts downed deep in Simeon territory – and had some punt return action, all to ensure a gutsy all-around team performance wasn't about to be wasted in the furious finish.
"Our team is going to be a bunch of junkyard dogs," Haas said. "Not only today, but throughout the whole season. And that's something that I truly believe we'll keep [demonstrating] moving forward because I love every single person on this team. They have all been my brothers since day one."
Whether it was senior linebacker John Jensen flying into piles for combo tackles, senior defensive back Connor Sliwa producing timely defensive pass breakups or the Tigers' defensive line holding strongly, that type of description evidently was earned.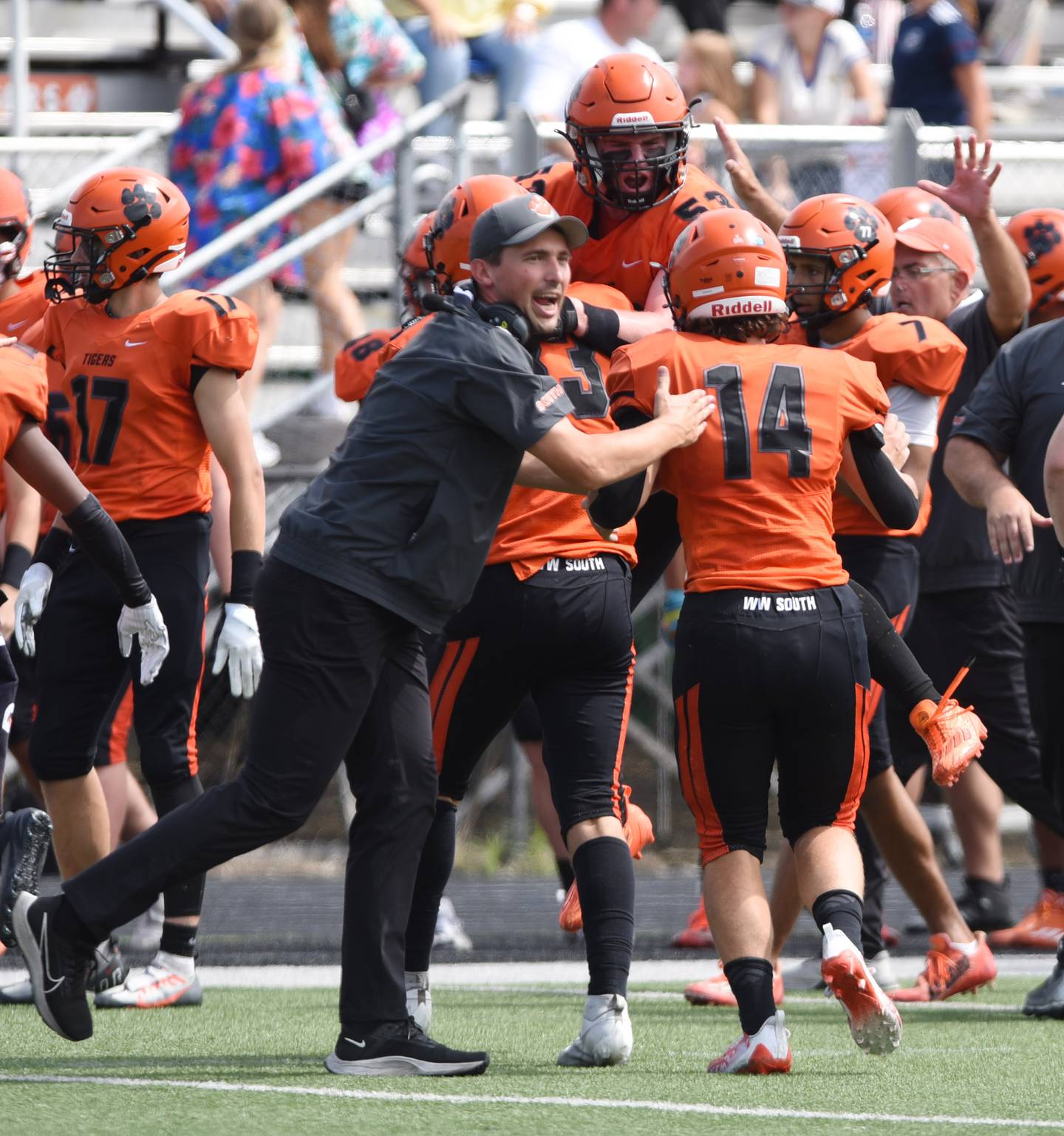 "I know that we have the same exact mentality. And if we can go in every single week with that, I think that will be the exact same as far as [results go]," Haas said. "I think we definitely needed to make a mark on who we are. And [show] what 'Tiger football' really is. Coming off last year [3-6], I love all those guys, I do, but this year is different. This year is going to be different. My team is all pumped up."
The Tigers (1-0) cashed in on their opening drive with Haas' 42-yard field goal for a quick 3-0 lead. After forcing a punt by the Wolverines (0-1), WW South was back in business until junior quarterback Luca Carbonaro's completion to Daijon Riley was stripped and swiftly returned 25 yards by Dewayne Brooks for a touchdown and 6-3 Simeon lead with 1:29 remaining in the first quarter. The extra-point attempt was blocked.
WW South rebounded with Carbonaro finding Amari Williams for an 11-yard score on a four-play drive with 6:51 left in the second quarter for a 10-6 Tigers lead.
After the Wolverines and Tigers both turned in fruitless drives, a series of three consecutive turnovers brought about a messy end to the first half.
First, Wolverines quarterback Keshaun Parker was intercepted by Haas on a jump ball to the sideline. Tigers running back Max Schlegal, who started in place of senior Matt Crider who apparently had a left leg injury, then fumbled with the ball being recovered by the Wolverines in a pile. Simeon's Parker promptly fumbled. Jensen recovered to give the Tigers the ball back near midfield with under 40 seconds to go.
Carbonaro was sacked, but then found Riley for a 35-yard gain to set up a potential score. An intentional grounding and deep incompletion at the buzzer left the score 10-6 Tigers at the half.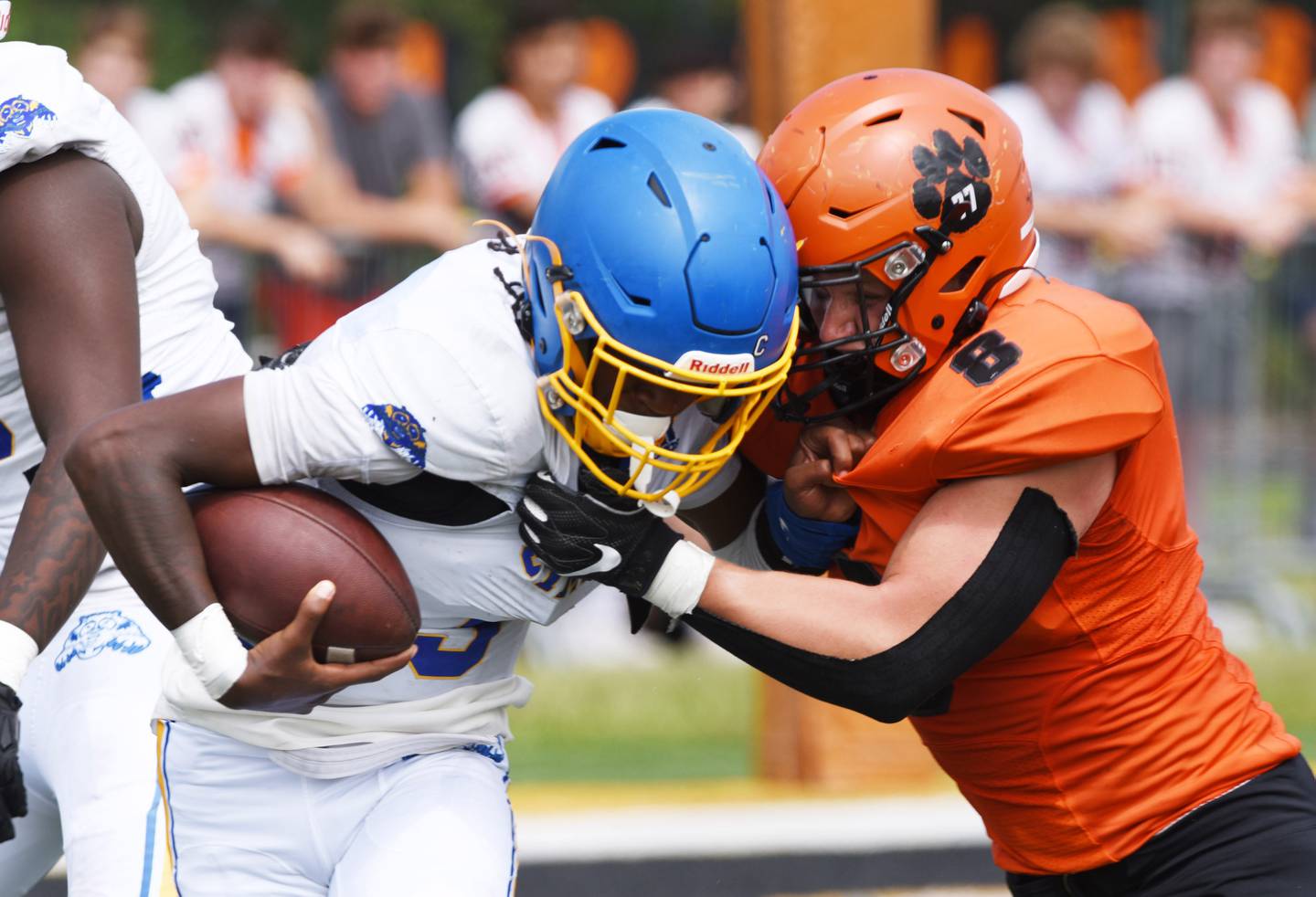 Out of the break, Simeon's drive ended on a failed fake punt attempt, but WW South wasn't able to generate much momentum. Haas' punt rolled to the Simeon 2-yard line and eventually led to the Wolverines punting. The snap was high and rolled out of the back of the end zone for a safety to give the Tigers a 12-6 lead with 3:21 left in the third quarter.
Haas nabbed his second interception on the Wolverines' first drive of the fourth quarter. The Tigers then secured the win over the course of a furious two-and-a-half-minute stretch. After forcing a Wolverines punt, the Tigers drove to the Simeon 28 but a Carbonaro strike to Max O'Connell was wiped out because of an ineligible man down field penalty and WW South was forced to punt.
Haas settled a high snap on the punt and coaxed a friendly roll to the Simeon 17 with 19 seconds left. After a pair of Wolverines rushes, Parker's final heave was caught, but one of the laterals was pounced on by Tigers linebacker Jackson Whitkanack.
"[Haas] is a great competitor," WW South coach Sean Norris said. "You don't see many guys that can kick the ball and compete like he does. He's got a big heart, like a lot of these guys, especially these seniors. These kids play with so much heart and so much effort. It showed today."
Tigers sophomore running back Owen Yorke, who was called up to the varsity, had 24 rushing yards. Norris expects Crider to return this season, but the exact date is unknown. Carbonaro was 11 for 15 for 154 yards and a touchdown.
Simeon's Te'shon McGee had 93 rushing yards.
"Kids did a good job. Too many turnovers," Simeon coach Derrick Hunter said. "We ended up losing 26 players [from] last year. We brought back quite a few of my defensive players. Offense is playing catch-up. We'll be all right. It was a good game. Wheaton Warrenville South has got a good team, good coaching staff. Referees were outstanding. [We'll] be all right. We've just got some work to do."