GLENVIEW – York's green-and-white target just got a bit bigger and brighter.
The Dukes, who last season advanced to the Class 8A state semifinals, won their 2023 opener 35-17 over nonconference foe Glenbrook South on Aug. 25 at John Davis Stadium in Glenview.
Making his first start at quarterback for York, Sean Winton completed 13 of 17 passes for 277 yards and three touchdowns. Winton is following in the footsteps of 2022 All-Stater Matt Vezza.
Chris Danko caught two touchdown passes and Luke Mailander added another TD to go with seven catches for 221 yards for the Dukes.
"We have a huge target on our backs from last year and we have to continue to prove this is why we have the target. We're going to keep going far with this. We're not scared of that target. We want that," said Mailander, who iced the contest with a 68-yard touchdown catch with 7:53 to play.
The Dukes overcame a first-quarter interception and two lost fumbles in the third quarter against a Glenbrook South squad that returned four players with starting experience.
"It's very hard to win a football game with three turnovers, so we've got to do a better job of managing that," York coach Mike Fitzgerald said. "But that's why we wanted to play a talented team like Glenbrook South and open up like that. We wanted the guys to face some adversity and see what happens and see how they respond. Just really proud of them. They stuck together."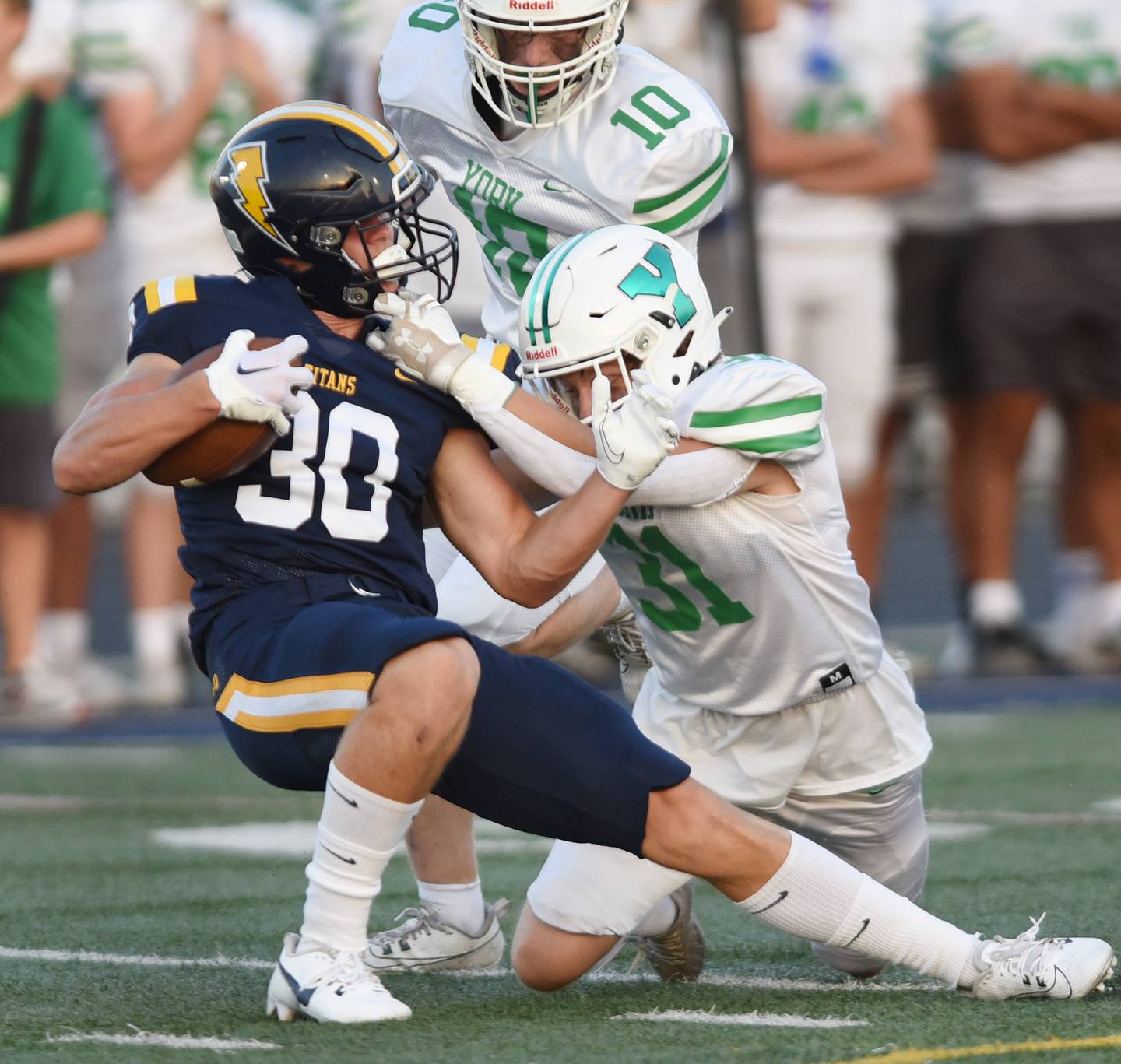 Glenbrook South challenged the Dukes, leading 3-0 after one quarter on Jacob Priegnitz's 22-yard field goal. The Titans responded to Winton's 27-yard touchdown pass to Danko with Nate Canning's 58-yard breakaway run at 7:40 of the second quarter for a 10-7 lead.
"To be honest with you, I thought we played really well," said Canning, who ran for 114 yards and two touchdowns. "In that first half, it was a real close game and then even throughout the game it was back and forth. But to me it's only going up from here. That's a very good football team. They're well-coached and I would argue it's the hardest team on our schedule."
York led 14-10 at halftime on a Danko 15-yard touchdown catch and Damian Glodz's PAT kick. Despite losing a fumble on its first possession of the third quarter, York led 21-10 when running back Jake Melion smashed in for a 9-yard run. Melion ran for 165 yards.
Canning cut the deficit to 21-17 on a 4-yard touchdown run late in the third quarter.
York answered quickly. Melion's 66-yard run set up Jimmy Connors' 4-yard touchdown blast.
York defensive linemen Joe Reiff and Tyler Hayes got the Dukes defense off the field with a sack, and on third-and-14 Winton hit Mailander on a 68-yard fly for the 35-17 final score.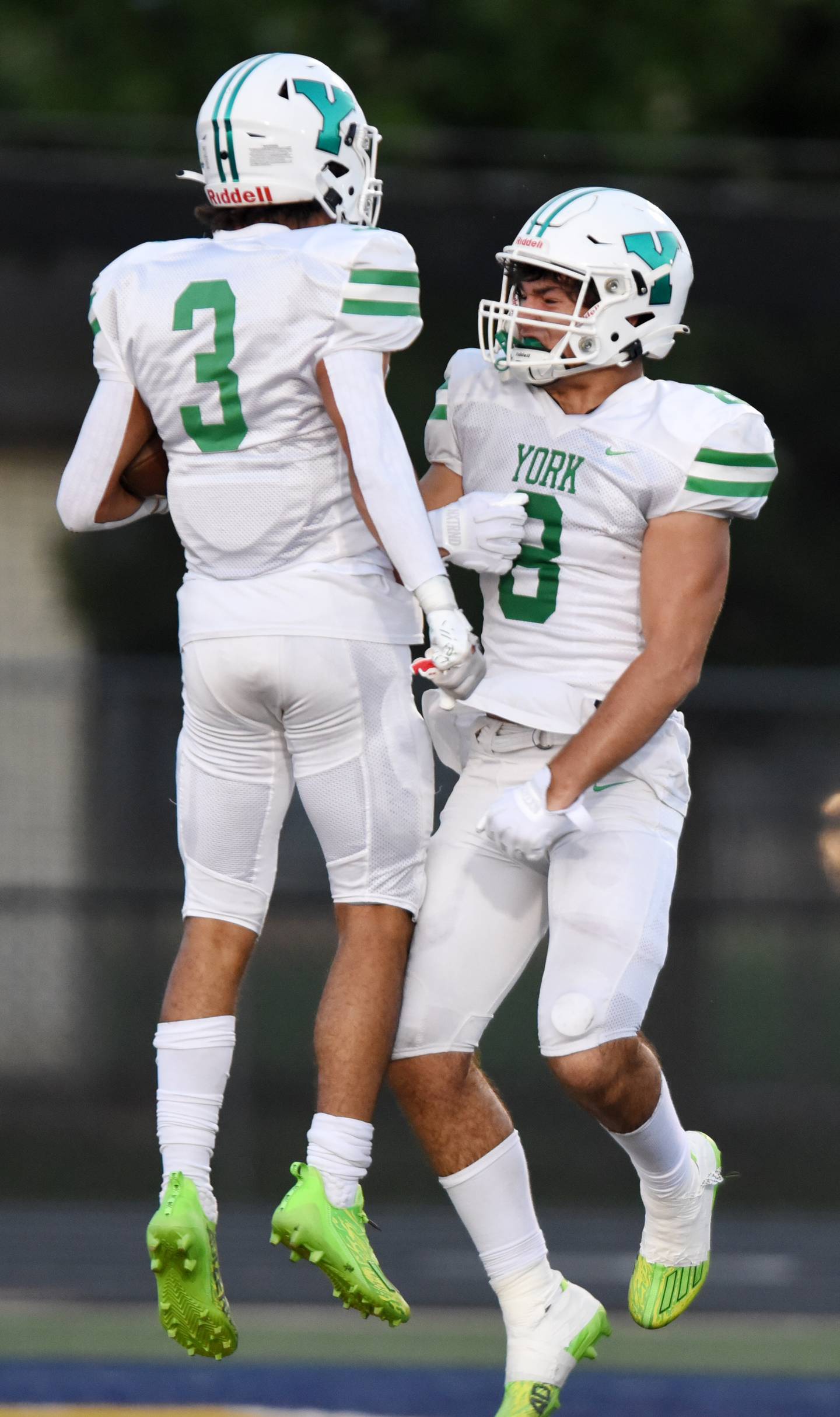 "The guys played great. What can I say?" said the 6-foot-5, 240-pound Reiff, who had one solo sack and shared two others. "The linebackers did their job, I think our D-line held up well, very well. Jack Trautmann, Tyler Hayes, Andrew Bricker had a heck of a game with me."
Going 19-4 over the past two seasons with a state quarterfinal berth in 2021, Glenbrook South needs only a bit of seasoning.
"I think we leave this game feeling like, OK, we could have done better and we were right there with a top-10 team," Titans coach Dave Schoenwetter said. "Obviously they pulled away at the end, but we clean some things up and I think we're a good football team."
https://football.dailyherald.com/sports/20230825/york-targets-a-season-opening-win/