Playmakers - every good team needs one.
The Princeton Tigers football team was blessed with two of them - junior Teegan Davis and senior Drew Harp.
Both were two-way standouts.
Davis was First Team Three Rivers East All-Conference at quarterback, a dual threat both passing and rushing the ball, as well as at defensive back.
Harp was the only two-way player chosen unanimously TRAC East All-Conference, named offensively at guard, and defensively at linebacker, where he also earned Class 3A All-State honors.
Together, Davis and Harp led the Tigers to a share of the Three Rivers Conference East Division championship, a 10-2 record and a Class 3A quarterfinal appearance.
For their play on the field this year, the Tiger duo are the 2021 co-BCR Players of the Year.
PHS coach Ryan Pearson said both players are tremendous ambassadors for the Tigers' program.
"Both of them are very humble, possess a tireless work ethic and are fantastic young men of character. I couldn't be more proud to be their coach," he said.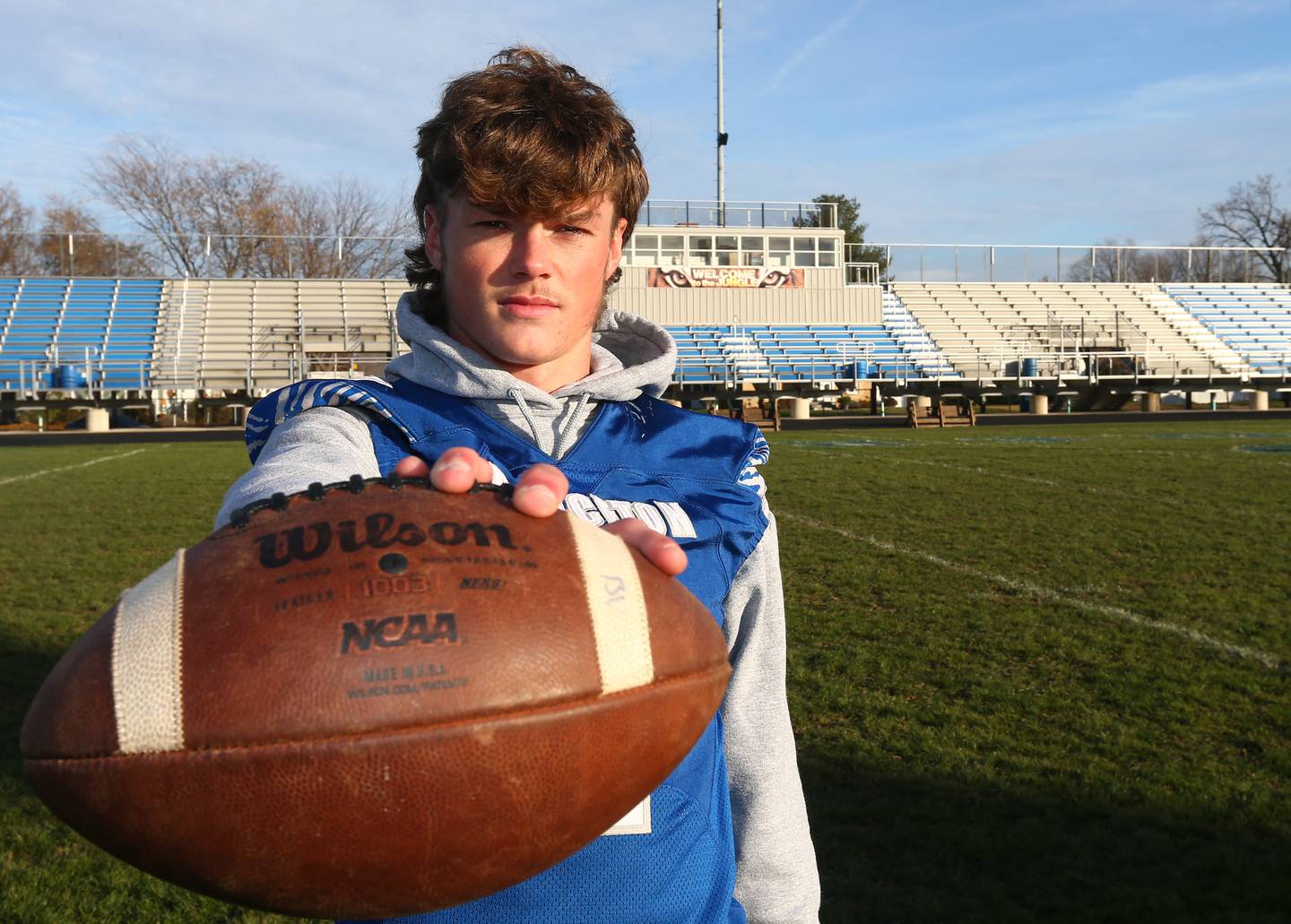 Dual threat quarterback
Tiger fans got a glimpse of things to come this spring when Davis was inserted in at quarterback as a sophomore for a play or two during the game for senior Tyler Gibson and shined with big plays.
Pearson moved the Tigers to a spread offense this fall to better use Davis' talents.
"When you're in the I formation when you have a quarterback who has the athleticism Teegan does, I think it kind of wastes him a little bit," Pearson said. "When you have a chance to put him in shotgun, some of the plays you were running from under center, now you can throw in specific read and add another element to that play the athletic quarterback can present."
Davis shined this fall, throwing for 1,839 yards and 19 touchdowns, while running for 1,099 yards and 18 TDs.
He had six multi-TD passing games and threw for a score in 10 of 12 games while running for multiple TDs seven times.
Modestly, Davis said, "I thought I had a pretty good season, but there are definitely things I can fix and do better for next year."
Opposing defenses had to game plan to stop him and not many could.
"Obviously, Teegan is the leader of our offense," Pearson said. "Each and every play goes through him. We put a lot on Teegan's plate as far as what we expect him to do. Because of the skillset he possesses, we gave him a lot of reads this year. Those reads allowed him to use his athletic ability and ability to run when the defense presented the correct situation.
"For him to be able to handle quite a bit of that stuff as a junior is a testament to the type of player he is and what we think he could be with another year of high school under his belt."
Harp said Davis stepped right and made big things happen for the Tigers this year.
"I thought Teegan had a great year," he said. "He was a key player on our team. He brought a special dynamic to our offense. It was nice having as good of an athlete as Teegan is in the backfield that you can trust to make plays.
"I can't wait to see how he continues to grow and improve."
Davis was exposed to football at a very young age, watching his father, Spencer, and uncle, Brian, play semi-pro football, and playing 2-on-2 football with his older brothers Drake, Wyatt and Cael and followed their careers.
"I always wanted to play in high school and be under the Friday night lights," he said.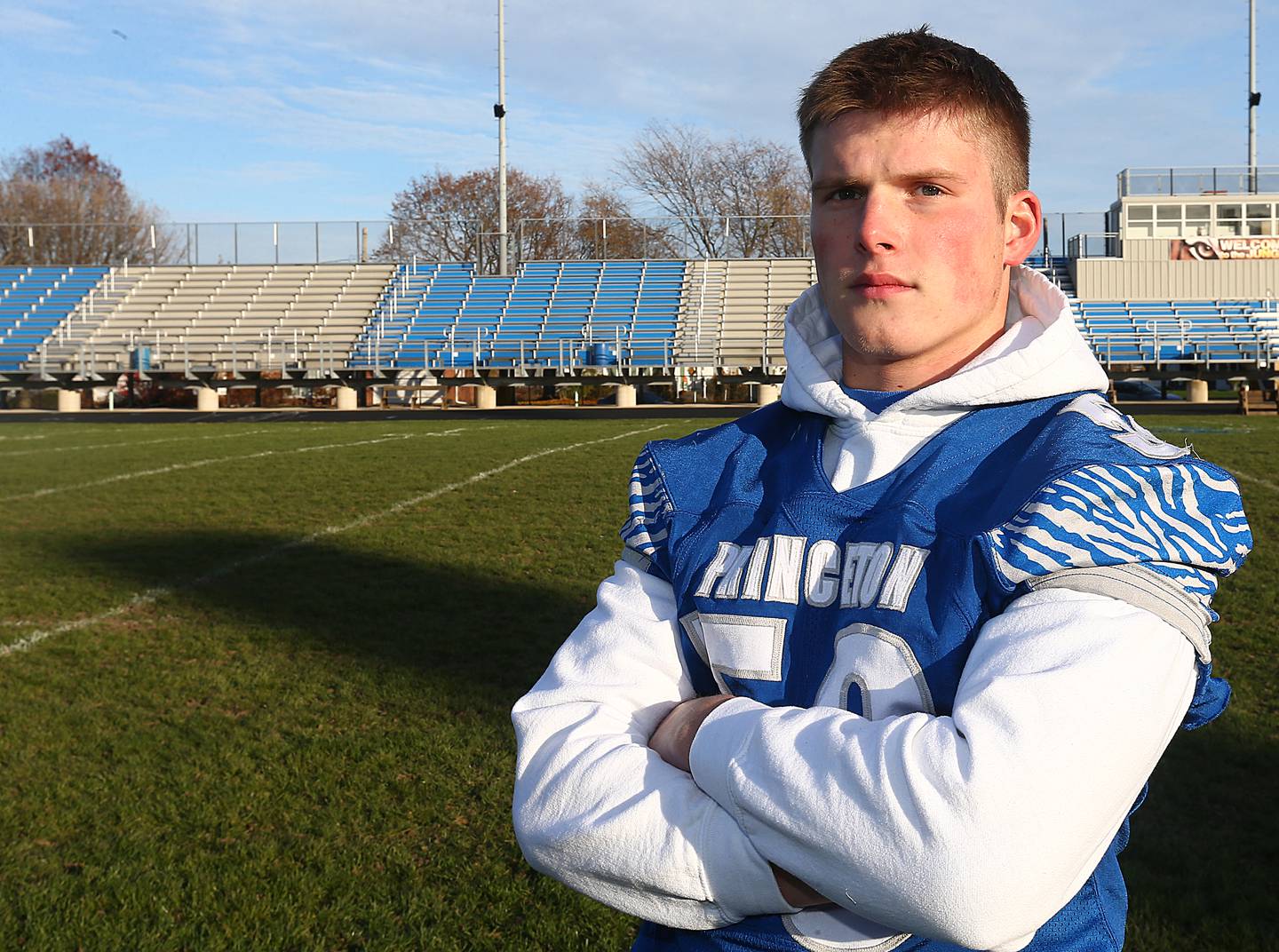 Perfect mold of a linebacker
Harp anchored the PHS offensive line as an all-conference guard, helping the Tigers put up big numbers, scoring 45 or more points seven times, while averaging 40.3.
But as good as he was on offense, it is on the defensive side where he really made a name for himself.
He was every thing you'd want in a linebacker, Pearson said.
"If you were going to make a mold of a linebacker, Drew has every single one of those attributes," Pearson said. "He's tough. He's extremely physical. He's very polite and very courteous, but when that helmet goes on he has a little bit of a nasty streak that comes out."
Those characteristics combined with an top-notch work ethic helped Harp transform from being a novice to the position as a freshman (he had played on the D Line in JFL) to a sophomore making 26 tackles in a state semifinal to a senior who was the most dominant defensive player in the area.
Harp made 127 tackles (68 solo) this season – and is believed to be the school's career leader (353) – despite missing one game and a half of two others with injury.
He also had three sacks and a fumble recovery, leading a Princeton defense that allowed an area-best 15.8 points a game.
"It was a pretty good season," Harp said. "It was unfortunate I had to miss a game and miss half of two games, but it is what it is. I made the most of it. I had a lot of fun. I improved. There are always things I could have done better, but overall it was a pretty good season."
Davis said it was great to have Harp on his side and that he earned every honor he gets.
"Drew was a great player this year on the offensive and defensive side of the ball," Davis said. "He was a captain this year and he earned it. He put in work over the summer and has worked all four years. He deserves to be player of the year.
"I wouldn't have wanted to play my junior year with anyone other than Harp and that senior class."
- Kevin Chlum contributed to this article