Class 7A
No. 9 Brother Rice (10-2) at No. 4 Wheaton North (11-1)
When: 4 p.m. Saturday
About Brother Rice: The Crusaders come in off a huge 41-28 win over Mount Carmel in a showdown of CCL/ESCC Blue rivals. With Mount Carmel taking away the Brother Rice passing game, Crusaders' QB Jack Lausch and RB Aaron Vaughn more than made up for it with a huge game on the ground. Lausch, a Notre Dame baseball recruit who also plans to play football in South Bend, ran for 255 yards and four touchdowns and Vaughn ran for 174 yards and three scores. Brother Rice's up-tempo offense, as good as any in the state, is averaging 42.5 points and has topped 40 points in all but one game this season. Brother Rice is in its third straight semifinal. The Crusaders were the 2018 Class 8A runner-up and a 2019 Class 8A semifinalist. Brother Rice and Wheaton North have one common opponent – the Crusaders beat Wheaton Warrenville South 27-26 in the first round of the playoffs, Wheaton North beat WW South 10-8 during the regular season.
About Wheaton North: The Falcons survived a tough, low-scoring 10-3 game with Willowbrook to reach their first semifinal since 2002. Now Wheaton North seeks its first state championship game appearance since winning the 1986 Class 5A state title under longtime coach Jim Rexilius. The matchup between Brother Rice's vaunted offense and a Wheaton North defense that has allowed eight points or fewer to nine of 12 opponents is one to watch. Ross Dansdill, with 50.5 tackles and 10.5 tackles for loss through 11 games, Freddie Elftmann, with 60.5 tackles and 10.5 tackles for loss through 11 games and Kaiden Libby, with 33.5 tackles through 11 games, lead the Wheaton North defense. Tyler O'Connor has four interceptions, with a big win against Willowbrook. Offensively, senior running back Brayton Maske has been out since Week 6 with a torn MCL, but he could possibly be back this week. Junior Luke Beedle and sophomore Walker Owens have carried the load in his absence. Senior QB Mark Forcucci, a Holy Cross recruit, didn't have his best game at Willowbrook in poor weather, but the third-year starter is a playmaker with both his arm and legs and will need to be on his game facing an opponent that can put up points.
Friday Night Drive pick: Brother Rice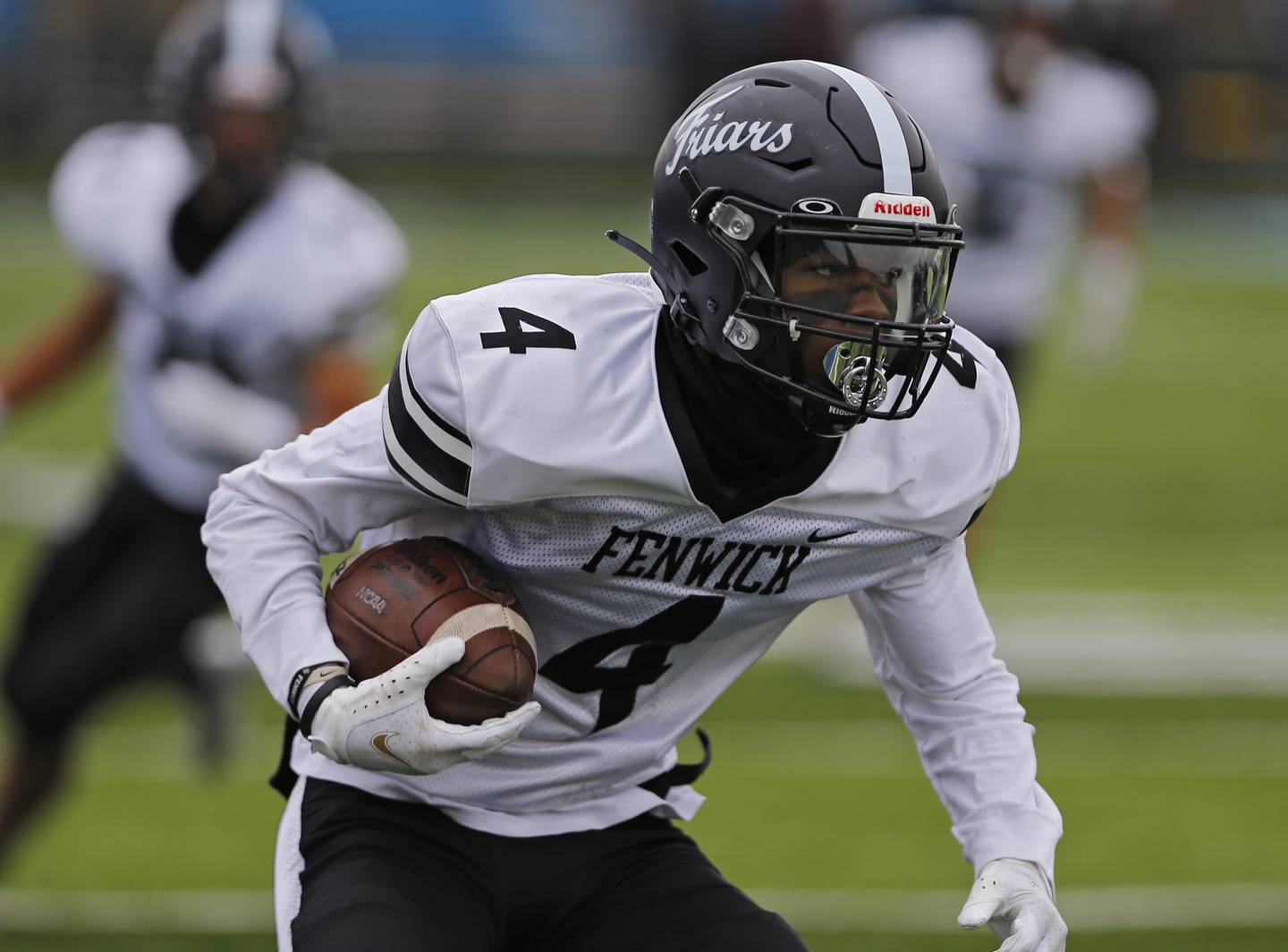 Class 5A
No. 9 Sycamore (9-3) at No. 2 Fenwick (10-2)
When: 1 p.m. Saturday, at Triton College
About the Spartans: Sycamore enters this game off back-to-back shutouts, including 14-0 against St. Patrick in a quarterfinal last week. They beat No. 1 Glenbard South the week before, 34-0.
The defense is rolling for the Spartans. Dawson Alexander and Dom Bills are both over 100 tackles, with Ethan Bode at 99. With the passing attack for Fenwick, Kiefer Tarnoki will look to add to his team-leading four sacks this year. Ethan Bode has three. Tarnoki (17) and Bode (16) also lead the team in tackles for a loss. The secondary will also get a chance to shine, as Brody Armstrong has 14 pass breakups and two interceptions this year, while Dawson Alexander leads the way with three interceptions.
"They got speed, they got size, and they play well together," Ryan said. "It's a big task, but we know that. There are four teams left in our class, and all four are pretty good. So you go in there swinging."
Four Sycamore players are averaging at least 5.9 yards per carry on offense. Nathaniel Altepeter has a team-best 926 rushing yards and has scored 15 times on the ground. Quarterback Eli Meier has 547 yards on the ground and Zack Crawford has rushed for 463. Sam Carlson is a dual-threat with 611 rushing yards, 413 receiving yards and 10 total touchdowns.
St. Patrick coach Adam Guerra has played both Fenwick and Sycamore this year. The Shamrocks lost to the Friars, 42-14, in Week 7. Given the ground attack of the Spartans and the air attack of the Friars, Guerra said it's two very different teams battling on Saturday.
"It's apples and oranges," Guerra said. "Fenwick is all skill, a bunch of wide receivers, five wide, real spread. Not quite air raid but almost. And Sycamore is kind of the opposite of that."
-- Eddie Carifio
About Fenwick: The Friars enter this game off a 28-17 win over Nazareth, erasing an early 10-0 deficit. Fenwick is in the semifinals for the third time in program history, the first time since a controversial 2016 semifinal loss to Plainfield North. Fenwick has never reached the state championship game, but is playing like a team poised to get to DeKalb.
Senior QB Kaden Cobb, a Ball State recruit, is coming off a sensational performance against Nazareth. Cobb completed 22-of-25 passes for 175 yards and two TDs, and ran for a third score. He is a dynamic dual threat and clear leader of an offense brimming with talent. Eian Pugh, a 6-foot-4 Illinois commit, is a rangy receiving threat on the outside and 6-foot-3, 200-pound Eastern Michigan recruit Max Reese is a physical target on the opposite end.
Center Jimmy Liston, a 6-foot-4, 310-pound Purdue recruit and like Cobb a Class 5A All-Stater, anchors the Fenwick offensive line. Defensive end Suleiman Abuaquel, who had a critical pick-six against Nazareth, has 64 tackles, 34 hurries, 18 tackles for loss and 10 sacks on the season as a leader of the Fenwick defense. Defensive back Den Juette has six interceptions, two during the playoffs. Fenwick has won seven consecutive games since losing to Loyola, ranked No. 1 in Class 8A, on a last-second field goal.
FND pick: Fenwick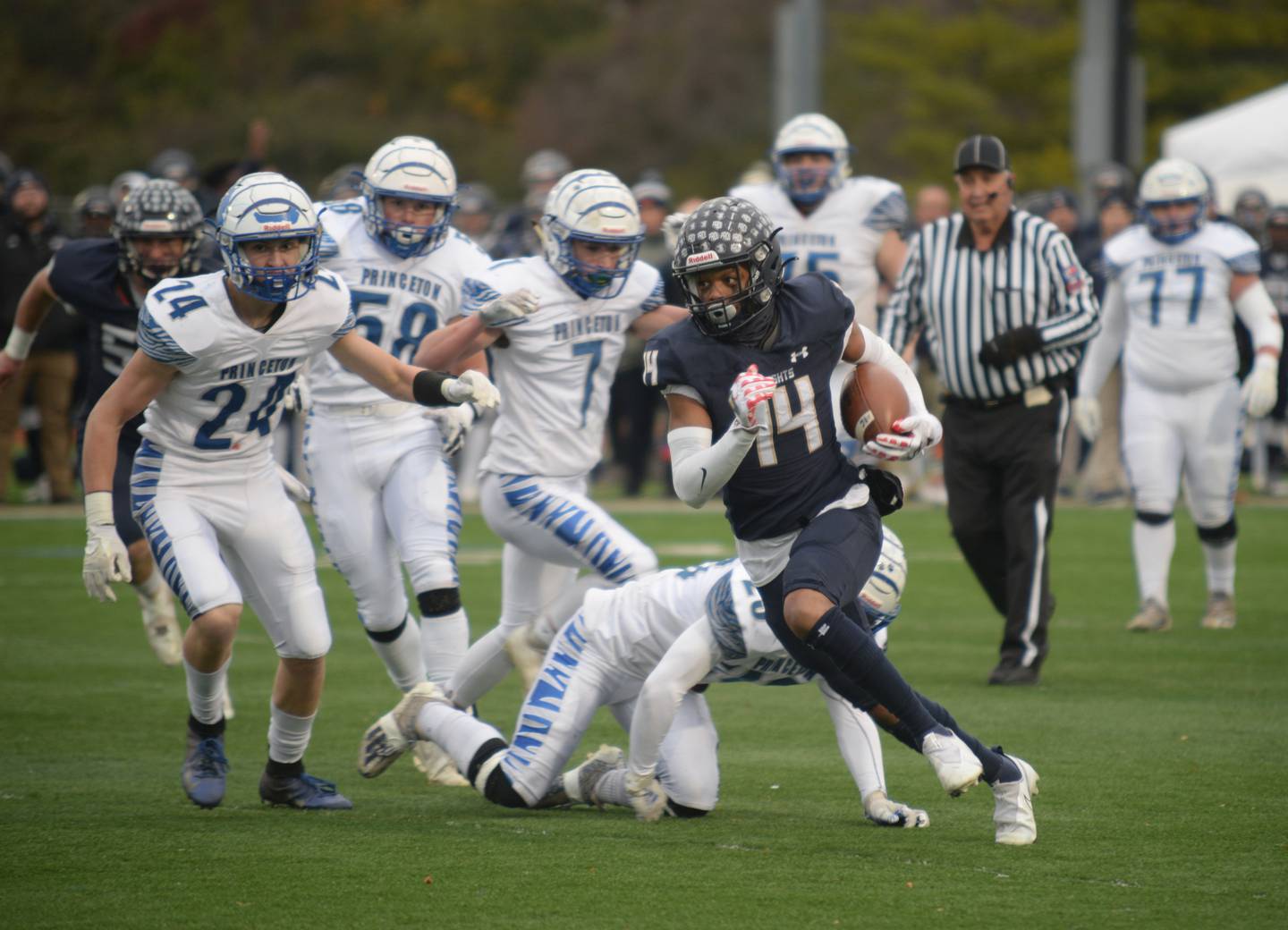 Class 3A
No. 1 Byron (12-0) at No. 6 IC Catholic Prep (11-1)
When: 4 p.m. Saturday, at Plunkett Park
About Byron: The Tigers, 2018 and 2019 Class 3A state runners-up, are back in the semifinals for the fourth consecutive time – barely. Byron needed a 10-yard TD pass from Braden Smith to Chandler Binkley with 9.2 seconds remaining to beat Reed-Custer 28-24 last Saturday in a wild quarterfinal that featured eight lead changes. Binkley, named to the Class 3A All-State team this week, ran for 147 yards on 27 carries in the game for Byron, which totaled 257 yards on the ground on 54 carries. This is Byron's first road playoff game after playing its first three at home. Byron had the second-largest margin of victory during the regular season of teams in the Class 3A bracket, outscoring its regular-season opponents 417-91 with its only close game a 7-3 win over Class 4A quarterfinalist Genoa-Kingston. Binkley has rushed for 1,142 yards – at 8.9 yards per carry – and 15 TDs and Ethan Palzkill has rushed for 720 yards at 10 yards a pop and 10 TDs out of Byron's wing-T offense. The Tigers don't pass much, although Smith has thrown for 577 yards and 11 TDs.
About IC Catholic Prep: The Knights are back in a familiar place – against a familiar opponent. ICCP is making its fifth semifinal appearance since 2015 in a rematch of a classic 2017 Class 3A semifinal that the Knights won 7-0 at Byron. ICCP comes in off an impressive 31-7 win over Princeton and has yet to be really tested through three rounds of playoffs. Leading the way for the Knights' defense is senior middle linebacker Jadon Mims, who has 108 tackles and 16 tackles for loss, Connor McCoy, with 103 tackles and 10 tackles for loss and All-State defensive end Antonio Richardson with 47 tackles, 12 sacks and 13 hurries. All three are two-way standouts as is sophomore All-Stater KJ Parker, the Knights' leading receiver with 27 catches for 465 yards and four TDs. QB Dennis Mandala has enjoyed a stellar sophomore season, completing 65% of his passes for 1,742 yards with 23 TDs and five interceptions while junior RB Malik Gray went over 1,000 yards rushing on the season last week and is at 1,011 yards with 10 TDs.
FND pick: IC Catholic Prep