The last time Max Taylor took the football field dressed to play in his No. 20 uniform, he was carried off of it on a stretcher.
It was the 2019 Class 3A quarterfinal game at Bryant Field in Princeton. He was a sophomore for the Tigers playing against Paxton-Buckley-Loda.
A speedy splasher, Taylor had a big game, returning a punt return 70 yards for a first-quarter touchdown that provided an early spark in the Tigers' 38-12 victory. He also rushed five times for 47 yards.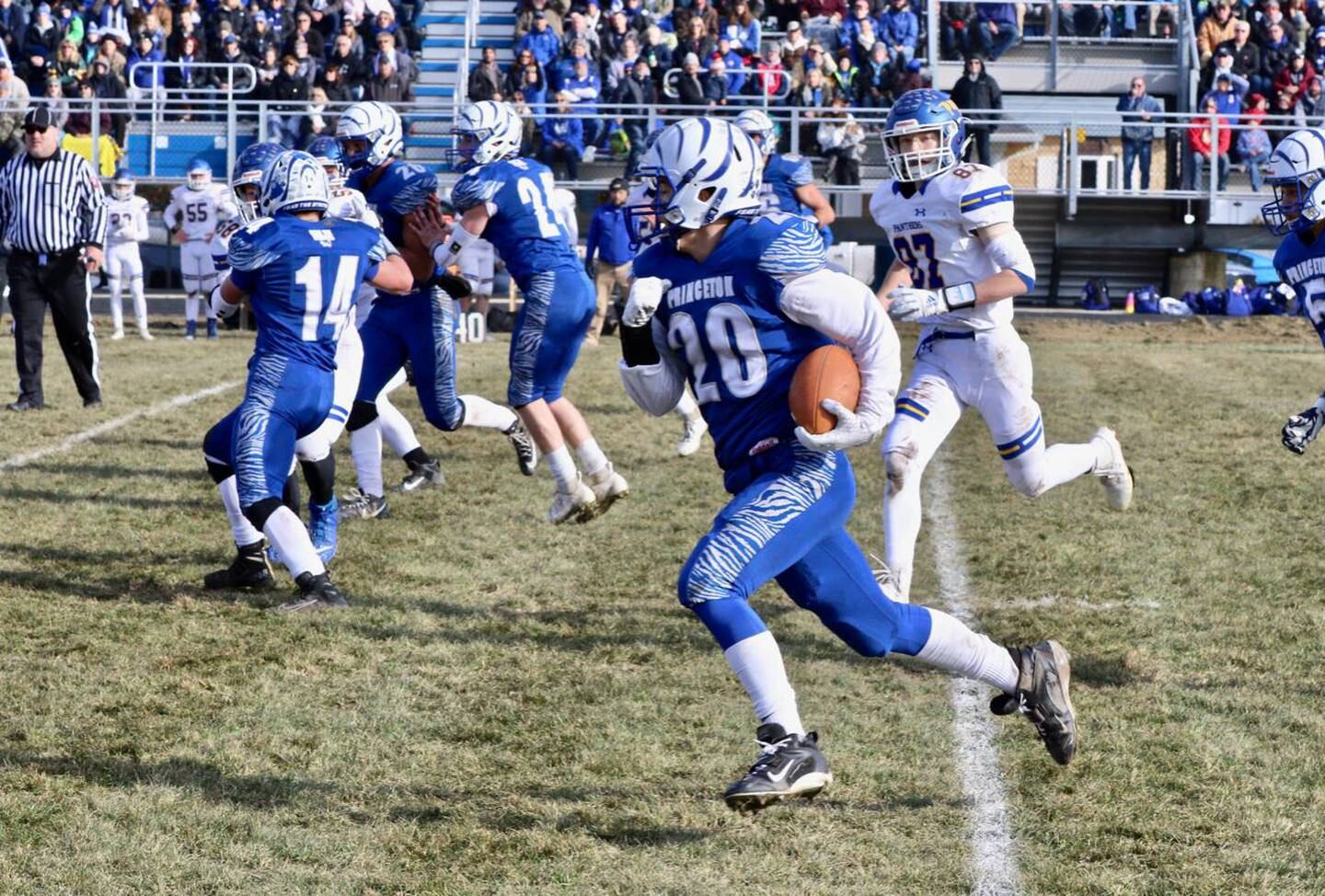 Then came the play that changed his life.
He went in for a tackle after an interception along the visiting sidelines and did not get up. Emergency personnel carefully removed Taylor by stretcher for precautionary measures for a neck injury. It was determined he had a broken C7 vertebrae, but did not require surgery.
The injury led to a discovery of a birth defect that was unknown to Taylor at the time. He could have slipped and fell on ice and had the same result, it just happened to occur on the football field.
"Everybody has like 10 millimeters in between their spinal canal and spinal cord and I have like maybe less than half of that," Taylor said. "Sooner or later, we would have found out, but me being hurt that night, when I got hit, I actually hit my spinal cord and that's what made me go numb. That's what kind of opened it for us to find that."
He said he will never forget how everyone, including coaches and players from P-B-L, rallied together and prayed for him after the game.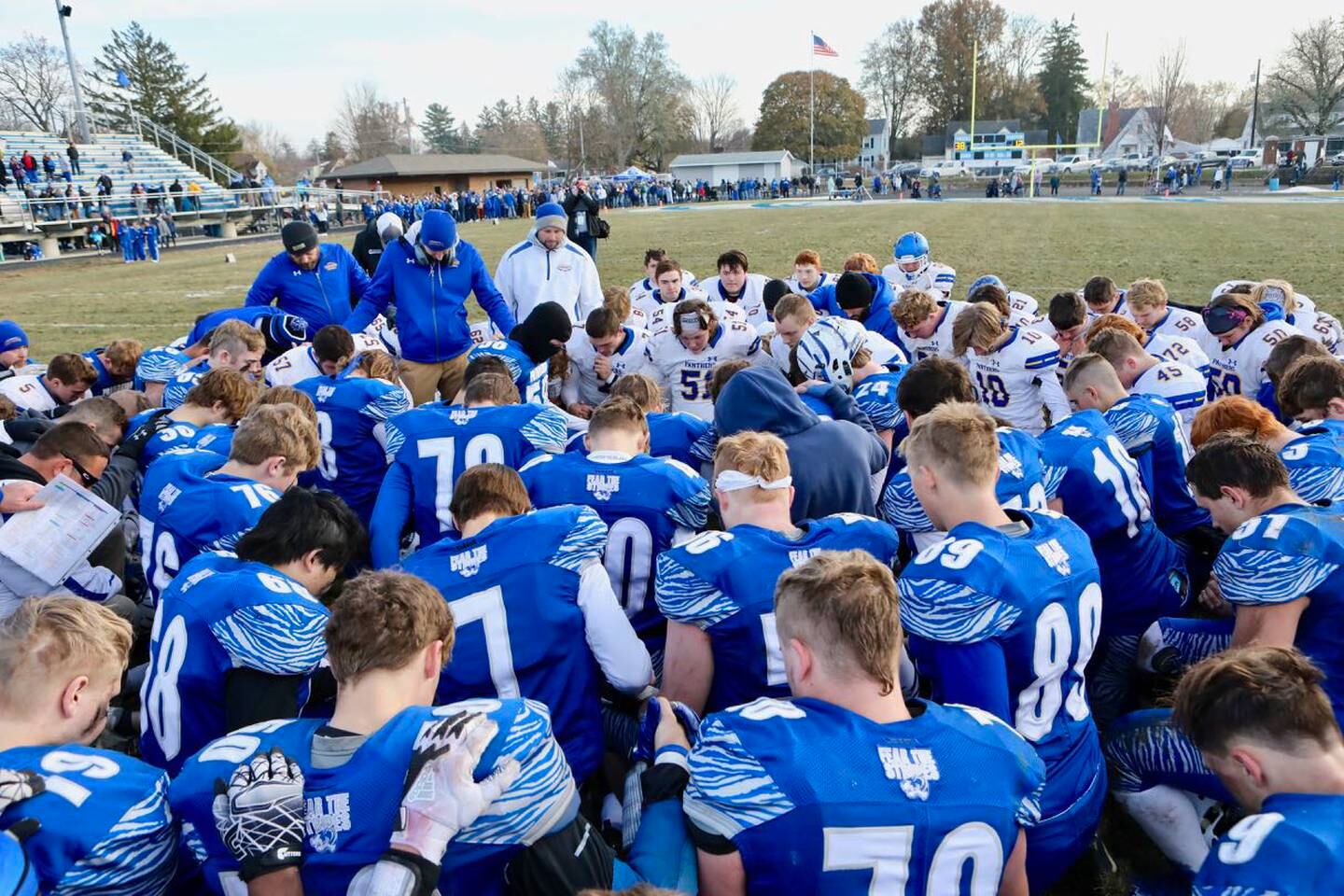 Taylor has remained an integral part of the team this season, just taking on a new roles as cheerleader and supporting the team and coaching staff in many ways.
While, he said it's been fun, it's not the same as playing.
"Oh yeah, it's rough not being able to play. I grew up with all these guys and it's our last year. Feels like you're missing out on something," he said.
He tries not to think about the play that ended his career, but "every time we're at home, it just happens. No real way to get away from it."
What he misses most is just playing with his friends and teammates.
"It's such a team sport. You're all working together and stuff, you feel like you can't do anything wrong," he said.
The injury has helped Taylor prepare for his life's work as he wants to become a high school coach/teacher one day.
He helped coached the fifth grade youth football team this fall, which included Reese Pearson, the coach's son. He has also been helping with the Logan Junior High basketball teams, whose season just started.
"It's so much fun to help them and teach them the little parts of the game and explain to them why we do something. It's fun. I love it," Taylor said.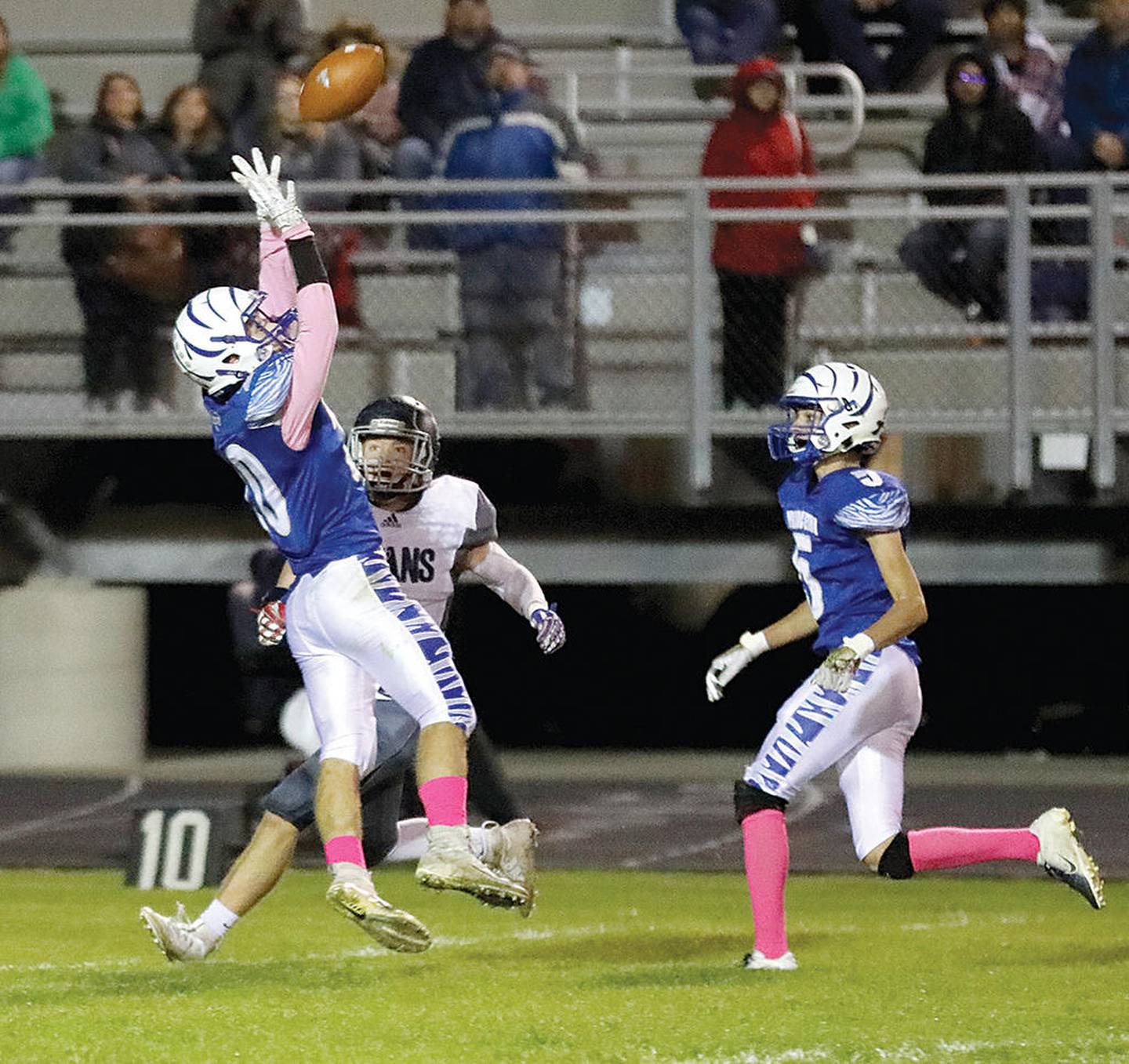 PHS coach Ryan Pearson said his heart goes out to Taylor, because he was a very special player, with the "skill set and attributes to have certainly been a huge benefactor for our team this year and last spring."
The Tiger coach praises him for making the most of the cards he's been given.
"God's got a plan for everybody. It was hard for him to swallow. If someone would have told me (I couldn't play again), it would have been hard to swallow. Think it shows his maturity extremely well for a 16-year-old kid," Pearson said.
"It's an unfortunate circumstance, but he's trying to make the most of it and contribute in other ways. He still wants to be a part of the game in some capacity and wants to be a coach one day. The game has tremendously influenced him throughout the years. He still wants to give back to the kids, give back to the community. Just shows the type of character this kid has."
Taylor has taken on the role as an extra coach on the sidelines for the Tigers this fall, keeping a close eye on the action on the field and the replays on the I-Pad.
"I watch some film and I'll tell coach (Pat) Smith on defense if there's something or coach Pearson if somebody's open," he said.
Taylor said his relationship with his teammates really hasn't changed and they are receptive to his advice.
"With them, it's still like I'm playing. We're still talking on the sideline throughout the game," he said. "With the I-Pad, I can come up and say, 'Hey, I don't know if you saw this or not,' and I'll show 'em, and they'll say, 'Oh yeah, thanks, that'll help.'
"Especially Logan (Glancy), when he's running the ball, I'm always messing with him, telling him, 'If you would have cut one more time you're gone and stuff.'"
Glancy said Taylor has been very helpful.
"He has really good ball vision. If Augie or me is running the ball and there's just one small litle cut we missed, he'll come out with his little tablet and shows us what we did wrong and exactly what he sees and we see it too after the next play.
"And he's a good motivator, too, because I know how bad he wants to be out there. He gives it all on the sidelines just like he would in the game."
One day, Taylor would like to become the next coach Pearson or coach Smith and coach football and/or basketball.
"I want to teach PE or history. I always tell coach Pearson and coach Smith, 'You guys have like my dream job. That's exactly what I want to do,'" he said,
Taylor's already got a good start.
Kevin Hieronymus has been the BCR Sports Editor since 1986. Contact him at khieronymus@bcrnews.com