SPRING VALLEY - A Princeton fan told Tiger quarterback Teegan Davis before Friday's game at Hall's Nesti Stadium to score 50 points in the first half.
He put up 49 for him.
Davis led the Tigers to a 49-point halftime lead, running for two touchdowns and passing for another as PHS put the running clock into play for the entire second half in a 49-20 victory in the Three Rivers Conference East Division opener.
"It feels really good. We worked really hard this week and came out and showed what we could do," said PHS senior receiver Bennett Sierens, who had one touchdown reception. "They're longtime rivals. We wanted to get it done."
Tiger coach Ryan Pearson said the Tigers got it done in all phases of the game.
"I felt offensively, defensively and special teams-wise, our kids came out very focused tonight. Took care of business tonight right off the get-go. Put up 49 points in the first half," said Pearson, who turned his team loose for their celebratory "Tiger Jacks" after the game. "I couldn't be happier for our kids. We got all our younger kids in for the entire second half."
Princeton turned to its second string for the entire second half, improving to 3-0 on the season and 1-0 in the Three Rivers East.
The Tigers got on the board before some fans got seated.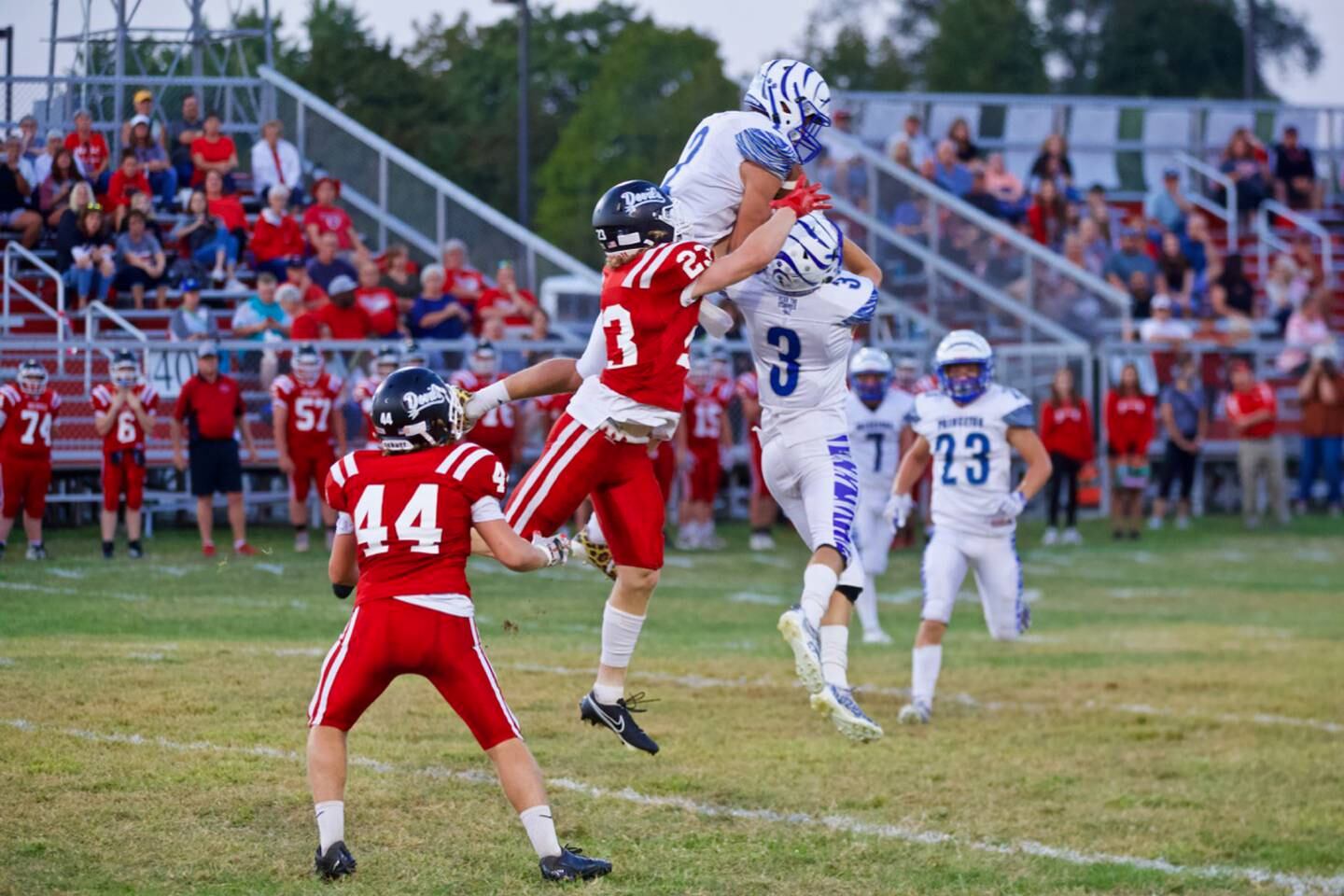 Drew Harp recovered a Red Devil fumble on the game's opening kickoff at the Hall 32. Davis scored five plays later on an 18-yard scamper at the 10:29 mark and the rout was on.
Augie Christiansen scored twice in the second quarter (1 yard, 15 yards) and Logan Glancy scored on a 15-yarder as the horn sounded on the first quarter to make it 28-0 on Christiansen's second conversion run.
Following a 1-yard score by Andrew Peacock, Davis accounted for two more touchdowns. He ran for an 11-yard score and passed for another, a 46-yard strike to Sierens with 49.5 left in the half to make it 49-0 with the Steven Benavidez kick.
"We called it out from sidelines, talking to Pearson about it," Sierens said. "The corner was playing me shallow, thought I could beat him. Catch it and run. that's all I could do."
There was no stepping off the gas pedal for the Tigers.
"We're basically going to be calling plays based on the looks that we see. We saw that they were giving us a couple things," Pearson said. "It's a credit to our kids, they executed it and we were able to get enough stops, I felt as soon as our offense got the ball, we were going to be able to score pretty quickly.
"I felt like Bennett Sierens played a phenomenal game and our running backs, Augie Christiansen and Logan Glancy, both ran extremely hard tonight. Obviously, Teegan played a heckuva game back there (at quarterback) and that's to be expected."
Christiansen led the Tigers running attack with 90 yards rushing and two TDs. Davis completed 9-of-16 passes for 190 yards and a touchdown, all in the first half, and made his only passes in the second half on the sidelines to the Princeton Youth Football players.
Mac Resetich finally gave the Red Devil fans something to cheer about with an 18-yard touchdown run at the 9:48 mark of the third quarter and an 80-yard punt return with 6:05 left in the fourth.
Sophomore Gianni Guerrini added a 25-yard touchdown earlier in the fourth.
Sierens gave credit for his F/S teammates for their effort in the second half.
"Shoutout to them. They worked hard," he said.
Notes: Hall recognized its 2001 state championship football team on its 20th anniversary. Coach Gary Vicini's Red Devils shut out LeRoy 21-0 for the 3A title in Champaign.