On Oct. 7, 1898, the Ottawa and La Salle-Peru high school football programs met for the first time and – from the newspaper accounts that tell the story of a rough and tumble contest that day – time hasn't changed much when the Pirates and Cavaliers get together on the gridiron.
Of the thousands of young men who have worn either the Crimson and White or the Red and Green for the first 121 games, players from each side have etched their names into the lore of the rivalry with their play.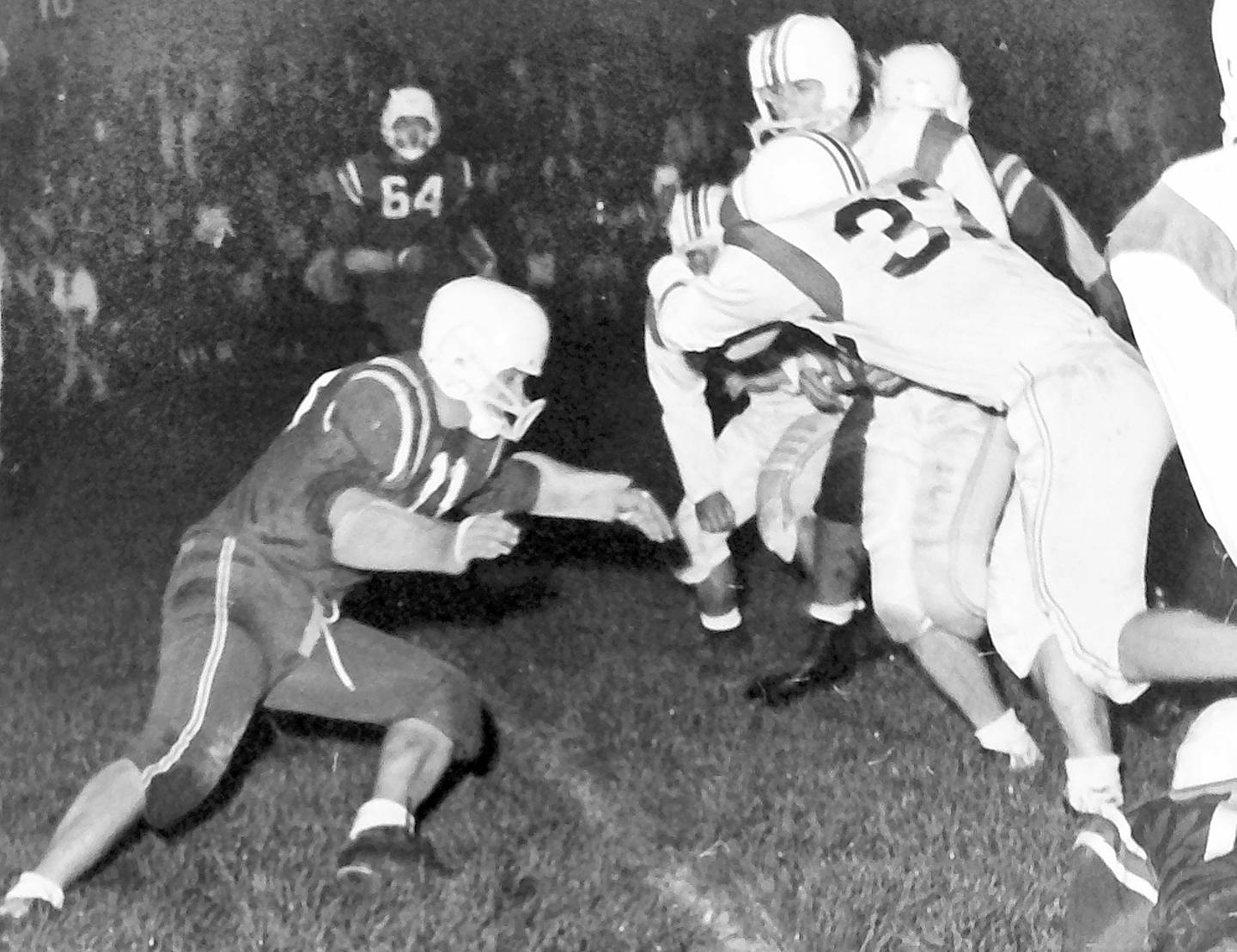 Friday night at Howard Fellows Stadium there is a good chance a few of this season's players accomplishments also will be remembered in years to come.
Even though a new chapter will have to wait for a few more days, here's a dive into history and a recounting of some of those interesting matchups in years ending with the number one, viewed a decade at a time.
The early years
In 1901 the teams played twice, with Ottawa winning the first game, 6-0, and the teams playing to a scoreless tie in the rematch. Then in 1911, again the teams played twice, with La Salle-Peru winning both games, 29-0 and 6-0.
1921
On a bitterly cold early November day on a snow-covered Matthiessen Field, Howard Fellows' Cavaliers defeated L.H. Smith's Pirates, 21-0, in front of 2,500 shivering spectators for the Illinois Valley Championship. L-P got a pair of touchdown runs from Gaynor, a scamper from quarterback Haase and a trio of extra-point kicks from Kirsch. Many fans were said to have gone home by halftime, and the Ottawa's Daily Republic-Times reported "It was so cold that at the end of the game many players' shoes had to be cut off as they were frozen to their feet."
1931
In the second-largest margin of victory in the series for L-P, Dean Johnson's Cavs scored 13 points in the first quarter and 19 each in the second and third quarters to roll to a 58-6 win over Bob McKay's Pirates. Antone Bacidore, Leonard Kaszynski, Ray Lemanski and Willard Benson each scored a pair of TDs for the winners, while Edward Galassi and Benson each booted an extra point. The Pirates' lone tally came on a 40-yard TD pass from Kermit "Legs" Peterson to Jack McDermott early in the fourth.
1941
In the season opener, Butch Nowack's Cavs, despite being outgained in yardage, won for the seventh straight season with a 26-0 victory over Homer Hankenson's Pirates in front of 4,000 at King Field. L-P recorded nine interceptions in the game, with Jack Harker (75 yards) and Chester Sainai (45) returning picks for TDs in the first half. In the second half, Cavs QB Eddie Bray completed a scoring pass each to Harker and Rudy Savage. Bray added a conversion pass to Harker and also kicked a PAT.
1951
In the curtain-raiser of the season, Nowack's Cavaliers posted a 19-0 win over Bill Novak's Pirates in front of 5,675 spectators at L-P Stadium. Halfback Dick Benvenutti's 1-yard plunge got the hosts on the board midway into the opening quarter. Fullbacks John Schweickert and Jerry Hurst added second-half scores. L-P held a 94-65 advantage in total yards, including holding the visitors to (minus) -6 yards rushing. Pirates QB Pete Meckenstock recorded 71 yards passing.
1961
Ottawa opened with a 26-6 win over L-P in front of 5,300 at L-P Stadium to start back-to-back 9-0 seasons. Pirates head coach Bill Novak missed the game under doctor's orders with ulcers. Assistants Dean Riley and Ralph Nelson ran the team. Ottawa RBs Tyke Burgwald (125 yards) and Clarence Wilson (81) each scored a pair of TDs, QB Dick Raber ran for 68 yards and threw for 47 more, including a scoring pass to Wilson, and Art Barth kicked a pair of PATs. L-P's Dave Ivlow had 16 carries for 113 yards, while QB Gene Wieczorek connected on a 10-yard TD pass to Jerry Mindock. The Pirates outgained Joe Skibinski's Cavs, 324-176, in total yardage.
1971
While Novak's Pirates entered the rivalry game 2-0 and Ed Bender's Cavs were 0-2, it was a typical "throw out the records" contest as Ottawa used a pair of 1-yard TD runs from Tom Miller in the second quarter to escape with a 12-6 win at Cavalier Stadium. L-P's John Comerouski, who ran for 149 yards, scored the lone Cavs TD with a 55-yard dash in between Miller's tallies. Miller finished with 84 yards, Gary Vicini had 66, and Kevin Galley was 5 of 6 for 58 yards passing. Randy Dobrydnia added 70 yards for L-P, which was penalized 10 times for 91 yards.
1981
It was a tough season for both teams, as injuries to key players brought them together in Week 6, with Walt Piller's Pirates at 2-3 and Joe Marini's Cavs at 0-5. L-P capped a 52-yard, six-minute drive with QB Tim Fagan hitting Mike Zibert on a play-action pass with 26 seconds remaining in the game to give the visitors a 16-8 win at King Field. The Cavs held a 224-87 advantage in rushing yards and 245-129 total yards, led by Scott Znaniecki (112 yards, 17-yard TD run) and Jeff Skibinski (105 yards). Ottawa's TD – its first in 11 quarters – came on a one-yard plunge from QB Mike Cassidy in the third, while Andy Adrian recorded 19 tackles.
1991
In one of the higher-scoring games in the series, Tom Jobst's Pirates topped Rich Koehler's Cavs, 27-21, at Howard Fellows Stadium despite the visitors being guilty of 14 penalties for 128 yards. Ottawa received a pair of TD runs (13, 1) from QB Kyle Windy, a six-yard scoring dash from Ben Chalus (95 yards), and a 29-yard interception return by Aaron Capsel in the victory. L-P's Clint Wenzel (63 yards) scored twice, while Brent Vescogni had a one-yard TD and booted a PAT. The Cavs' Brent Martin led all rushers with 102 yards, while QB Eric Robertson was 8 of 16 for 95 yards, including five for 75 yards to Gregg Hancock. Ottawa's Torricello Embry backed Chalus with 68 yards. The hosts' final drive stalled at the Ottawa 29.
2001
In the hunt for a share of the NCIC Northeast Conference title, Tim Jobst's Pirates scored three times in the final 4:37 of the first half in a 27-14 win over Greg Sarver's Cavs at Howard Fellows in Week 8. L-P led, 6-0, on a Brad Bianchi (68 yards) 3-yard run in the second, but Ottawa QB Brett Lockas (60 yards passing) sandwiched a pair of TD strikes to Dustin Ahearn around a 7-yard run from HB John Cameron (48 yards) to give the visitors a 21-6 halftime lead. A 1-yard run by Ottawa FB Aaron Rick (86 yards) in the early in the fourth was offset by L-P on a Nick Pyszka 50-yard TD reception from Nick Balestri (87 yards passing) four minutes later. Ottawa's B.J. Armstrong led all rushers with 110 yards. Both teams ultimately qualified for the IHSA Class 6A playoffs.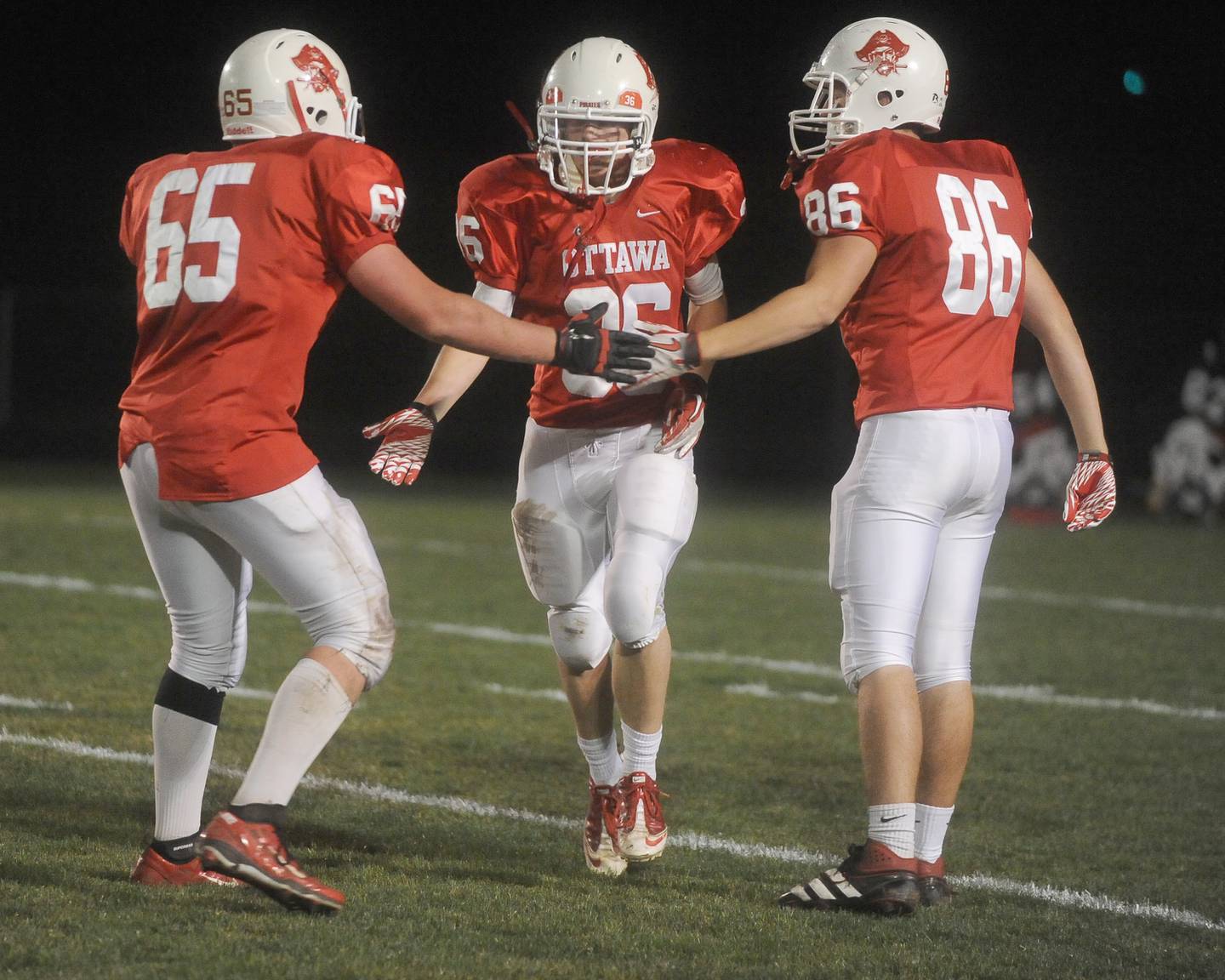 2011
In Week 8, Trent Swords' Pirates forced seven turnovers (five interceptions) and received 283 yards and a trio of rushing touchdowns from Northern Illinois Big 12 Conference West Division Offensive MVP Michael Hermosillo to record a 21-7 win over Joe Sassano's Cavs at King Field. Hermosillo had 11- and 80-yard dashes in the second quarter and a 51-yard burst in the fourth, with kicker Tristan Cunha adding three PATs. L-P's points came from a Zack Cinotto 28-yard strike to Keegan Patyk and a Casey Huebbe PAT kick. The Pirates held a 369-245 advantage in total yards, while Jordan Grobe and J.D. Bryant had two INTs each. Cinotto finished with 130 yards through the air, with Tyler Jakse grabbing four catches for 44 yards.