The consolidated spring 2021 election concludes today in Illinois. With so many races on the ballot, here are a few key races we're keeping an eye on throughout the evening.
Kane County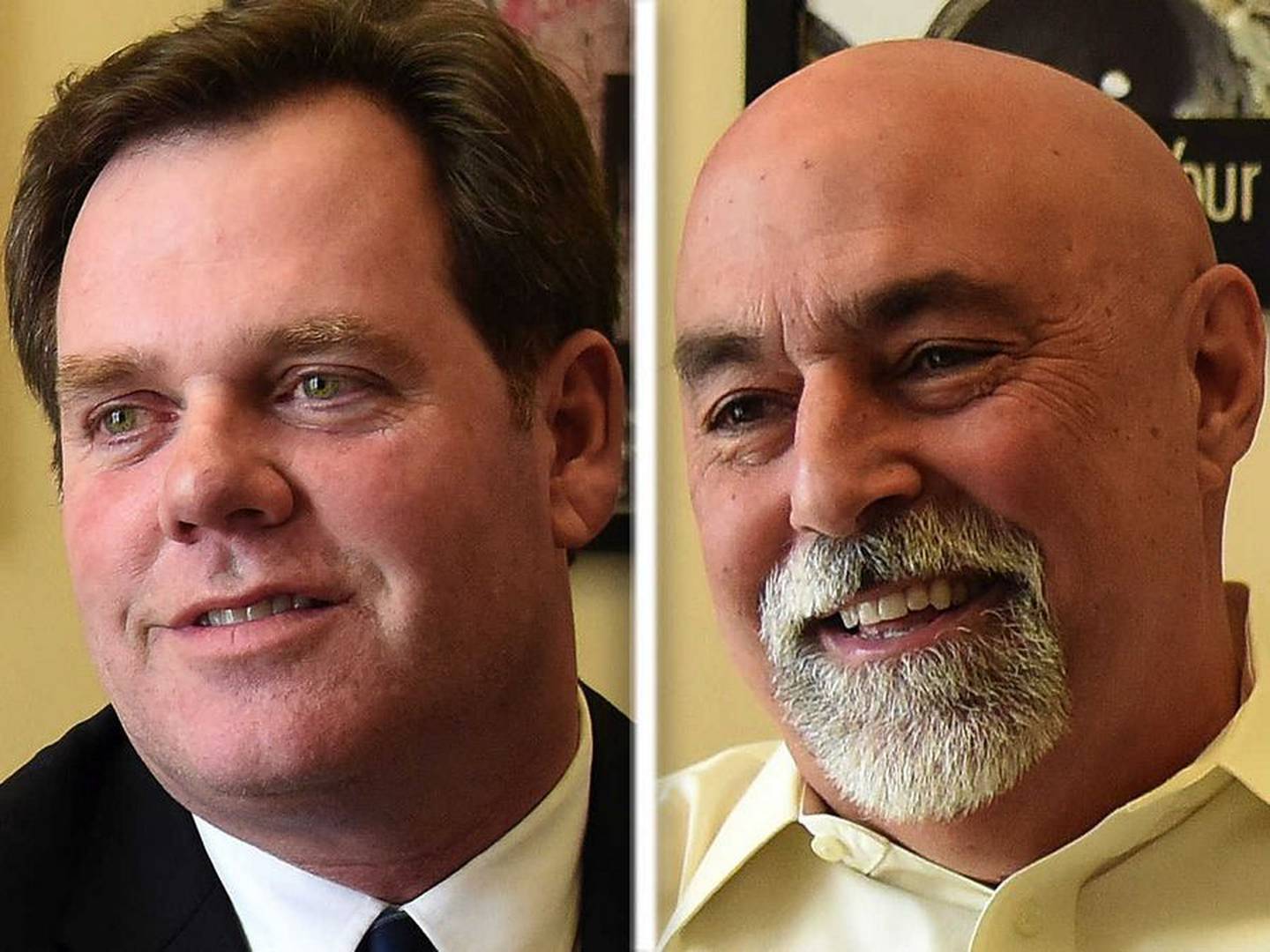 In Geneva, a re-match between incumbent Mayor Kevin Burns and challenger Tom Simonian in Tuesday's consolidated election appears to be a more intense version of Simonian's first effort to unseat Burns in 2017.
Burns campaigned on the progress Geneva has made, with its Moody's Aa2 Bond Rating, in becoming a shopping and dining mecca – with more industrial development expected to build the tax base –- based on his collaborative leadership. But Simonian characterizes anything Burns has done – or has happened under his leadership – as too costly, wrong, flawed or suspect. Simonian's platform includes a pledge to change the culture at City Hall "and those employees that don't change will be asked to leave and replaced by ones who do." In campaign mailings and social media, Burns accused Simonian of lying; in return, Simonian has accused Burns of lying.
[ Geneva mayoral hopefuls show deep differences in platforms, approaches ]
[ Geneva man continues push for anti-Burns calls with abortion-related email ]
Will County
A Joliet City Council election for three citywide at-large seats attracted 12 candidates with only one incumbent seeking re-election.
The election follows a couple of turbulent years that included three interim city managers and one at-large councilman resigning after claiming he had been subject to intimidation by Mayor Bob O'Dekirk. The ballot includes first-time candidates, one former councilman, a 44-year trustee from the Joliet Junior College board, a retired police officer involved in a 2019 controversy that put the former police chief at odds with the mayor, and the widow of a man whose death while in police custody was the focus of several Joliet protests in 2020.
The mayor and five district council members are not up for election until 2023.
[ Planning gap becomes election issue in Joliet ]
McHenry County
After the unexpected death of Crystal Lake's longest-serving mayor in May, the city is set to pick a replacement.
Haig Habelian, who had been appointed to the City Council in January 2016 and subsequently won reelection, has been serving as the acting mayor since Shepley's death. Habelian along with Donald Kountz and Jim Sisto are vying to fill the last two years of Shepley's term.
[ Crystal Lake mayoral candidates talk development, COVID-19 recovery ]
Bureau County
Spring Valley residents will decide on a new mayor after incumbent Walt Marini decided not to run for re-election. The race has drawn five candidates, including some vocal candidates. John French, Melanie Malooley-Thompson, Ed Jauch, Mark Venegas and Fred West are each vying for the seat. Jauch and West are each aldermen, while French, Malooley-Thompson and Venegas come from a business background. French had a vocal outburst during a recent council meeting drawing attention to this already-anticipated race.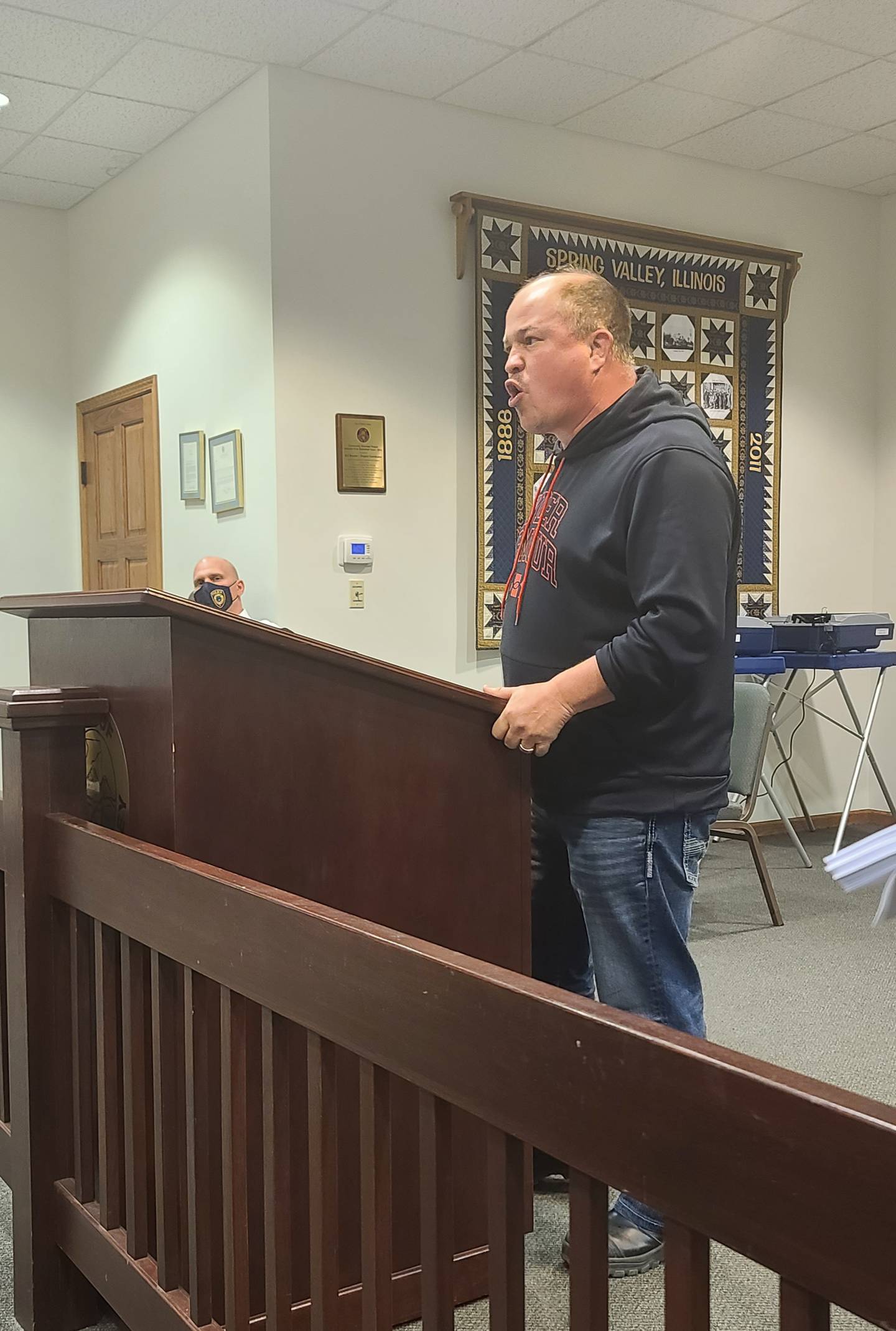 [ Videos: Spring Valley mayoral candidate removed from council meeting after yelling at political opponents ]
During a candidates forum March 31 candidates made their pitches: Jauch proposed a full-time fire department by taking the police off the city's general fund, Venegas said he would work full-time as mayor, Malooley-Thompson wants to build on more communication between the business community, West wants to continue with the city's comprehensive plan and French says he's the most passionate candidate.
[ Spring Valley candidates make their case for mayor seat in virtual forum ]
La Salle County
The small village of Utica has had plenty of political activity this election cycle. Terry Mix is challenging incumbent David Stewart for the mayor's seat, while incumbent trustees Mary Pawlak, Jim Schrader and Debbie Krizel are challenged by Chad McConville and Karen Lorenz with three seats open on the village board.
[ Stewart vs. Mix: Utica mayoral candidates have divergent visions for village ]
The La Salle County State's Attorney Todd Martin was alerted to a concern about 74 newly-registered voters who listed Grand Bear Resort at Starved Rock, where they have vacation homes, as their residence The uptick in registered voters could make a difference in a community of 1,476 registered voters.
[ 74 new voters in Utica, most from Grand Bear vacation homes ]
About a dozen of those voters, however, asked the La Salle County clerk to withdraw their name from the voter rolls after seeing the Shaw Media article.
Then Sunday, Utica police reported a possible buy-your-vote effort ahead of Tuesday's elections after a village resident reported getting an unsolicited $100 bill attached to an anti-incumbent flier.
DuPage County
In DuPage County, much of the Election Day focus will be on two towns that have mayoral races: Glen Ellyn and Elmhurst.
In Elmhurst, the three-way race to succeed former Mayor Steve Morley features three members of the City Council: Scott Levin, Michael Bram and MarkMulliner. Voters in Elmhurst's First, Second, Third and Sixth wards will also make choices in contested city council races.
In Glen Ellyn, Trustee Mark Senak and former Trustee Peter Ladesic are squaring off in the mayoral race for the right to succeed Mayor Diane McGinley, who did not seek reelection as she was moving out of state with her family. Glen Ellyn voters also choose between four candidates who are running for three seats on the village board.
There is no mayoral contest in Downers Grove, but voters in that community will choose between five candidates who seeking election to three seats on the village council.
The election also features several school board races, including Community Unit School District 200, Glenbard Township High School District 87 and Hinsdale Township High School District 86, all which feature 10 candidates battling for four seats on the board.
The race in Glen Ellyn School District 41 features eight candidates are vying for four seats.
Kendall County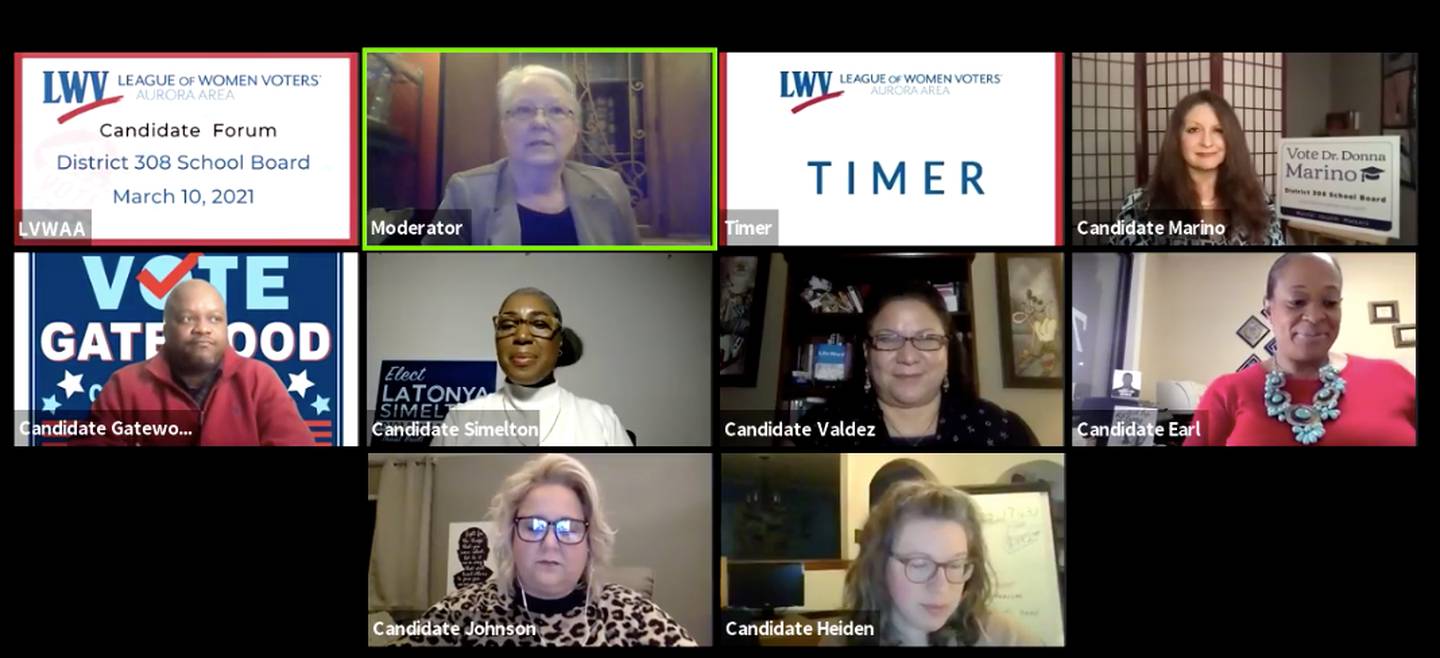 In Kendall County, Oswego School District 308 voters will elect four candidates to seats on the district's seven-member Board of Education. All four of the incumbents chose not to seek re-election. District 308, which also serves portions of Kane and Will counties, is the seventh largest school district in the state.
The candidates are: Keisha Earl of Oswego, Eugene Gatewood of Aurora, Katie Heiden of Oswego, Jennifer Johnson of Oswego, Dr. Donna Marino of Aurora, LaTonya Simelton of Oswego and Eulalia Valdez of Oswego.
Over the past year, the current Board of Education has come in for criticism for its decision to open the 2020-21 school year in full remote learning due to the continuing COVID-19 pandemic. Recently, many district parents have voiced strong objections to the Board's decision to continue its hybrid in-classroom and remote learning instruction format for the remainder of the current school year.
Prior to the start of the pandemic, the current Board of Education also imposed a series of budget cuts and fee hikes in an effort to balance the district's budget. School district voters, meanwhile, have rejected three school district tax hike referendums, including one in March 2020, that would have boosted revenues for the district.
DeKalb County
Five of DeKalb County's biggest municipalities will have new leadership following Tuesday's election. In DeKalb, the race for mayor includes Ward 1 Alderman Carolyn Morris or DeKalb native and businessman Cohen Barnes. If Morris wins, she will be the fourth woman to serve as DeKalb mayor. If elected, the next DeKalb mayor will lead the city council in the next four years, including likely post-pandemic economic realities, continued policy changes at the DeKalb Police Department, and a potential future policy vote on the backyard chicken referendum.
Mayoral races in Sycamore (Ward 4 Alderman Steve Braser versus businessman Adam Benn), Genoa (two sitting aldermen, Dennis De Guido versus Jonathon Brust), Cortland (former DeKalb County Board Chair Mark Pietrowski or sitting trustees Charmaine Fioretto or Douglas Corson) and Sandwich could also see new faces in leadership roles as sitting mayors have all opted to not seek reelection. In as pivotal a year as the COVID-19 pandemic has brought, new leadership across the county will set the stage for next steps as reopening efforts continue.
[ Video: A Q&A with DeKalb mayoral candidates Carolyn Morris and Cohen Barnes ]
[ DeKalb mayoral candidates talk criminal justice reform during virtual forum ]
Sauk Valley
In the Rock River city of Rock Falls, in Whiteside County, two-term Mayor Bill Wescott, 68, will be fighting to retain his seat against two-term Ward 3 Alderman Rod Kleckler, 66.
Kleckler echoes the citizenry when he bemoans the state of the city's streets, long a source of complaints. When it comes to other infrastructure projects, though, Kleckler takes more of a wait-and-see attitude, citing what he sees as the importance of fiscal conservatism.
Wescott agrees that the roads need work, but also has his eye on other projects he'd like to see the city tackle or continue, including riverfront development, the creation of more affordable housing and trying to foster economic development while the retail industry struggles to find its way.