For a while, 2021 was shaping up to look a lot like 2020.
At the start of the year there were no sports at the high school level, limited audiences at college games and no signs things were going to change.
But by the end of January the IHSA announced the return of high school sports, by early February games were back on (Indian Creek boys basketball fittingly the first team to return to play on Feb. 4 after they were the last team to play in 2020 in a Class 1A Super-Sectional) and by the time the year was over, there was no shortage of outstanding games, performances and storylines.
Here's a look at the top 10 local sports stories for 2021.
10. Sycamore softball wins a regional tournament after a 2-11 start to the year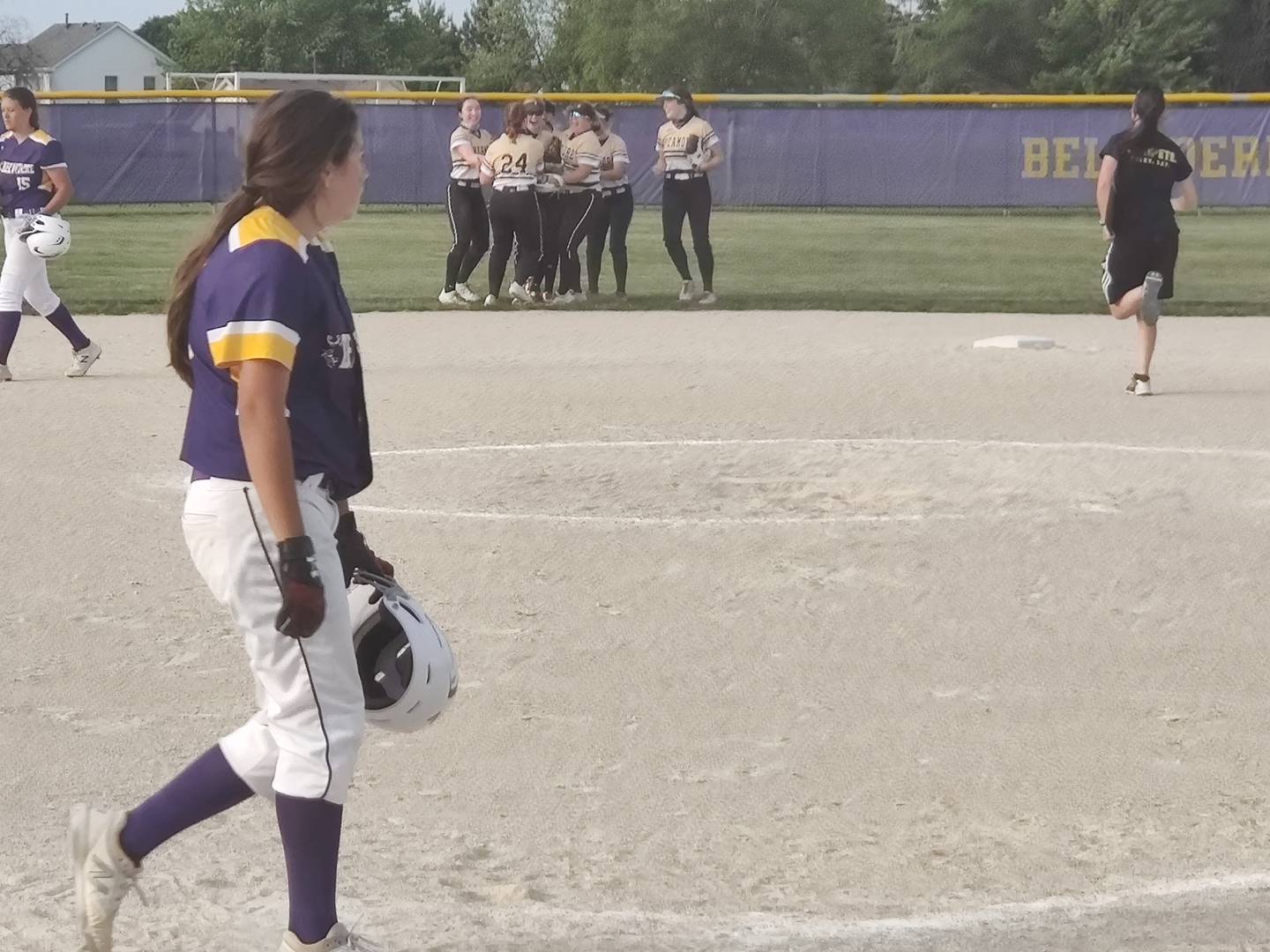 Technically still the reigning state champs when the season begin, the Sycamore Spartans had exactly zero players on their roster with varsity experience.
A couple months later and just a few days short of the two-year anniversary of their Class 3A State title, the Spartans were mobbing the field after beating Belvidere for a regional crown.
[ From 2-11 to regional champs: Becca Allen, Sycamore softball keep hot streak alive ]
"We really had a [bad] record in the beginning," coach Jill Carpenter said. "Then we get our whole group together, they start figuring things out, and we're able to put a little run together."
The run would end there, however, as the Spartans lost to Sterling in a sectional semifinal.
9. Nick Niemann selected in NFL draft by Chargers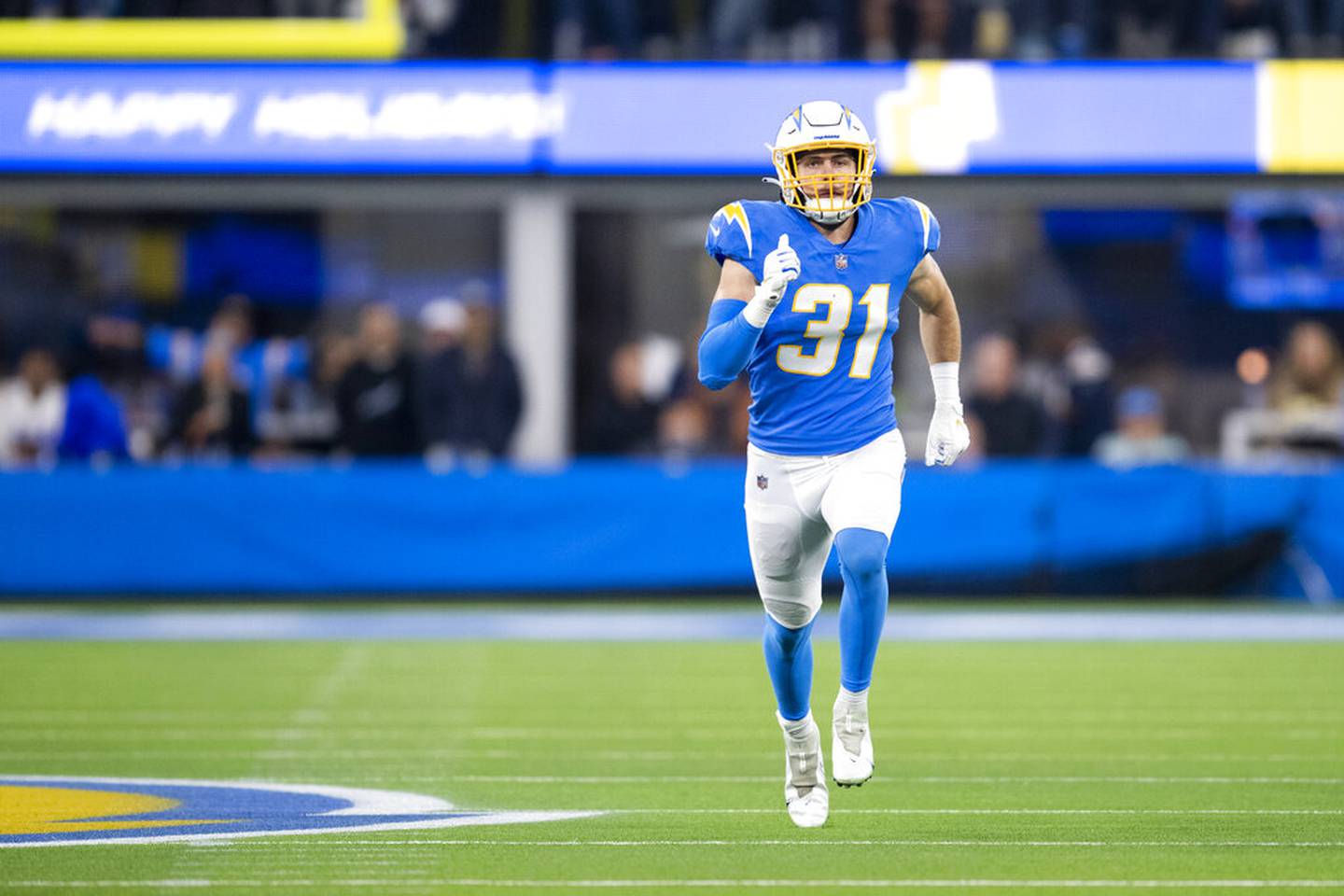 Nick Niemann joined his brother, Ben, in the ranks of Sycamore graduates playing in the NFL when Los Angeles selected him in the sixth round.
And the coach who selected him, Brandon Staley, is married to another Sycamore legend - volleyball Hall of Famer Amy Ward (now Staley).
"You think about getting that phone call and it doesn't seem real because it's been a dream for so long," Niemann said. "It was awesome to see that California number pop up on my phone and speak to the Chargers. It was awesome."
[ It's a small world: Sycamore grad Nick Niemann drafted by Chargers coach who is married to Spartan Hall of Famer ]
The two Niemanns have already played each other twice so far, with Nick Niemann's Chargers splitting the series against Ben Niemann's Chiefs. Ben Niemann had five tackles in the last meeting between the teams on Dec. 17. There's a chance of a third meeting, this time in the playoffs, may shake out as well.
8. DeKalb football beats Sycamore in overtime in return of First National Challenge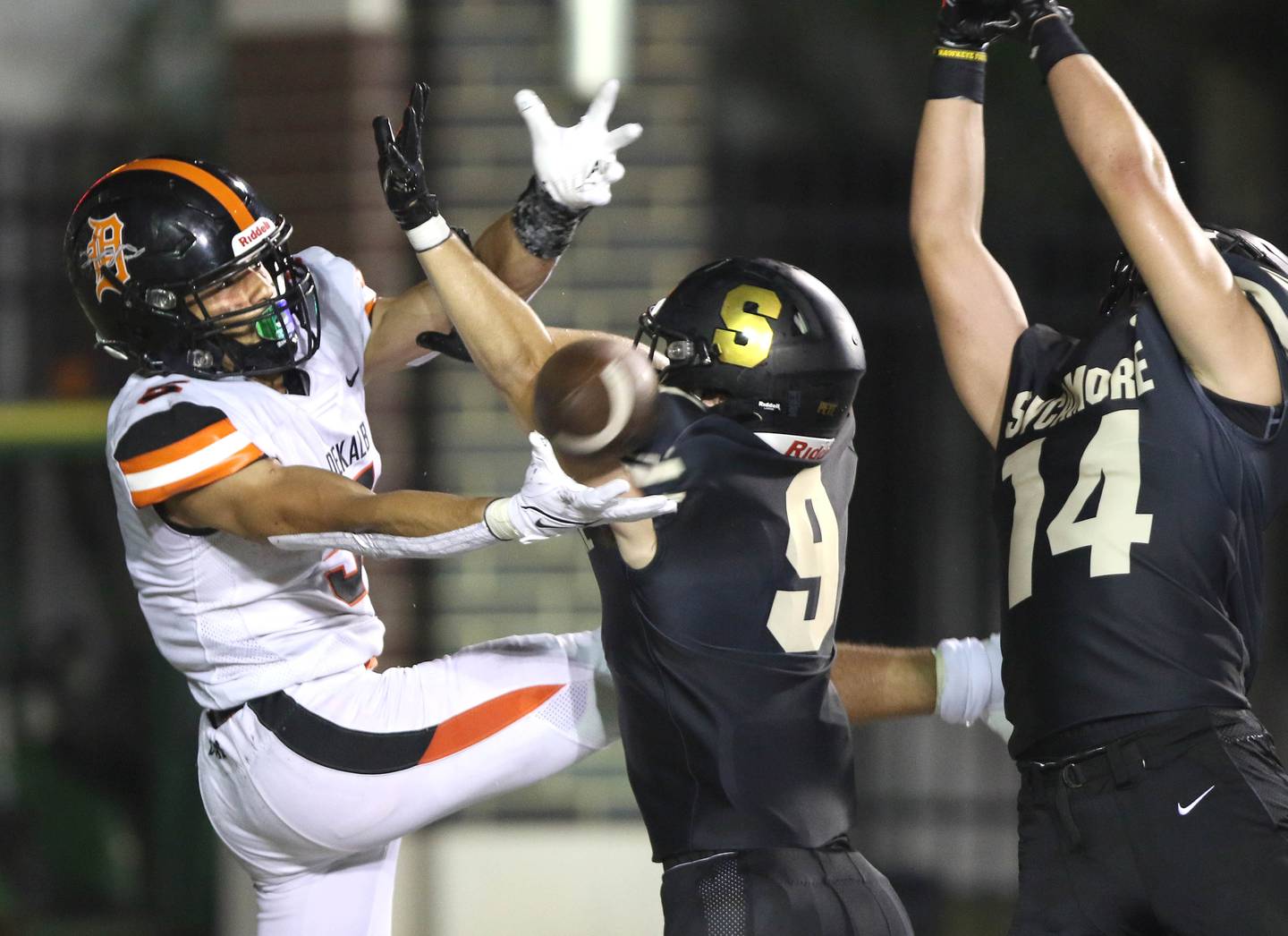 The Barbs trailed the Spartans by six in the fourth quarter but tied the game with 13 seconds left on a touchdown by Toriano Tate. Ethan Tierney missed the extra point and the game between the two rivals at Huskie Stadium went overtime.
Tierney got his redemption, intercepting a pass to secure a 23-16 win.
"I don't even know the words," Tierney said. "It just feels great. I'm just caught up in the moment."
[ https://www.shawlocal.com/friday-night-drive/news/2021/08/28/dekalbs-ethan-tierney-earns-redemption-gets-key-interception-to-seal-barbs-win-over-sycamore/ ]
The win would prove to be a high point for the Barbs, who missed the playoffs for the first time since 2012. The Spartans would rebound and make the Class 5A semifinals.
7. Newport, DeKalb boys make some history with state berth
The DeKalb boys cross country team had not made state as a team since 1977.
The Barbs took care of that drought this year, with a qualification as a team.
"It was always in the back of our mind that was what we were working to," runner Riley Newport said. "It was exciting to see that culminate together. It's pretty awesome to do that for the first time in 44 years. That was probably the biggest goal coming into the season, and it was just awesome to be a part of it."
[ Riley Newport takes third for DeKalb at state cross country ]
Newport, a junior, also made a bit of history for the team. He took third in the state with a school-record 14:15, and he finished higher than any DeKalb runner at state since 1955.
6. Sycamore football reaches Class 5A semifinal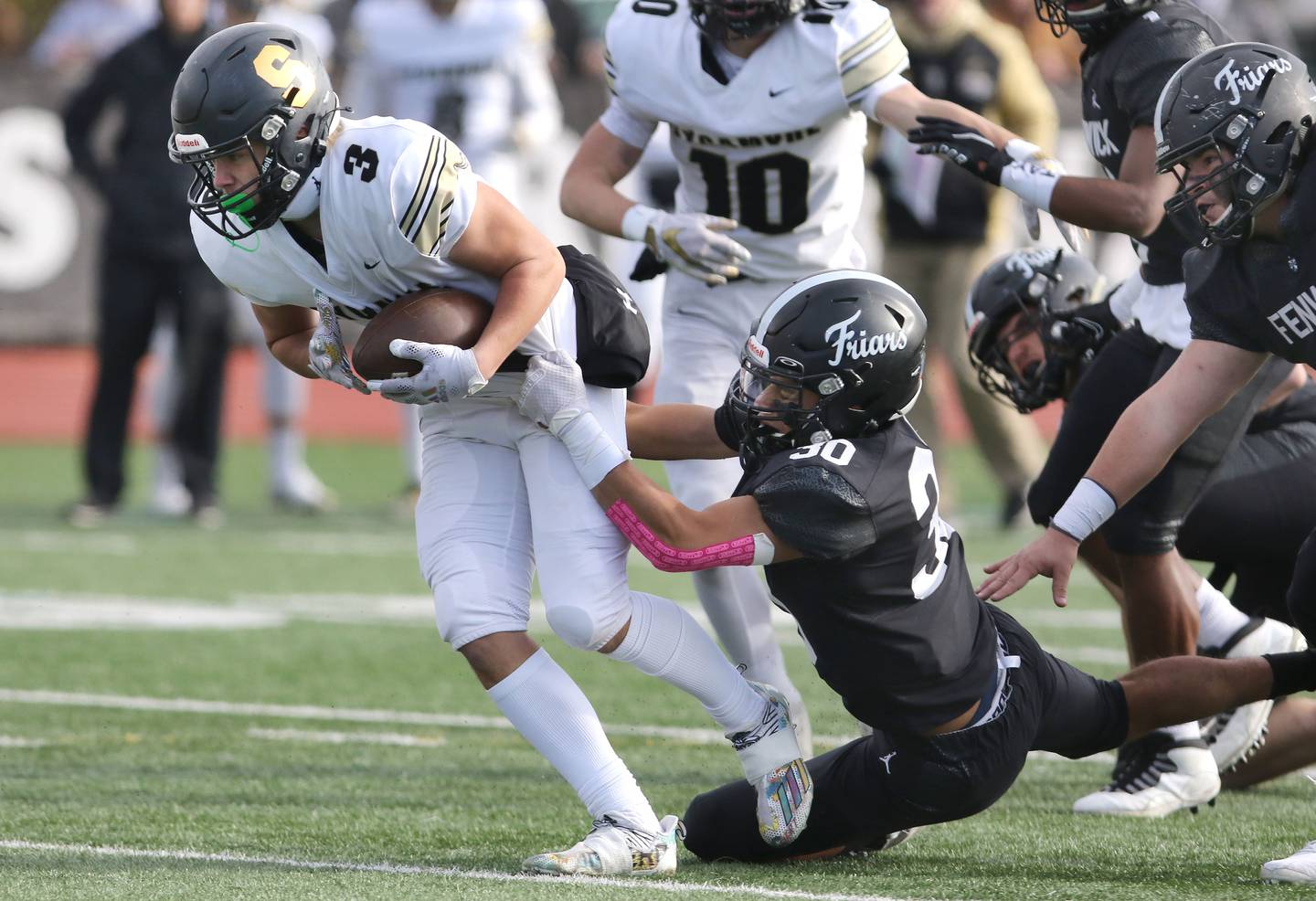 For the third time under Joe Ryan, the Spartans were a win away from a state championship appearance.
And while they fell in the semifinals for the third time, they gave the eventual state champions a run for their money, losing 17-6.
"We got everything out of our kids we could have," Ryan said. "They gave us everything they could. There's no one walking off this field going 'I wish I could have played a little bit better or gave a little bit better effort.' That wasn't the case, great effort. We were a little outmanned up front and our kids kept battling. Probably a little outmanned with their receivers against our DBs and our kids just kept battling."
[ Fenwick topples Sycamore to reach first state championship game ]
Fenwick earned the trip to Huskie Stadium, rolling past Kankakee, 34-15, in potentially the last year of state championship games in DeKalb.
5. Heiman sets Little 10 scoring record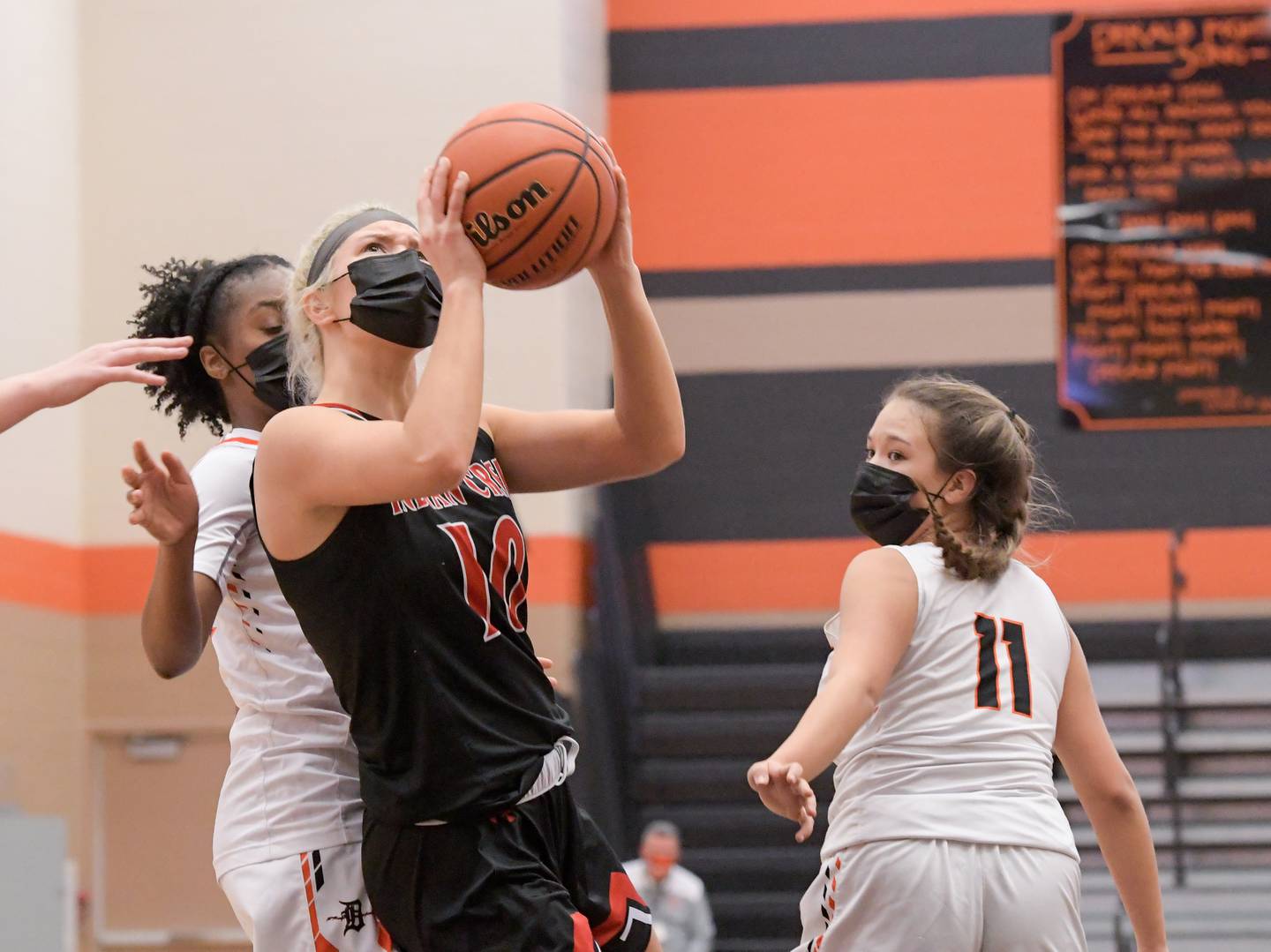 Brooke Heiman just didn't eclipse 2,000 career points. She became the most prolific scorer in Little 10 history.
Heiman finished her career with 2,124 points - breaking the conference record in the final week of a shortened season that, for a while, didn't look like it would happen at all.
"Before the season started, I was very sad because there was the possibility because of [COVID-19] to not play," Heimann said. "Our season was cut in half, but when we heard I was having one I was so grateful to have to opportunity to do it."
[ Brooke Heiman sets school, conference scoring marks en route to winning Chronicle POY ]
Heiman has played 11 games for Waubonsie Community College this season, averaging 16.4 points and 8.4 rebounds per game.
4. Sycamore claims state title in 4x800 relay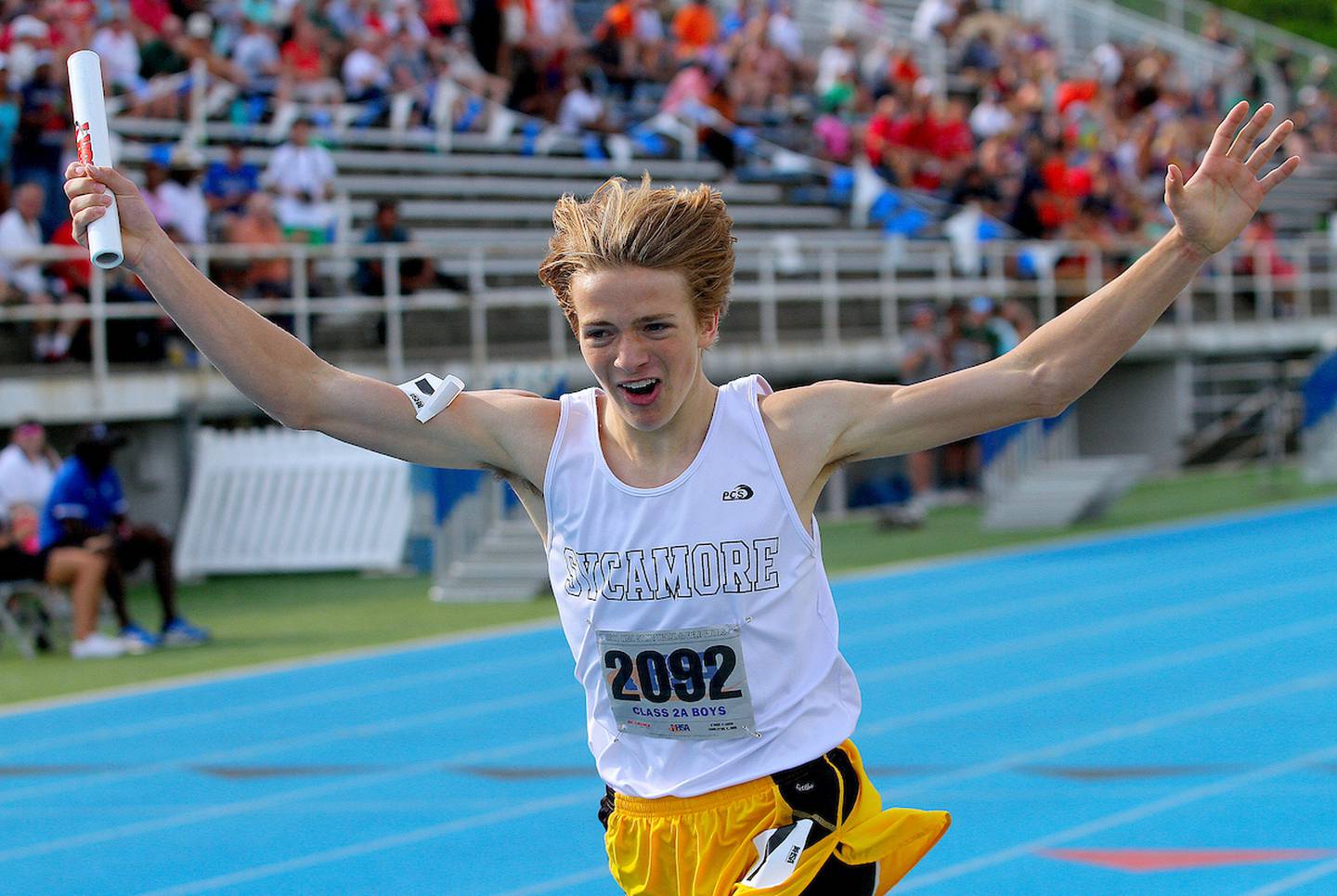 Donny Gramer, Carson Campbell, Nick Kocher and Caden Emmert held off St. Viator in their own heat and bested Mascoutah's time with an 8:07.67 to take the state title.
And with a St. Viator running chasing him down, Emmert was singular in his vision.
"That kid was coming up and passing me, and I got a little nervous," Emmert said. "But in my head I was thinking, 'State champs. State champs.' That helped push me past him, and without him, we definitely wouldn't have reached that time."
[ High school track and field: Sycamore's 4x800 group wins 2A state title ]
3. Sycamore boys basketball breaks through against DeKalb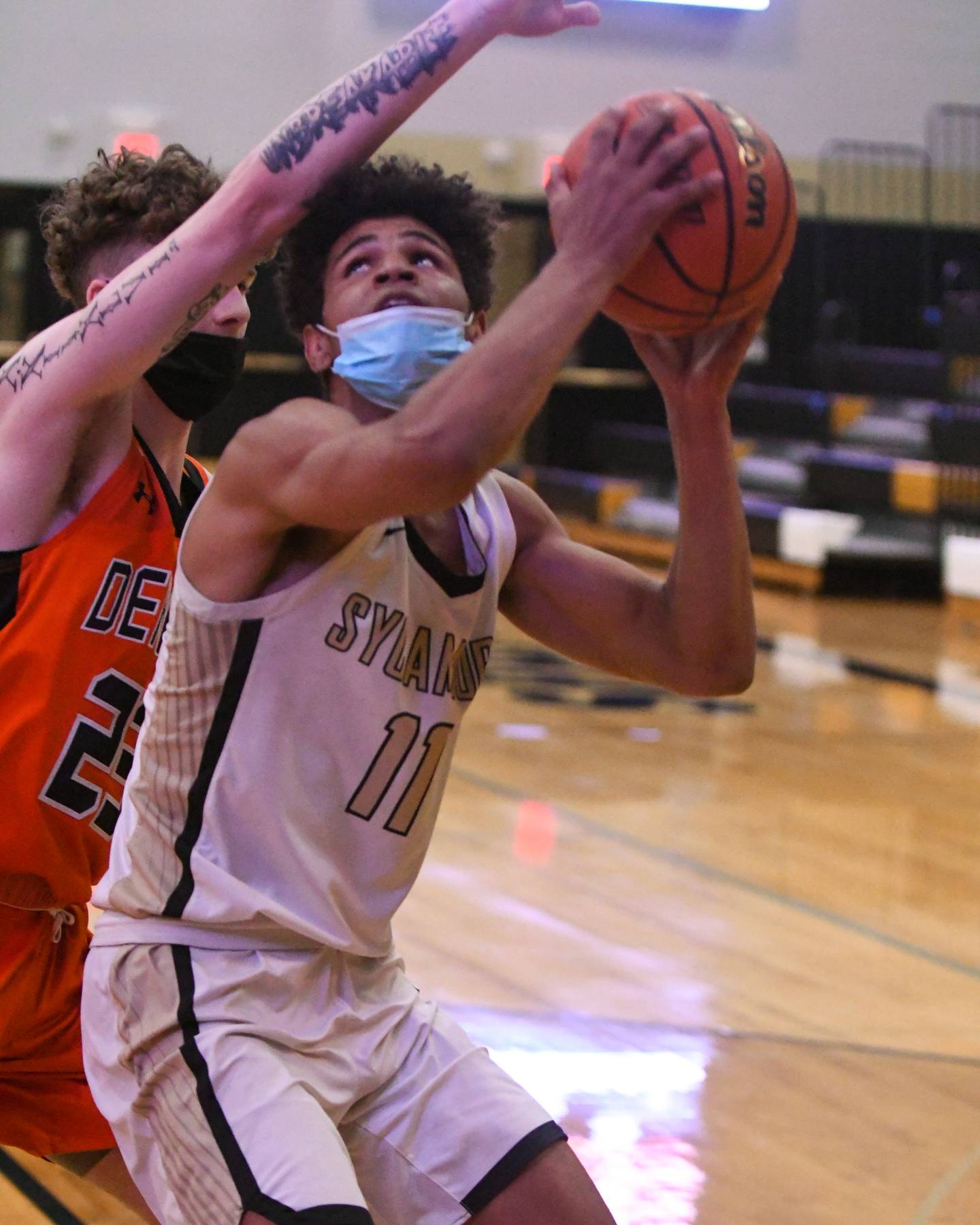 When the two rivals met in the season finale of the truncated 2021 season, it was not at the NIU Convocation Center, but rather in Sycamore. And the Barbs were coming in red hot, having started the year 18-0 and looking to finish their perfect campaign while running their win streak over the Spartans to 11.
Xavier Gagnepain and the Spartans had different ideas, coming back from 30-13 down for a 57-49 win.
"To come in here and ruin their season - they're coming in here looking to kill us, and we just didn't have that plan," said Gagnepain, who finished with 26 points and nine rebounds. "We looked to play hard, work hard, work together as a team. It was our last game, and we were looking to have fun. Hitting shots, making shots is fun. It's what we came out here and did."
[ Xavier Gagnepain, Sycamore boys spoil DeKalb's perfect season with win in rivalry showdown ]
Gagnepain was a junior and had high expectations for both football land basketball for the 2021-22 school year. But an injury during a football practice has kept him sidelined from both sports.
2. 2021 turns into the year of the coaching change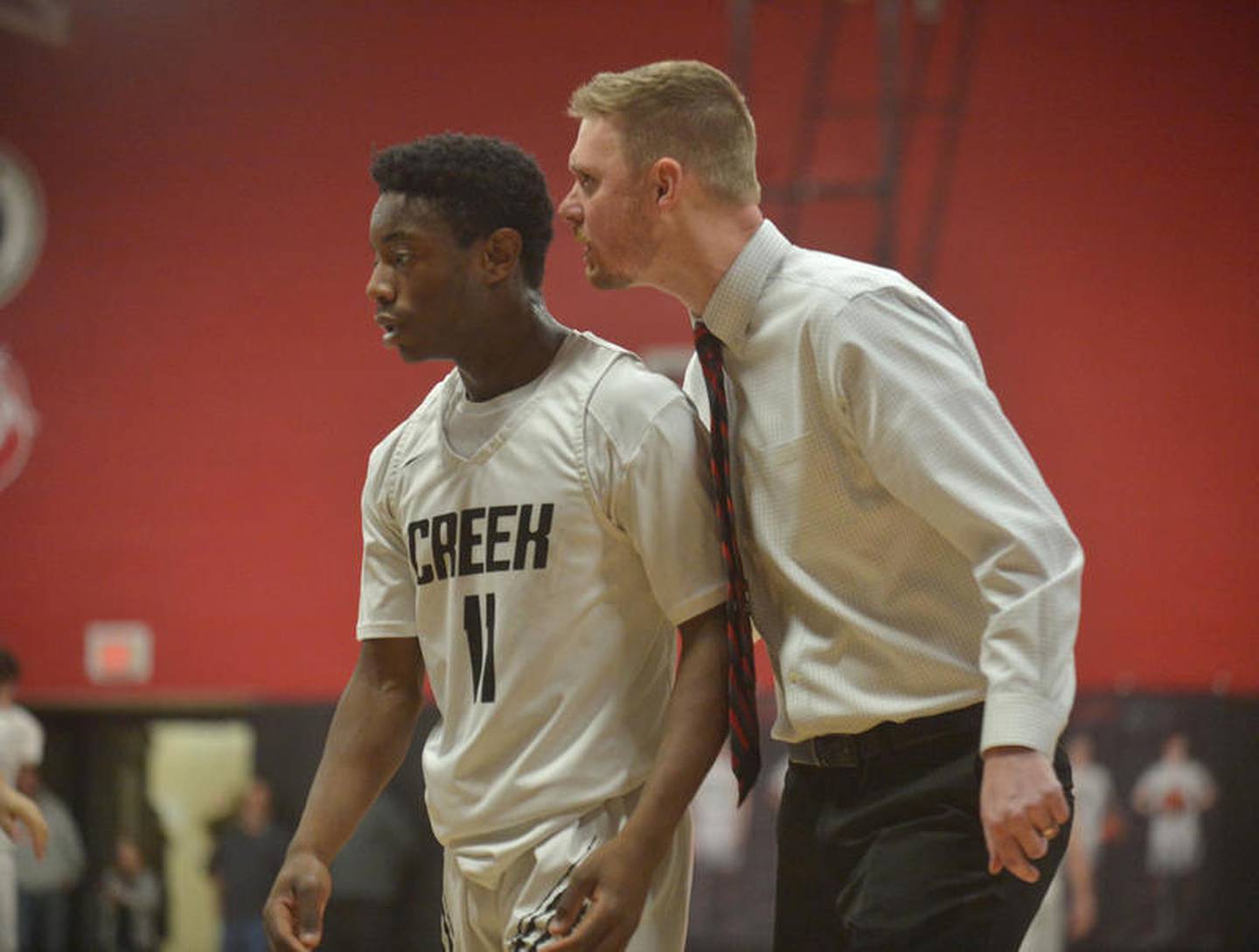 It was only three days into the year when the first shot was fired on the coaching-change front, with NIU men's basketball coach Mark Montgomery fired by the school after 10 years. The Huskies started the year 1-7. Rashon Burno was hired by the school as the new full-time coach in March.
While that one was performance-based, the first half of the year was littered with turnover at the prep level in the county at some of the most high-profile positions. Three football coaches, all of them off playoff appearances in 2019, announced resignations after the spring 2021 season.
DeKalb's Keith Snyder, Genoa-Kingston's Chad Wilmarth and Hiawatha's Jason Keneway all announced they were stepping away, all citing family reasons. Derek Schneeman replaced Snyder at DeKalb, Cam Davekos took over at G-K and Nick Doolittle was named the coach at Hiawatha.
Davekos was the only one of the three to finish with a winning record in the fall 2021 season, though Doolittle and the Hawks made the eight-man playoffs.
And it wasn't just football. After 15 years at Indian Creek, Joe Piekarz left the Timberwolves for Marmion - fittingly also a stop in Burno's coaching career as well.
1. NIU football goes from winless to conference champ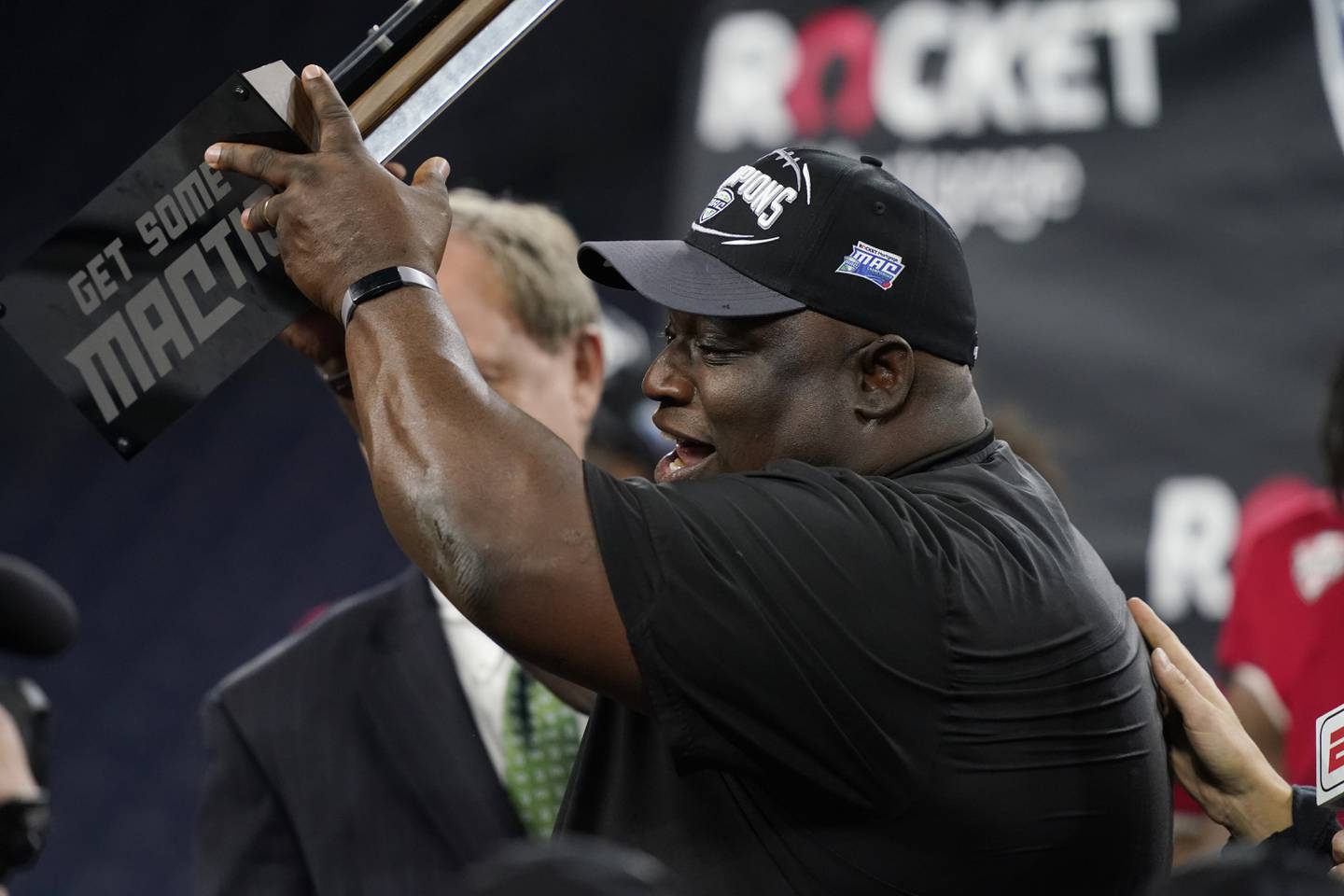 For the first time in college football history, a team went from winless one season to winners of a conference football championship game the next season.
NIU was 0-6 in the shortened 2020 campaign. But they finished this year 9-5, including a win over Kent State in the MAC championship game.
"That belief turned into a championship," third-year coach Thomas Hammock said after the Huskies beat Kent State, 41-23. "When everybody said we would finish last I told our team we are the best team in the MAC until proven otherwise. And obviously, they never proved otherwise."
[ Carifio: Unwavering belief leads NIU from winless season to MAC title ]
The Huskies would go on to lose the Care Bowl to Coastal Carolina, 47-41, amid a controversial ending to the game. The conference of the game's officials admitted to mistakes that cost NIU a final play from the 2-yard line to win the game.