DeKALB – Fair weather and clear skies with temperatures in the high 20s and low 30s didn't deter dozens from taking to Hopkins Park in DeKalb to enjoy a bit of winter fun at the DeKalb Park District's annual Polar Palooza Saturday.
In its seventh year, the winter festival continues to foster opportunities for winter fun for area families and children.
Sycamore resident Stephanie Hunter helped one of her sons to lace up his ice skates near the ice rink at Polar Palooza. This made for her and her sons' first time attending the winter festival.
"I saw it on Facebook from a local friend, and it was like the perfect day for it," Hunter said. "How exciting for the kids to be able to ice skate. This is their first time ever doing it. They're very excited."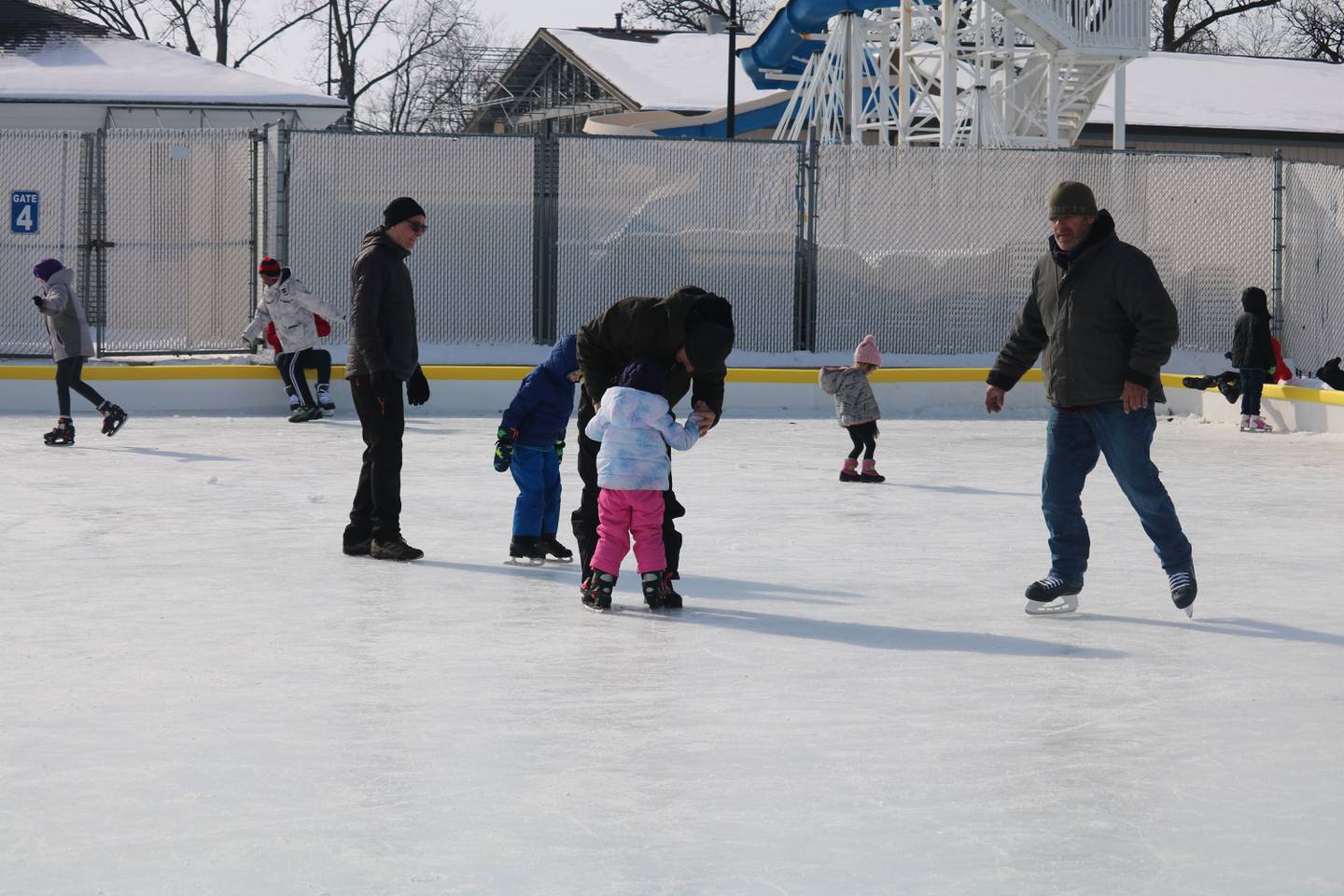 Festivities included, among other things, ice skating, roasting s'mores, hayrides, bubble mania, sled dog demonstrations, a snowman scavenger hunt, snow painting and meet-and-greets with Spirit Siberian rescue pups.
Katie Drum, marketing coordinator for DeKalb Park District, said Polar Palooza complements the park district and its mission on many levels.
"Our goal is to get individuals and families outdoors during the wintertime," Drum said. "This is usually that time of year people start to get really bad cabin fever. It's about a month since the holidays. Basically, it's just a fun way to get out of the house and have some free fun that also celebrates the season of winter. We've got tons of outdoor activities for the whole family and some indoor activities too. So, if you get a little chilly, you can go inside and warm up."
Indoors at the Hopkins Community Center, hot chocolate, arts and crafts, a book walk and toss games were offered.
Mokena resident Rock Cox stood outdoors scoping out the winter festival with his Siberian Husky on a leash as his children enjoyed cotton candy and hot chocolate. Cox said they like getting outdoors in cold wintry weather.
"We were worried because it's heating up today," Cox said. "We were worried the snow's going to be gone. There's plenty of snow out here, which is good. We still want to do some sledding and ice skating yet."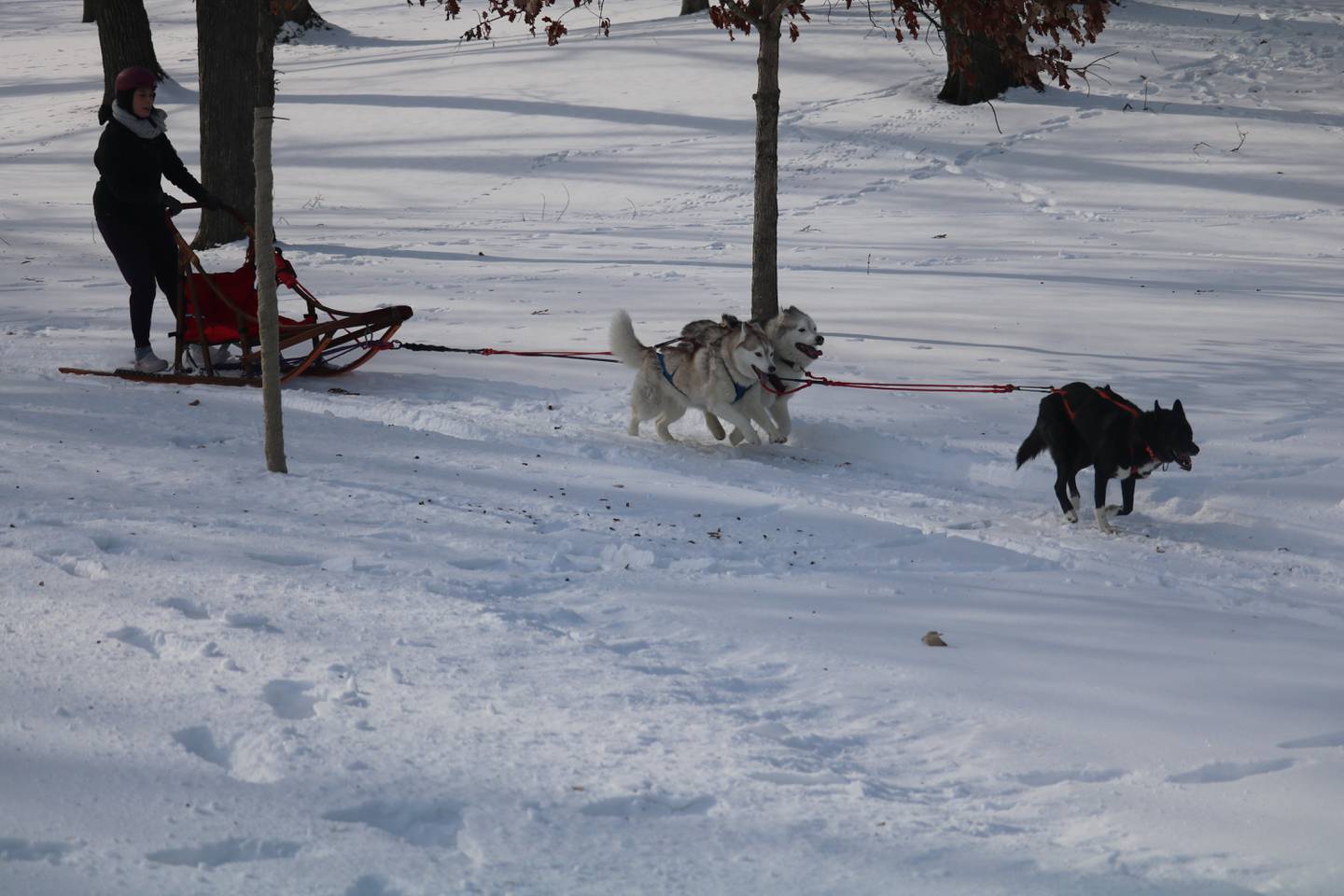 Drum said the park district was pleased to open the ice rink at Hopkins Park just in time for Polar Palooza. Earlier in the week, temperatures dipped below zero at night and stayed colder throughout the day leading to Saturday.
"A few days ago, the winter ice freezing conditions were right for us to prepare everything," Drum said. "I would say it's one of our most popular activities at the festival because we do offer a limited supply of ice skate rentals for free. Ice skates aren't something everybody owns anymore. So, it's an opportunity to go for free, but you don't have to make that investment purchasing any ice skates."
DeKalb resident Megan Gerken was headed for the swing sets with her 8-year-old daughter, Amelia Gerken. Megan Gerken said she felt Polar Palooza had a respectable turnout this year.
Amelia Gerken said she enjoyed ice skating and meeting the Spirit Siberian rescue pups at Polar Palooza most of all.
"This is really good," Megan Gerken said. "I think the weather played a big factor. It's not as cold as it has been."