SYCAMORE – K-9 Dooley, a 1-year-old German Shorthaired Pointer, recently was welcomed as the newest member of the Sycamore Police Department and Sycamore Community School District 427.
On Sept. 26, Dooley joined School Resource Officer Kaitlyn Pederson at Sycamore Middle School as a part of Sycamore Police Department's new therapy dog program. The initiative aims to provide mental health and behavioral support to those within Sycamore schools and the community, according to a news release from District 427.
Dooley started his work with Pederson at Sycamore Middle School. Pederson said things have "gone really great" so far.
"The kids love Dooley. The staff members love Dooley," Pederson said. "He's had a ton of interactions with staff and students within the building, and he's already been used in multiple aspects as a therapy dog, so it's pretty awesome."
To be able to serve as a K-9 for the Sycamore Police Department, Dooley completed an extensive 12-week therapy canine program at Paws and Stripes College in Brevard County, Florida. Pederson also undertook a week-long handler program with Paws and Stripes before she brought Dooley to his new home in DeKalb.
Dooley, who lives with Pederson, was matched to Pederson when she applied to the therapy canine program with Paws and Stripes College based on the role he was going to be fulfilling.
"He's with me 24/7," Pederson said. "He's with me at school everyday, and then if we're not in school, we're off duty, or we're at the police department doing other things within the community."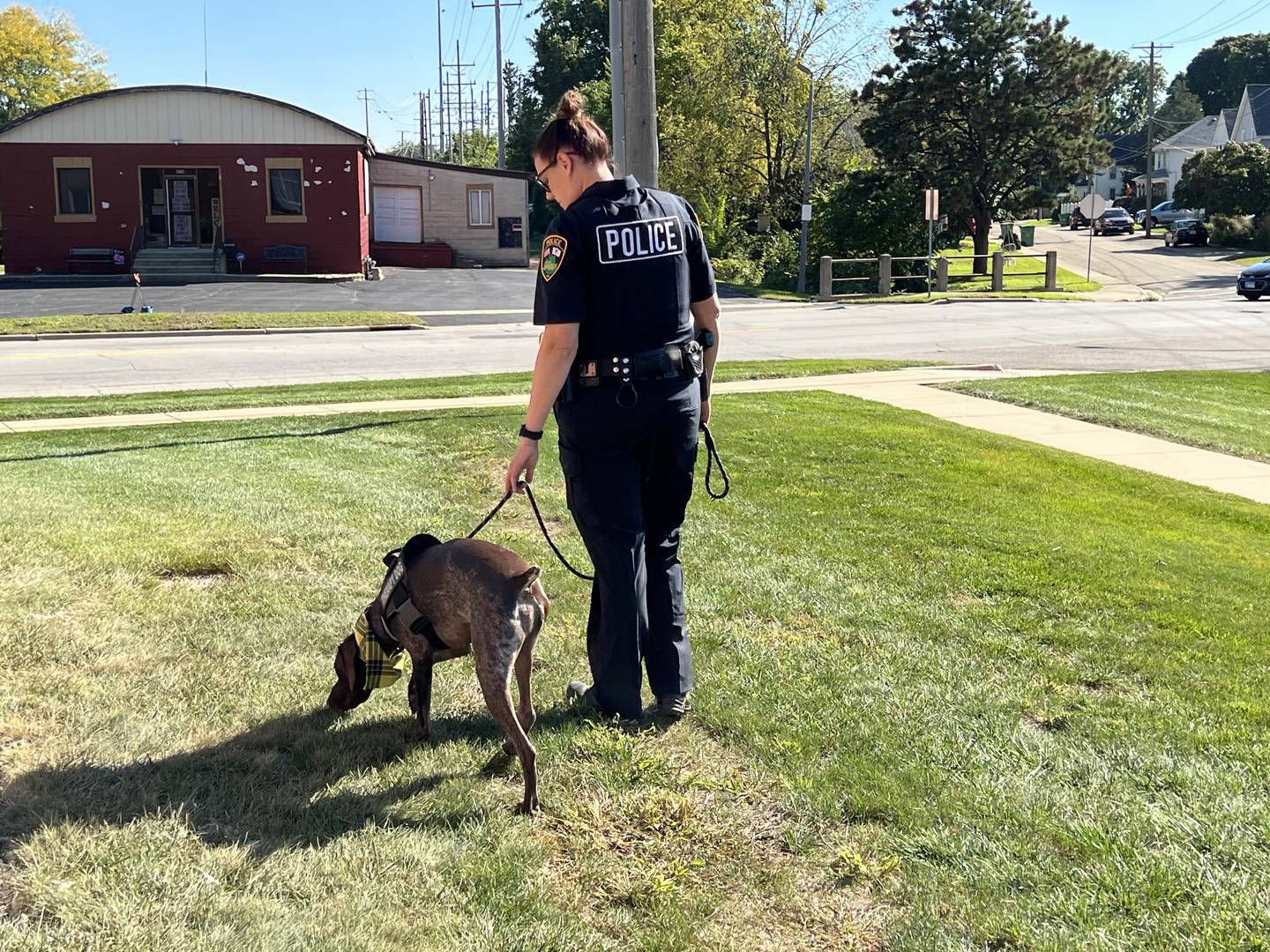 Pederson spearheaded efforts for the therapy dog program by putting in, what she said was, "extensive research" and submitting a proposal to the city of Sycamore and Sycamore's police department. As a result of her efforts, onboarding Dooley and all of the associated training was done at no cost to the city or the Sycamore Police Department.
"It feels amazing to see it all come to light and all the hard work beforehand," Pederson said. "Now it's really a rewarding opportunity and I think an opportunity of a lifetime in this career, for sure."
Sycamore District 427 Superintendent Steve Wilder said he was approached by the Sycamore Police Department about the idea of implementing a therapy dog program with a school resource officer. Wilder said he told police officials he loved the idea.
"I've never worked in a school that's got a comfort – I think the official name is a comfort dog – but I've known other school districts that have a therapy dog and that they'd had a lot of success with it," Wilder said. "So when they came up with the idea, I was all for it."
Wilder said he's heard a lot of positive feedback among district students and staff since Dooley was introduced to Sycamore Middle School and said he thinks the program is a hit so far.
"It created a bit of a buzz, from what I understand," Wilder said. "That kind of interest, that kind of energy, so to speak, is exactly what we were hoping would happen."