DeKALB – Around 100 people gathered to dedicate the new DeKalb Elks Veteran's Memorial Plaza Saturday in a ceremony that emphasized what organizers said was the city of DeKalb's reputation as a veteran-friendly community.
The event brought out several current and former area government officials and veterans, marking together the completion of the first phase of development for the new memorial.
U.S. Air Force veteran Michael Embrey, of DeKalb, is a member of DeKalb Elks Lodge 756 and co-chair of the Elk's Veteran's Memorial project. He said he was inspired to create the memorial after was invited to perform "Taps" at an American cemetery in Normandy, France in 2016.
"When I was there I looked around and I saw their memorial and I said to myself 'Oh my god, there's a memorial in France for our veterans,'" Embrey said in his remarks during the half-hour ceremony.
Embrey said he then challenged former DeKalb city leaders to do more for area veterans. That encouragement eventually manifested itself into the 70 veteran banners hung in downtown DeKalb, the creation of veterans-only parking spaces downtown, and now the DeKalb Elks Veteran's Memorial Plaza at 209 S. Annie Glidden Road.
He said his efforts were done "to make DeKalb the most veteran friendly city in northern Illinois."
"And I think we've not only met but exceeded that goal," Embrey said.
Former DeKalb County State's Attorney Michael Coghlan was among those in attendance, and praised Embrey's attitude.
"I'm here because these are the people that guarantee our freedoms, freedom of speech, freedom of the press," Coghlan said. "I think Micheal Embrey said it very well, that it's not the lawyer that guarantees the fair trial, it's the veteran."
State Rep. Jeff Keicher, R-Sycamore, said he thinks the greater DeKalb area embraces veterans warmly.
"I chalk it up to the sense of community and the same reason we have so many amazing volunteer and community groups," Kiecher said. "We just have a unique foot print in the state of Illinois where people want to stand up and contribute."
After the ceremony, Tasha Sims, who works in DeKalb County government, said she's proud to live in a community that honors those who've served and credited community organizations, such as the Elks club, for that status.
"I don't think we can ever thank the veterans enough for everything that they do," Sims said. "And to have a memorial like this in our county but also the entrance to the city of DeKalb is, it's very meaningful," Sims said.
The new memorial is adjacent to DeKalb Elks Lodge No. 756, and can be clearly seen when driving north on South Annie Glidden Road, an intended spot, said Embrey.
"That was the reason we picked it," Embrey said. "Because we want this to be that visual destination when you're coming off of [Interstate] 88 on Annie Glidden. It is the primary entrance when you're coming into town."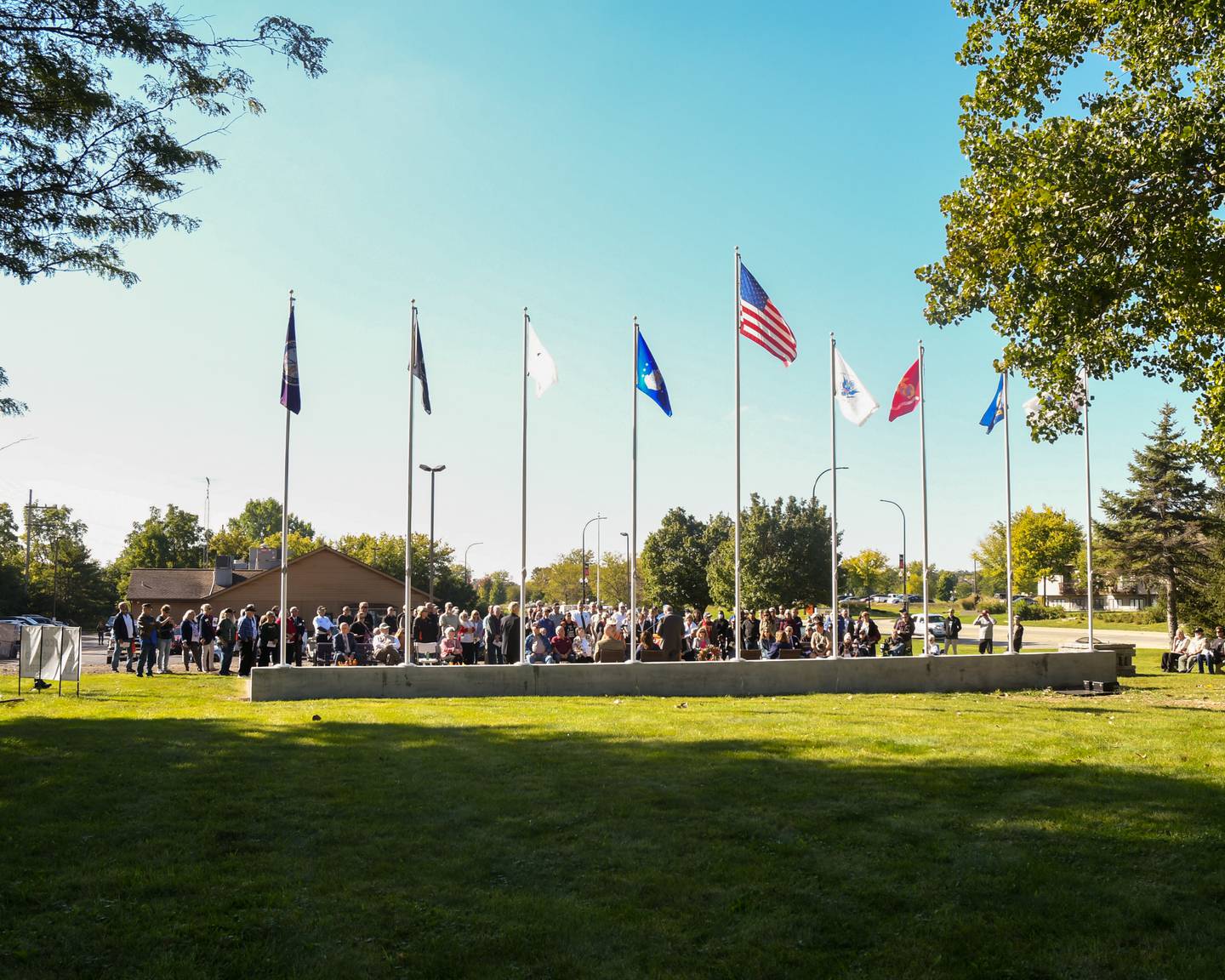 DeKalb mayor Barnes said he supports the memorial's central viewing location for those who visit DeKalb.
"Thousands upon thousands, hundreds of thousands when you think about how long this memorial is going to be up, are going to drive by this. In their cars they're going to see it, some are going to pull over, they're going to sit on the benches that we're sitting in right now," Barnes said. "They're going to read a little bit more about it, they're going to go on the internet to find out more about it, but ultimately it's going to touch some people's lives because of where it's at, but also because of how wonderful and beautiful this is."
Nine flags are hoisted atop poles on the memorial, each for a different branch of the U.S. military, those who were prisoners of war or missing in action, the Elks veteran flag and the American flag. Organizers said they believe it's the first regional memorial to also include a flag for the newest branch of the military, the U.S. Space Force.
Additional phases are planned for the memorial, including five more benches and plans for patriotic-style lighting.
"It will be spectacular," Embrey said. "We had one light prototype, and we were impressed with one. There will be seven lights, it'll be ground to sky lights and it'll be red, white and blue. So it'll be really, extremely patriotic."