DeKALB - It's been 80 years since the Dec. 7, 1941 attack on the U.S. military naval base at Pearl Harbor in Honolulu, Hawaii, and 104-year-old veteran Don Mosher of DeKalb remembers how it shaped a generation.
Mosher, a resident at Oak Crest-DeKalb Area Retirement Center, reflected on the events that took place nearly a century ago, when he was 24.
"It was really quite a shock, because we all knew we would be going," Mosher, an Army veteran, said. "It was only a matter of time."
One day after the attack on Pearl Harbor, the once neutral United States entered World Ward II.
It was about 8 a.m. Sunday, Dec. 7, 1941. Hundreds of Japanese fighter bomber planes from the Imperial Navy Japanese Air Service descended on a U.S. naval base near Honolulu, Hawaii, leaving more than 2,400 Americans dead in the attack and wounding another thousand.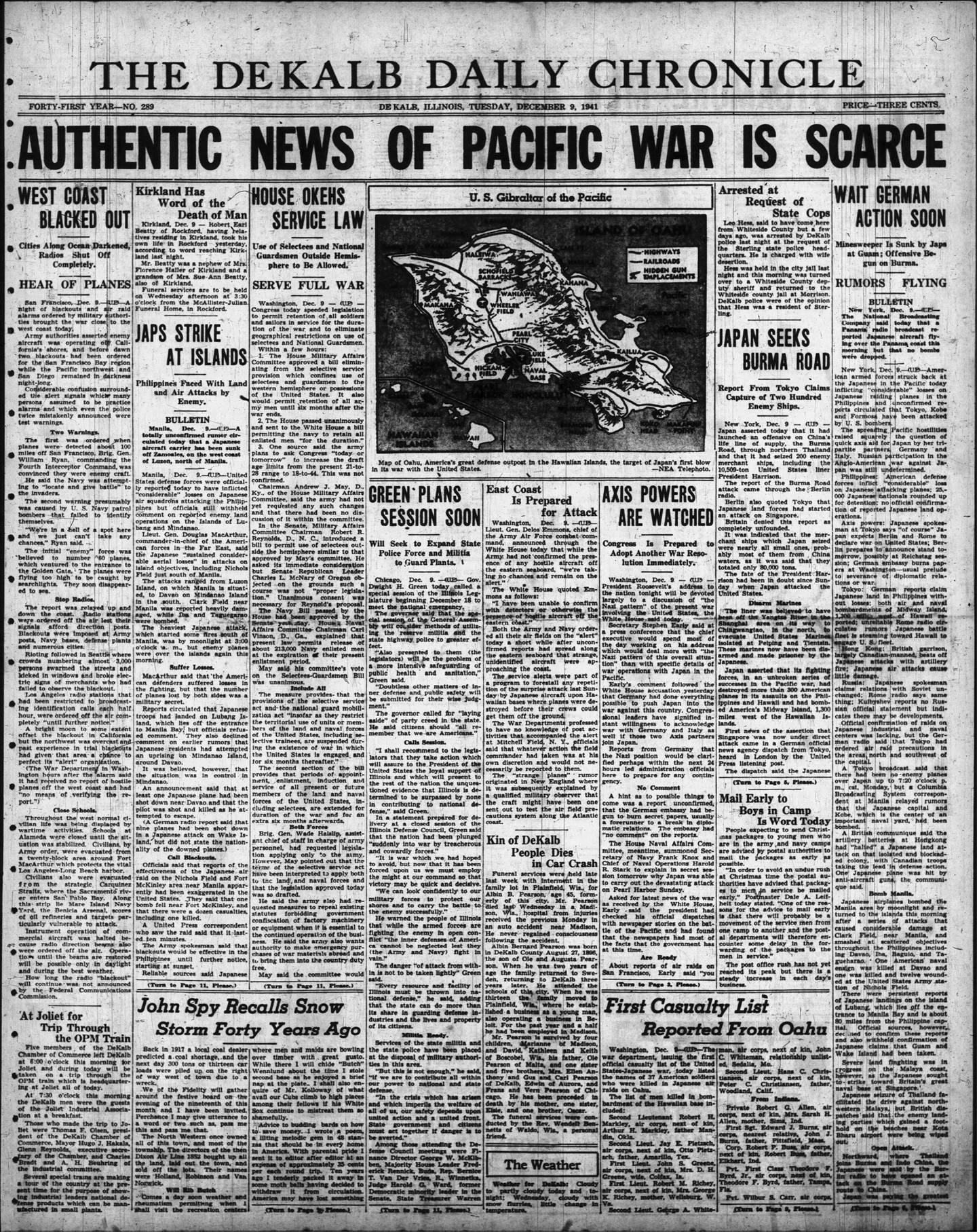 Today, Pearl Harbor is something many learn about during a history course throughout school. For Mosher and Dorothy Stoddard, also an Oak Crestn resident, the memories of shock and what came after still resonate decades later.
Stoddard, 97, said she remembers doing dishes right after lunch time that Sunday when she heard the announcement come over the radio. There'd be an attack in Hawaii.
"I would say the shock was very similar to the shock from the 9/11 attack," Stoddard said. "Both were so unexpected, and for the younger ones that can't get the feeling that went on at Pearl Harbor, they can relate to 9/11."
In the moments after, Stoddard said, President Franklin D. Roosevelt led the nation to enter its second world war.
"You just looked at the radio like you couldn't believe it," Stoddard said. "We finished doing the dishes and sat and listened to it over and over again, and the next day Roosevelt declared war."
Not unlike her 9/11 analogy, Stoddard said people tuned in to the radio awaiting updates.
"Everyone was glued to the radio to hear whatever they could, wondering what was going to happen next," she said.
At the time of the attack, Stoddard was not old enough at 17 to join any branch of military and, as a woman, could not enlist in a combat role. In May 1942, the Women's Army Auxiliary Corps was created. It later became known as the Women's Army Corps.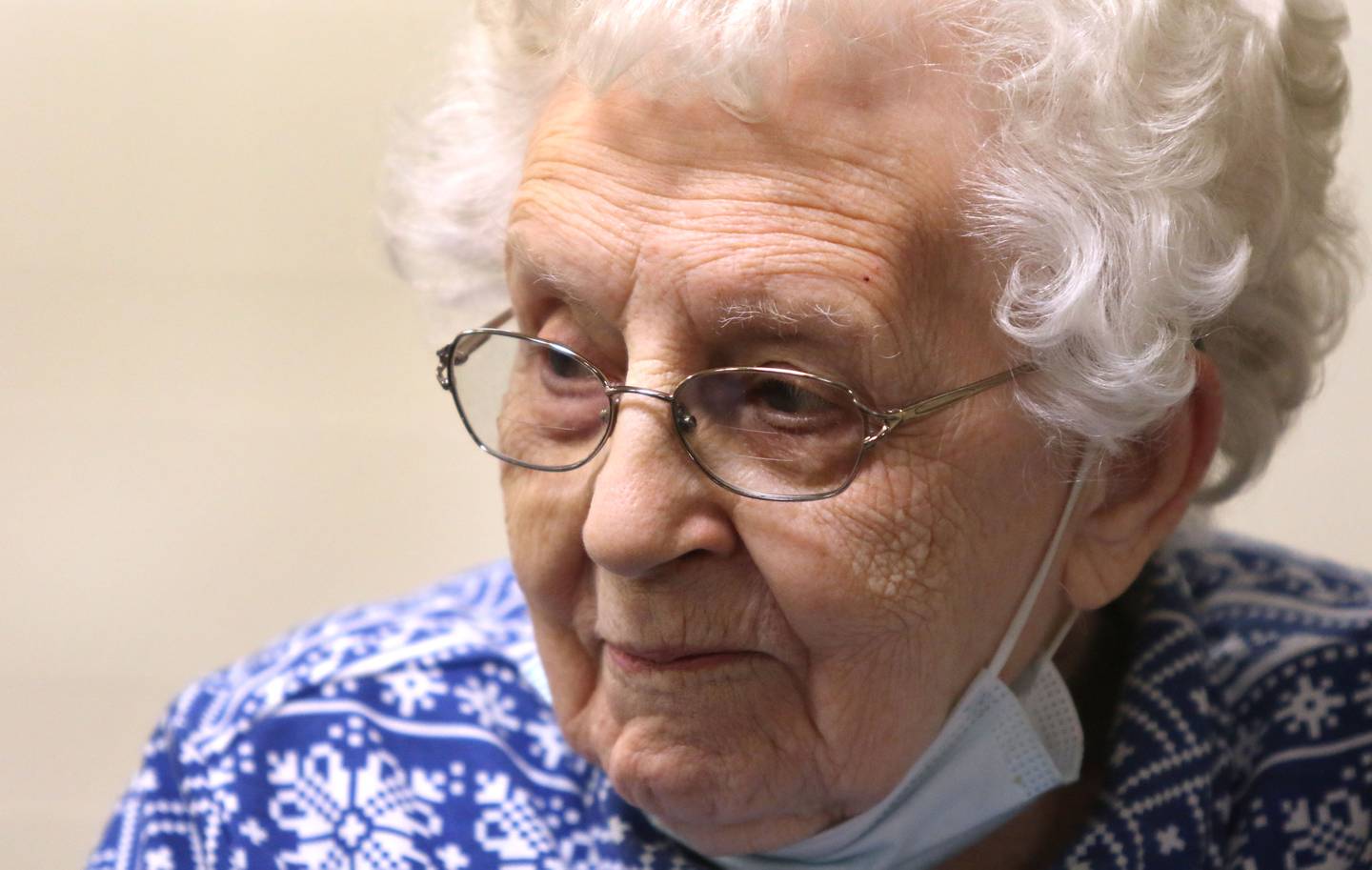 Once eligible, Stoddard got her parents' permission during her senior year of high school and enlisted in the Women's Army Corps. She served just under two years of active duty.
"When the war was over, everyone wanted out," Stoddad said.
Just like Stoddard, Mosher remembers hearing the news come through on the radio about the attack.
Just a few days after starting his last semester at the University of Illinois, Mosher and his fraternity got information from Harvard University that they needed some students to fill a Reserve Officers' Training Corps advanced class.
Sixteen months later, he received his commission.
Mosher served four years of active duty, including two overseas, with the Army of Occupation branch. One year was spent in Europe handling food for the troops, the other was spent in Japan handling the clothing. His final two years were spent inside of the United States doing miscellaneous work for the Army.
Once his active duty was over, Mosher spent a majority of his time around the DeKalb area, working for 30 years with DeKalb Agricultural Association.
Stoddard went on to work for St. Mary's Hospital in DeKalb, then transitioned to a doctors office, where she worked in a laboratory.
The National WWII Museum in New Orleans has opened a new exhibit commemorating the 80th anniversary of the Pearl Harbor attacks, giving people a clear understanding of what some of people experienced. To learn about it, visit nationalww2museum.org/.