DeKALB - Retiring DeKalb Fire Chief Jeff McMaster said the past few days have been humbling as he accepts farewells ahead of his last day Friday following a 26-year career.
"You just come into work and try to do the best you can for the community and for the firefighters out there working," McMaster said. "You're always going to work with a mission. And to have people acknowledge you is just humbling because I don't think any of us go into this for the praise."
McMaster was honored by city officials recently ahead of his Nov. 26 retirement. He was presented with a plaque and a retirement ax during the ceremony at the DeKalb Fire Station on Pine Street. On Monday, he received a final farewell from the DeKalb City Council.
During his decades-long DeKalb career, McMaster has served in every rank in the DeKalb Fire Department. If he could speak to his younger self just starting out, the 52-year-old chief offered some words of wisdom: "Slow down. Try to savor every part of your career."
"There aren't enough words to say how grateful we are for your dedication," said City Manager Bill Nicklas to McMaster. "This is a person who always showed up as chief [...] and rolled for every major fire call, often on the scene providing incident command until others could arrive. 26 years is a long time, and I just hope your retirement years are half as rewarding as your years of service."
McMaster will earn a pension upon his retirement after 26 years, having earned a base salary of $141,244 as chief, according to city documents.
McMaster has been with the department since 1995 after working full-time as a firefighter for the Blue Island department outside of Chicago. He started with the department as a probationary firefighter and paramedic on November 27, 1995. He worked as lieutenant and paramedic from 2004 to 2009, captain from until 2012, battalion chief until 2013, assistant fire chief of training until 2017, deputy fire chief from until 2018, and interim fire chief from Nov. 30, 2018 to Feb. 1, 2019 before his appointment as fire chief on Feb. 1, 2019, succeeding former chief Eric Hicks.
Of all the ranks he held, captain was McMaster's favorite because of the learning experience from boots on the ground to leadership.
Throughout his lengthy career, McMaster responded to hundreds of fires and emergency calls.
He was one of dozens of first responders to the scene of a Feb. 14, 2008 mass shooting on Northern Illinois University campus, where Steven Kazmierczak opened fire on a crowd of students in Cole Hall around 3:05 p.m. before fatally shooting himself. Daniel Parmenter, 20, Ryanne Mace, 19, Julianna Gehant, 32, and Gayle Dubowski, 20, were killed in the shooting, which injured 19 others.
"You see things as a firefighter that nobody sees," McMaster said. "A lot of times you see things that people shouldn't or don't want to see."
McMaster called the COVID-19 pandemic career-defining for him, and spoke of challenges he faced leading a team of emergency responders amid viral surges. He said he could rattle off 100 car accidents, but there's one particular incident that comes to mind: An industrial fire at Right Pointe Co., 234 Harvestore Drive in DeKalb, about a decade ago.
"I was the lead hazardous materials technician and I remember having 100 people looking at me saying 'What do we do next?' McMaster said. "I really felt the pressure, and I had to follow up on behalf of the city with the Illinois EPA for three months after that fire. I really learned a lot about government."
DeKalb Mayor Cohen Barnes and members of the council heralded McMaster's career Monday. Barnes spoke about the ceremony held Friday at the fire station.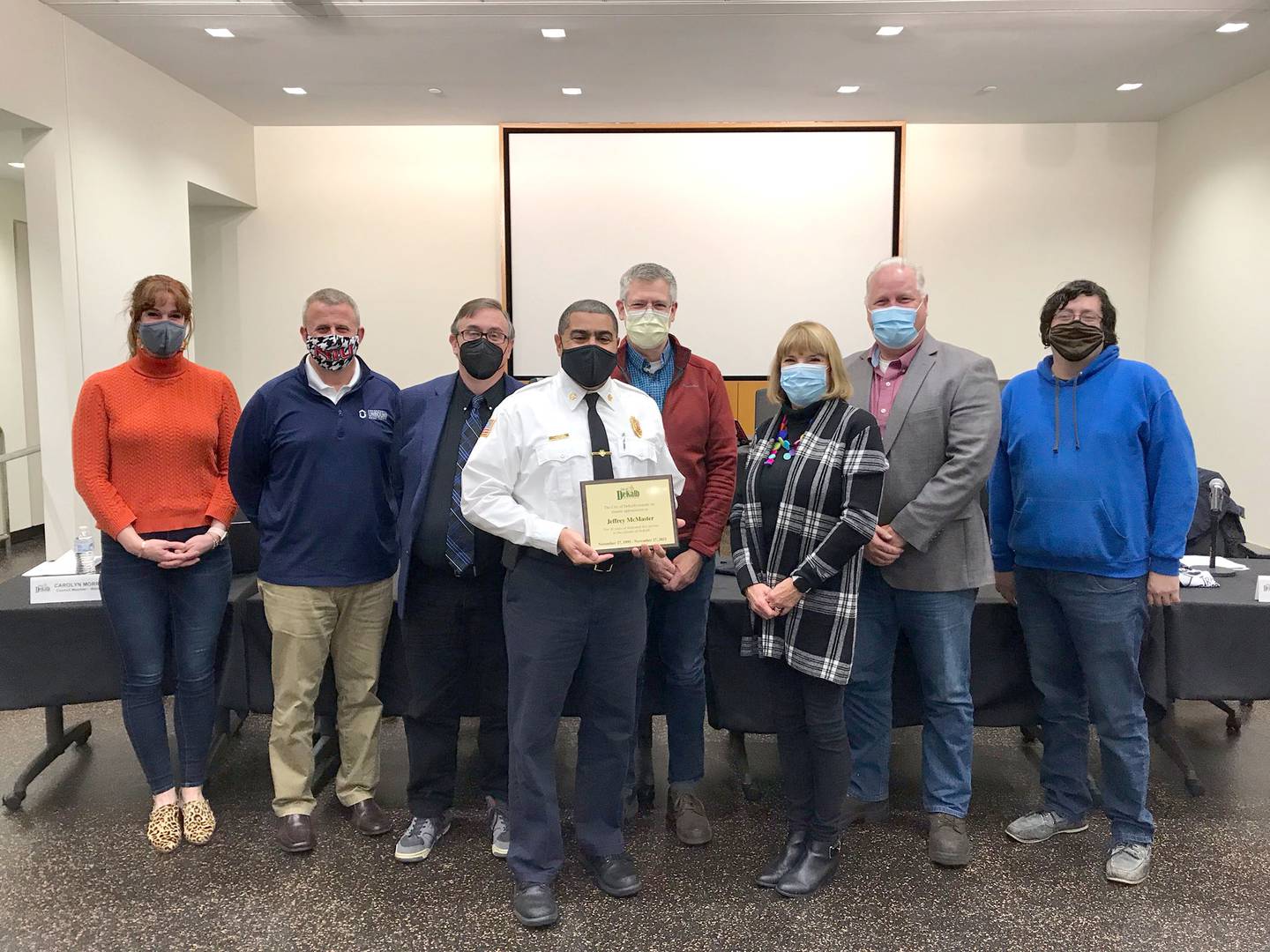 "Just to be in the inner sanctum and to see how the brotherhood really comes out and shows their support, I thought it was a great ceremony," Barnes said. "Chief, thanks for all the years of service."
The fire chief transition is ongoing, so Deputy Chief of Operations Mike Thomas will be appointed to serve as interim chief upon McMaster's exit, said Nicklas.
"We extended the search," Nicklas said. "We had hoped to be making the decision around the time that Jeff completed his tenure, but we haven't so it's ongoing." He said the search includes internal and external candidates.
As for McMaster, retirement won't end his service.
"I'm going to stay in DeKalb," he said. "I'm a DeKalb-ian to the heart. I'm going to remain active in the community. Right now I'm on CASA DeKalb County's board. They are great. I really enjoyed being able to serve the residents and people in our area. It's just been a true privilege and I've always looked at it that way."