SYCAMORE – Local officials recently held a ribbon cutting to honor the completion of a new segment of The Great Western Trail, which connects to downtown Sycamore.
The ceremony was to recognize the 0.8-mile extension that connects the trail's western terminus at Sycamore Forest Preserve to Page Street and downtown Sycamore. A second phase is planned for an additional segment of the trail, which will connect to Old Mill Park in Sycamore.
"I'm glad that the second leg of the extension will connect to Old Mill Park, as well as the idea that there will be a story walk that will change monthly," said Craig Roman, DeKalb County Board member for District 6.
The ceremony was Saturday at the pedestrian bridge over the Kishwaukee River. It included a ribbon cutting with representatives from the Sycamore Park District, DeKalb County Forest Preserve, the city of Sycamore, the Sycamore Police Department, Sycamore Public Library, local Boy Scouts and North Central Cyclery.
The DeKalb County Forest Preserve and Sycamore Park District also received recognition for collaborating on the project. According to a news release from the Park District, the award recently was given by the Illinois Association of Park District to the two agencies, which share maintenance and operations for the trail. The project earned the Intergovernmental Cooperation Award, which recognizes agencies' intergovernmental agreements or partnerships to maximize tax dollars and benefit residents throughout the community.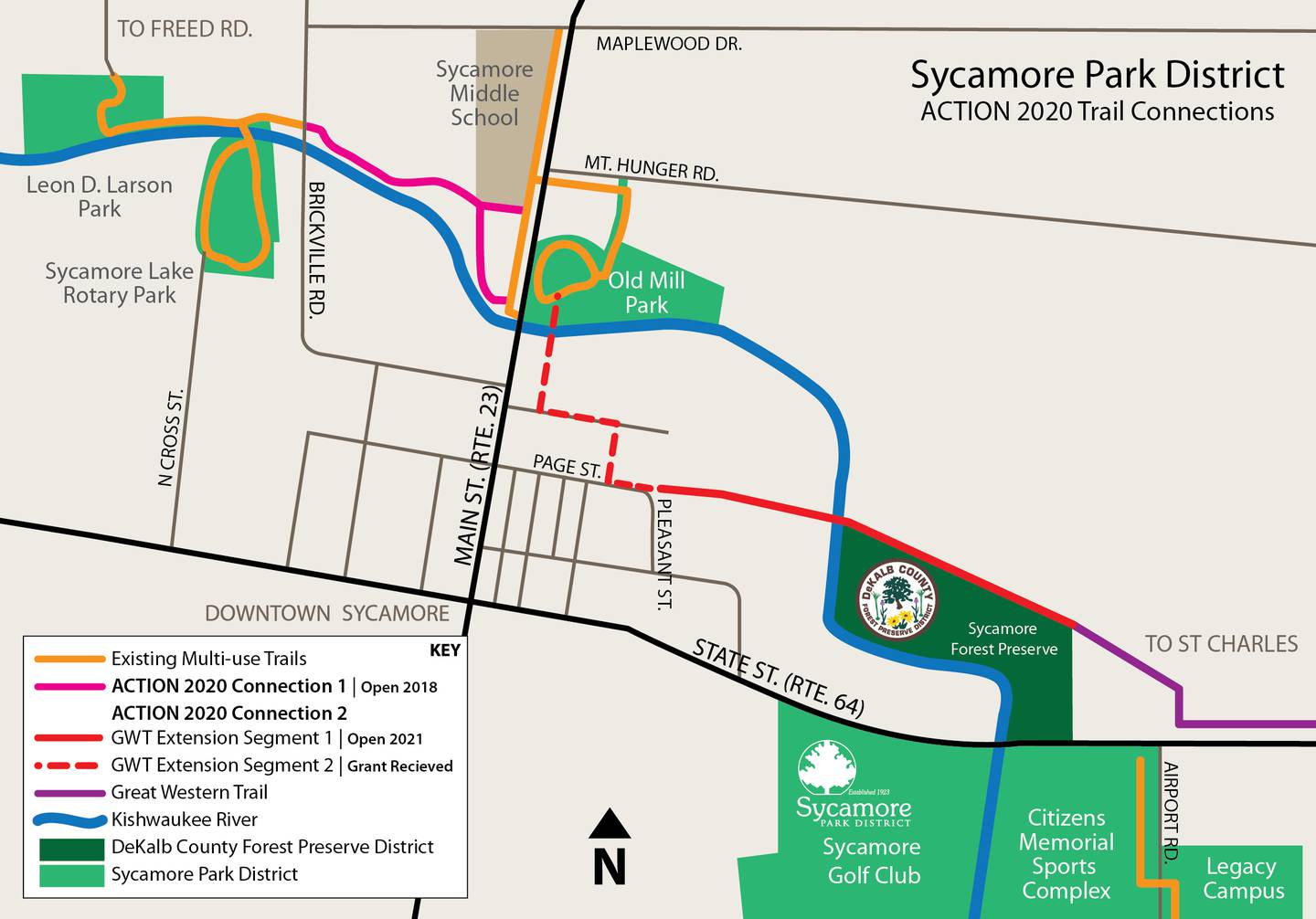 Sarah Rex, recreation supervisor for the park district, said the 0.8-mile extension, known as Segment 1 of the trail, cost $2.1 million and was funded in part through a $1.7 million grant and $424,750 in local funds split between the Park District and the DeKalb County Forest Preserve.
The ongoing work for Segment 2, the Old Mill Park extension, is expected to cost $1.9 million, partly funded by a $1.5 million grant with $388,480 coming by local funds that will again be split between both organizations.