GENOA – Genoa residents looking to have their voice heard over a proposal to switch over the City's waste hauling services will soon get another chance.
Though the Genoa City Council originally was planning to take a vote Wednesday on whether to switch providers for the city's waste hauling services, elected officials instead decided to table the vote and take the Wednesday meeting to hear more resident feedback. The decision was made after city officials said a significant amount of resident feedback flood social media this week.
According to a Wednesday social media post from the City of Genoa, residents had another opportunity during the meeting scheduled Wednesday evening to "ask questions, make comments or voice concerns" about whether Flood Brothers should become the city's new garbage pick-up provider.
"The Council will not make a final vote on waste haulers tonight but instead use this meeting as another opportunity for resident input prior to a vote," City officials wrote. "A final vote will happen at a follow-up meeting."
Genoa Mayor Jonathon Brust later confirmed there was no vote taken on the proposal during the Wednesday meeting. No date has yet been set for the council to take a final vote.
"We're working to confirm a date with the council still," Brust said. "The goal is within the next week."
Currently, Genoa is serviced by Waste Management. Per city documents, switching services to Flood Brothers would save Genoa residents $625,000 over five years.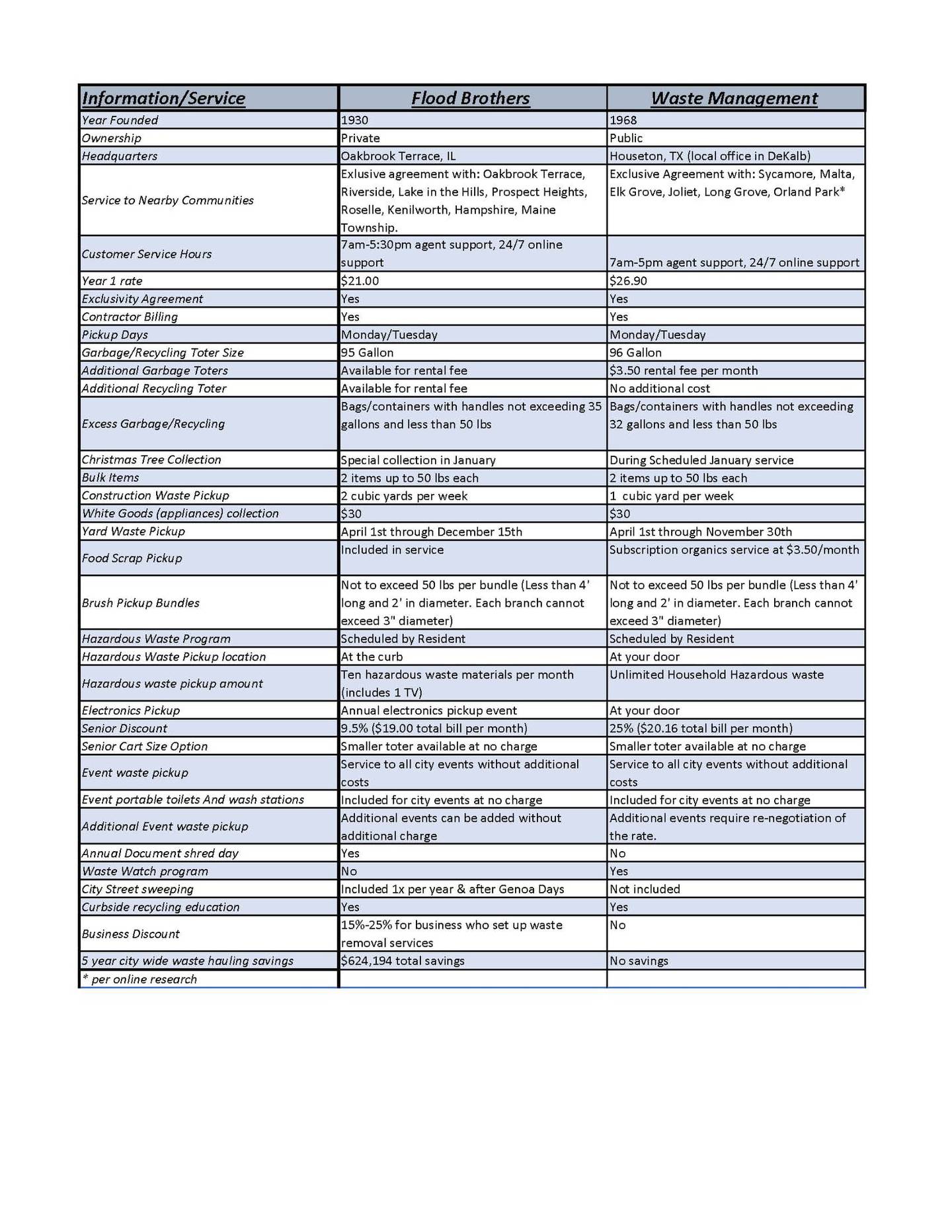 Genoa Mayor Jonathon Brust said city officials held a public forum meeting Sept. 1 after discussing waste hauler contract options for months, with Waste Management and Flood Brothers being at the top of the bid list.
"Very few people showed up, so it was really a time for the waste haulers to present," Brust said of the Sept. 1 meeting.
Brust said the council was "leaning was more toward Flood Brothers" based on projected cost savings for the city's residents.
"But as we can all read on Facebook, there's been a lot of input and people are concerned about changing service and we completely understand that," Brust said. "That's why we've asked for public input … because it impacts every single resident."
A similar changeover occured in 2018, when the City of DeKalb switched their garbage pick-up service provider from Waste Management to Lakeshore Recycling Systems in 2018. The move was met at the time with the ire of Waste Management employees and some DeKalb residents.
Brust said said the more common question he has seen from residents on social media is why the proposed change in service providers, since "people seem to like that service." Brust said residents also have asked about possible differences in services, while city officials maintain the switch would be to save money.
Brust also said Flood Brothers already agreed to take items outside of what's placed in disposal bins.
"And for all intents and purposes, the service we have today, we have been told that service from Flood Brothers will be the same," Brust said.
The biggest thing is that the City generally has very few chances to reduce billing expenses, Brust said. For utilities, that's more challenging because those bills typically always go up, he said.
With Flood Brothers, Brust said the City has the opportunity to decrease garbage pick-up costs for residents by about 25%. He said Waste Management was unwilling to match that discount and that's why the City went out for bid for the services.
"To us, that is a significant decrease on the total cost of that bill that we're able to negotiate and pass along back to our residents," Brust said, adding the City of Genoa wants to "put that money back in residents' pockets that would otherwise be spent with Waste Management."