DeKALB – As COVID-19 community transmission again grows in DeKalb County, local health officials on Thursday issued new guidance strongly recommending a return to universal indoor masking in the county, regardless of vaccination status.
The DeKalb County Health Department issued a statement Thursday saying, like the Centers for Disease Control and Prevention and the Illinois Department of Public Health, local health officials "strongly recommend everyone, regardless of vaccination status, wear a mask while indoors" in areas with substantial or high COVID-19 community transmission.
As of Wednesday, the county's transmission levels are now at "substantial", according to the CDC).
"DCHD recommends that employers, retailers, restaurants/bars, fitness/recreational centers, libraries, governmental entities, healthcare facilities and other public venues require universal indoor masking of their staff and patrons regardless of vaccination status," health officials wrote in the Thursday news release.
Local health officials wrote the substantial transmission levels are in part due to more COVID-19 cases reported in the county and the county's positivity rate, which is currently at 3.8%, increasing. And health officials have said the delta variant, more contagious, is now the dominant strain, like much of the county.
"With less than 40% of the eligible population in DeKalb County fully vaccinated, there is substantial risk for transmission of COVID-19 among the unvaccinated, including children under the age of 12 who are not eligible for vaccination," health officials wrote.
The update comes after Northern Illinois University officials announced Wednesday the university now requires students, staff and visitors to face masks indoors regardless of vaccination status.
Members of the DeKalb County Board of Health also said on Tuesday they continued to work on an official statement encouraging residents to get vaccinated and for school districts to adopt universal masking policies. Health board members also suggested they start approaching community leaders individually to take a similar stance.
City of DeKalb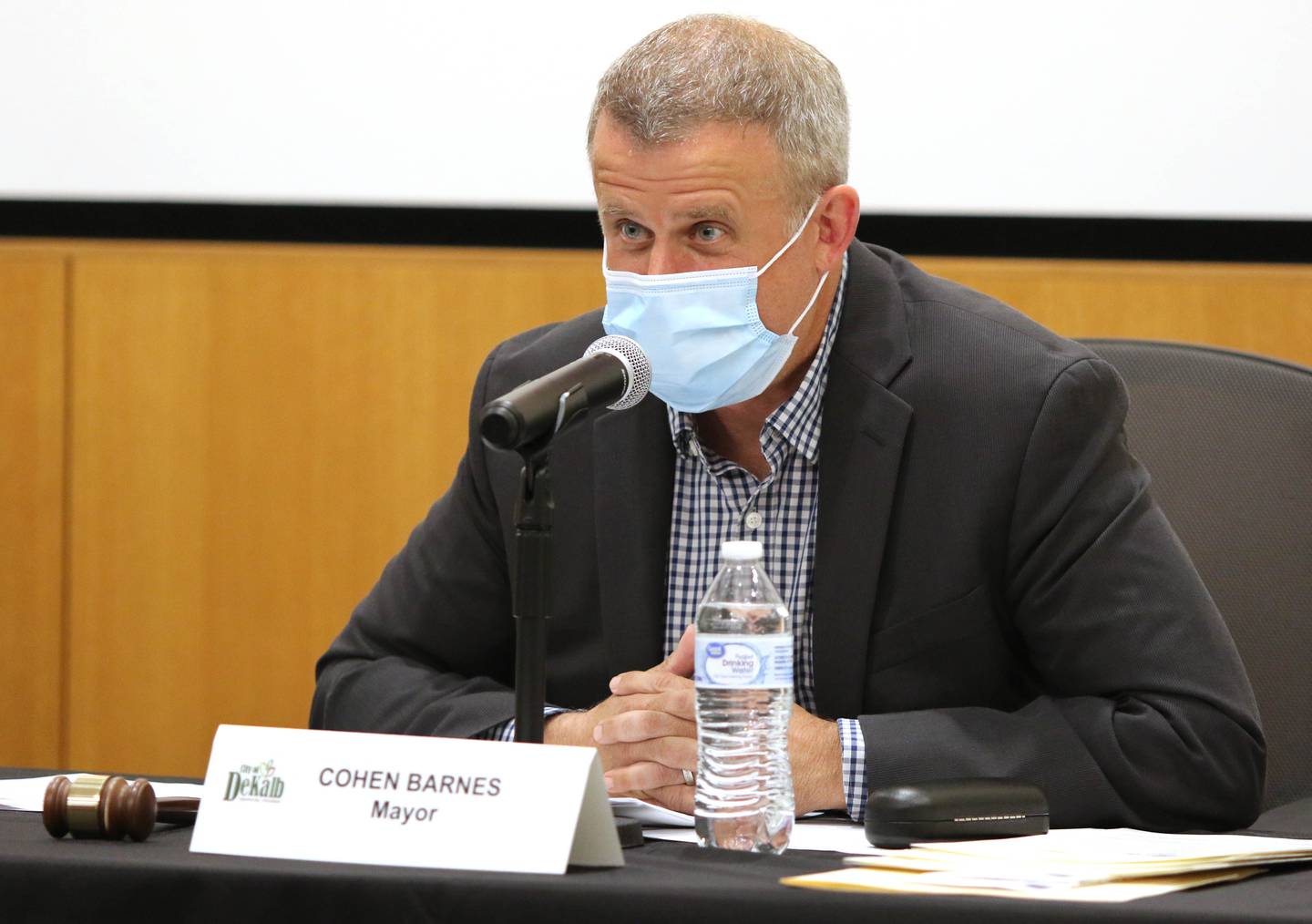 During the DeKalb City Council earlier this week, DeKalb Mayor Cohen Barnes urged residents to get vaccinated from COVID-19.
Barnes said he received the vaccine and chose to get vaccinated "because I believe in vaccines." He said he's in decent shape and could be fine without it, but he believes getting vaccinated from the virus is the responsible thing to do.
"I don't want to be walking around with COVID-19 and walk by an elderly person or walk by someone with a depressed immune system … and, because of me, I cause great harm to someone else," Barnes said.
Ultimately, Barnes said it didn't surprise him that indoor mask policies are coming back. However, he said it "bums me out" that it appears "we're taking a step backwards."
Barnes said he thought more people would be vaccinated and things would get better.
"But when you look at percentages … it just sucks to see just how many people haven't gotten the vaccine," Barnes said.
Barnes said the City as an organization will always follow CDC and IDPH recommendations, though officials still have to figure out how to incorporate the updated guidelines into City policy. He confirmed City employees are not required to be vaccinated at this time.
"We haven't had those discussions yet and we haven't made any of those determinations," Barnes said.
Barnes said getting vaccinated is just as much about protecting yourself as it is protecting others.
"So I highly encourage everyone to go out and get vaccinated for COVID-19," Barnes said.
Sycamore Mayor Steve Braser did not immediately return requests for comment from Daily Chronicle on Thursday.
DeKalb County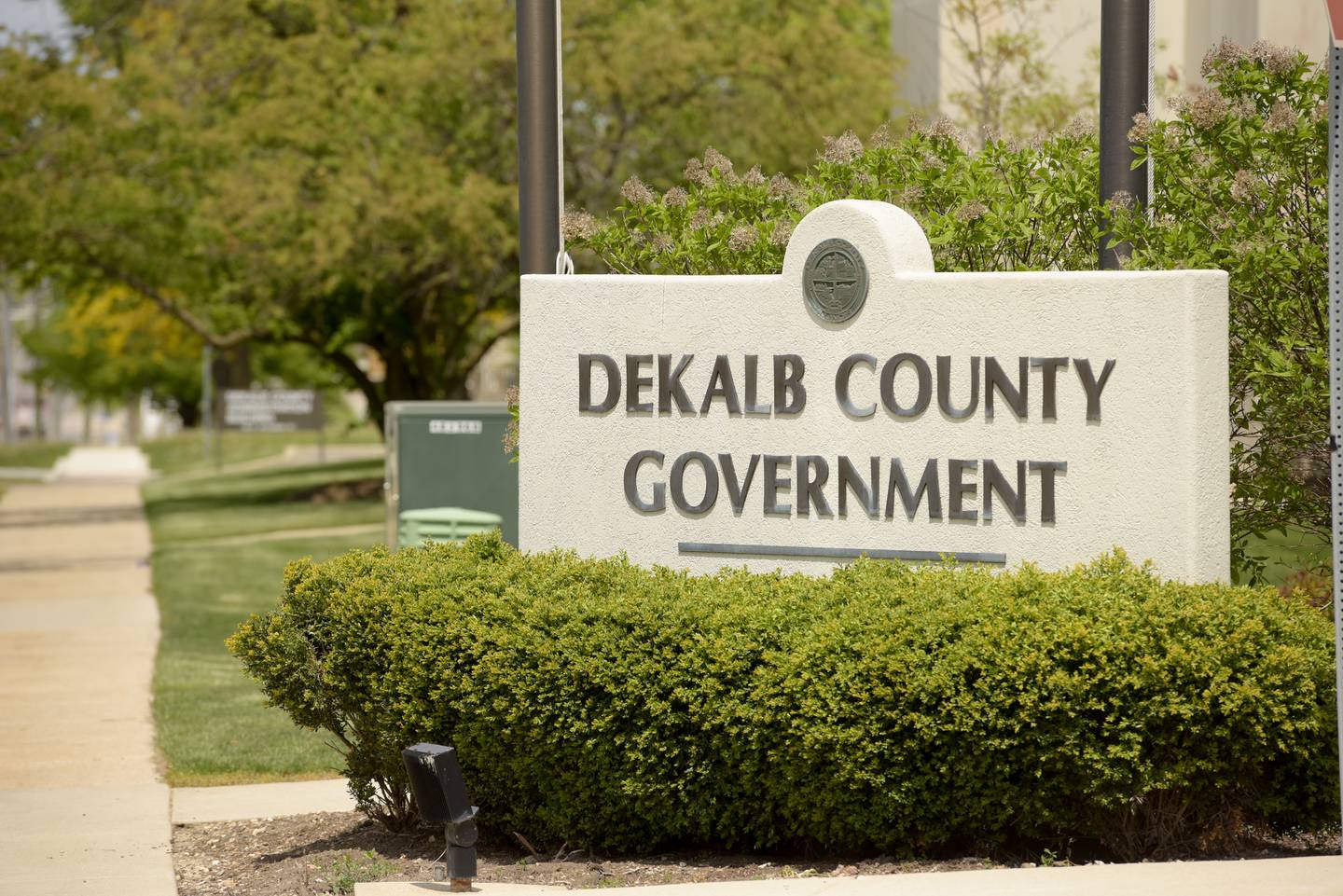 DeKalb County Board Chairman John Frieders said he was "not totally surprised" to see the county health department's Thursday statement. He pointed to recent health data coming from the county and state.
"I figured that [indoor masking] was probably the next step coming," Frieders said.
Frieders said he personally chose to get vaccinated from COVID-19. He said he encourages people to be safe, get vaccinated and "look at the facts."
"It just seemed like a logical thing to do," Frieders said. "It's the only way we're going to get past this thing."
Frieders said the county has not passed a resolution encouraging vaccinations and face masking at this time. He said vaccines are not currently required for county government employees and the county will take indoor mask policies "one step at a time."
"We want to keep our businesses open at all times and do the things that are going to keep our businesses opening and functioning at full capacity," Frieders said. "So we encourage our residents to do that [get vaccinated] and do the right thing."
Town of Cortland
Cortland Mayor Mark Pietrowski Jr. confirmed he has asked town employees and elected officials to wear masks while in government buildings at the recommendation of the county health department. He said individuals at their own work stations don't have to wear masks at their desks but have been requested to wear masks while in common areas.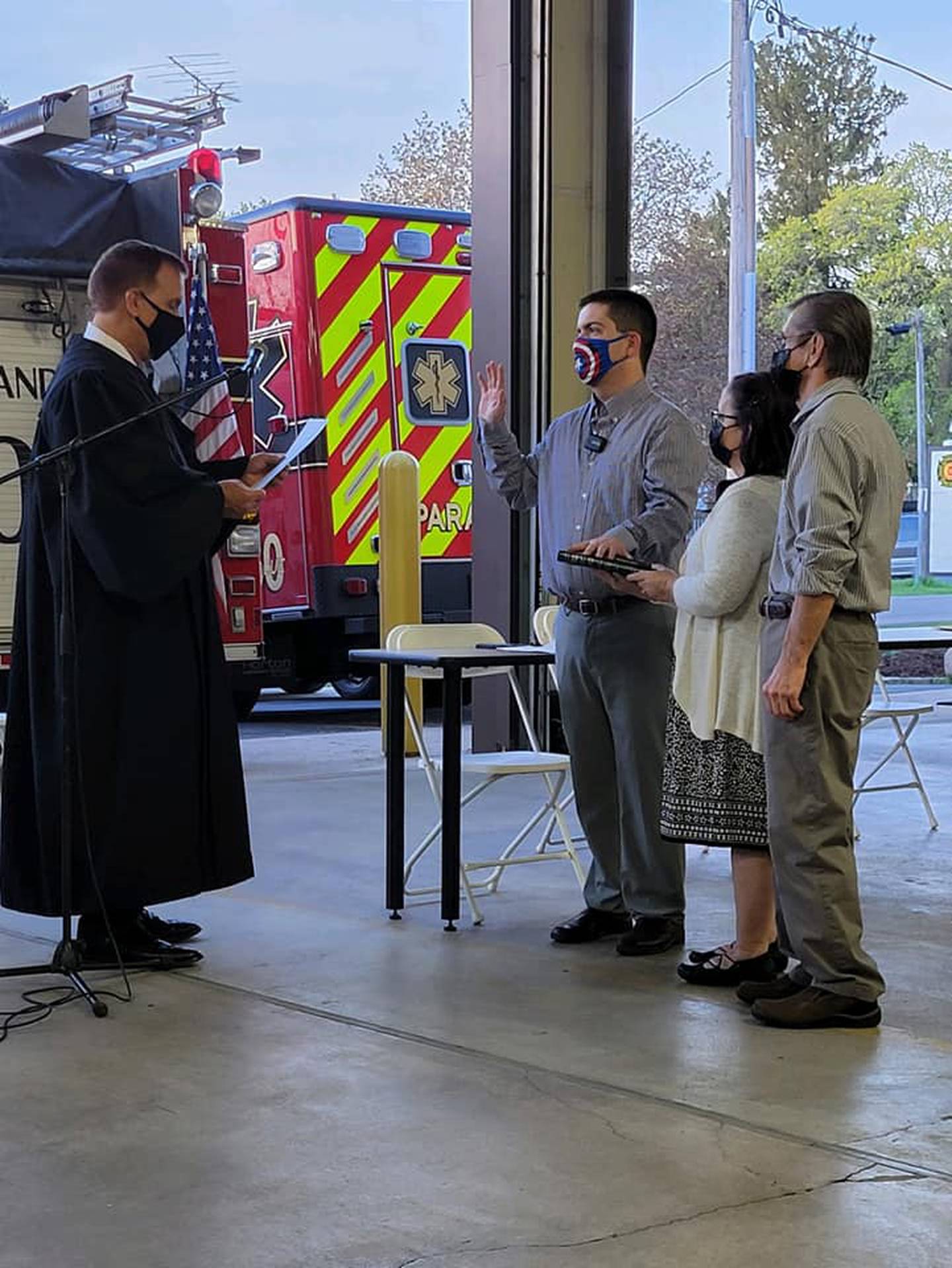 Pietrowski said the health department's statement "makes sense to me," especially while looking at current COVID-19 case numbers and the delta variant being much more contagious than the original variant.
"We're just trying to stop the spread as much as we can," Pietrowski said.
Pietrowski said "nobody likes wearing the masks" and he's included in that, "but I also don't want to be wearing a mask through Christmas."
"There's a reason why doctors and nurses wear masks," Pietrowski said.
Pietrowski said he got vaccinated "as soon as I could get it" for NIU employees and did so to "protect myself and protect others." He said he felt like the shot was safe to get after looking at the clinical trials "as opposed to the alternative of getting COVID-19."
Pietrowski added he recommends every person to talk with their doctor about the vaccine and to make sure "they don't rely on a meme on Facebook."
"There hasn't been any mandates by the federal government or the state," Pietrowski said. " … So all we can do is encourage everybody that is able to get a vaccine."
City of Genoa
With the COVID-19 related health and safety guidelines constantly changing, Genoa Mayor Jonathon Brust said the City is holding off on creating formal policies about wearing masks indoors. He said remote access to city government meetings remains available to accommodate those who may not feel comfortable going inside.
"We definitely understand the recommendation that's coming from the health department," Brust said. "And at this point, we're going to see how things pan out before making any drastic changes."
Brust said the City Council hasn't gotten around to addressing whether they want to draft an official resolution encouraging people to get vaccinated and wear masks indoors.
"That might be a topic that might come up … during our next meeting" scheduled for Wednesday, Brust said.
Brust declined to confirm or deny on record whether he received the vaccine, citing not wanting to create a precedent for City officials to disclose that information if it's not required by law to do so at this point.
From a greater city perspective, Brust said he thinks local businesses and organizations "have gotten very creative" in finding ways to serve patrons regardless of indoor masking comfort level. He said he believes businesses and the City have "worked really hard" to accommodate residents.
"I think that has been bridging that gap," Brust said. " ... I have been really impressed with the ingenuity from a lot of these individuals."
Additional county health department recommendations
Along with universal indoor masking, DeKalb County Health Department officials recommended vaccination, social distancing, handwashing, staying home when sick and sanitizing frequently touched surfaces in the Thursday statement.
Local health officials also wrote there are "numerous options" for DeKalb County community members to get their COVID-19 vaccine. The statement mentioned the DCHD offers walk-in COVID-19 vaccines Monday through Friday from 8:30 a.m. to 3:30 p.m. For more information, visit https://health.dekalbcounty.org/about/coronavirus/covid-19-vaccination/.
Additionally, any DeKalb County residents who are homebound or who cannot safely leave their residence to visit a vaccination clinic are eligible to be vaccinated through our homebound vaccination program. For more information or assistance, email covid19@dekalbcounyt.org or call 815-748-2401.
For general questions about COVID-19 and Illinois' response and guidance, call 1-800-889-3931 or email DPH.SICK@ILLINOIS.GOV.
• This story was updated at 6:30 p.m. Thursday, July 29, 2021 with comment from local municipal mayors and leaders in DeKalb County in response to the DeKalb County Health Department's new guidance.