DeKALB - Former DeKalb mayor Bessie Chronopoulos, who served as the city's third and most recent woman mayor from 1997 to 2001, has died.
Dennis Miller, DeKalb County coroner, confirmed Chronopoulos' death Sunday, and said it was due to natural causes. Chronopoulos was 72. She died at her residence Sunday afternoon in the 400 block of Gayle Avenue in DeKalb.
Chronopoulos won election to DeKalb's mayoral seat in 1997, and while she lost a second term in 2001, her participation in local government affairs continued well before her mayoral term and through the two decades since she last held office. Prior to her term as mayor, for which she was only the third and most recent woman to hold the role, she served as DeKalb Alderman, representing the fifth ward beginning in the 1970s until her team as mayor.
A Democrat, Chronopoulos was a frequent flier at DeKalb city council meetings, often speaking before council, throwing her support behind or opposition in front of the local issues of the day, her passion for local government and civic engagement clear.
DeKalb Mayor Jerry Smith said he found out Chronopoulos died at about 6 p.m. Sunday. He said he knew she wasn't feeling great lately, but he last spoke to her about a week ago and she told him she was feeling better then.
"She was just one of a kind," Smith said.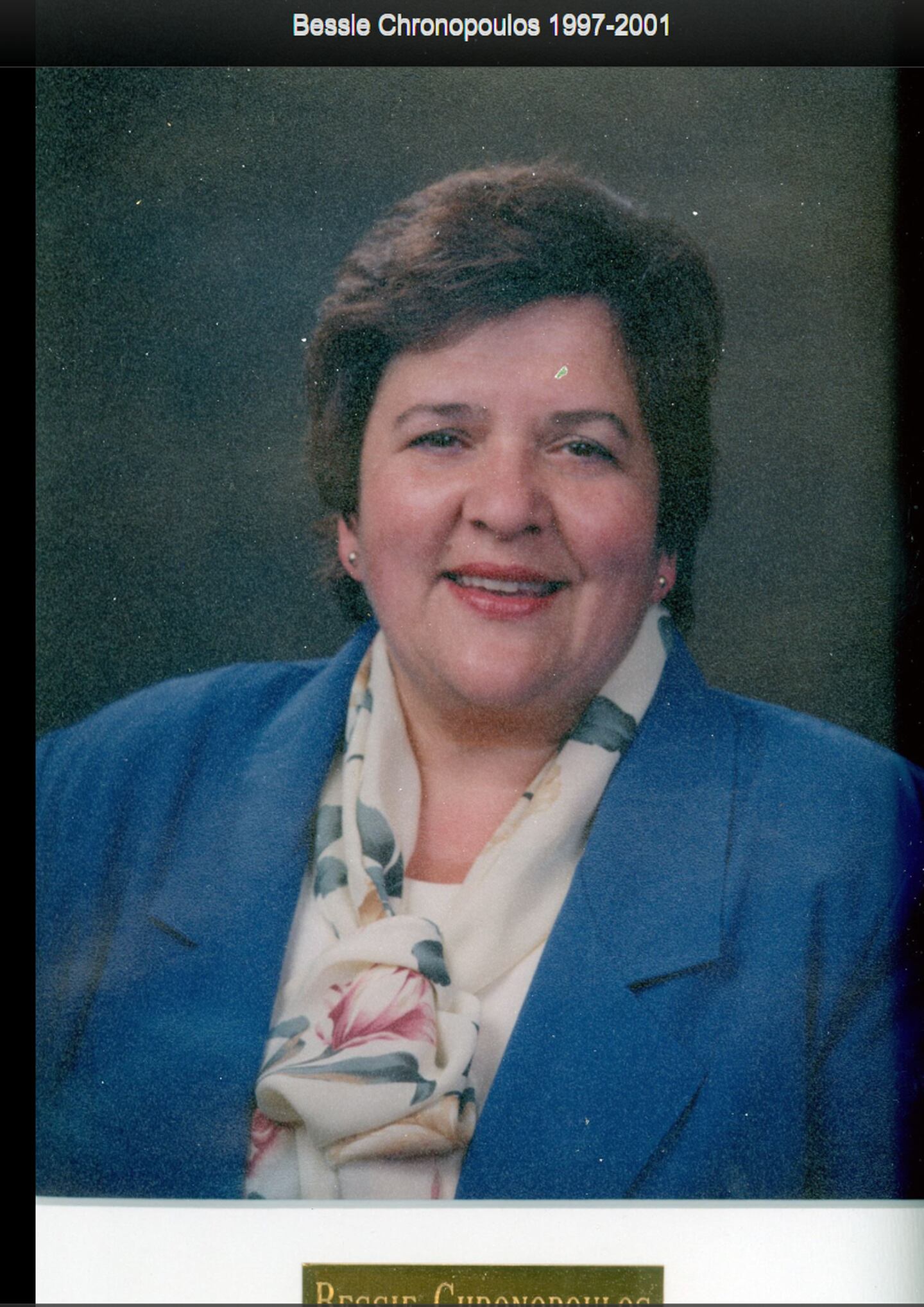 Chronopoulos was an advocate for local elections, a longtime DeKalb County poll worker and member of the DeKalb County League of Women Voters, and heavily involved in her church, St. George Greek Orthodox Church in DeKalb.
"Bessie Chronopoulos's passing is going to leave a void in many circles in the city of DeKalb for sure," Smith said.
DeKalb City Manager Bill Nicklas, who was also city manager during Chronopoulos's time as mayor, issued a statement Sunday.
"On behalf of the mayor and council, I want to express our deepest sympathy to family and friends of Bessie Chronopoulos who passed away today," Nicklas said. "Bessie was an ardent advocate on behalf of the people she represented. She served faithfully as an alderperson and as mayor in the City of DeKalb and was passionately advocating for concepts that were important to her up until a matter of weeks ago. For decades she advocated for that which mattered to her constituents."
Smith said she took a special interest in who was leading the city and, after Smith won his election, she gifted him a framed Thomas Jefferson quote that read, "When a man assumes a public trust, he should consider himself as public property."
Smith said he and Chronopoulos had their fair share of disagreements and she "drove him nuts sometimes" with calls and emails But she always had DeKalb's interest "first and foremost in her heart" and went out of her way to ask about Smith's twin grandchildren and make him and his wife Greek potato salad on a number of occasions, he said.
"She took a personal interest in the lives of folks she met," Smith said. "So as much as Bess sometimes drove me nuts, there was no way you could not like this woman. She had her heart in the right place and it's going to be a hard City Council meeting [on Monday.]"
This story has been updated as of 9:30 p.m. Sunday, Feb. 21, 2021 with comments from DeKalb Mayor Jerry Smith and DeKalb City Manager Bill Nicklas.