DeKALB – A month after giving its blessing for the concept, the DeKalb City Council is one vote away from the creation of a citizens' review board for the city's police force after meeting this week.
More than a year after a countrywide social justice movement was spurred by the police murder of George Floyd in Minneapolis, the creation of a citizen's review board was first greenlit in August, spurred by local Black Lives Matter activists issuing a list of demands following Floyd's death in the summer of 2020 to help with police accountability. The board's inception was also born from lengthy discussions through the city's Human Relations Commission.
After issuing first-round unanimous support Monday, the City Council will vote to formalize the review board's creation at a future meeting, DeKalb City Manager Bill Nicklas said.
DeKalb Police Chief David Byrd said he supports the creation of the review board, and hopes that, four months into his new role, the community trusts his "decision making, integrity and moral compass."
"I think, at the end of the day, there's some checks and balances for police and there's checks and balances with City Council," Byrd said of the proposed review board. "I think we're in a really good spot. I really do."
How it works
According to city documents, the board will be comprised of five citizen members appointed by the DeKalb mayor and approved by the City Council. The board will hold public meetings "no less than six times per year" – but could call special meetings under certain circumstances – and be subject to the Illinois Open Meetings Act.
All board members would be DeKalb residents and serve either two-year or one-year terms.
The review board will be tasked with deliberating over claims that an officer violated the DeKalb Police Department's "use of force" policies and will then recommend steps for disciplinary action if necessary, or changes to the department's training or other relevant procedures.
The review board will not have policy-making power like the City Council, but will make recommendations for the police chief to consider. It will be the police chief's final say whether disciplinary actions are imposed, documents state.
The chief's findings, the board recommendation and the details surrounding any disciplinary action would then become part of the city's public records, retained under the Illinois Local Records Act.
According to city documents, the review board "shall have access to all materials and evidence pertinent to a particular case." That would include but is not limited to police dashboard camera footage, police body camera footage, footage from cameras on site or near the location where a particular incident occurred, forensic reports, police case files and written or recorded witness accounts.
Under newly added caveats to the proposed review board, the city's police chief would be required to consult with the board once an internal investigation is complete and before making disciplinary recommendations.
Informal public hearings of citizen complaints will be heard in public session, meaning the public would have access to those meetings. The review board will not deliberate over complaints made anonymously against officers.
"While citizens may still bring confidential complaints to the chief of police or fire and police commission, the citizen review board will only hear signed and written complaints, since their findings and recommendation will publicly bear on a police officer's career and professional standing," city documents state.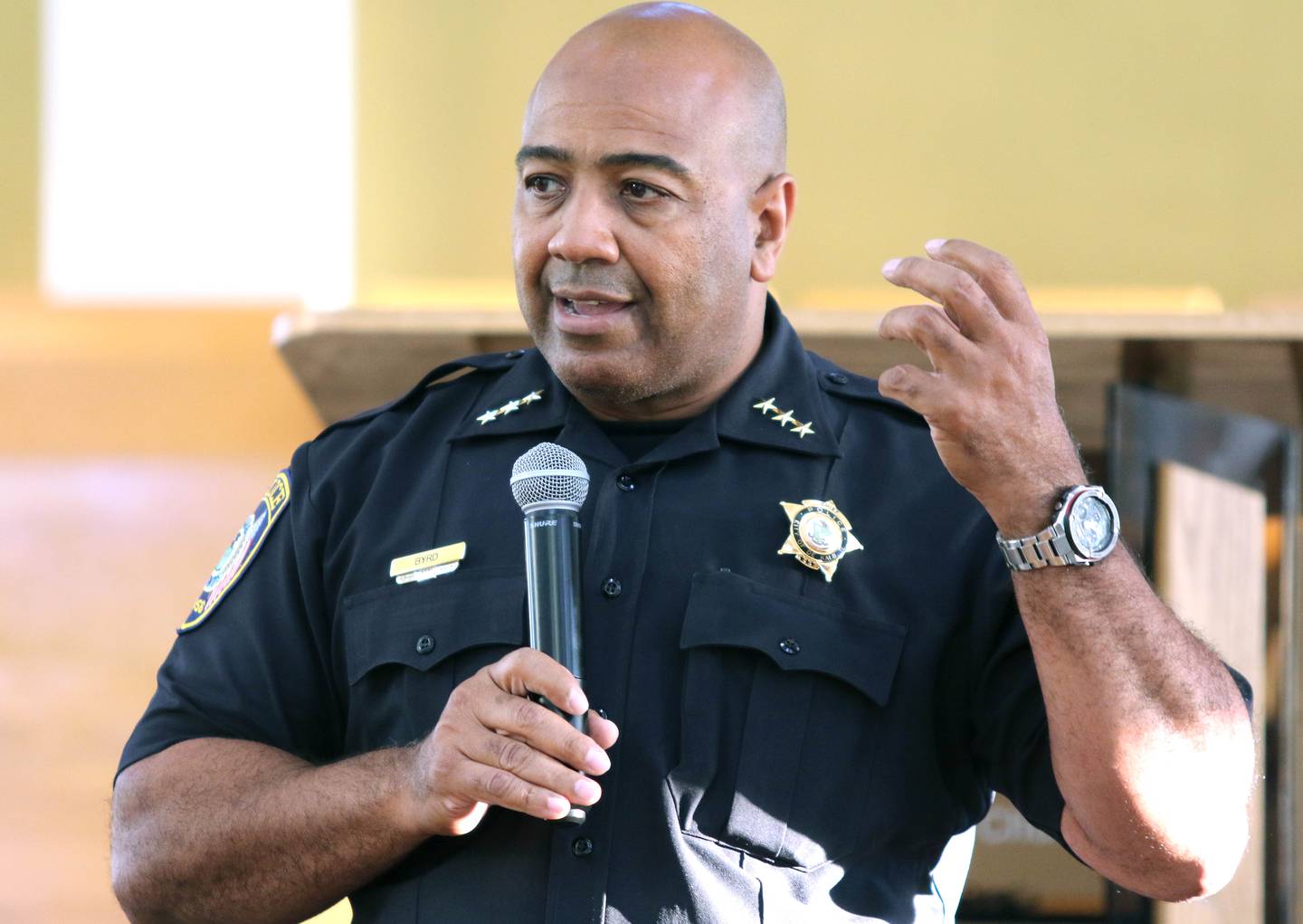 Public comment
Local activists who spoke at a council meeting earlier this year in support of the review board also expressed concern related to its lack of power, with DeKalb City Clerk Sasha Cohen calling the proposed body "effectively toothless."
Earnell Brown, founder of DeKalb-based Sir Donald Foundation that addresses issues surrounding incarceration and recidivism, said Monday that he shared similar concerns as Cohen, but said he believes the general sentiment of the board is that "it's a good thing and it's going in the right direction."
"Let's not ruin it by making it a puppet show," Brown said. "If it's going to be a public show, we can just leave it on the table or throw it back in the water."
Cohen – who in August said he considers himself a "police abolitionist" and believes that "all cops are bad" – spoke during public comment Monday outside of his clerk capacity.
"We can hem and haw about how much we trust individual people in the process or like our permanent chief, but it doesn't matter," Cohen said. "At the end of the day, a board that has to have all of their recommendations approved by one individual can be stopped from doing anything."
Cohen also said he doesn't agree with prohibiting the board from reviewing officer complaints made anonymously.
"I wonder how in a situation where, God forbid, an officer were to, say, sexually assault somebody in our community, you would feel about having imposed the requirement that, if she reports that to this external agency, she'll be forced to speak openly during public meeting about what happened," Cohen said.
Nicklas previously said there have been only a few recorded incidents in the city when a police officer fired a gun in the line of duty.
An instance occured last month when a DeKalb police officer was placed on desk duty following an Aug. 8 incident in the 900 block of Spiros Court. According to DeKalb County court records, the officer fired one shot at a man – but did not hit him – after he was allegedly seen pointing a handgun at others and didn't comply with the officer's order to put the weapon down. Dante Ormond, 30, DeKalb, later was arrested and charged with aggravated unlawful use of a weapon, unlawful possession of a weapon by a felon, aggravated discharge of a firearm and resisting a peace officer, records show.
Illinois Freedom of Information Act requests made by the Daily Chronicle related to the Aug. 8 incident have been denied. In the denial, police wrote the release of the requested information would "obstruct an ongoing criminal investigation."
The review board's inception also comes after former DeKalb Police Sgt. Jeff Weese – who was found in violation of the DeKalb Police Department's use of force policy after video surfaced of an August 2019 arrest during which he placed a man in what a police forensic doctor later described as a chokehold – resigned in November 2020. A DeKalb County grand jury declined to bring criminal charges against Weese in late 2019.
DeKalb police chief, City Council's take
During discussion Monday, DeKalb city officials deliberated the board's role related to false complaints made against police officers.
While Byrd said he doesn't know how prevalent false accusations or slander made against DeKalb police is, he harkened back to his Illinois State Police days, where he said state trooper's body camera footage was often used to dispel claims.
"It happens more often than you think," Byrd said of false accusations. "Enough to keep track."
Fifth Ward Alderman Scott McAdams cited the the U.S. Constitution's Sixth Amendment, which provides anyone accused of a crime the right to know who their accusers are and the nature of the accusations.
"So I don't think that we have a right under the constitution to protect someone making an accusation anonymously," McAdams said. "I don't know if that will hold up to court scrutiny."
In response to suggestions that the review board be given more decision-making power, Third Ward Alderman Tracy Smith – who is also a retired DeKalb police officer – said he believes the proposed board has enough teeth.
"I would really caution council giving away anything more now," Smith said.
Seventh Ward Alderman Tony Faivre said he believes the changes city staff made to the proposed board "are very acceptable." Fourth Ward Alderman Greg Perkins said the City Council can also modify terms of the advisory board over time as it sees fit.
"It's a great starting point," Perkins said. "I'm not saying it's a destination. I think it's a journey."
The date for a final City Council vote before the creation of the board is not yet set, Nicklas said Tuesday, since it will depend on "the level of public interest" related to the board's role.