Here are the Daily Chronicle 2021 All-Area Girls Basketball teams.
Player of the Year
Brooke Heiman, sr., G, Indian Creek
First team
Tessa Prellberg, sr., G, Hinckley-Big Rock - Prellberg was a unanimous Little 10 selection for the third time while averaging 21.1 points, 10.1 rebounds, 5.1 steals and 3.1 assists per game. She finishes her career as the record holder in 3-pointers made in a career, season and game. She's seventh in school history in points, fourth in rebounds and fourth in steals.
Amina Gray, soph. G, DeKalb - Gray led the Barbs with 12.5 points per game while also averaging five rebounds and 2.7 assists, earning a spot on the DVC first team.
Ella Shipley, jr., G, Sycamore - Shipley averaged 7.9 points, 3.4 assists, 3.1 rebounds and 1.4 steals. She was co-MVP of the Interstate 8 with teammate Faith Feuerbach.
Faith Feuerbach, jr., F, Sycamore - Feuerbach led the Spartans with 13.9 points per game and was second with 4.5 rebounds and 2.1 steals. She was co-MVP of the I8.
Kylie Holubecki, sr., F, Kaneland - Holubecki averaged 13.6 points per game this yer while shooting 50.4% from the floor to earn unanimous Interstate 8 all-conference honors. Se also averaged 5.8 rebounds and 1.4 steals per game.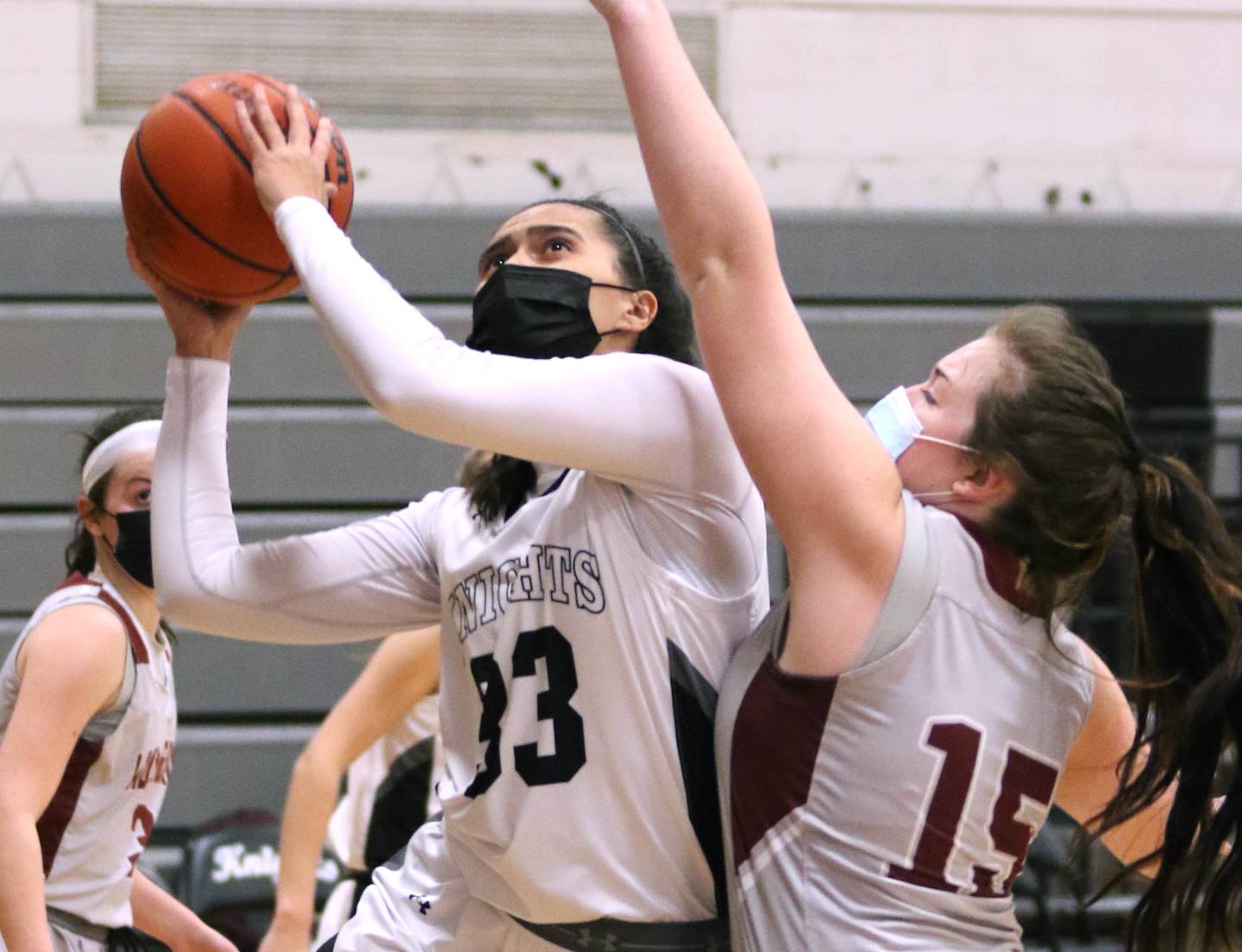 Evyn Carrier, sr., C Sycamore - Carrier was one of just two Spartans to average in double figures with 10.4 points per game while leading the way with 6.8 rebounds and 1.7 blocks. She was first-team in the I8 and helped the Spartans win the conference for a second straight year.
Second team
Faith Klemm, sr., G. Sycamore
Lexi Carlsen, fresh., G, Sycamore
Lily McPherson, sr., G, Genoa-Kingston
Kelsey Modaff, sr., G, Kaneland
Kailey Porter, soph., F/C, DeKalb
Honorable mention - Morgan King, jr. G, Hinckley-Big Rock; Sydney Razo-Ewan, jr. G/F, Hinckley-Big Rock; Chloe Conley, sr., G, Kaneland; Ashleigh Wackerlin, jr., G/F, Hinckley-Big Rock; Ariana Smith, soph., G, DeKalb