LA SALLE – With the Sycamore football team's run to the Class 5A semifinals, the school's wrestling team was missing a large chunk of its lineup for the first week of the season.
The football players were back Thursday to help the Spartans to a dominating 71-5 victory over short-handed La Salle-Peru in the Interstate 8 Conference opener for both schools.
"I thought our kids wrestled well," Sycamore coach Alex Nelson said. "It was nice to have a lot of our football players back we were missing all last week, which made it tough in our duals last Saturday.
"The guys who did compete, I thought they wrestled well. It was nice to get their feet wet a little bit after some of them not wrestling for a while. Being able to have that competition tonight to get ready for Saturday (a home quadrangular with Pontiac, Burling Central and Lake Zurich) was nice."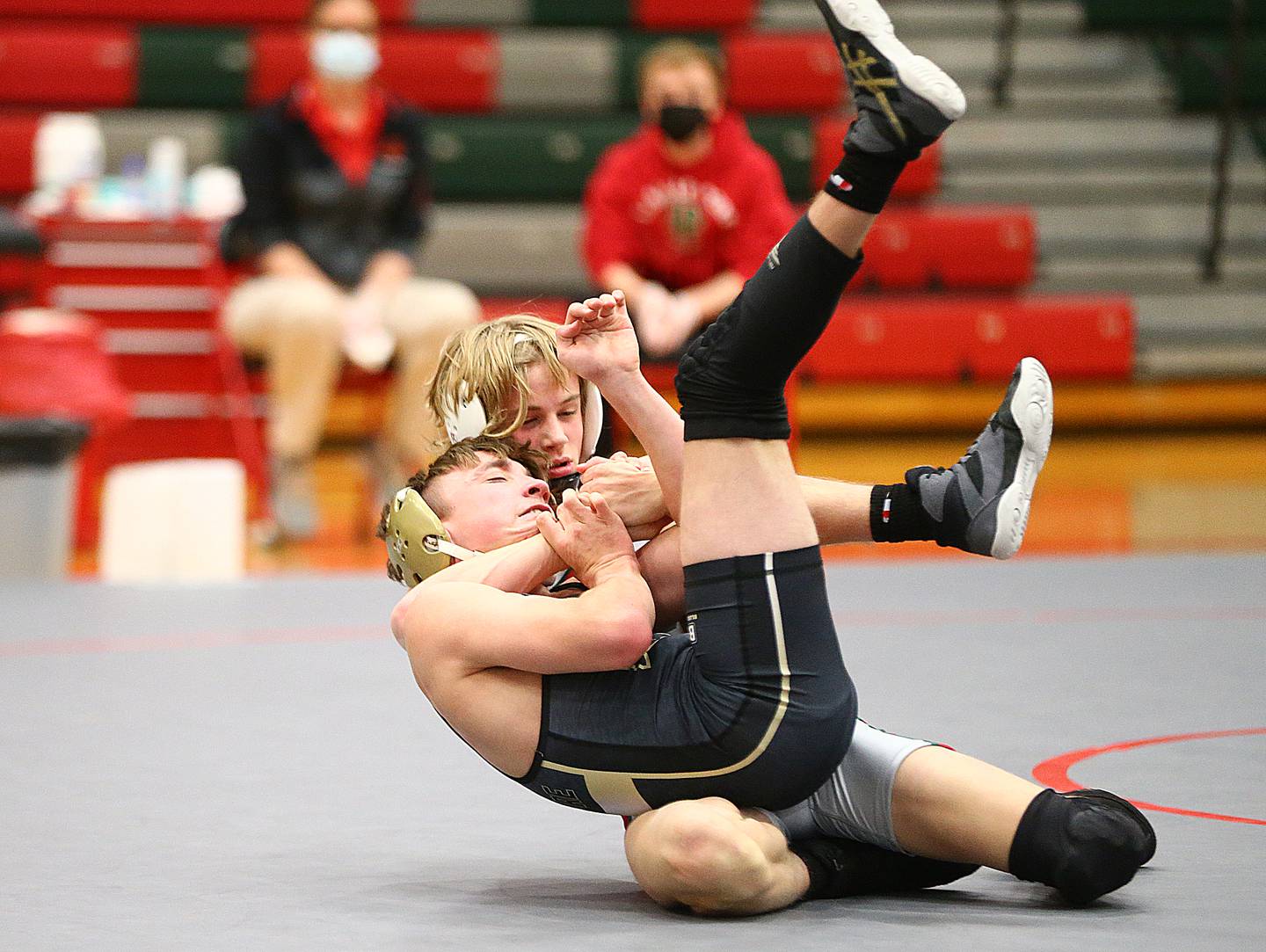 The Cavaliers were depleted because of COVID-19 protocols and had to forfeit six weight classes.
"Sycamore is a very solid team," L-P coach Matt Rebholz said. "We competed at a bunch of weights even though the scoreboard didn't show it because we lost those.
"I'm glad what we're doing in the practice room is coming out here. I tell them I'm not about wins and losses. It's nice to win, but I'm about them developing and getting better. I see each and every one of these guys getting better. It's tough when you look at the scoreboard. You don't like seeing that, but I look at the matches, watch what we do, see what we've improved on and take my notes back to practice to try to make them better."
Jaden Cochran opened the match with a 1-0 victory for the Spartans at 145 pounds.
Cochran and Brayden Cain battled through two scoreless periods before Cochran earned an escape to pull out the victory.
Brayden Peet won by technical fall at 152, Gus Cambier won by pin in 52 seconds at 160, Zack Crawford won by fall in 35 seconds at 170, Logan Whelpley won by pin in 2:29 at 106, Shaun Johnston won by pin in 1:43 at 126, and Trent DuMont pulled out a 3-2 decision at 138 to cap the night.
"I thought Trent at 138 had a nice battle," Nelson said. "He ended up pulling it out. Those are the type of matches you ike to see. You like to win those 3-2 matches. He was down 2-0 and gutted it out."
The win was Sycamore's first step toward repeating as conference champion.
"We talked about it being our first test in defending our conference title from last year," Nelson said. "It's nice to get a win here. We have to keep building. We have a lot to work on yet. We have to get ourselves back in shape. Those kinds of things. It's nice to get a win in our first conference dual and hopefully propel us into the conference season."
Freshman Reegan Kellett provided the Cavs' lone win, a 17-0 technical fall at 120 for his first high school victory.
He recorded a takedown and a two-point near fall in the first period and had a takedown and a pair of three-point near falls before closing it out with a reversal and a three-point near fall in the third.
"Reegan Kellett stepped up and had a great match," Rebholz said. "He did well. He wrestled really hard.
"I thought Braydon Cain wrestled tough. Connor Sines wrestled a stud. He fought and didn't get pinned. Kaleb Vela is a second-year wrestler. He's a tough kid. This is a learning year for him. He's going to be tough the next two years. Skoog wrestled well (at 138). He just couldn't pull it off at the end. I thought he wrestled a great match."