DeKALB - As contact tracing in Illinois evolved to a digital statewide system over the past month, DeKalb County health officials said this week they're shifting their focus to mitigating outbreaks at schools and congregate care settings such as nursing homes.
The DeKalb County Health Department's Board of Health met virtually via Zoom on Tuesday, providing updates on local COVID-19 vaccination data and contact tracing amid the omicron surge.
"We will continue to do what we have been doing looking at specific outbreaks among congregate care facilities and other high risk settings," said Lisa Gonzalez, public health administrator for county health department. "We are also continuing to work really closely with schools and daycares to help them and assist them mitigation strategies and outbreak management."
Since classes returned after winter break, hundreds of DeKalb County students have tested positive for COVID-19, and more than a thousand have been in quarantine due to possible exposure identified during contact tracing.
[ School quarantine amid omicron 'a complete nightmare' for some in DeKalb County ]
As of Jan. 21, nine longterm care facilities in DeKalb County had also recorded recent viral outbreaks, including dozens of cases along with deaths linked to four facilities.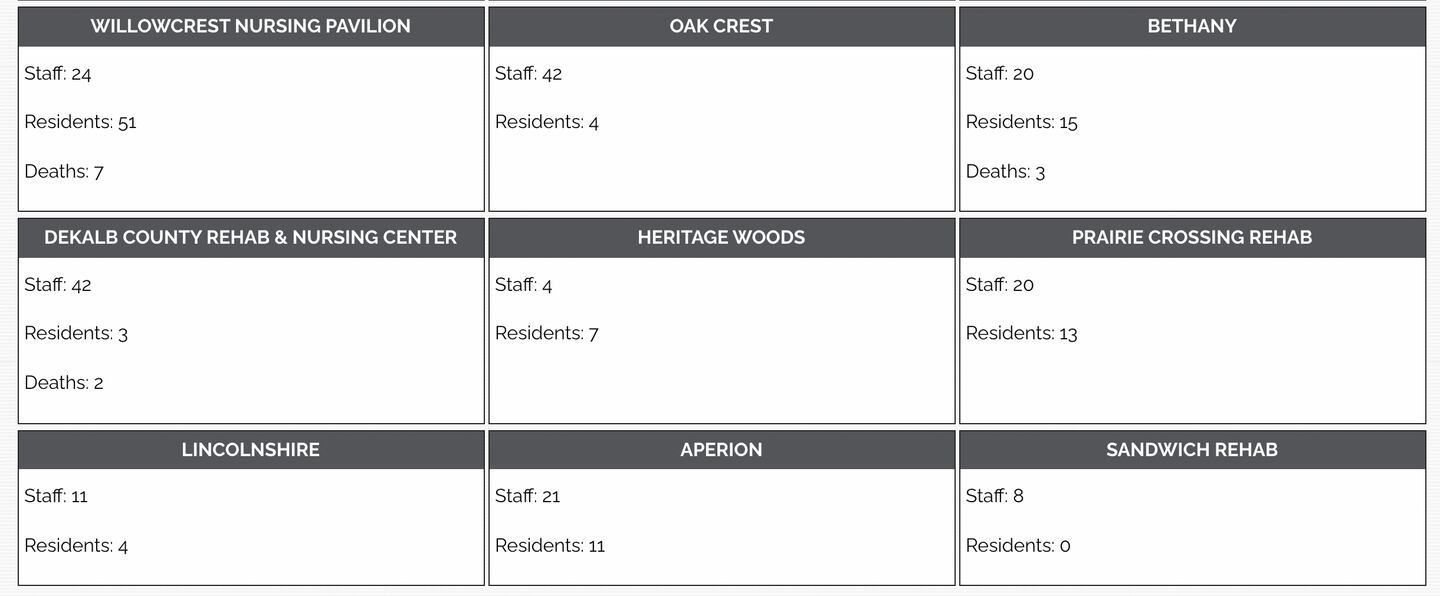 Effective Dec. 28, the Illinois Department of Public Health announced that the state model of contact tracing would be evolving into an automated system: Those who receive a positive result from a COVID-19 test will receive an automated text alerting them to next steps for notifying close contacts.
It's part of a plan, according to the IDPH, to centralize contact tracing and case investigation across the state. Local health department staff won't be tasked with tracing exposure points for every single case as they did before.
The new statewide contact tracing system means it's up to the person who's contracted the virus to let others around them know they might've been exposed, Gonzalez has said.
When someone tests positive – using a lab test, not an at-home test – they'll receive the following text from the State Surge Center: "IDPH COVID: There is important info for you. Call 312-777-1999 or click: dph.illinois.gov/covid19/community-guidance/confirmed-or-possible-covid-19.html"
"Although the surge center is taking ownership of most of the cases, when we identify the cases that are part of our outbreaks, we are able to pull those cases back and manage those among our team here at the health department," Gonzalez said Tuesday.
Those who do not opt into the IDPH contract tracing will have their case closed with no oversight and will be tasked with following public guidance on their own: quarantining for at least five days, monitoring symptoms and telling those who've been around them they may have been exposed.
The statewide surge center text is an opt-in format. If you don't click on the link, you don't opt in.
"The IDPH thinks most people will not opt in," said Cindy Graves, director of community health and prevention for the health department.
In the new year, the county health department has overseen the return of mass vaccination clinics at Northern Illinois University's Convocation Center. Two clinics were held this month in an effort by health officials to continue local vaccine rollout.
As of Wednesday, according to state data, almost 56% of DeKalb County residents are fully vaccinated, and the county is averaging about 310 vaccinations per seven days, along with about 150 new cases per day, down from earlier this month when the county reported almost 250 cases daily. Some case totals may be the product of backlogged laboratory results and also don't include cases confirmed through at-home COVID-19 tests.
According to county health officials, 1,955 COVID-19 vaccinations were administered to residents throughout November and December.
Gonzalez said that 325 of those doses were pediatric, special vaccination doses for those between 5 and 11, administered at the health department every Wednesday and Thursday or at one of the two clinics recent mass clinics at NIU. The health department also recently partnered with the state to host a pediatric-only vaccination clinic, where 260 doses were administered.
"We continue to do walk-in vaccines for both flu and the initial [COVID-19] vaccines, so anyone could walk in Monday through Friday," Gonzalez said of the health department's offerings. "Boosters and pediatric vaccines are by appointment only. That may switch over time as we monitor the volume of folks coming in, but at this time those are still by appointment."
Residents also can find walk-in vaccinations at several local pharmacies for no charge. Find more vaccination locations here: coronavirus.illinois.gov/vaccines/vaccination-locations.html