MALTA – Local veterans were honored at Kishwaukee College on Thursday in an early Veterans Day ceremony that involved a DeKalb High School Chamber Orchestra performance and a speech from DeKalb Mayor Cohen Barnes.
Barnes, a U.S. Army veteran, said he was moved by the high school orchestra's performance of "Ashokin Farewell" and "America the Beautiful" during the 45-minute ceremony.
"That was crazy. It's hard on a day like today to not get emotional," Barnes said. "Having you all out here today, I know none of you are veterans, you are students of DeKalb High School playing a song you learned. You played it beautifully, and for those of us that you're here to play it for, it means the world. So thank you for doing it in such a wonderful way."
The national anthem was performed during the ceremony by Rochelle High School junior Luke Smardo. Marine veteran and Kishwaukee College assistant professor of physics Kim Ahlert led the audience in the Pledge of Allegiance.
U.S. Army veteran Steve Korth, who served from 1966 to 1969, grew up in the Genoa and Kingston areas. He said that when he returned from his service, he began taking classes at Kishwaukee College, where he eventually met his wife. He spoke about starting a veterans club on campus.
I don't do it for that [the recognition]. It's all about honoring the veterans, honoring the service clubs. It's all about honoring the college veterans, and that's really important. I'm just blessed to be able to be the catalyst to get it done."

—  U.S. Air Force veteran Michael Embrey
Korth said he was three or four years older than most of his classmates, but after meeting fellow veterans on campus, he realized he wasn't alone in learning to adjust back to civilian life.
"As veterans of Kish, we decided we needed an organization that could identify with the experiences we had had, and with the help of the administration, we started a vets club," Korth said. "We sponsored dances, organized intramural sports and even had a car smash."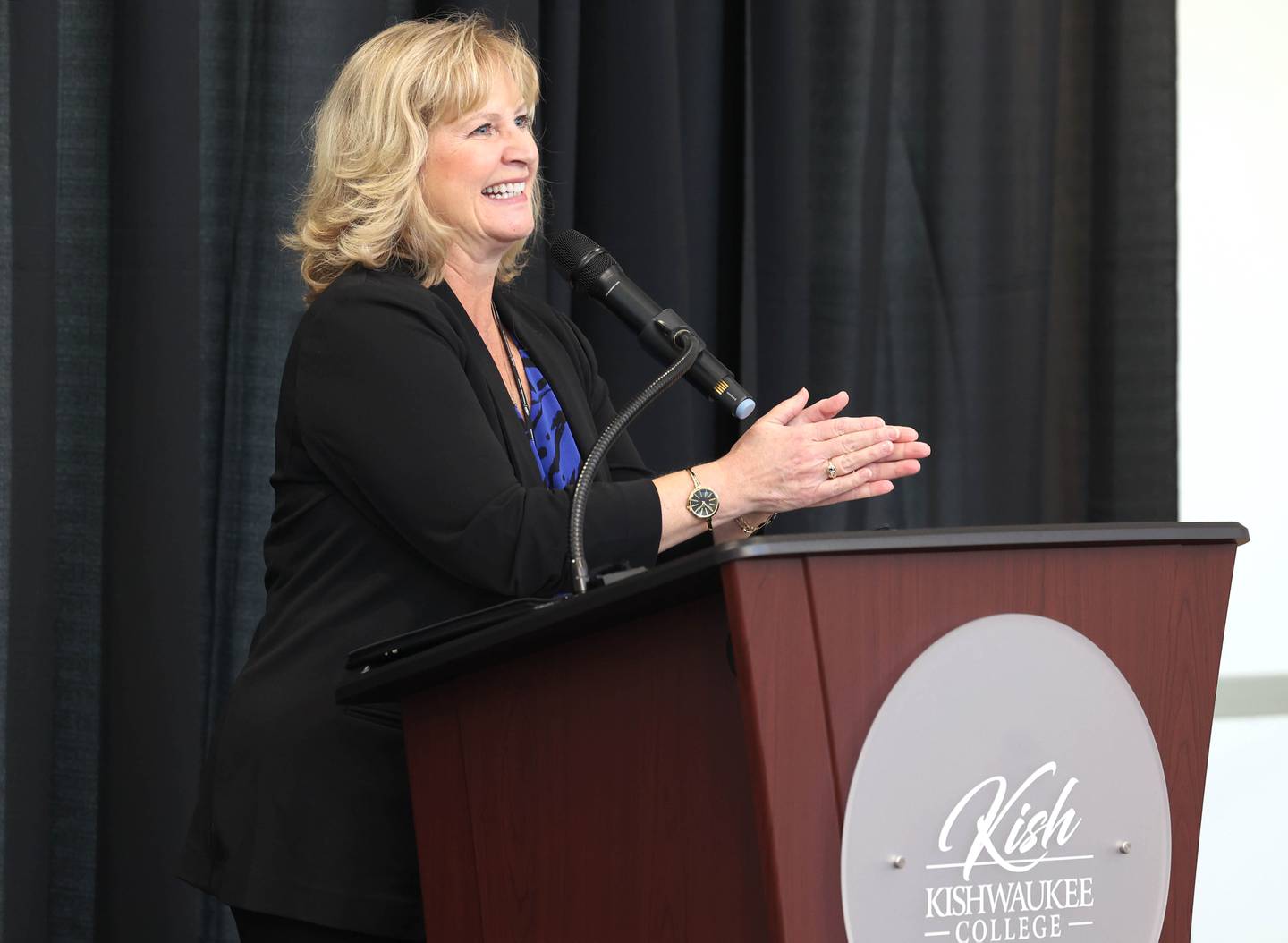 Kishwaukee College President Laurie Borowicz also spoke and thanked veterans for their service.
"We just want to thank you, veterans, for your unselfish service protecting the freedom that we all enjoy every day. It is important for us as a college community to honor and recognize you. Thank you, everyone, for being here today and joining this celebration," Borowicz said.
DeLaney Hood, accessibility accommodations specialist at Kishwaukee College, helped lead Thursday's ceremony. She said even though she isn't a veteran herself she still tries to give a little bit of her time back to supporting those who sacrificed theirs for the country.
"I try not to cry every year," Hood said. "It's just something that we take really seriously as a college, and it was awesome to get a moment and join the ceremony."
A handful of veterans were formally recognized at the ceremony, including U.S. Air Force Master Sgt. Whitney Dolzo, a nursing student at Kishwaukee College, and local veterans organizer and U.S. Air Force veteran Michael Embrey.
"Mr. Embrey has made many contributions to the local DeKalb area, including the veterans memorial on Annie Glidden Road," Hood said. "His efforts earned the city of DeKalb state and national honors as veterans city of the year by the Forty and Eight veterans organization. Thank you, Mr. Embrey, for your unwavering commitment to our local veterans and for joining us here today."
After the event, Embrey said he came on his own accord and was surprised to be singled out for the distinction.
"I don't do it for [the recognition]m," he said. "It's all about honoring the veterans, honoring the service clubs. It's all about honoring the college veterans, and that's really important. I'm just blessed to be able to be the catalyst to get it done."