DeKALB – A single mom who fled for her kids. A DeKalb woman who struggled with drug addiction and was raised in a violent home, fighting for a better path for herself. Two women who suffered abuse growing up but turned their pain into a passion for helping others through their jobs.
These were just some of the stories that filled the foyer of the Egyptian Theatre on Monday to a packed crowd in the hopes that telling a story might save a life somewhere down the road. Almost a dozen women shared emotionally raw stories – and messages of hope – during Safe Passage Inc.'s annual Domestic Violence Candlelight Vigil and Survivor Speak Out.
"When I came in to Safe Passage I was running for my life," said Cari, of DeKalb, whose last name is being withheld under agreement with the Daily Chronicle since she's a survivor of domestic violence.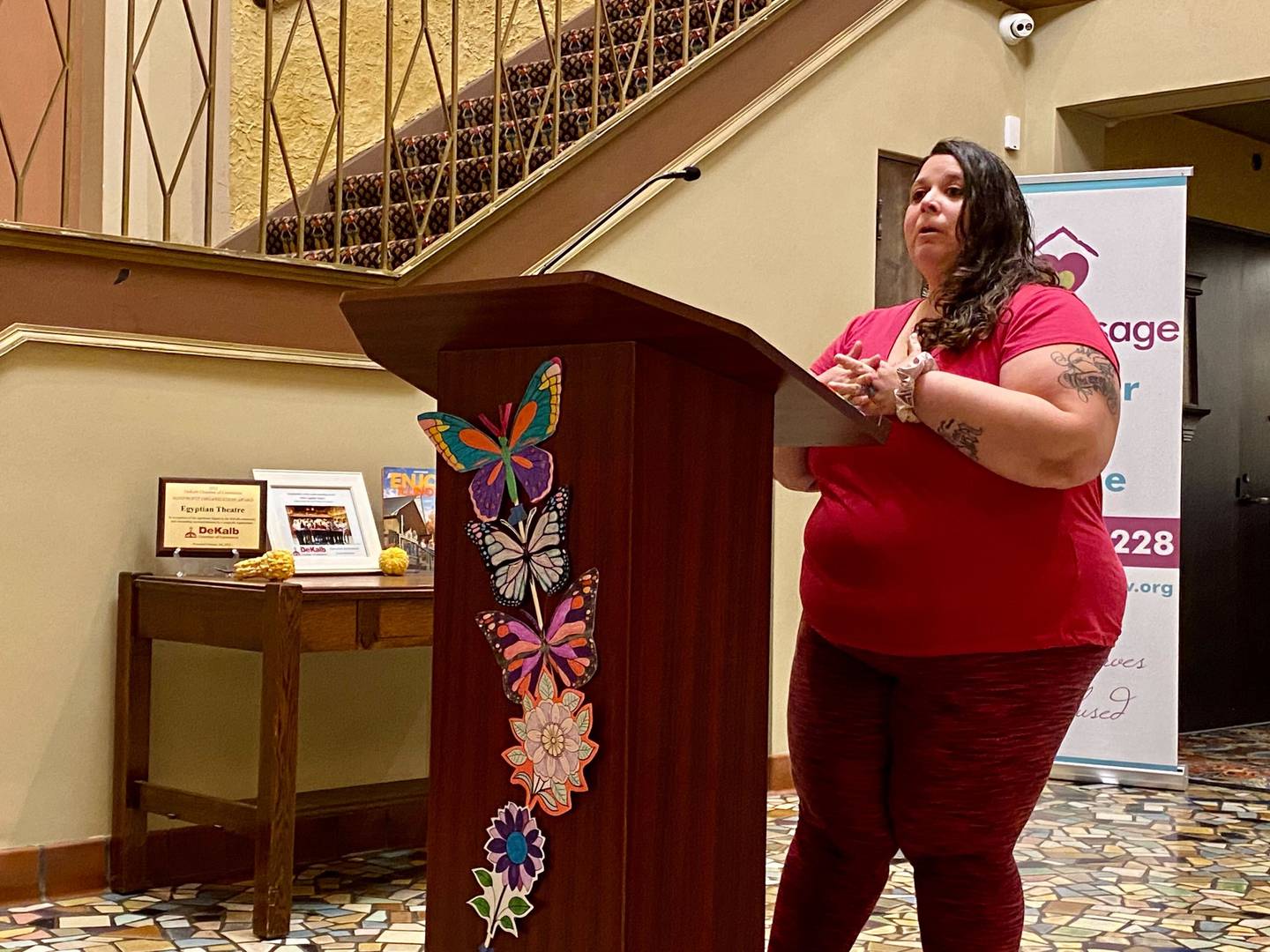 Her harrowing tale started when she was 4, Cari said, the earliest she could remember having been witness to her father beat her mother. The police were called. The cycle continued into her adolescence, as her mother's best friend introduced her to cocaine at 17, she said, and then her father introduced her to methamphetamines at 21. Cari said she struggled with addiction herself and had stints in prison until 2006, when at age 26 she became clean.
"Everything I went through has made me see my life in a different way. Growth is hard. Change is hard. ... The hardest thing is leaving and you made it through that."

—  Cari, of DeKalb, domestic violence and addiction survivor
Her journey wasn't over, however, as a new live-in boyfriend 13 years later brought her back into relapse and domestic violence back into her home. When she left, Cari was homeless for two weeks before finding Safe Passage. She'll celebrate two years clean again Jan. 4.
Cari said she wants to be a motivational speaker and is sharing her story so others know there's light at the end of the tunnel.
"Everything I went through has made me see my life in a different way," she said, speaking to the crowd. "Growth is hard. Change is hard. ... The hardest thing is leaving, and you made it through that."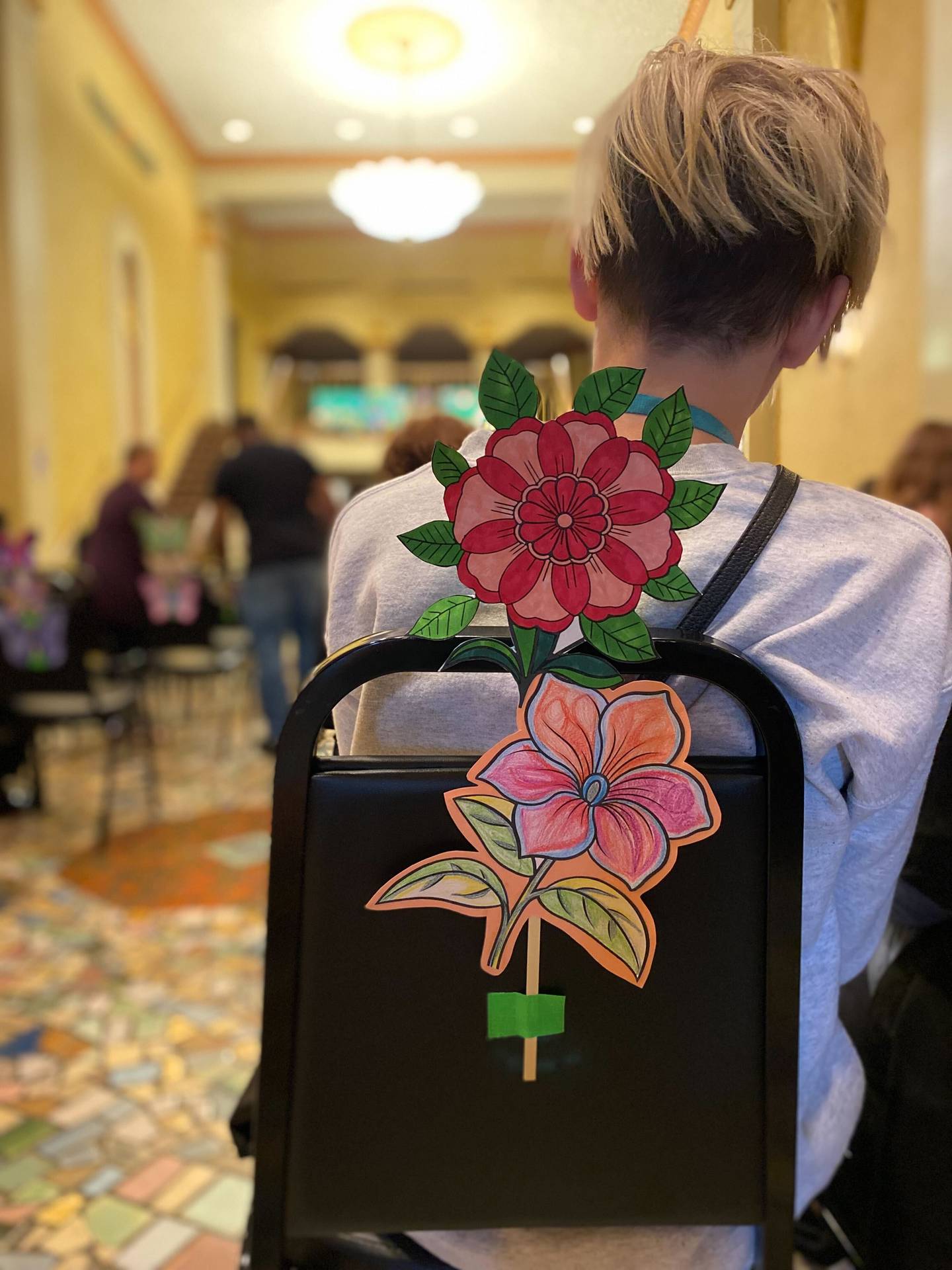 The night's theme, "Grow through what you go through," wove its way into the women's stories. Colorful artwork filled the room and adorned each chair, a display created by survivors to help showcase what life looks after.
Mary Ellen Schaid, executive director of Safe Passage, said the organization holds the speak-out every year during Domestic Violence Awareness Month to show the community the real life impact of domestic violence. The event also serves to shares crisis and intervention resources available in the community.
"We've made a lot of progress in, I think, raising awareness, but there's much, much, much more to do," Schaid said.
A capital campaign is underway at Safe Passage as the agency raises money for its long-awaited new home, which staff have said will help them serve more residents in need.
According to the National Network to End Domestic Violence – which surveys how many people across the nation seek domestic violence programs and aid in a 24-hour period – 79,335 victims were serviced by 1,642 programs nationwide Sept. 7, 2022. In that day, 23,332 hotline calls were made. In that same period, however, there were 12,692 unmet requests for services, including for emergency shelter, housing, hotel vouchers, childcare and legal representation. Organizations couldn't support those service requests because of a lack of resources, the network said.
On average, one in four women will suffer domestic violence in their lifetime. In men, it's one in nine. And for some, the grim reality is that outcome can often lead to death. Those who are choked by their partner are nine times more likely to be killed by them, data shows.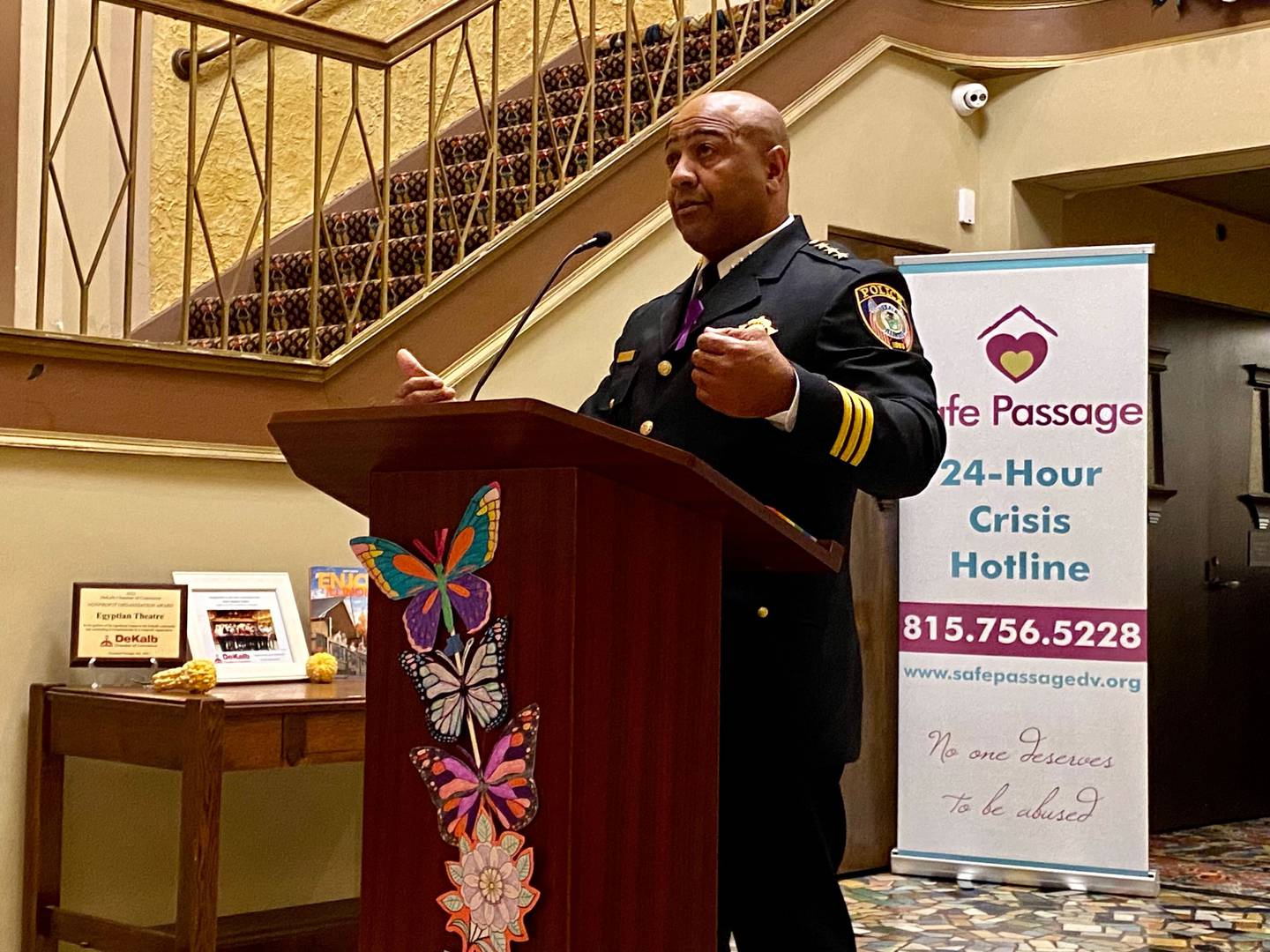 On Monday, the Illinois Coalition Against Domestic Violence released its annual Domestic Violence Homicide Report for 2022, which shows that 57 Illinoisans died in 45 separate domestic violence events in 2022. Of those deaths, ⅓ were 17 years old or younger. The oldest victim was 79, according to the report. Seven incidents that led to the death of a victim also ended with the person who was committing the violence dying by suicide.
The most common means of death was by firearms, according to the report.
DeKalb Police Chief David Byrd said his department sees every day the impacts that can come from repeated outbursts of violence and its damage to children, victims and families. Raised by his mother, without a father figure in his life, and now in his third decade in law enforcement, Byrd said he understands the compassion necessary to approach survivors who call police for help.
"We are the barrier between you and the offender," Byrd said. He said the DeKalb Police Department on Monday swore in its ninth woman police officer and hopes to add more women to the ranks.
State Rep. Jeff Keicher, R-Sycamore, said he continues to bring legislation to Springfield that will support survivors and combat abusers. He pointed to bills he's co-sponsored which have helped those attached to Orders of Protections to be able to open home-based businesses. He also passed a bill this year that seals or expunges criminal records for people who were victims of human trafficking.
Keicher recounted a family experience with sexual violence and said witnessing what his young cousin went through informs his policy-making.
"Share what you've been through to help advocate for survivors," he said.