The Bears went into the draft needing to improve their roster from top to bottom. No position was completely set, except for maybe quarterback with Justin Fields.
There was bound to be a position that wasn't addressed heavily. For the Bears, it was the edge rusher spot. They had a league-worst 20 sacks last season and, despite having 10 draft picks, came away with no new pass rushers.
General manager Ryan Poles is probably going to have to wait until the 2024 draft to find any long-term answers at the position.
"You want to fix everything immediately, but it's got to work the right way," Poles said after the draft. "The right players have got to be there that fit our scheme. They [have to] want to be here. So, we can't fix everything at a high level in one swoop. So we are aware of our strengths and weaknesses and we're going to be opportunistic."
With more than $30 million in available salary cap space, the Bears have room to add free agents at the position, if they want to. Last year, Poles waited until the day before training camp to sign Riley Reiff to play right tackle. He has shown that he's willing to be patient.
If he does want to find a free agent pass rusher, here are a few available options.
Frank Clark
Frank Clark has been a postseason beast for the Chiefs. He's a two-time Super Bowl champion and a three-time Pro Bowler. Last season, he totaled five sacks and eight tackles for loss in 15 games. He will help someone immediately. There are, however, two problems that make this unlikely. One, Clark will be expensive and will command a multi-year deal. That's probably not what the Bears are looking for right now. Two, if Clark is looking to join a team with Super Bowl aspirations, the Bears just aren't there yet.
Jadeveon Clowney
Jadeveon Clowney has 43 career sacks in nine seasons, but he has often been hot or cold. Three times in his career, he has recorded at least nine sacks in a season. There was also a zero-sack season in 2020 (he played only eight games) and a two-sack performance last season in 12 appearances for Cleveland. Clowney will almost certainly sign a one-year contract, so there's not a ton of risk in signing him.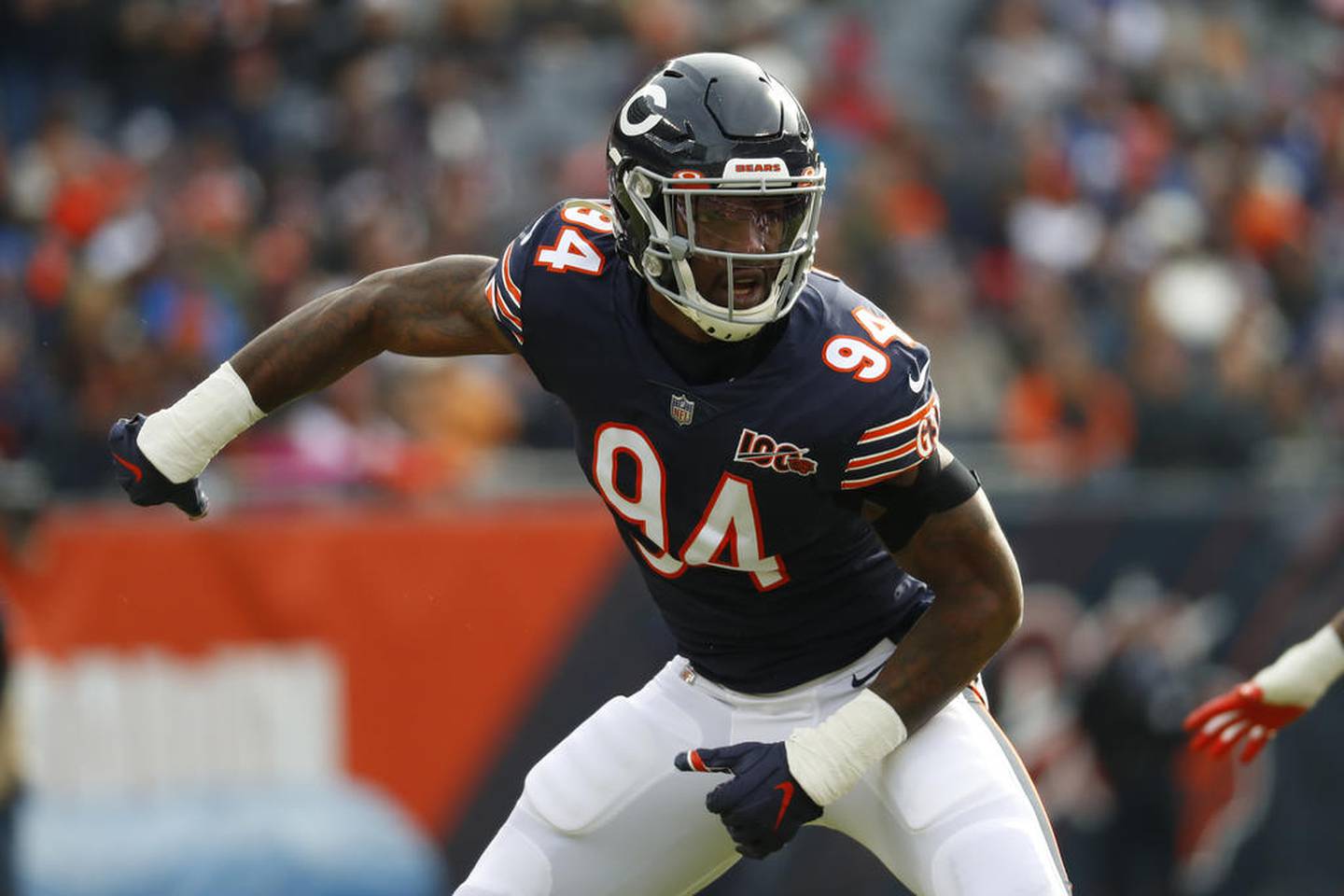 Leonard Floyd
The previous Bears' front office gave up on Leonard Floyd, whom they drafted with the ninth overall pick in 2016. He played four seasons in Chicago and totaled only 18.5 sacks. The Bears let him walk away in free agency after the 2019 season. Since then, during three seasons with the Rams, he has recorded 29 sacks. Would Floyd be willing to forgive the Bears? The bigger question is scheme fit. Floyd has primarily been a stand-up pass rusher in 3-4 schemes.
Justin Houston
Twelve-year NFL veteran Justin Houston played two seasons for Matt Eberflus while both were in Indianapolis in 2019 and 2020. So scheme fit wouldn't be a problem with Houston. Last season with Baltimore, Houston totaled 9.5 sacks and seven tackles for loss, proving he can still play. The 34-year-old has 111.5 career sacks over his 12-year career. Like with Clark, the bigger question is would he come to an organization that won only three games last year?
Yannick Ngakoue
Yannick Ngakoue has played for four teams over the past three seasons. In 2022, he had 9.5 sacks and eight tackles for loss with the Colts. Prior to that, he recorded a 10-sack season with the Raiders in 2021. The knock on Ngakoue is that he doesn't provide much in the run game, but he can absolutely get after the quarterback. At 28 years old, he might be looking for a multi-year contract.