There's nothing like capping a holiday weekend with a matchup between the Bears (4-10) and the Seahawks (5-9). The Bears will have to board a plan on Christmas Day and take the long flight out to Seattle, where Russell Wilson and the Seahawks await.
The Bears won the last meeting between these teams with a 24-17 victory on Sept. 17, 2018. Prior to that game, the Seahawks had won three straight dating back to 2011.
Neither team has much to play for. The Bears have been mathematically eliminated from the postseason, while the Seahawks have mathematical hopes, but not realistic ones. This has been a disastrous season in Seattle, and it will only fuel more debates about whether this should be Wilson's last in a Seahawks uniform.
Still, there are plenty of storylines to pay attention to Sunday. Here are five key ones.
1. The worst pass defense in the NFL
The Seahawks sport the last-place pass defense in the NFL. Their defense is allowing 273.9 yards per game, which ranks 32nd among 32 NFL teams. The defense has allowed 300 passing yards or more in six of 14 games this season.
The Seattle defense ranks 31st in sack rate and 26th in interception rate. This is exactly the type of defense that a quarterback should feast on, even a rookie quarterback like Justin Fields.
The Bears' passing attack has shown flashes of brilliance in a few games – the first half against Green Bay earlier this month, the second half against Pittsburgh in November. There's no reason the Bears can't do it against this Seattle secondary.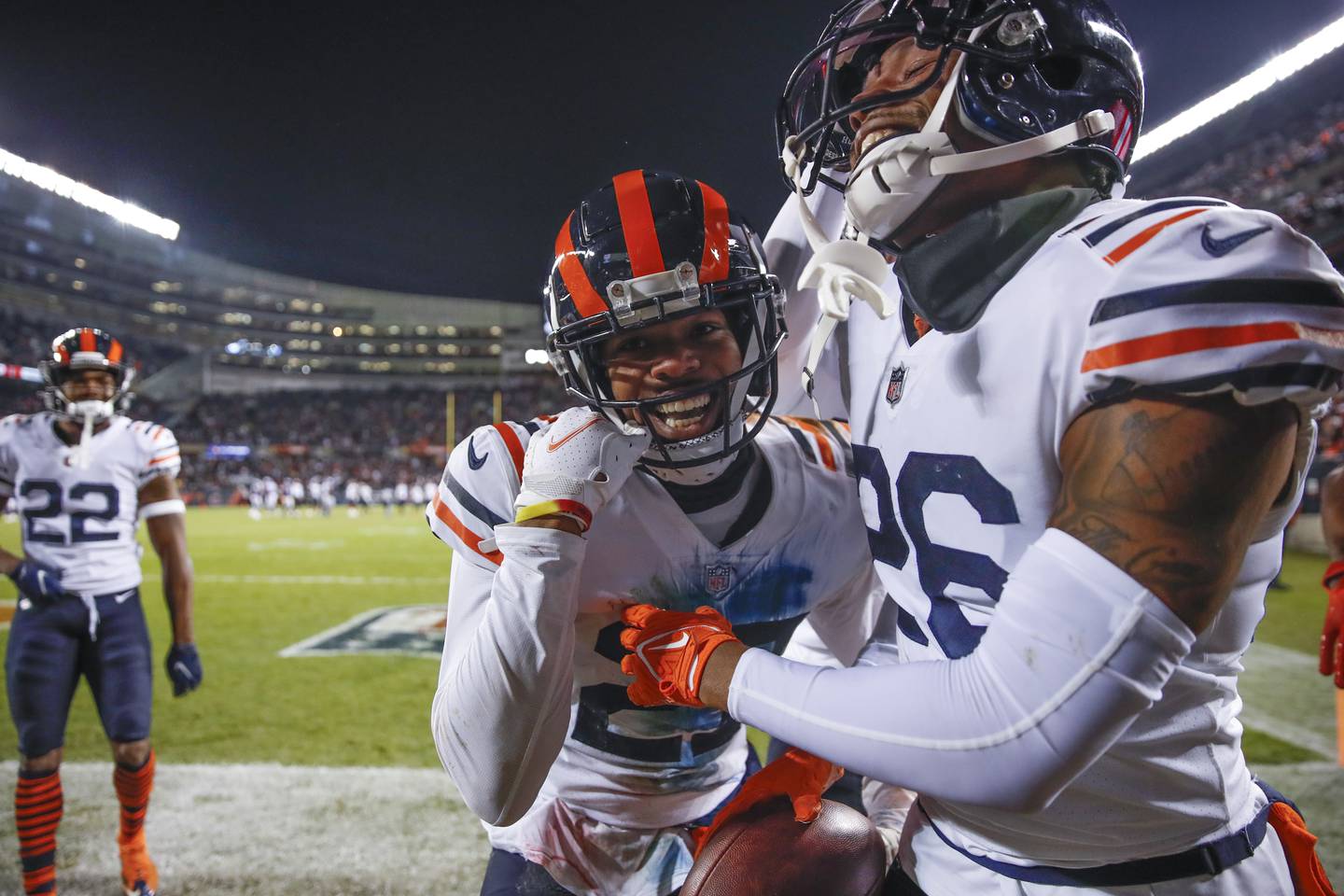 2. Can Thomas Graham Jr. repeat his performance?
Bears rookie cornerback Thomas Graham Jr. was the breakout star of last week's loss to Minnesota, benefitting from several players ahead of him on the depth chart missing time due to COVID-19. On Wednesday, the team made him a permanent member of the 53-man roster, signing him off the practice squad.
His role could be reduced if the Bears have either or both of Artie Burns and Jaylon Johnson back. Graham could certainly make an argument to see more playing time, even if those other guys return. It will be worth watching to see how he follows up on his impressive debut.
"He trusted his technique," Bears defensive coordinator Sean Desai said. "That was a big point of emphasis for him, is just know and trust his technique. When you can do that, you play your proper leverages, you can let your talent show."
3. What effect will the weather play?
Seattle is looking like it will be cold, wet and snowy this weekend. That could effect Sunday's game in various ways. As much as three to five inches of snow is expected in Seattle, with most of the snow likely between Saturday night and Sunday night. That's a relatively rare snow accumulation for a city that averages about five inches of snow per year.
Since moving outside to Lumen Field in 2002, the Seahawks have played only two home games in snow, the most recent coming in 2008. This could make for a sloppy, run-heavy football game Sunday afternoon.
It doesn't help that these two teams both rank among the bottom 10 teams in scoring, even when the weather is favorable.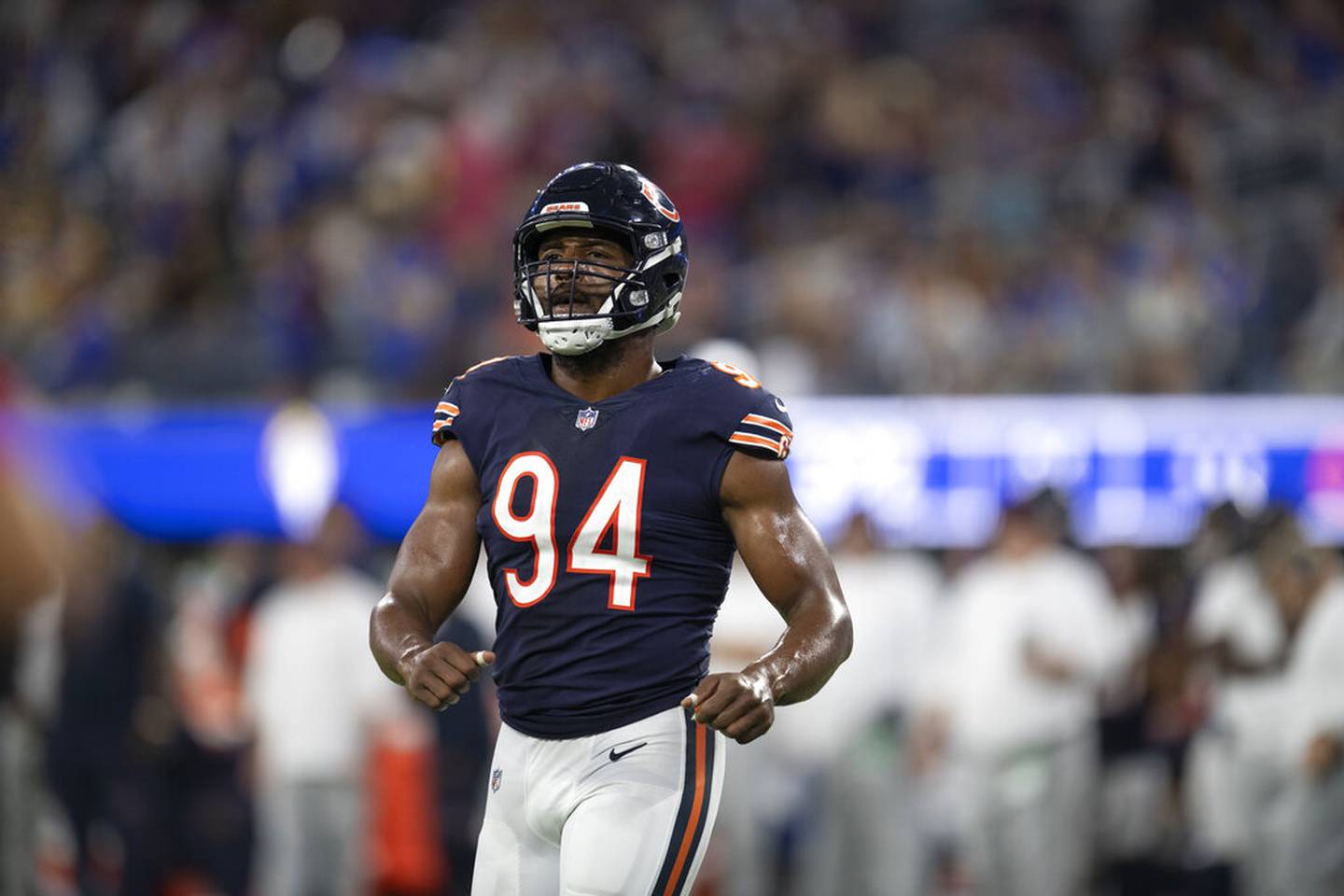 4. Robert Quinn's quest for Richard Dent's record
For the second week in a row, the Bears will face a team that ranks in the bottom five in protecting its quarterback. The Seahawks allow opponents to pressure quarterback Russell Wilson on 27.2% of dropbacks, tied with the Vikings for fourth-worst in the NFL. Wilson has been sacked 29 times, tied for 10th-most among quarterbacks, but he also missed three games with a finger injury.
Bears pass rusher Robert Quinn is 1.5 sacks shy of Richard Dent's team record of 17.5 in 1984. Two more sacks this season will set a new Bears team record (sacks have been a stat since 1982). Quinn has four multi-sack games, so it's entirely possible he could do that Sunday.
5. Bobby Wagner vs. Roquan Smith
Bobby Wagner and Roquan Smith won't actually be on the field at the same time, but in a lot of ways this will be a showcase for two of the NFL's premier inside linebackers. Wagner earned his eighth Pro Bowl nod this week, while Smith was snubbed yet again.
Wagner leads the NFL in tackles with 88 solo tackles and 158 combined tackles. Smith ranks fifth in solo tackles with 81 and fourth in combined tackles with 140. The Bears believe Smith is one of the best inside linebackers in the game. He has a chance to show it going up against a six-time first-team All-Pro on Sunday.
"It's a travesty to me that he's not getting those accolades," Desai said. "He deserves every single accolade that one of the best linebackers in the league deserves,."